Bollywood's Sri Lankan heartthrob, Jacqueline Fernandez loves racing, horse riding, is a strict vegetarian, and exploring spirituality. What's fascinating her about India's travel places right now & her memories with Mumbai's Juhu Beach. In the latest episode of Sunday Brunch With Curly Tales, our Chief Travelling Officer, Kamiya Jani and Jacqueline Fernandez enjoy chatting about the monsoons in Mumbai, Jacqueline's first assignment to India, whom she wants to go on a road trip with and so much more. Read on to know more about Jacqueline Fernandez, who has mesmerised millions of hearts with her latest, Ra Ra Rakkamma' song from Vikrant Rona.
Jacqueline Fernandez On Long Drives & Her Favourite Dish On Rainy Days
As, the trio, drove around Mumbai, Jacqueline Fernandez found the Mumbai monsoons just 'perfect' for a long drive. She shared how the rains make her crave certain foods like Chai and pair it up with pakodas and even samosas. On being asked if she is a 'pakoda' person, she quickly agrees and says, 'Once in a while I don't mind.' She talks on how delicious Sri Lankan dishes are and says Lamprais is her favourite Sri Lankan dish. On deciding to visit India for her first assignment, Jacqueline's parents were super concerned, but she thoroughly convinced them that everything was sorted. What happened with her after she exited the Mumbai airport, on her first visit to India is also tale to tell for all first timers in the city. She tells how all the taxi drivers rushed towards her. Jacqueline's first shoot in Juhu Beach was quite a memory, being her first time, she had to run around and be in the waters. She also calls this as one of the most difficult shoot.  Further, she even had initial days of reporting at the mere age of 13. Jacqueline's surely, is an all-rounder!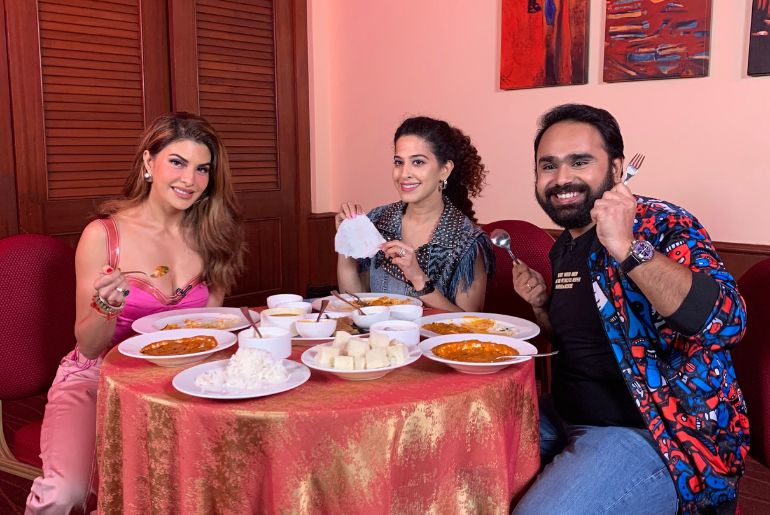 Also Read – Travel Tips by Jacqueline Fernandez In One Minute!
Growing Up In Bahrain, Her Navigating Skills During Racing & More
Jacqueline, while growing up in Bahrain, was a super eager child, with a zeal to be out there. She even took up jobs during summer holidays. And in one of them, she had to interview (record vox-pops) during a festival and take their reactions. She even had a cameraperson shooting with her. Jacqueline Fernandez is an amazing navigator as well and narrates how she, along with her friend won a racing competition. She spoke of the intense racing moments, how her friend was on the driving seat, while she was the one directing – and yes, we are not surprised to know they won the race.
To know more exciting and unknown stories and tales about this Bollywood actor, watch the entire video of Sunday Brunch With Curly Tales on YouTube.
Also Read – This 85-Year-Old Restaurant Serves The Best Chicken Tikka Biryani In Mumbai
View this post on Instagram