Under 140 Characters
Imagine an exclusive nine suite boutique hotel where each room offers you more than 1700 sq. of pure luxury – because your imagination comes to life at Mihir Garh.
You can book your stay here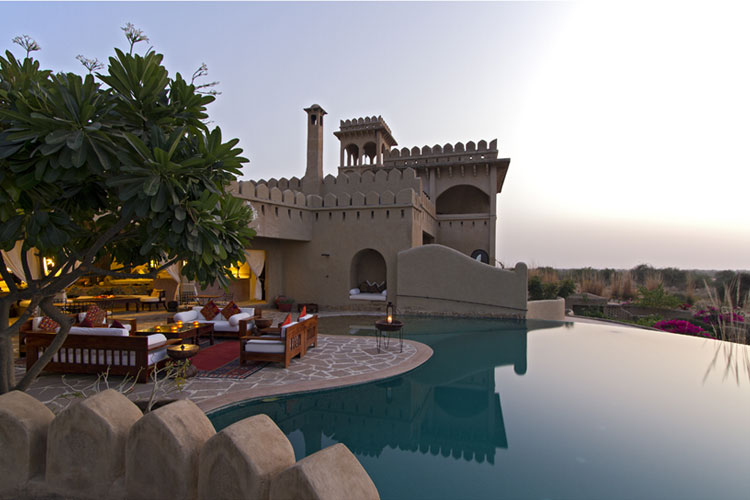 What Is It?
Mihir Garh is an envoy of Rajasthan's rich heritage and culture. A palace in the middle of a barren land – created by local artisans with a touch of traditional. The majestic fort with its local lilt has soft, stylish furnishings that have been bought from the Jodhpur region alone. The village women of Khandi and Haji have lovingly created the fireplaces using age old technique of cow dung and clay! From paintings to curtain holders, every little thing has been specially designed for Mihir Garh.
Also read: Live Like Royalty At Rohet Garh In Rajasthan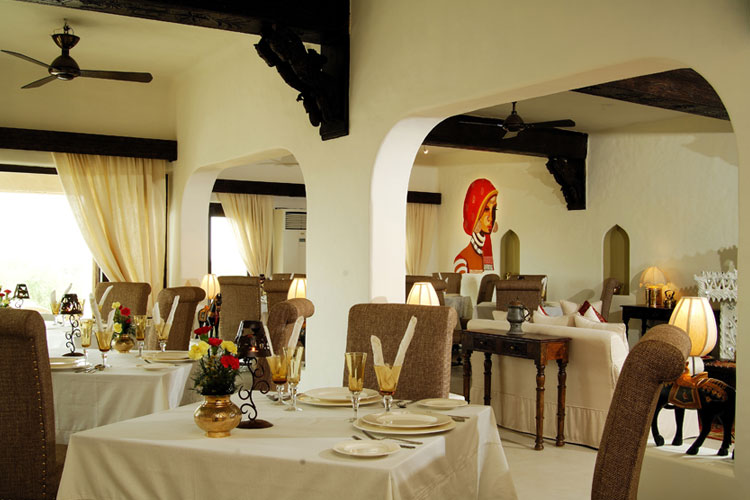 Pure Indulgence
Just 9 rooms and 1700 sq. of pure luxury in each room.
The private terraces, courtyards, plunge pools and Jacuzzi seem to whisper a single word: Indulge. Here, serenity and splendour come together to create an experience for you. While exotic drinks from your personal mini-bar become the manna for a sultry summer afternoon, the fireplace morphs into an intimate friend for wintry nights. You can pamper yourself with the variety of treatments available at Mihir Garh's Vilasa spa or rejuvenate at the poolside while watching the endless deserts meditate with the horizons. The delectable cuisines too aim to please – from traditional to continental – to suit your palate.
Also read: Live Like Royalty In One Of The Finest Heritage Hotels Of Rajasthan – Castle Kanota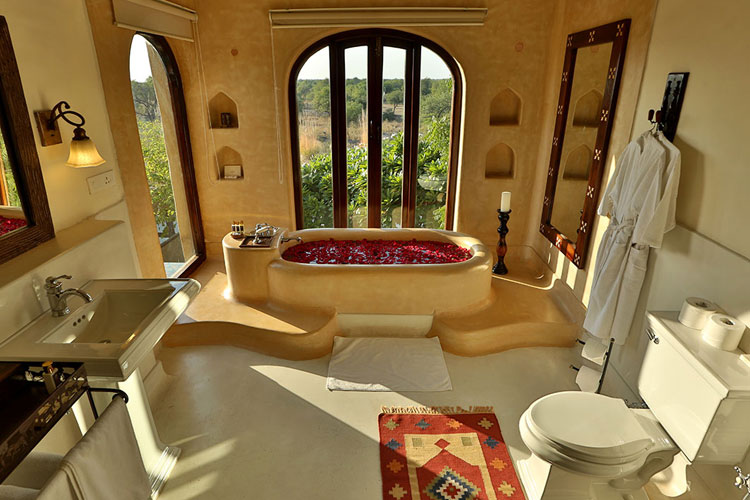 The Suites
In the suites of Mihir Garh, you will be living The Paradox: modern amenities in a city known for its traditions; soft stylish furnishings within a barren land. Indeed, sheer indulgence amidst vast wilderness.
Alishan is the name given to the suites on the ground floor, each of which comes with its own plunge pool and personal courtyard. Meanwhile, the suites on the first floor are called Shandar and have an exclusive open air Jacuzzi along with a private terrace. Alishan and Shandar – the names come from the fine Marwari Stallions from the Rohet Stables.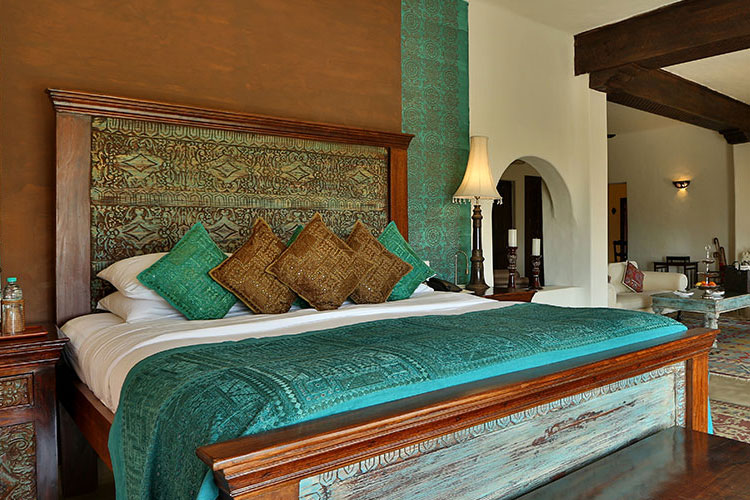 To ensure absolute comfort, each suite is equipped with all modern amenities like flat screen TVs, DVDs, Tea & Coffee stations and mini bars. Meanwhile, to add to the contemporary chic, they have a touch of tradition in every room: hand crafted fire-places created by women from neighboring villages! The suites at Mihir Garh will morph themselves to fulfill your needs: be it for solitude or intimacy, for opulence or meditation.
The village Safari is a signature program and guests across cultures have referred to it as the "highlight" of their stay. The equestrian program is equally special as the horses belong to the famed 'Marwari' breed – an ancient and indigenous breed of India, offering you an unparalleled riding experience.
Al fresco breakfasts, amidst nature, ensure your day begins well. Royal picnics from an era long gone beside a lake so you can luxuriate under the specially designed tent while the, traditionally dressed servers cosset every need of yours. Culinary workshops and demonstrations are held so guests can learn to make the delicacies that they enjoy here. The recipes come from books on traditional Rajasthan cooking authored by the owner's mother, Late Thakurani Sahiba Jayendra Kumari.
Mihir Garh is a tribute to royalty, warm hospitality, humility, a rich culture and an experience that lingers on…
Vilasa Spa
Mihir Garh's Vilasa spa is the perfect luxury indulgence in the Thar desert. The Vilasa Spa comprises two treatment rooms with interiors that pay tribute to the rural arts and create a sense of well-being set within a walled garden. From rousing reflexology to cleansing scrubs and relaxing massages, the organic and ayurvedic products, you'll leave feeling relaxed and heavenly.
Deets
Address: Mihir Garh, Village Khandi, Khandi Rajasthan, Rajasthan 306421
Phone: 02936 268 531
LIKE Curly Tales on Facebook | Instagram | Twitter
You can subscribe to our newsletters