The UAE has a whole lot of residential properties offering the best views, but Mark Moore and Rosella Age had different plans. The couple ditched regular luxury apartments and moved into a house ON the water. Yes, you read that right! Their house isn't just by the water, but its docked ON the water.
Mark and Rosella moved from the US in 2018 and lived in a one-bedroom apartment in Dubai Marina. They later bought a 1990 Skipperliner houseboat and have been living here for more than a year. "Moving to Dubai in all honesty, was a tough transition at first. Leaving our families behind, logistics of getting settled, culture shock- there was a lot on our mind. But, now we are so in love with this city!" said Rosella.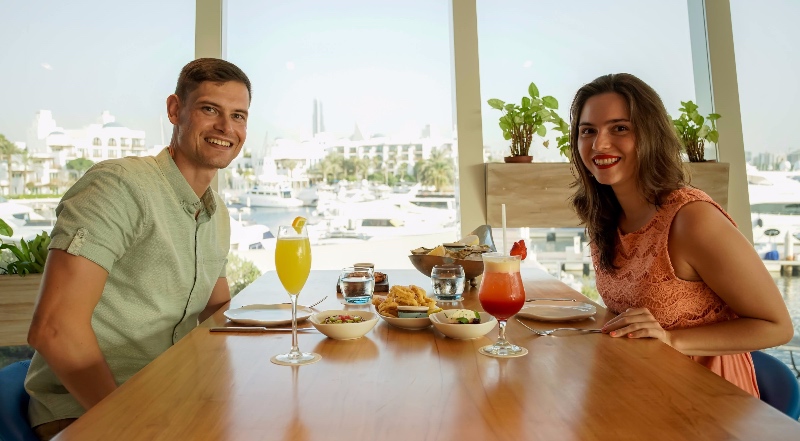 How They Took The Plunge
What most people don't realize is that this epiphany to live on a houseboat has spiritual roots. In the Spring of 2019, Rosella and Mark were hanging out with friends, and were discussing about getting a new house. This was also the time when the couple were thinking to renew their apartment lease. They immediately thought through the idea and did their research. Rosella then made a list of her dream house. As per her list, she wanted the house to have 4 bedrooms, easy access to a metro, low maintenance yard, a big kitchen with a window and much more.
They reached out to real estate agents but nothing worked in their favor. However, destiny had other plans! Rosella was watching the Netflix show "How To Live Mortgage-Free with Sarah Beeny."  This was when she thought she could live on a yacht! The couple then began their research on houseboats on Dubizzle.
"We visited the owners of the boat (who were moving to Europe), and we immediately clicked with them and the houseboat lifestyle. A week later, we signed the contract. Ever since then, we've never looked back.
The Boathouse Has It All, Just Like A Normal Home
Mark and Rosella's home is restful, inspiring, and has a slight boho feel. You are surrounded by natural beauty, and yet you have a sweeping view of the Downtown skyline. There are three floors- the main floor, which is laid out like a studio or NYC railroad-style apartment.
Upstairs is what is called the flybridge. This is where there's a grill, dinner table and lots of space to lounge and take in the views at night. Then there are downstairs rooms, like cubbies that you can crawl into and sleep in (perfect for kids). And guess what – there are FIVE bedrooms and three bathrooms. "The home ticks every single thing on my dream home list. To me, it's too perfect to be a coincidence!", said Rosella.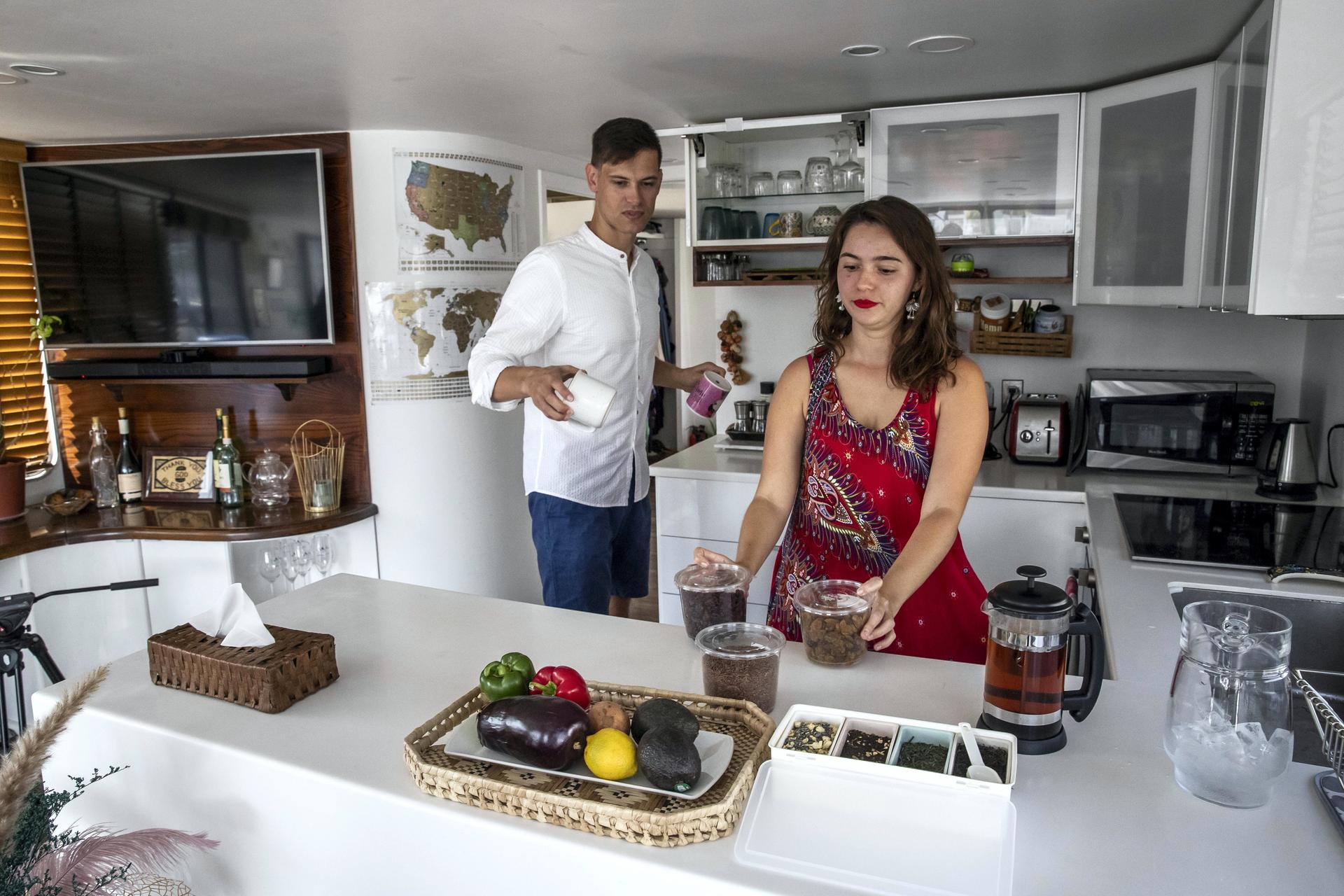 Dealing With Challenges That Come With Living In A Houseboat
Living on a boat has an entirely different set of maintenance requirements than an apartment or house. It's not uncommon for the AC to stop working due to a jellyfish getting stuck in the system, or the power to surge because you had too many stove burners on at once. So in the first year, the couple faced a huge learning curve with adjusting to the new rhythm and routines of boat life. However, the previous owners left them an incredibly detailed set of instructions on how to troubleshoot issues which helped in a big way.
And the good thing is google maps picks their location very accurately off the dock. However, the couple admit that it is less convenient than giving a building and flat number. "Delivery guys are understandably confused when I explain I'm on a boat, so I usually just meet them at Boardwalk Restaurant near the marina. If they find me, they get an extra large tip" said Rosella.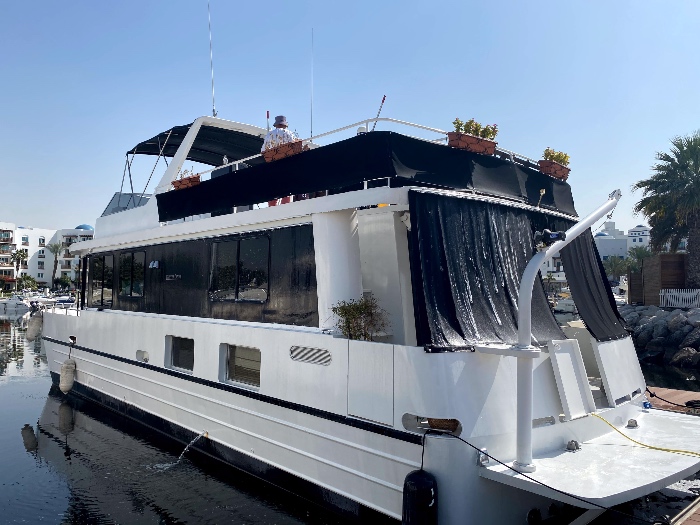 Living In A Houseboat Vs Living In An Apartment
Mark, being an expert mathematician ran the numbers well before the took the plunge. To everyone's surprise, living in a houseboat worked out more cost effective in Dubai. "A 50-foot houseboat costs about AED 57,000, including water, electricity and a one-time joining fee. This also grants owners access to the facilities at Dubai Creek Golf & Yacht Club and Park Hyatt Dubai – including the swimming pool and gym, and discounts in restaurants. As Moore puts it: "We are paying less to live here than we were paying for our Dubai Marina apartment."
It's all worth it in the end, though, the couple say. Living here, brought a huge change in their lifestyle and therefore their priorities in life. The guys who work on the yachts around the house have now become their extended family. Mark and Rosella enjoy meals with them and also go to them for maintenance questions or issues with the boat. For Moore and Rosella, it's the sense of community in Dubai Creek that has made the experience so special.