The sound of a train whistle blowing immediately transports us back to childhood, when the best memories were formed on train journeys. Take the nostalgia train and set out to explore some of the most scenic train journeys in the country in the seat of a locomotive. 
1. Darjeeling Toy Train
Darjeeling Himalayan Railway is a tiny steam train that hauls through the sprawling tea gardens between Darjeeling and Ghum. Running at a steady speed of 10-12 kmph, this loco makes its way slowly through sleepy hill towns and villages. It curves around hills and plantations. The best part though is it makes a 10 minute halt as it spirals around a gorgeous garden at Batasia loop. This is where you get the most fantastic views of the mighty Kanchenjunga. Built in the 1800s, Darjeeling Himalayan Railway has since acquired UNESCO World Heritage status. 
Also read: Darjeeling's Tea Estate Now Boasts Of A Taj Hotel With The Most Panoramic Views
2. Nilgiri Mountain Railway
Remember Shahrukh and Malaika dancing on the roof of a train in 'Chaiyya Chaiyya'? The train that formed the setting for this iconic dance number was the Nilgiri Mountain Railway. A steam engine locomotive and a UNESCO World Heritage Site much like the Darjeeling Himalayan Railway, this train covers a distance of 46kms in four and half hours. Starting at Mettupalayam, a ride on Nilgiri Mountain Railway is certainly the most mesmerizing way to reach scenic spots like Ooty and Coonor. As your weave through forests and fields, just put your hand out of the window to touch the misty clouds. S3`imply breathe in the serene views of the valleys. Also, take A Thrill Ride Over India's Oldest Most Dangerous Seabridge, Pamban Bridge.
3. Himalayan Queen
What started off as a means to help the English men travel to the summer capital of the country, Shimla, has now remained as what we call the Himalayan Queen. Starting from the far end of Punjab in Kalka, it makes its way through over hundred tunnels and close to a thousand curves. The little meter-gauge train finally pulls in to the scenic Shimla railway station. Along the way, you will be enchanted with views of pretty flowers and apple orchards. As the train crosses little bridges built over happily gushing streams of water, you will feel the rush of being in the lap of the Himalayas. The journey lasts a little over 5 hours. Fan of 'Jab We Met'? It features this legendary train if you remember.
4. Golden Chariot Route: Bangalore (Karnataka) to Goa
One of the rather luxurious trains of India, Golden Chariot offers a glimpse of the southern heritages of India, all while enjoying the extravagances of modern life. This train takes you on a scenic 7 day journey weaving through tourist favourites like Mysore, Hampi and Goa. So if you're confused on where to spend your spare money, we would say get a ticket to this train. What you will get? Not much. Just an AC cabin intricately designed using inspiration from 12 century temple architecture pre fit with TV, wardrobes, ensuite hot showers and the works. More so you get access to their on board Cigar bar lounge, Spa, Gymnasium, Massage rooms and even guided tours at each destination. Not to miss gourmet meals and live performances to keep you always entertained.
5. Poorna Express (Pune To Ernakulam)
With no heritage or luxury status, this train plying between Pune and Ernakulam, still makes it to the list for the extra-ordinary jewels. With a duration of over 32 hours and 31 halts, Poorna Express chugs through the Deccan plains through the night. As it crosses Belgaum junction in the morning, magic begins to happen. Winding through the Western Ghat Mountains, you see several pretty waterfalls dotted along the slopes. All of a sudden you encounter the majestic Dudhsagar falls located on Goa-Karnataka border. This is where the iconic scene of Chennai Express was shot. As the train moves ahead, you witness the beautiful Konkan stretch with sleepy villages nested in the shade of coconut trees. The train then crosses the lovely coastal towns of Gokarna, Udupi and Mangalore before getting lost in the charming paddy fields of Kerala.
6. Kashmir Valley Railway (Jammu To Baramulla)
Kashmir Railway is one of the most challenging railway projects of the Indian rail system, but it is equally picturesque and enthralling. It crosses the major earthquake zones, high altitude mountain passes and terrain, in extreme cold temperatures but still it is definitely worth your time and visit. Also, The Aharbal Waterfall In Kashmir Is The Slice Of Heaven We All Deserve In 2021.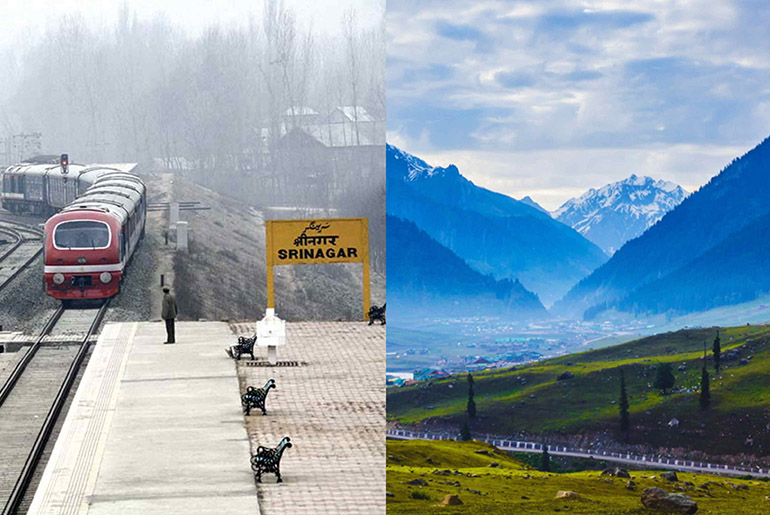 7. Goa (Vasco Da Gama – Londa)
Through dense forests, eachtowns, frothy waterfalls, mysterious tunnels and lush green fields, this rail route will take you through the best of the Konkan Coast and the Western Ghats Mountains. The highlight of this route is India's tallest waterfalls, Dudhsagar at Goa and Karnataka's border.
How many of these incredible journeys have you taken?