The deadly coronavirus has gripped the world and wearing a mask has become mandatory for all of us. Putting on these face masks for hours often leads to suffocation and headaches. But there's a therapy to get rid of all these woes, and that's none other than Oxygen Aromatherapy. And guess what, the first and only oxygen bar in Mumbai, OxyBank, has come in BKC, to give y'all a dose of pure, aromatic oxygen. Also, Oxygen Aromatherapy has oodles of benefits for the body and soul. Read on to know all the deets.
Mumbai's First Oxygen Bar Comes Up At BKC
Mumbaikars, now you can rejuvenate yourself with a mind-boggling Oxygen Aromatherapy session at the city's first oxygen bar in BKC, OxyBank. With the help of special tubes, the guys will let you inhale pure, aromatic oxygen. The air comes with different flavours and each of them has different benefits. The flavours are Eucalyptus, Mandarin, Peppermint, Lemongrass, Rose, Lavender and Jasmine. Prices per session at this concept bar ₹899 per person.
Also Read: 6 Places In Mumbai Delivering Delicious Navratri Thali That You Must Try
Oxygen Aromatherapy Uplifts Mood And Boosts Immune System
Oxygen Aromatherapy has been used worldwide to heal many ailments for over two decades. It is a new concept in India. The best part about oxygen therapy is that you'll be able to breathe in fresh, unpolluted air. The atmospheric air is now highly contaminated and as per reports, breathing polluted air these days is the same as smoking 45 cigarettes in a single day. With this therapy, we can treat our lungs with gushes of some pure air. Besides, Oxygen Aromatherapy reduces stress levels, improves metabolism, boosts energy levels, promotes better sleep, uplifts mood and also aids in better sleep. The therapy helps in improving the immune system, which is highly important, considering the current scenario.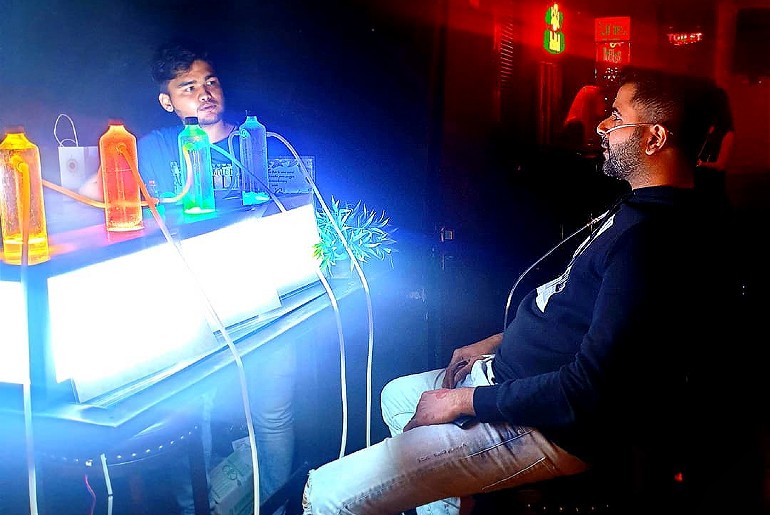 Also Read: Mumbai's Iconic BMC Headquarters Opens Its Doors To Tourists For Heritage Walks
So, why wait? Get into your cars and drive straight to this new concept bar to energise yourselves with an invigorating oxygen session. Happy inhaling, folks!