Alexander the Great once said, "There is nothing impossible to him who will try." Hello everyone, my name is Shyam Gopalakrishnan and I'm from Tamil Nadu. I have a keen interest in travelling to exotic places of the world to satiate my hunger for new experiences and adventures. After a wonderful family trip to the UAE the previous year, I wanted to make it a habit to travel to at least one new country each year. The prospect of international solo travel intrigued me. Time was of the essence and so I decided to travel solo and to a country, I never thought I would visit. Having always had a keen interest in history my decision to travel to Egypt for a short vacation came naturally to me. With its rich and extremely vast history, this country is every historian's and archaeologist's paradise. So are you looking for an Egypt itinerary? Well, here's my 7 days solo trip to Egypt in ₹1,10,000 including flight tickets.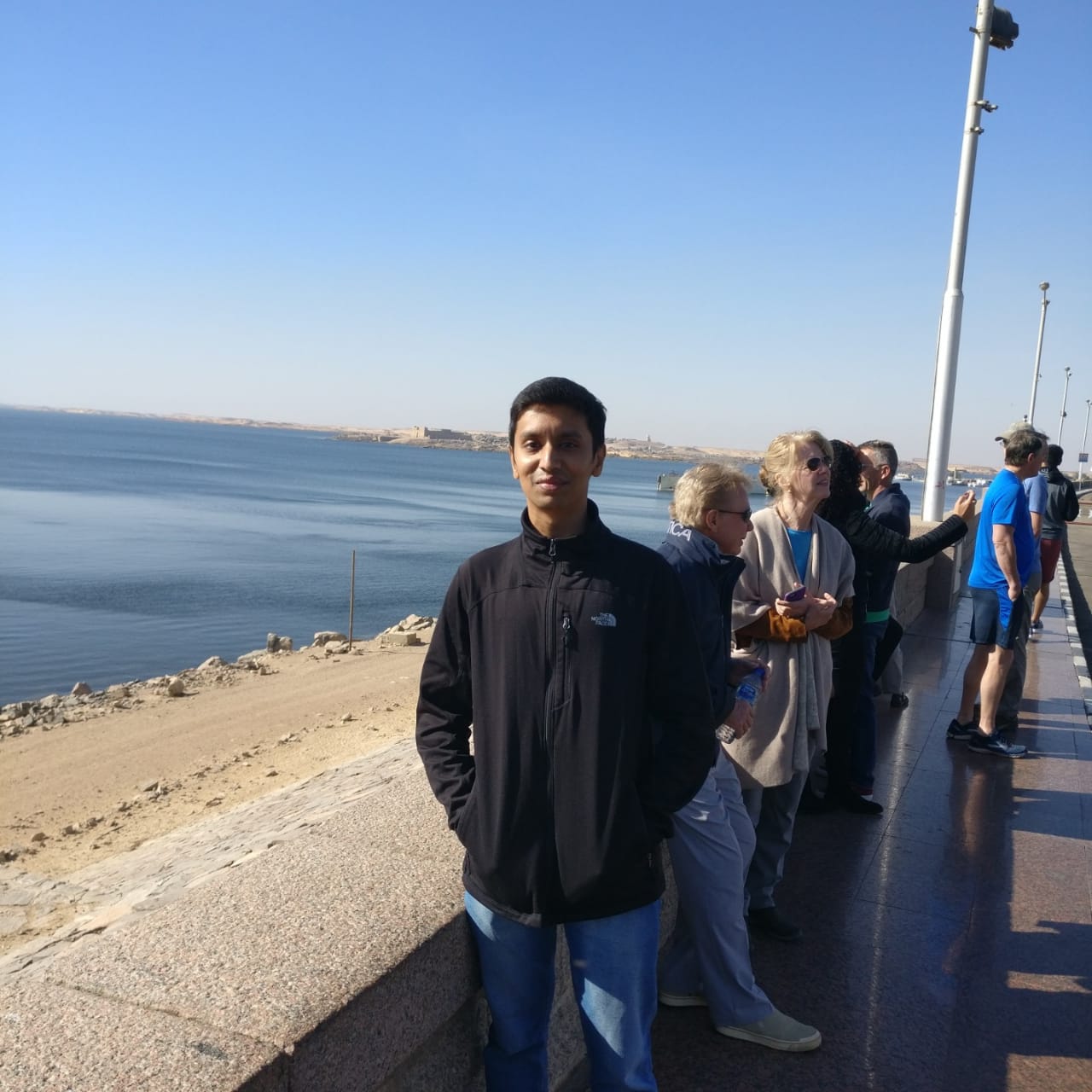 My Trip To Egypt
The land of the pharaohs, Egypt, is a country located at the crucial junction of two large continents. Situated in the northeasternmost point of Africa, Egypt shares borders with countries in both Asia and Africa. Egypt has Sudan to its southern border, Libya to its west and Israel in Asia to its east. The Sinai Peninsula acts as a land bridge and connects both these continents at this location. I am a huge history buff and Egypt just fascinated me. So I badly wanted to go there. But since I couldn't go with my family, I thought I would go alone for the first time.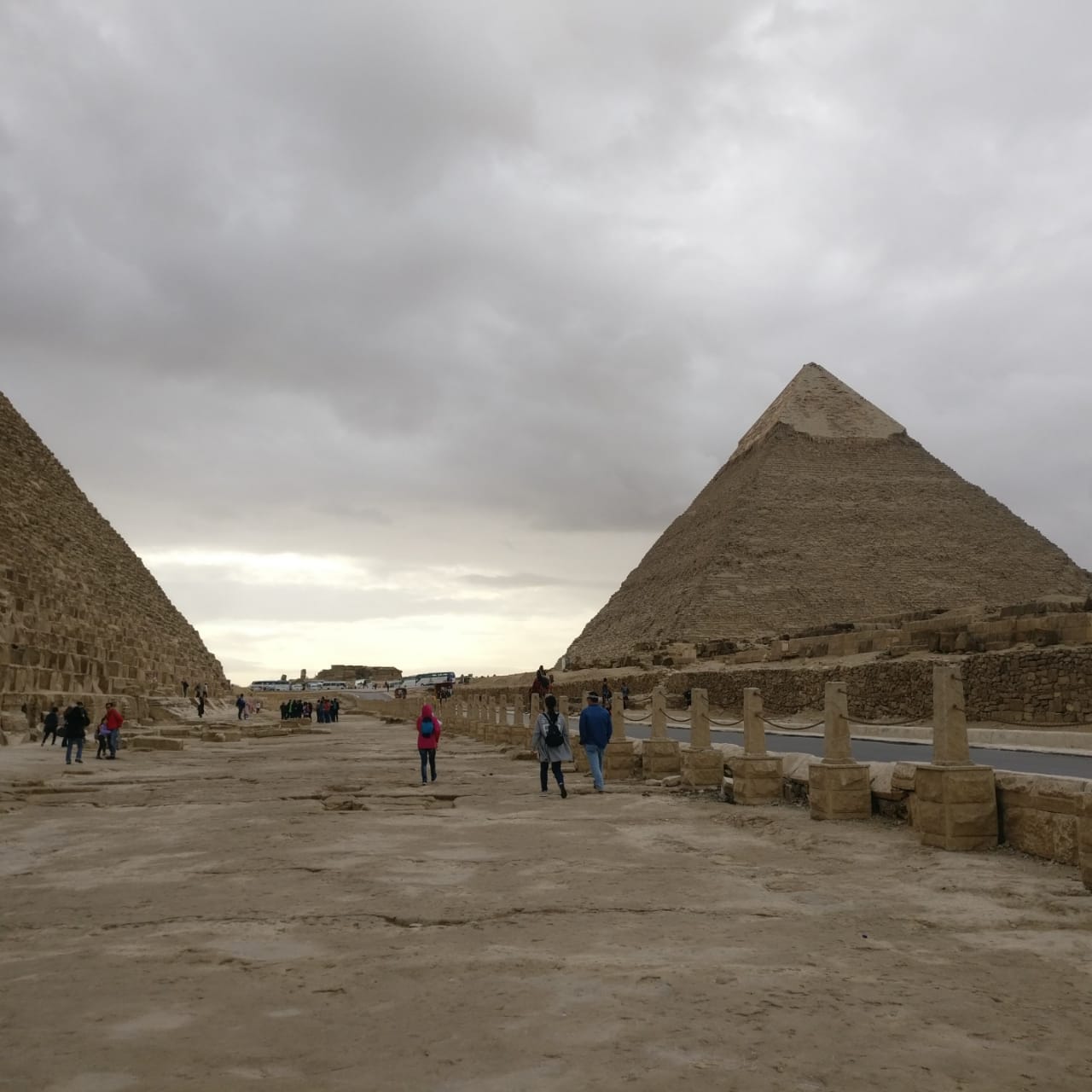 With all arrangements in order, from hotel bookings to even a group tour, I was off on the 17th of December  2018 to Chennai from Salem. From there I took my eight-hour flight to Cairo with a long transit in Kuwait. And from here began my 7 days solo trip to Egypt from 17th December to 24th December 2018.
Day 1
In all the excitement and the anxiety in travelling solo, I had forgotten that I would be flying over one of the largest man-made structures in the world, "The Suez Canal". This 200-kilometre-long man-made canal in the middle of the desert offers a much shorter shipping route between Asia and Europe. Ships could now sail up the red sea and through the canal to enter the enclosed Mediterranean Sea instead of going all the way around Africa. That's simply WOW!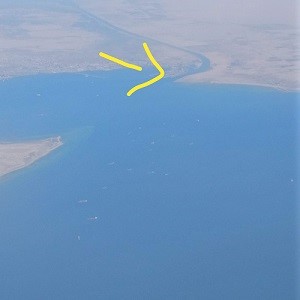 Quite amusing to find that my sight-seeing tour had started even before we had landed in Egypt. But I was in for a bigger surprise when I did land in Cairo. The weather was unexpectedly cold.  Fortunately, I had packed my lighter jacket or else it would have been a bitter cold vacation, to begin with. After checking in at my hotel "Le Passage Cairo", I hired a local taxi driver to take me around downtown Cairo. Please note the local taxis are quite expensive and so I would suggest using Uber for commuting within the city.
Also Read: Egypt Visa for Indians, Indian Passport: Types, Application Fee, Form, Requirements And Visa On Arrival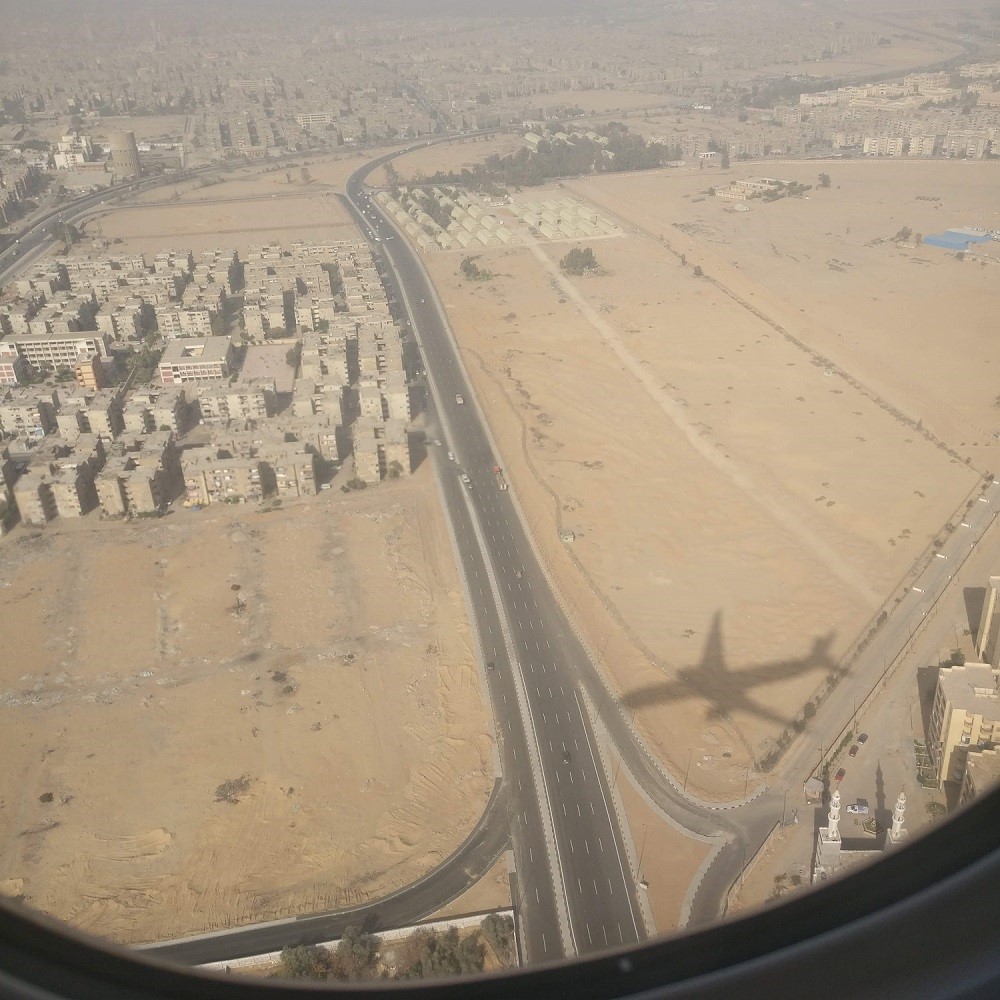 Cairo had all the signs of being a country's capital. There was traffic and chaos on the roads, people rushing about doing their daily routines. But still, this city cannot come close to matching the vibrancy one experiences in Indian cities. The calmness of the desert surrounding Cairo could be felt at all times.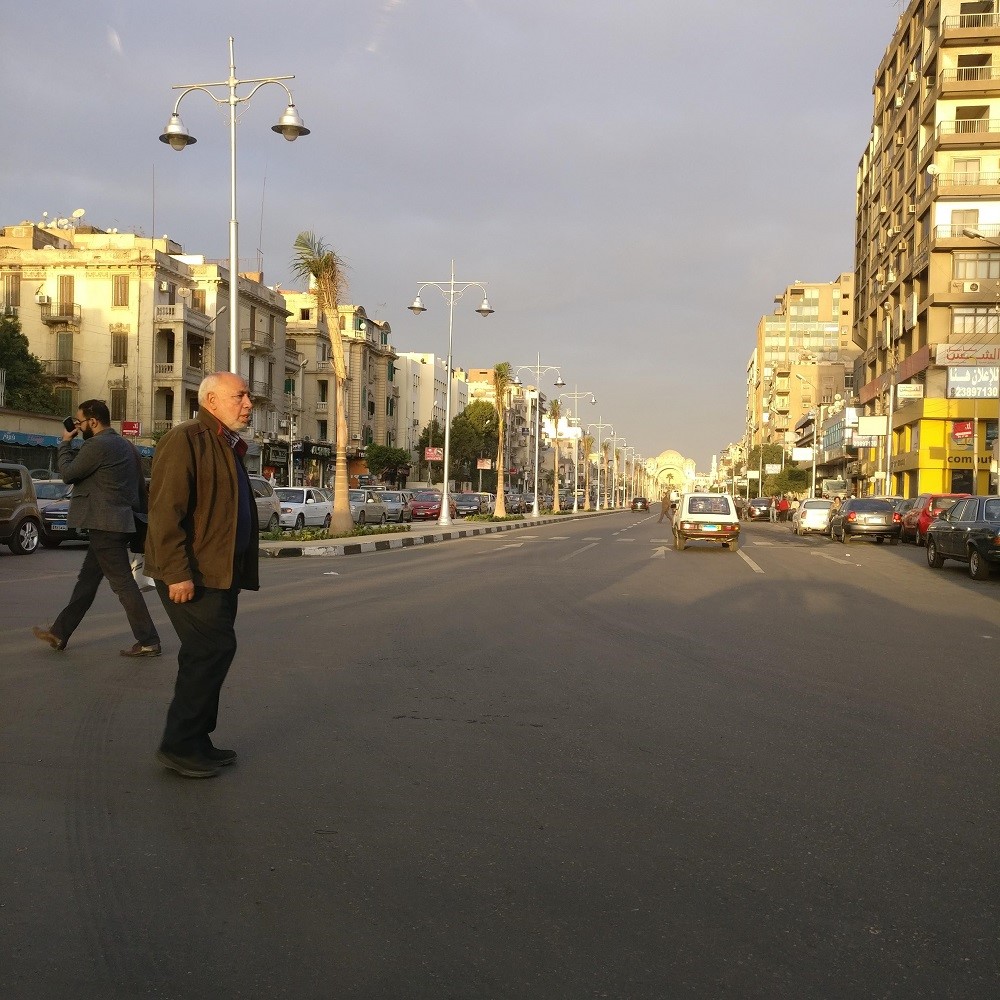 Cairo has some nice roads but very nasty drivers. I would vouch for India in this case. Also, a majority of their buildings have been left unpainted, the reason being the regular occurrences of sand storms in the region. The locals are very friendly with tourists but if you get too friendly with them then you get hustled and end up spending needlessly.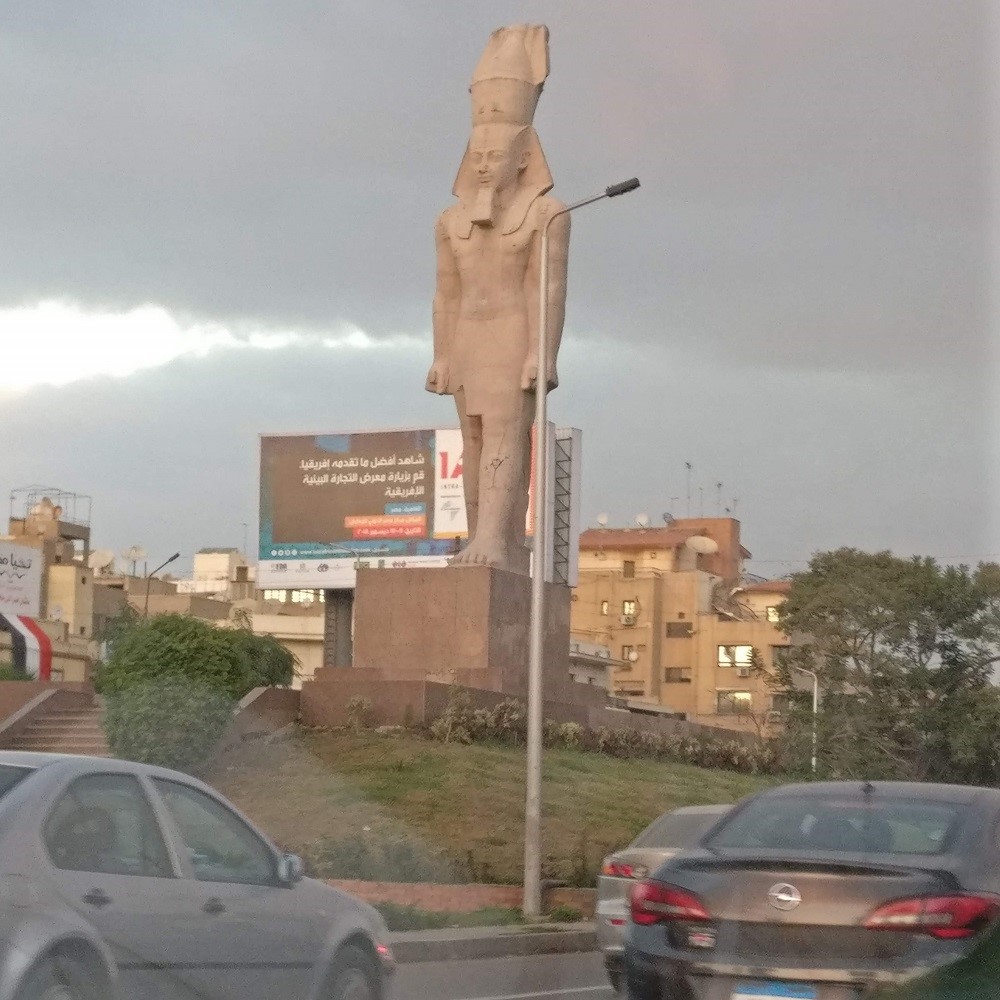 After my short city tour, I started my official sightseeing trip by attending, 'The sound and light show', in front of the pyramids and the world-famous Sphinx statue. This show explained the history of the pyramids and the purpose of the Sphinx and the kings for whom the pyramids were built. It was quite interesting, but I felt the visual presentation of the entire show was too outdated and needed a major reboot using modern-day technology.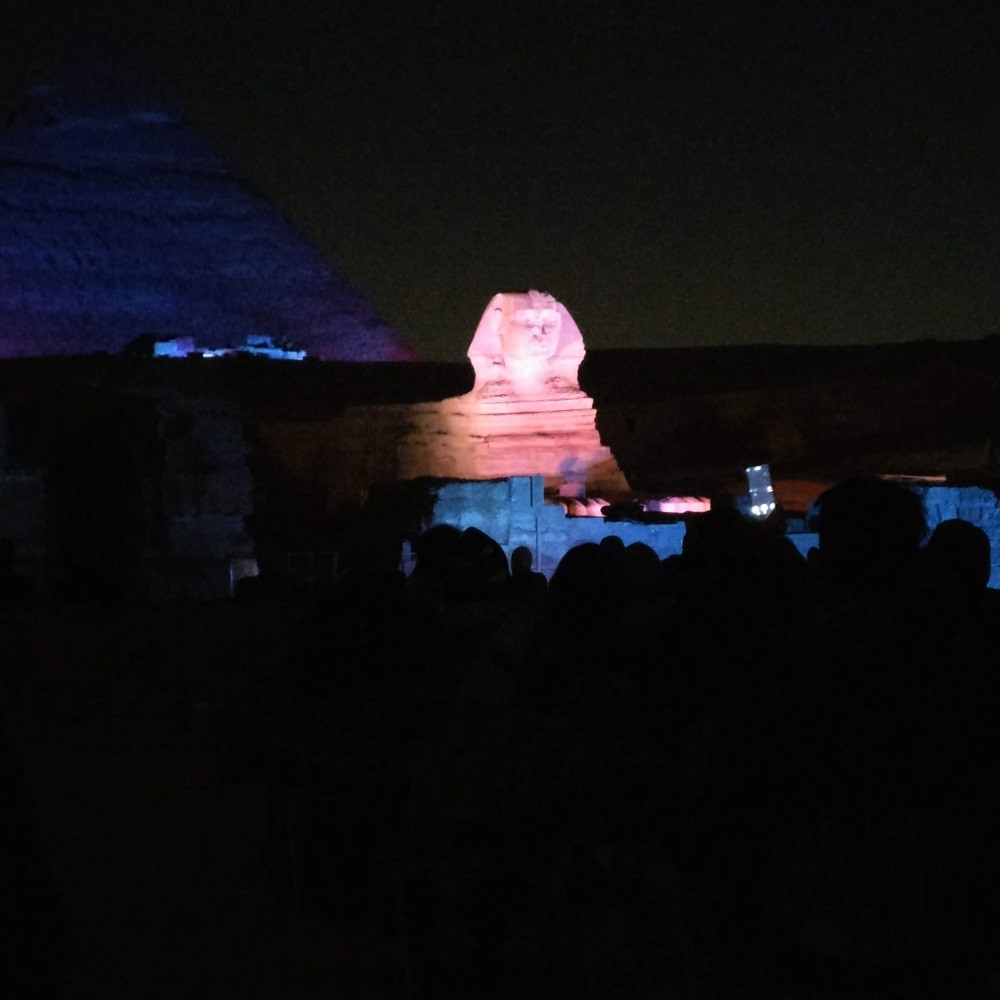 Also, the 10-degree cold desert weather was slowly having its toll on most of the audience.  By the time I got back to the hotel an hour later, I felt like a human popsicle fresh from ancient Egypt. Alas, the day was eventful, and I got my first taste of Egyptian history with lots more to come in the next few days.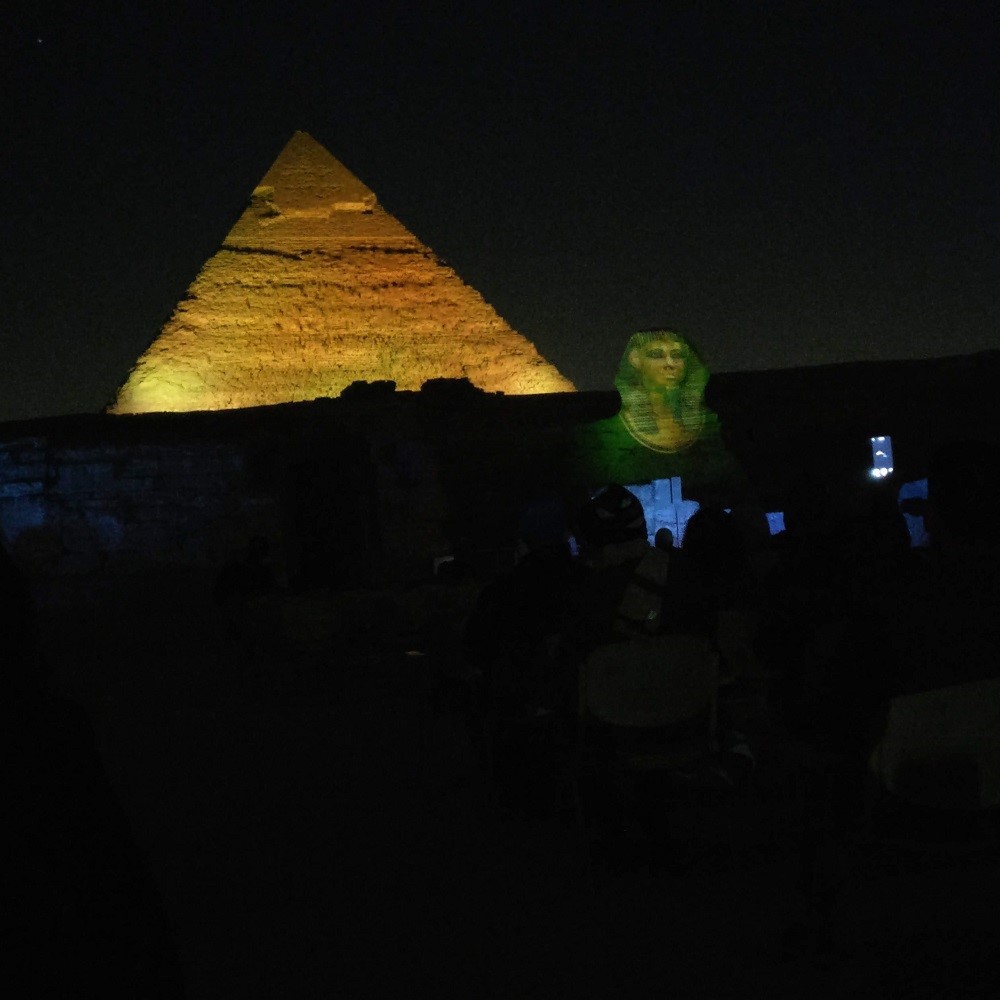 Day 2
Cairo may be the power capital of Egypt drawing thousands of tourists year on year to its many historical sites, but Egypt's second major income comes from its shipping industry. Alexandria is located to the northern tip of Egypt on the banks of the Mediterranean Sea and is home to one of the largest ports in the world. Thousands of ships traversing through the Suez Canal make port at Alexandria bringing vast revenue to the government thus making this city the commercial capital of the country.
I had booked a bus seat for a day trip to Alexandria and had to start early morning. Was glad to get some shut-eye in the bus. Along the road, I got to see the Egyptian countryside in all its glory. Orange and olive farms as far as the eye could see in the middle of the desert, eight-track roads, tiny villages here and there, sand, sand, and more sand….it was beautiful in a way though especially when the wind forms a mini sand tornado.
Alexandria was a city of dreams during the era of Alexander. It was home to the greatest library in the world that housed millions of scrolls and documents written by scholars from all over the world, imparting knowledge about various fields to its visitors. Its location on the Mediterranean Sea made it vulnerable to attacks and so Alexander constructed a large lighthouse just off the coast. It was called "The Pharos". This monstrous structure was considered the tallest building constructed by a man at the time of its completion and it remained so for around 2000 years till a powerful earthquake destroyed it completely. The great library was also destroyed by invaders years after the death of Alexander. Humanity lost a treasure trove of knowledge that could have been used to propel us 100 years into the future in terms of advancement as a species.
Today the same city has but a small shade of its glorious past. Its entire terrain is covered by roughly constructed multi-storeyed buildings and there is garbage everywhere. Not to mention too many cats to count. I feel pity for Alexander and what he would think if he saw what has become of his beloved city.
Upon reaching Alexandria, I first visited the Lost Catacombs which is like a small labyrinth of underground tombs made for minor lords and their families. The place was freshly excavated and lots of artefacts were uncovered every day. Up next was the main attraction in Alexandria which is the Pompey's pillar which was built in memory of a Roman king named Diocletian commemorating a great victory in a war. The pillar itself is about 20 meters in height and is what remains of a grand temple dedicated to the god Serapis. I had an ample amount of time to take photos from all angles. Here's one for the memories.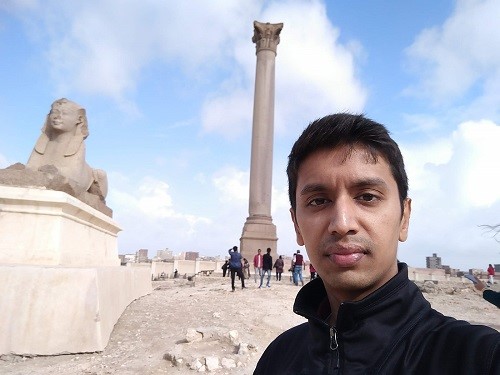 From our high point on the hill, I could get a clear view of the blue waters of the Mediterranean and just about half a mile off the coast I could see the narrow island upon which stood the magnificent Pharos lighthouse. There was just a small fort there now. Guess nothing lasts forever.
Up next was Montaza palace which was like a summer palace for people of royalty over several centuries. Now its owned by the government and most of it is just used as a museum. The sound of the waves coming from behind the palace attracted me and I just walked past the palace and stood to gaze at the blue wonder of the Mediterranean waters.
Egypt on this side and all of Europe on the other side of the Mediterranean Sea. Now that's fascinating geography. After a quick photo session, I proceeded for lunch at an Egyptian restaurant. The food was simply amusing since it's not every day I eat fish that tasted so bland. Seriously, Indian food rocks and we should be grateful to our masalas. It was time to say goodbye to this once upon a time amazing city. I reached Cairo around 10 pm and I was eagerly waiting to meet my bed.
Day 3
The day finally came. The day when I got to witness the defining symbol of Egyptian history. One of the seven great wonders of the ancient world. The great pyramid of Giza. It was a chilly and windy morning but that didn't deter me from gazing at the magnificent structure that stood in front of me. Built for a pharaoh named Khufu this amazing man-made marvel has been standing for several centuries and witnesses thousands of people that visit its site every day.
I bought a ticket to go inside the great pyramid itself. Once inside I went through a series of short caverns lit by lanterns. Then there was a steep climb up a one-way slope which lasted for about 20 minutes. Trust me this climb is not for the faint-hearted and claustrophobic people. The steep climb consisted of a series of crawling, duck walks, and firm grip work. If someone lost balance, then they will fall on the person behind them and cause a human avalanche. But after a scary 20-minute climb, the slope opened right into the central chamber of the pyramid itself where the tomb of the Pharaoh was kept. It was totally dark, but I managed to get a pic of the tomb itself before a security guard almost caught me. There was a big crowd coming up behind me so fortunately, I didn't have to spend much time in the chamber. After another jam-packed 20-minute descent I got out of the now creepy inside part of the pyramid and realized that I was at least 10% claustrophobic.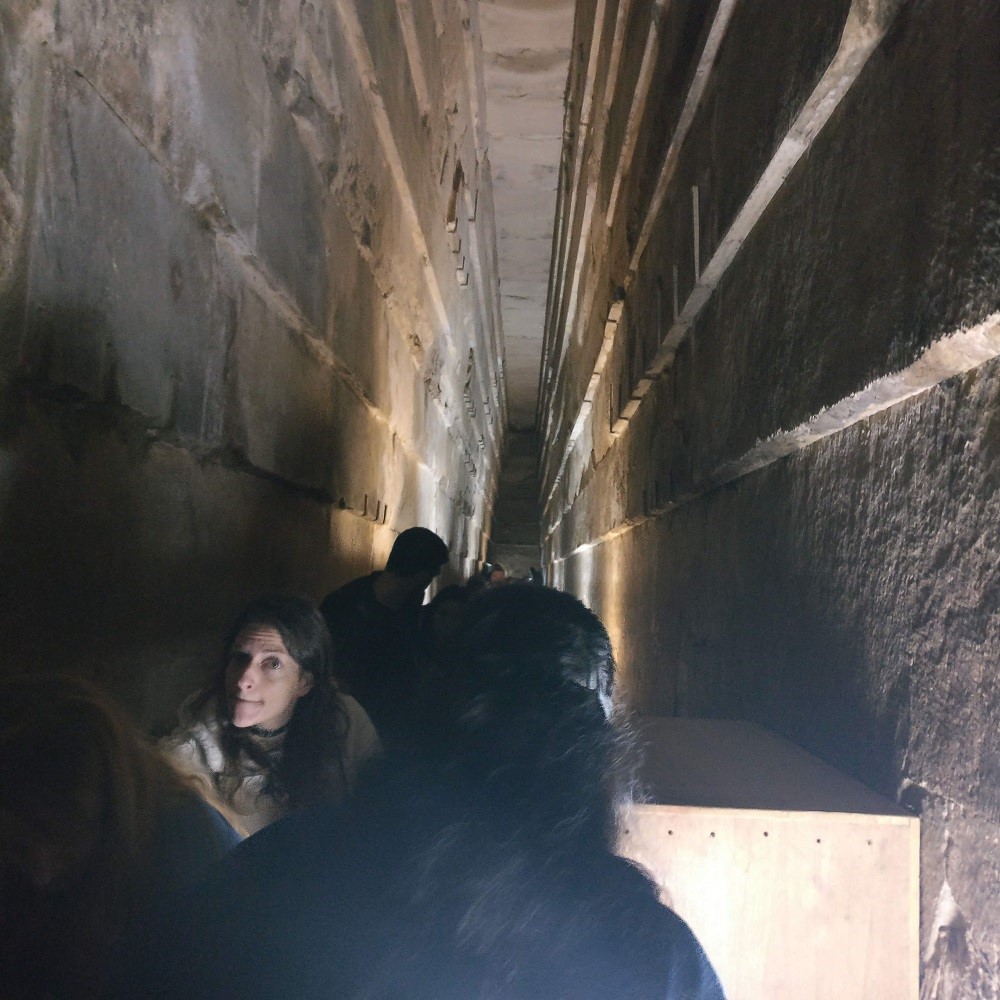 The fun wasn't over though, and my adventure continued with a camel ride. I thought it would be fun, but it actually wasn't. I almost fell off when the camel started moving and it surely wasn't like riding a horse. I would prefer horses to camels any day.
The three pyramids were built for three different pharaohs and the people who built them thought they should have an eternal security guard watching over them and protect the many secrets that each pyramid is said to hold within them.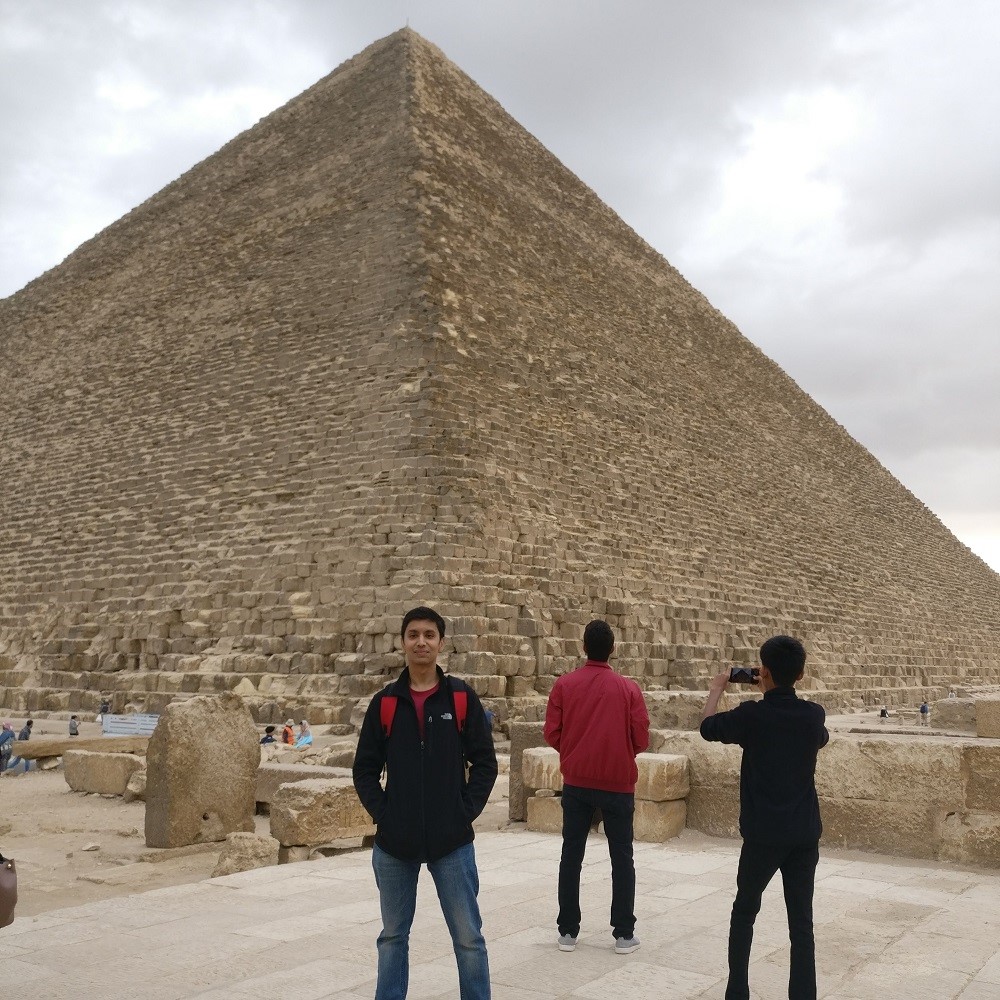 And that's how the Sphinx was born. This half man half lion structure is found in the same site as the pyramid complex and is considered as the guardian of the kings' eternal resting place. I guess he had a hard time of it because he's lost a nose over the years.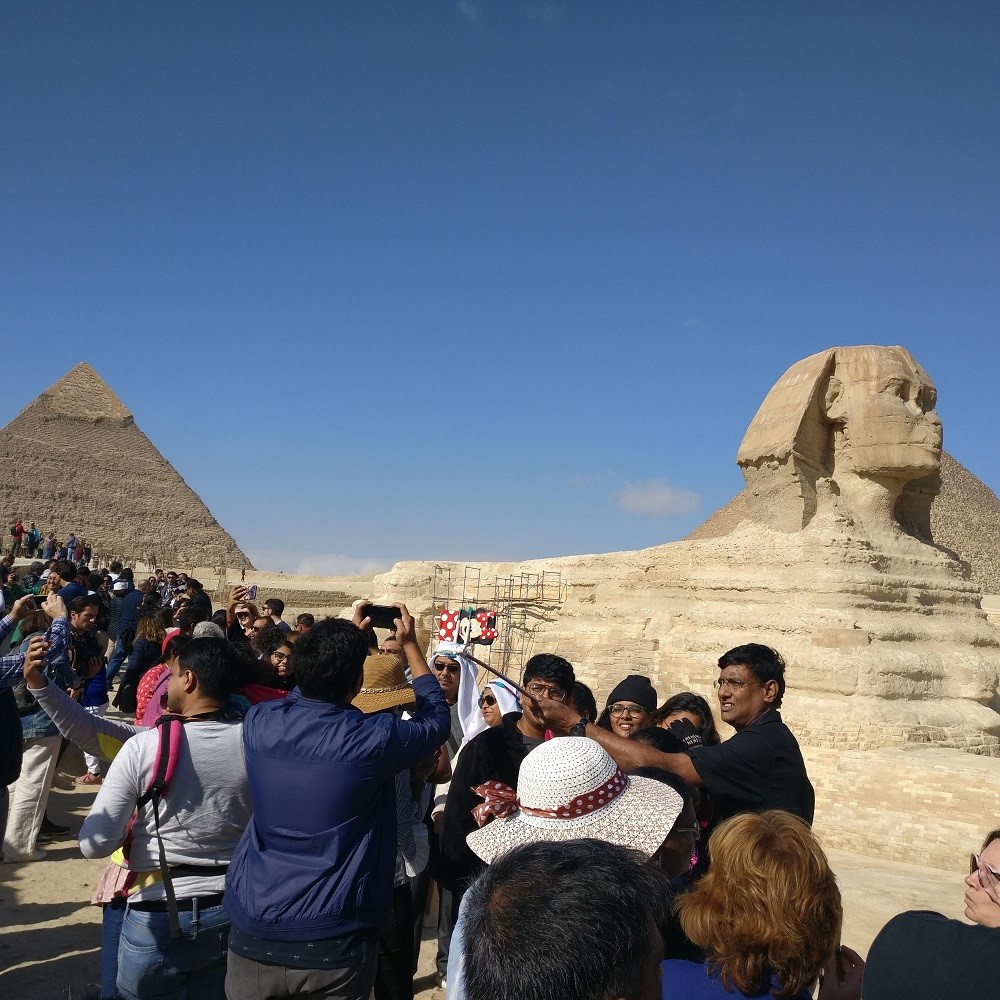 As a mid-day summary, I have only one sentence to say, "How the hell did they build these ginormous things thousands of years ago". After spending nearly half a day at the pyramid complex, my next stop was the great Egyptian museum.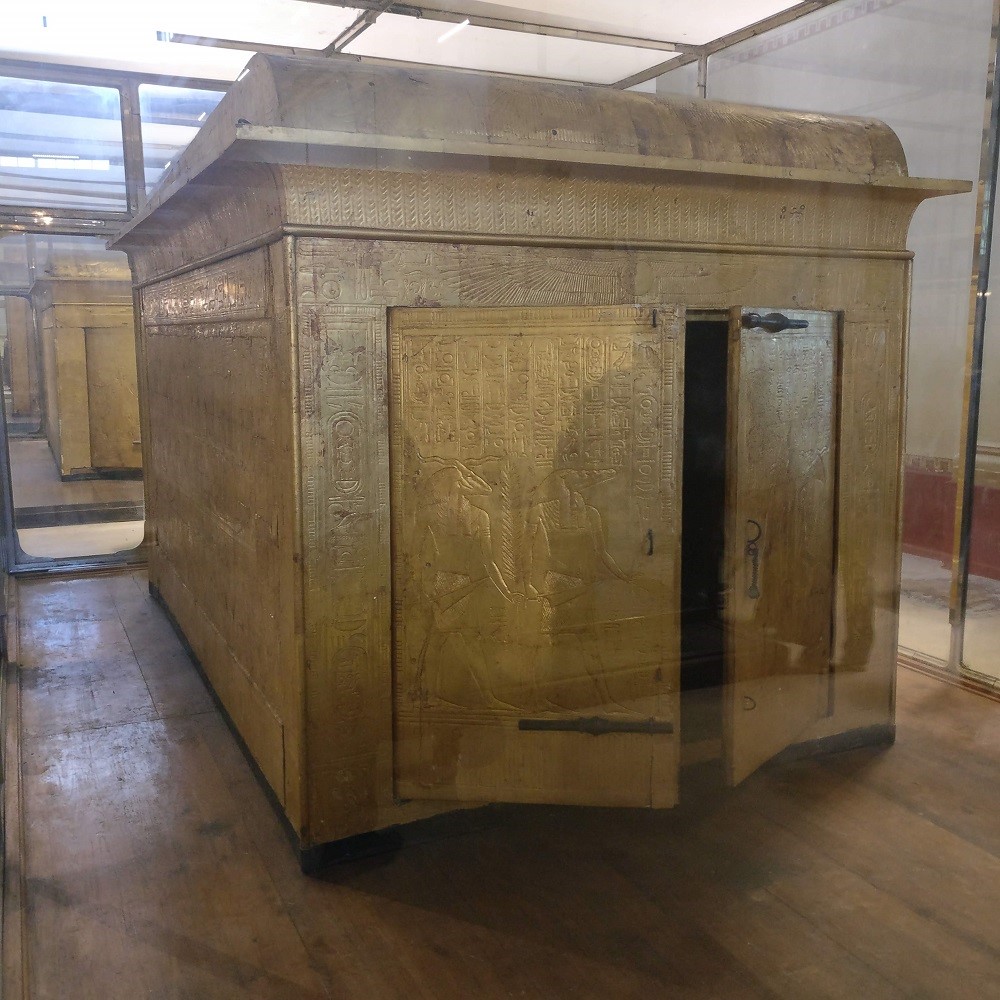 This place was simply mind-blowing, and I mean it's like a historian's paradise. It had mummies, bits and pieces of ancient ruins, a solid gold mask that was made for a famous pharaoh called Tutankhamun and so much more that have been excavated over the centuries.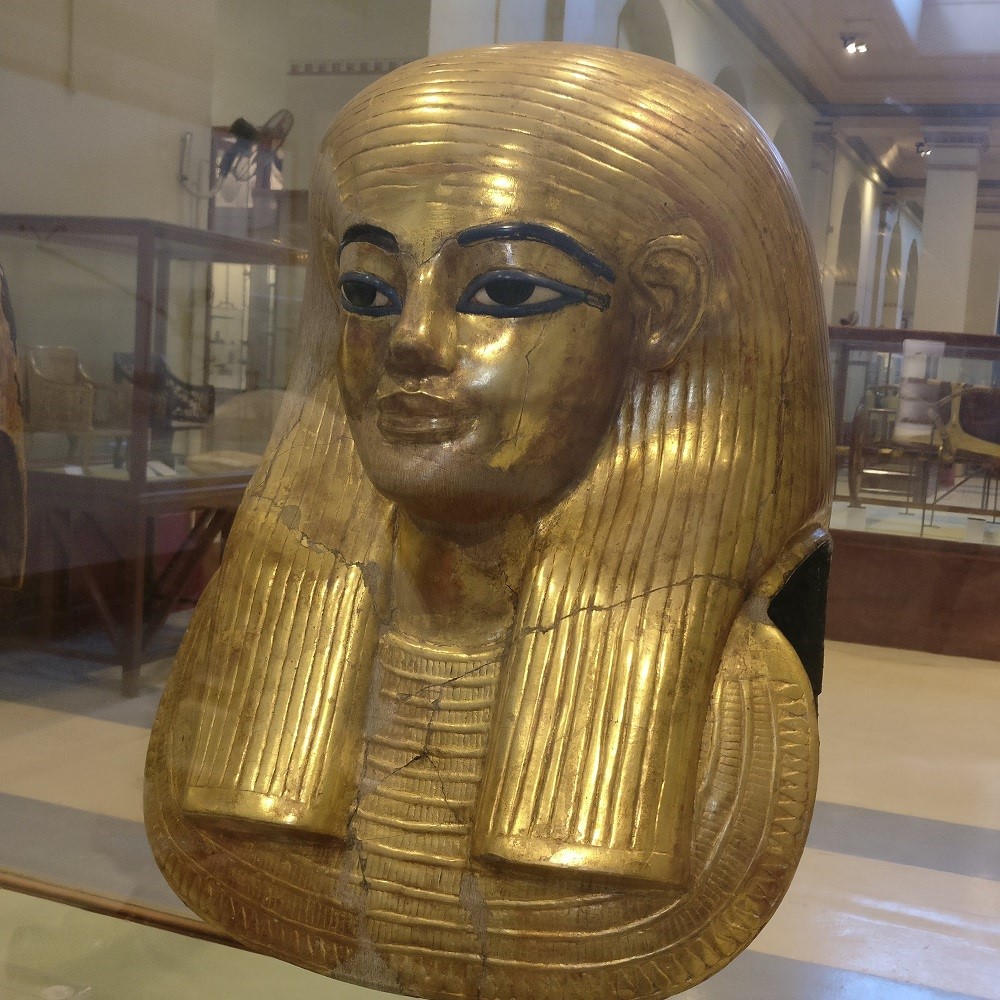 The most interesting part was the mummy room where they had the actual mummies of all the famous pharaohs of Egypt perfectly preserved. It was fascinating, but it gets quite creepy if you linger there for too long. I spent a good part of four hours to see all the beautiful relics from the time of the ancient Egyptians. These people had a rich culture established like ours back in India and their architecture and rich heritage proves it.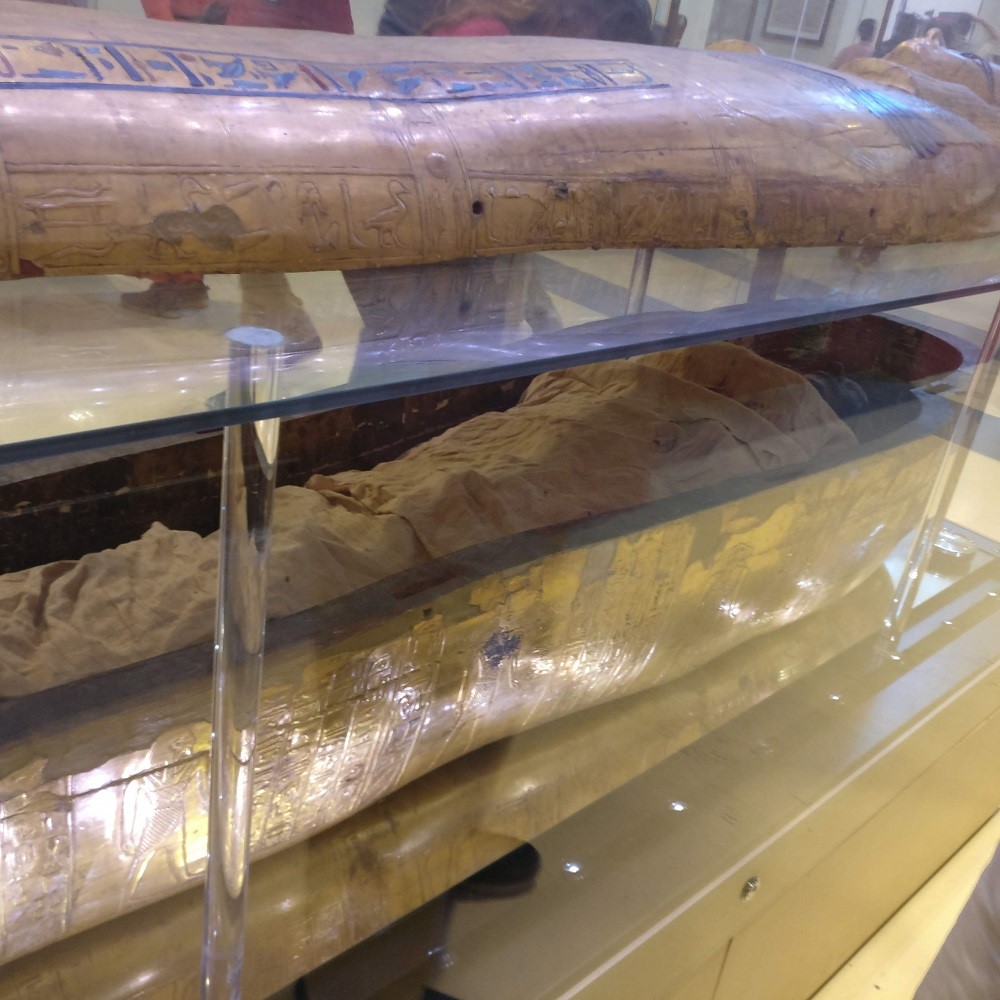 After an intense day filled with history, it was time to spend my last night in Cairo since we were leaving to Aswan in the morning from where I will continue the southern part of my Egyptian expedition. A big round of applause to my guide Haani for his animated explanations of the artefacts in the museum. This guy was amazing.
Day 4
Now I know Cairo is the capital and there is a general buzz and vibrancy around most capital cities of the world. But Cairo didn't have that. And after landing in Aswan the next morning I felt it was like 'out of the calmness and into total silence'. The place was quite empty. This minute city is located inside the desert and is sparsely populated. I couldn't see a soul anywhere around once I got out of the airport. For this leg of my journey, I joined a group of other travellers as part of a group tour. We proceeded straight for sightseeing around Aswan.
On the way to our first site, all I could see was sand and some houses here and there. How do people actually live here I wonder?  Our first stop was the High dam of Aswan. A huge dam built to arrest the flow of the Nile and provide water to the cities in the north. The Nile happens to be the only river in the world that flows from the south to the north. Now that's seriously fascinating.
It starts somewhere down in central Africa in a country called Rwanda and passes through seven other countries before it reaches Egypt. And they say the Nile has never once dried up in all its history. Wish we had a river like that flowing through Tamil Nadu.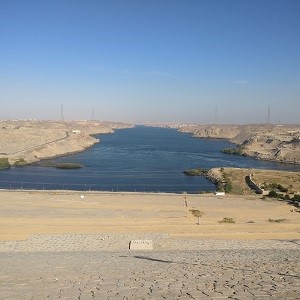 Next, we visited the first of the many temples which we will be visiting over the next few days. The island temple of Philae was simply a beauty to watch. After experiencing tombs and mummies in the north, Aswan offered a refreshing sight to gaze upon.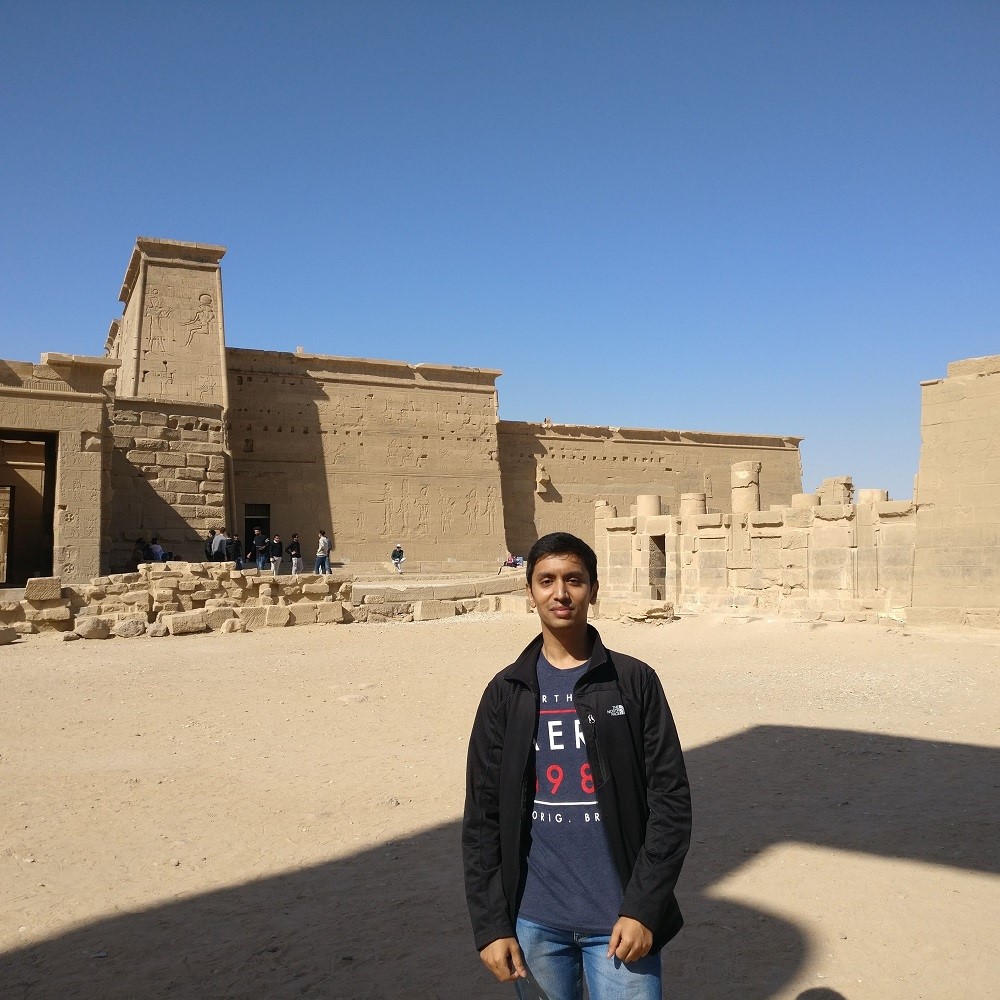 The temple was dedicated to the goddess Isis and has stood on the banks of the Lake Nasser enduring the test of time. What amazed me was detailed encryptions and writing work done over every inch of the walls. I guess ancient Egyptians had a thing for chisel work. The hieroglyphic symbols were simply marvellous and so well detailed. Credit to the government for preserving these structures so beautifully. Lots of photos to take back home.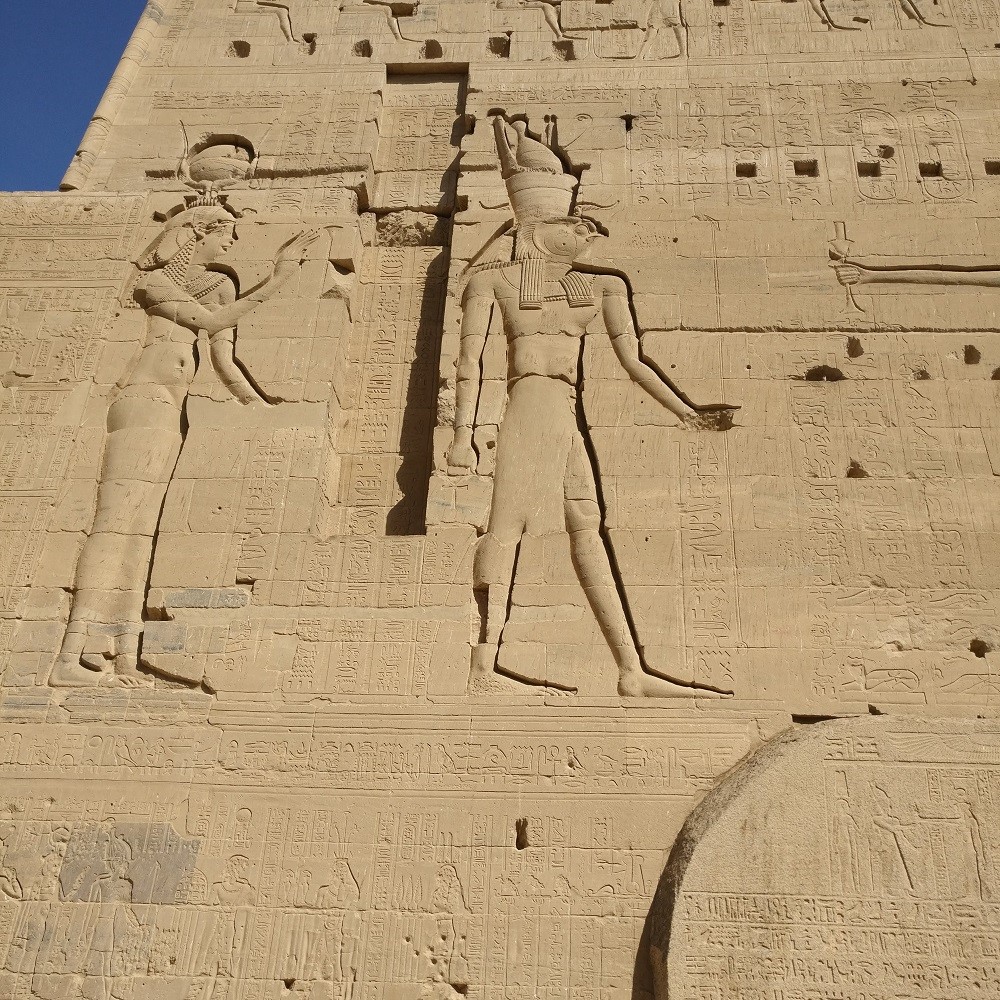 All this walking was making me hungry. After a short stopover at a local apparel shop, ( Where I bought a shirt made from Egyptian cotton) we reached the Nile river cruise for a whole new experience. In short, this cruise was simply awesome, and I never expected it to be so grand. It's a must-do for everyone visiting Egypt. Our ship 'The Crown Empress' was double-decked and had a pool at the top and was a small-scale version of an ocean liner. I spent some time exploring the floors and took some pics as well.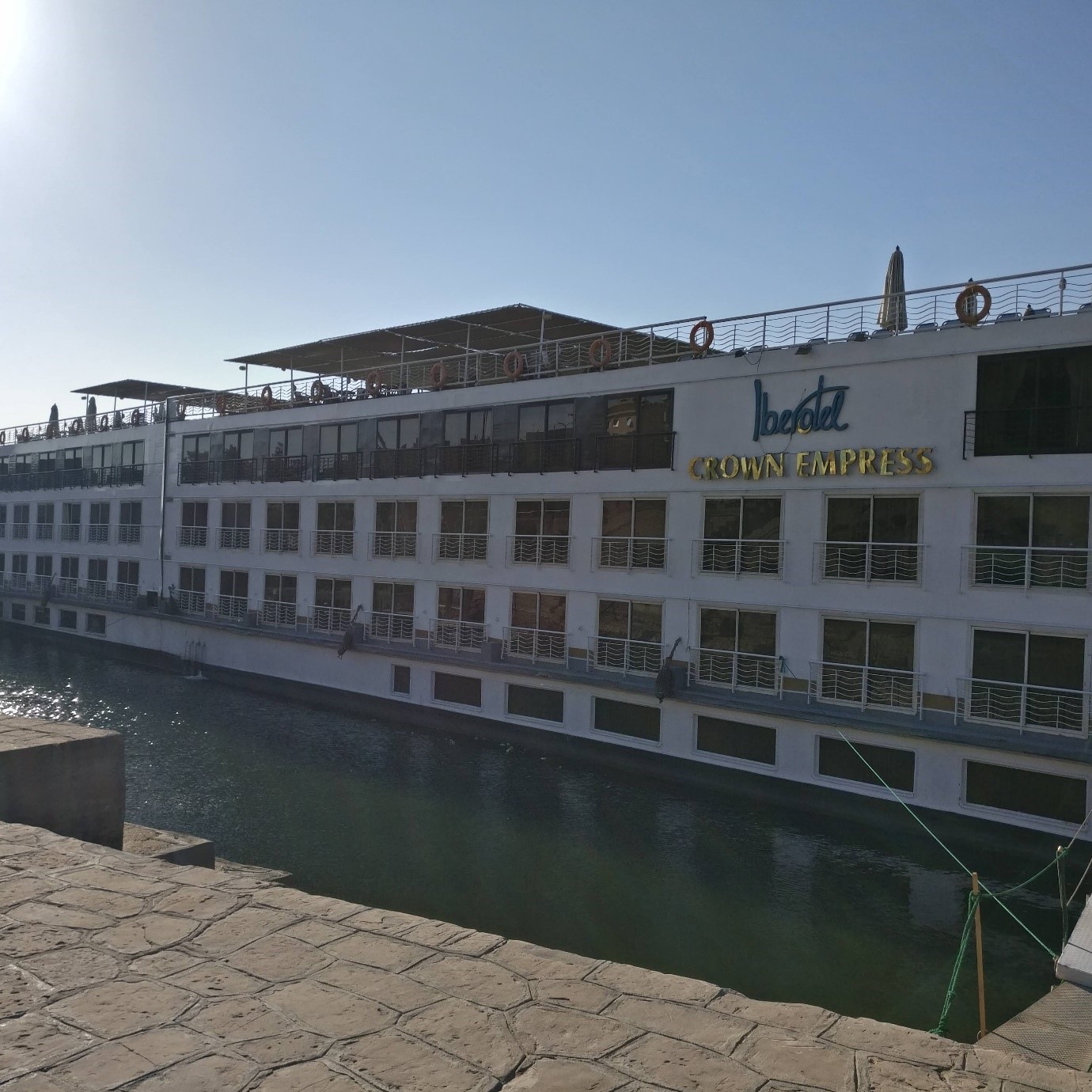 Instead of taking a bus ride through southern Egypt I spent three days aboard the river cruise which sailed from Aswan to Luxor located further north along the Nile. Glad I didn't get seasick. Just enough time to get some sleep.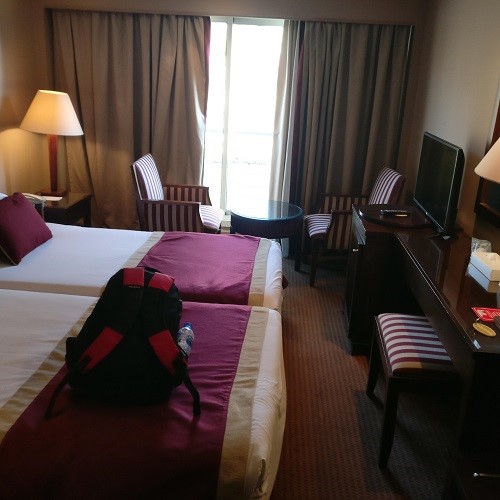 It was so different to see sand dunes in the distance with the beautiful Nile just winding through them. Once on the sun deck, I could witness the real beauty of this cruise. Desert on both sides with a cruise ship passing through right between them. You don't see that every day do you?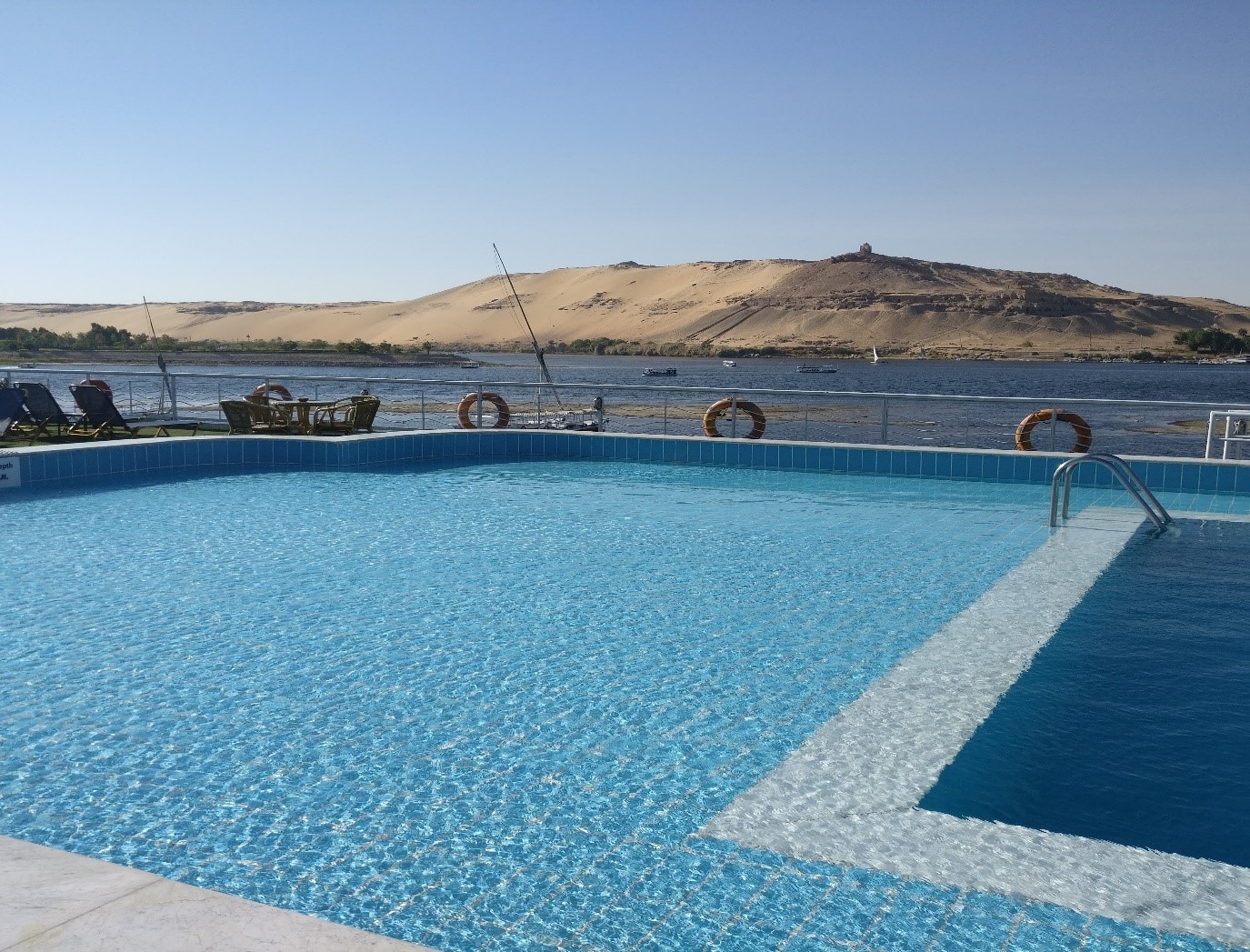 I spent most of my time that day on the sun deck and just took in all the majestic views on either side along the banks of this great river. Eventually, I had to go in as the cold was starting to get to me.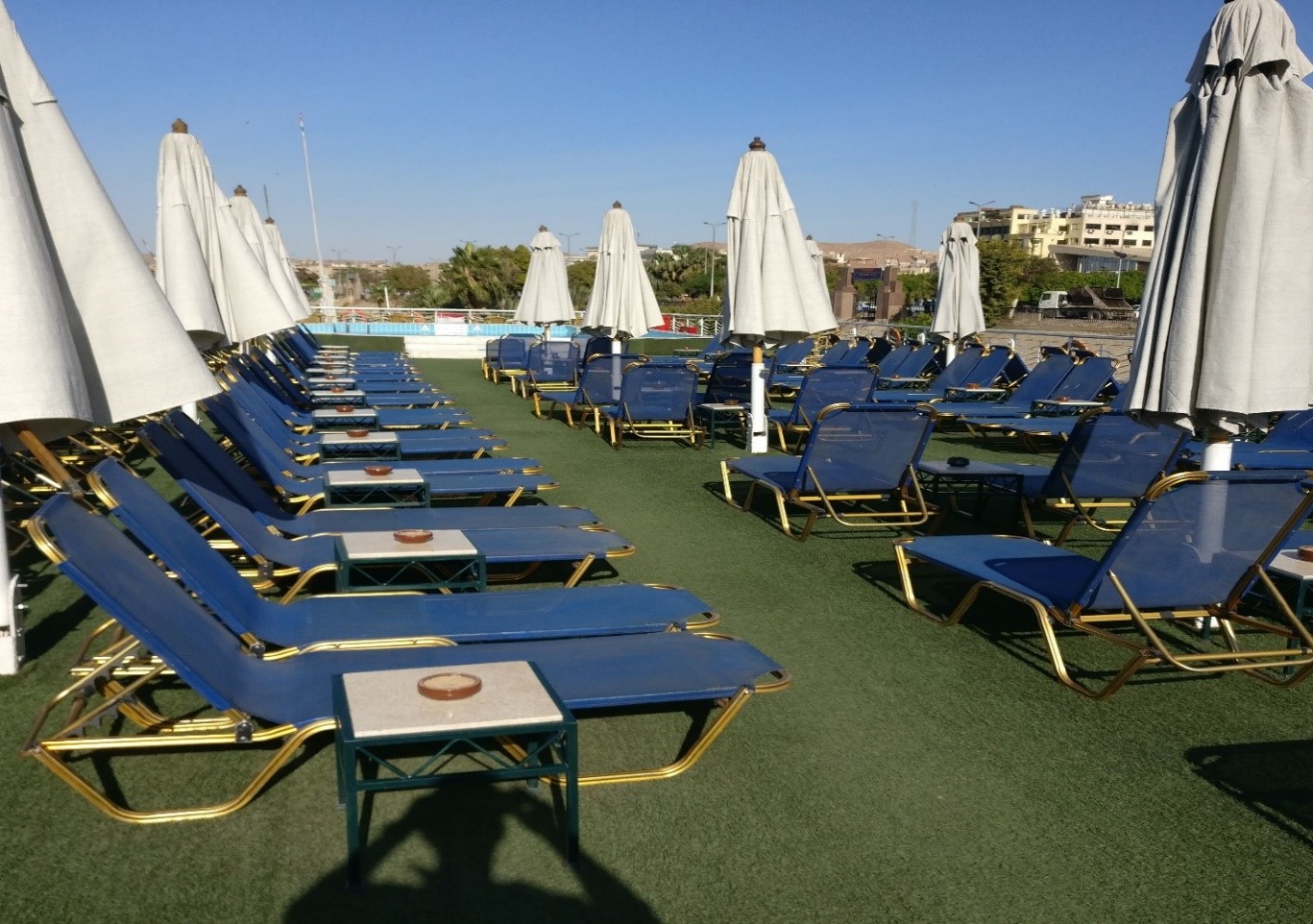 The ship didn't sail that day since we had arrived a day early. So this gave us sometime the next day to take a day tour to one of the most iconic monuments of Egypt.
Day 5
The magnificence of the Abu Simbel temple is second only to the pyramids themselves. This temple is located at the tip of Egypt's Southern border and is only a few miles to the Sudanese Border. There is only one road to get there and that is through "The great desert road". A catchy name isn't it. Just miles and miles of a lonely road that keeps going straight on cutting through the desert. Not a soul in sight anywhere.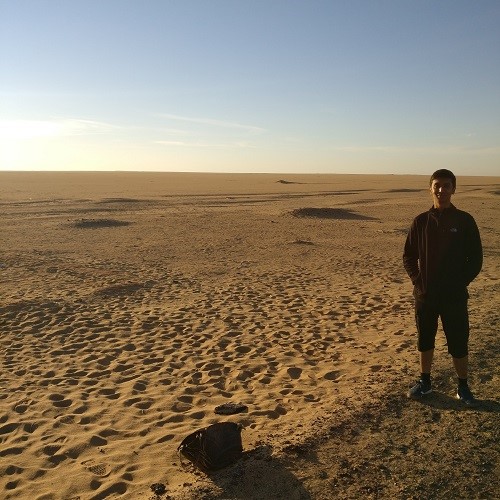 It took three hours just to get there, but the trip was totally worth it. This was the most magnificent temple I have ever seen so far in Egypt.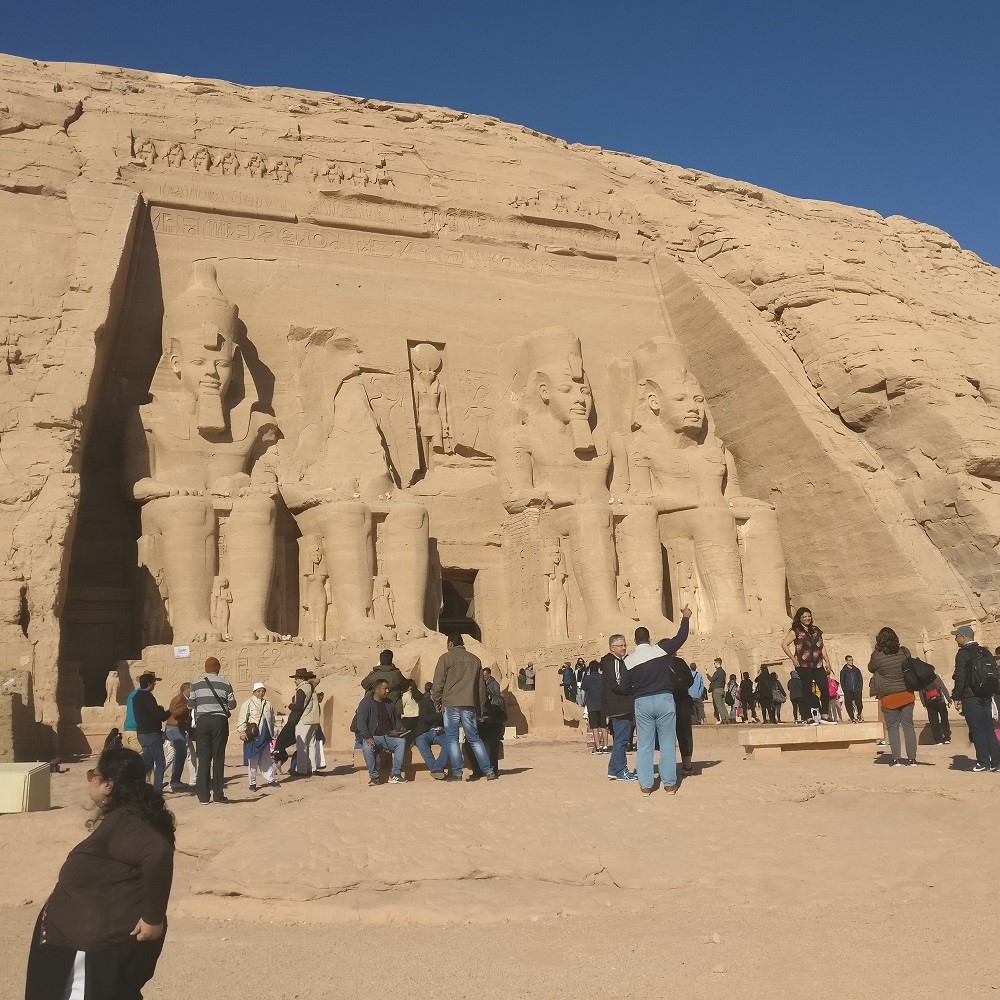 The original temple which was built at a lower surface level was deconstructed and assembled manually like Lego bricks at the higher ground to protect it from rising water levels of the Lake Nasser. The location was stunning. Here too, the detailing of the hieroglyphs on every inch of the temple walls was so precise. They must have spent years chiselling it all out. I got caught for taking photos inside the temple. Luckily, I was able to save the photo. This temple was built by the pharaoh Ramses II. It wasn't built for any god but for himself. Two ginormous statues of himself at the entrance and smaller statues for his many wives. Guess male domination in society goes way back into history.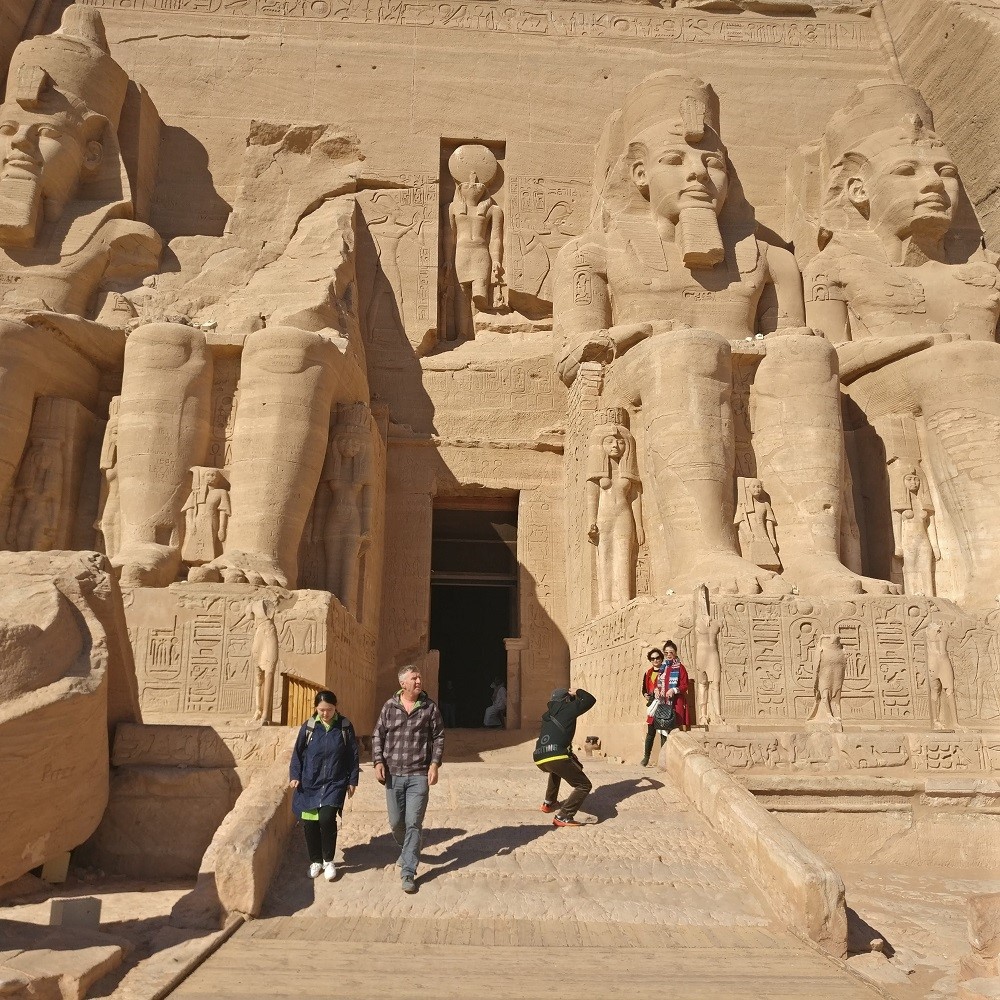 The crystal-clear blue waters of the Lake Nasser only made this location a tourist magnet. It was simply so beautiful, and I spent about three hours exploring the temple before boarding the bus for the 3-hour ride back to the cruise in Aswan.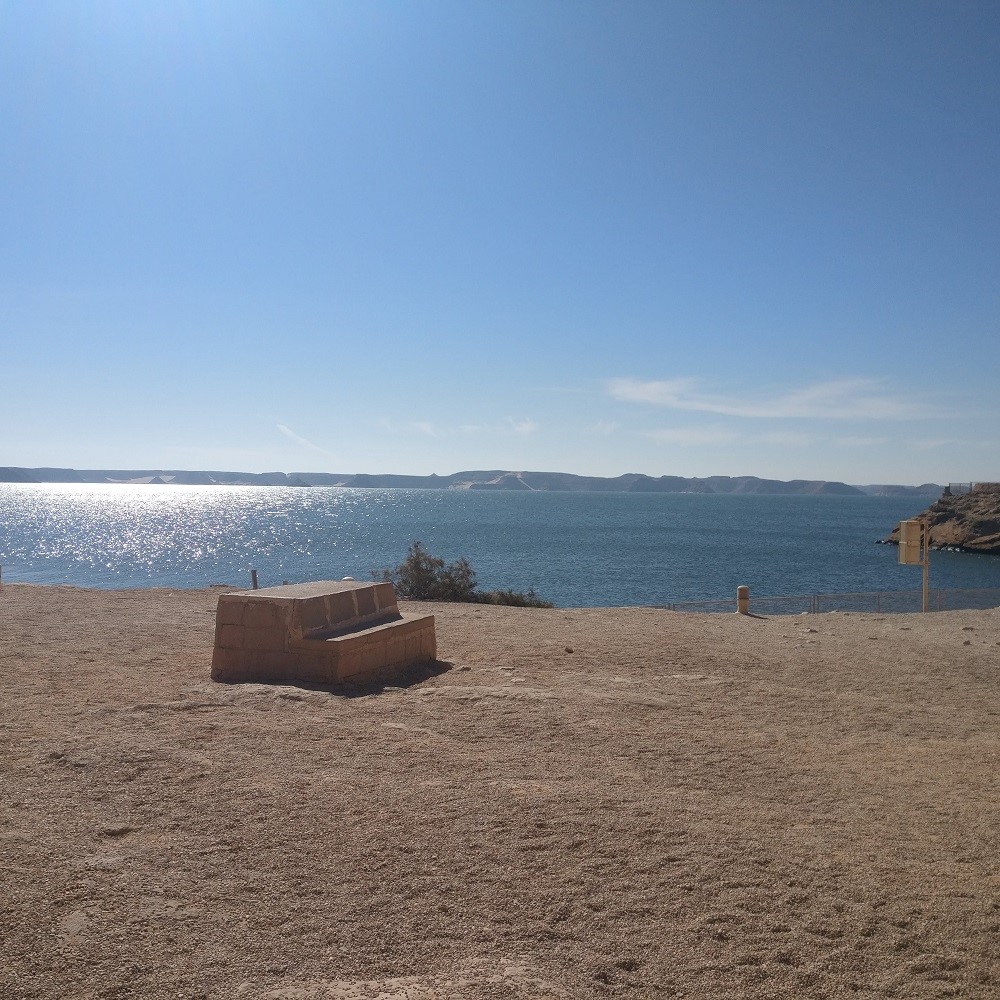 Once back on the cruise we started sailing up the Nile. Truly it was a great delight as well as a privilege to sail over this historic and highly important river. I spent most of my time on the sundeck admiring the view and reluctantly dragged myself to bed. Here are 6 Cruises From India For A Romantic Time With Bae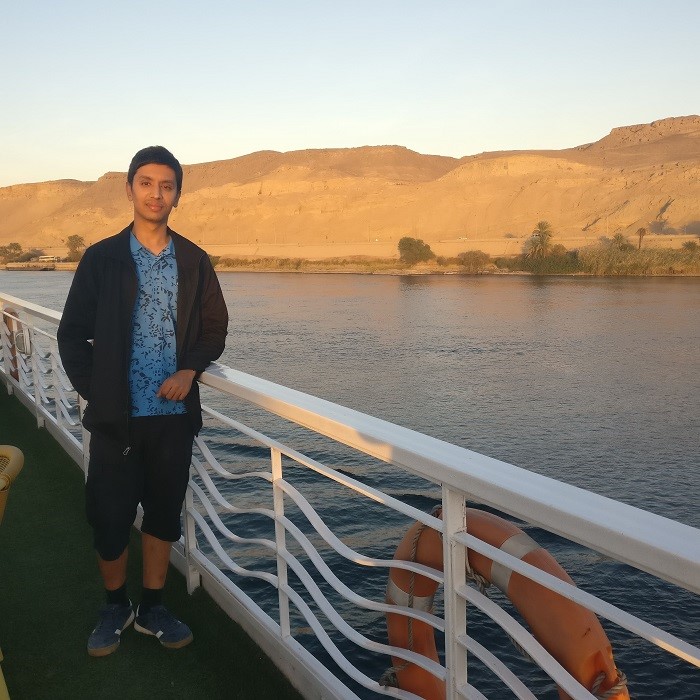 Day 6
It was early morning when we reached Edfu. It was a very small town and its only major site is the Edfu temple. After the magnificence of Abu Simbel, this temple was nothing to me.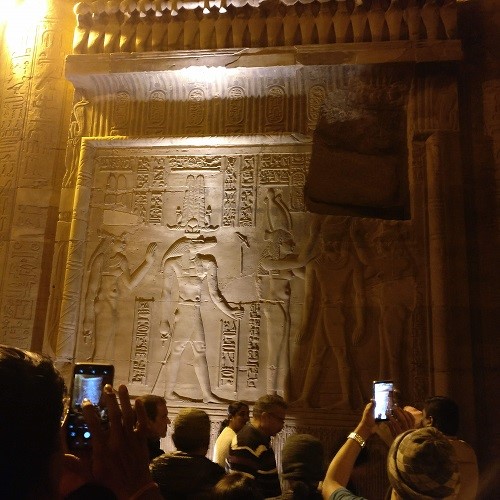 It pretty much had the same detailing as the Philae temple and the architecture was strikingly similar.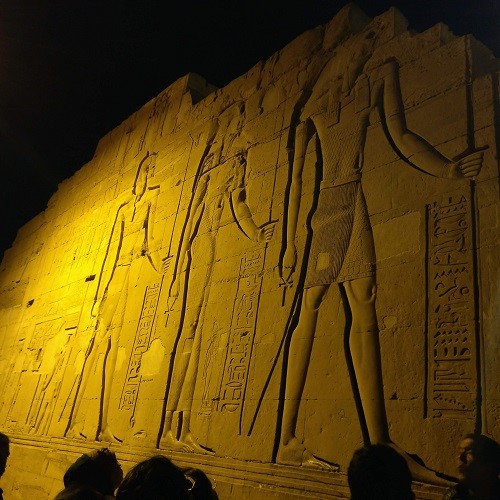 But the ride back to the ship made it enjoyable. People in Edfu relied majorly on horse chariots for transport as they are much cheaper to maintain. There were two people in a chariot, and I got to ride alongside the driver in the front. It took about half an hour to reach the ship and once there we had to pass through the hallways of several ships to get to ours. Due to lack of docking space, they had an innovative idea wherein the ships are docked next to each other thus taking advantage of the large width of the river and passengers passed through a series of ships to get to theirs. Creative indeed!
Another awesome experience here was to witness the Edfu lock system. At Edfu, the river sort of varies in-depth and drops to a lower level. So for ships to sail through this patch of the river, the government built a lock system. It worked like an elevator for ships wherein a ship looking to sail down goes into a narrow tunnel and is sealed off by gates on both ends of the tunnel. Once locked in, the water beneath the ship is slowly sucked away by giant engines thereby gradually lowering the water level. Once the lower level is reached, the gates open and the ship just sails out casually. How many times have you seen a cruise ship sailing into a dam and being lowered down onto the river? This was just amazing engineering.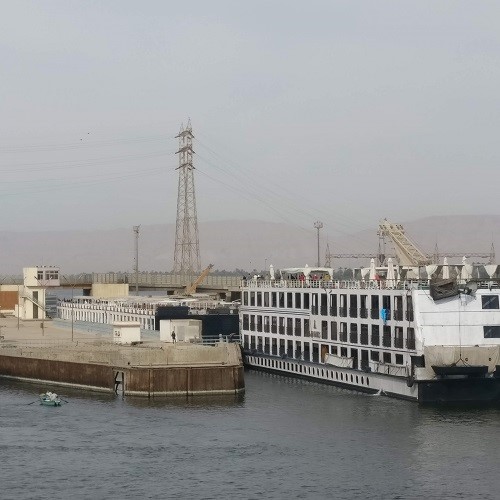 Once we sailed past Edfu, we had the entire day free onboard the cruise. I spent most of my time on the sundeck as usual just taking in the beautiful sceneries along both banks of the Nile.
Day 7
Our last and final stop in the cruise as well as for the entire trip was Luxor. We arrived there early the next morning, and the city greeted me by providing an opportunity to experience something I always wanted to try. "The Hot Air Balloon".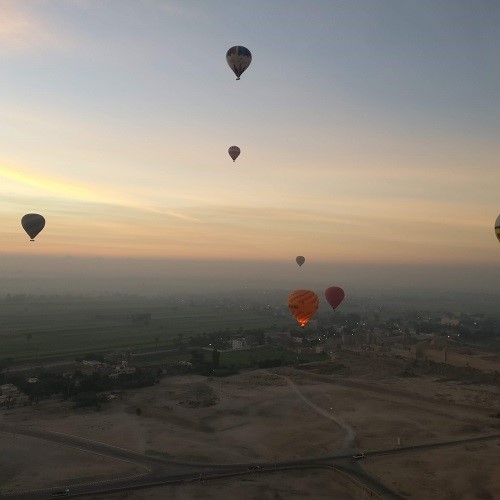 What better way to start my final tour day in Egypt than seeing a part of its beautiful landscape from above while experiencing something new. It was the perfect cherry on top. And for the first time since a long time saw the sunset. The difference being that I was in the air this time. No words to describe the beautiful view I got from up there. On one side I saw large paddy fields stretching for miles and on the other side, I saw the vast expanse of the desert.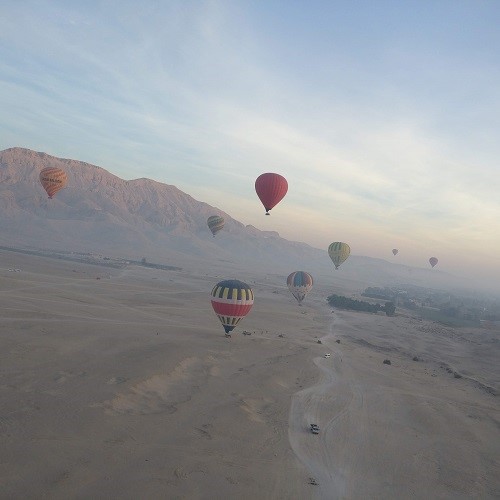 From what I saw up there, I realized the great determination of the Egyptian people. Although most of their country's land area is covered by desert, they have taken great strides to adapt and implement land reclamation programs and build cities and grow crops on such unforgiving terrain. They are people who value water over Gold.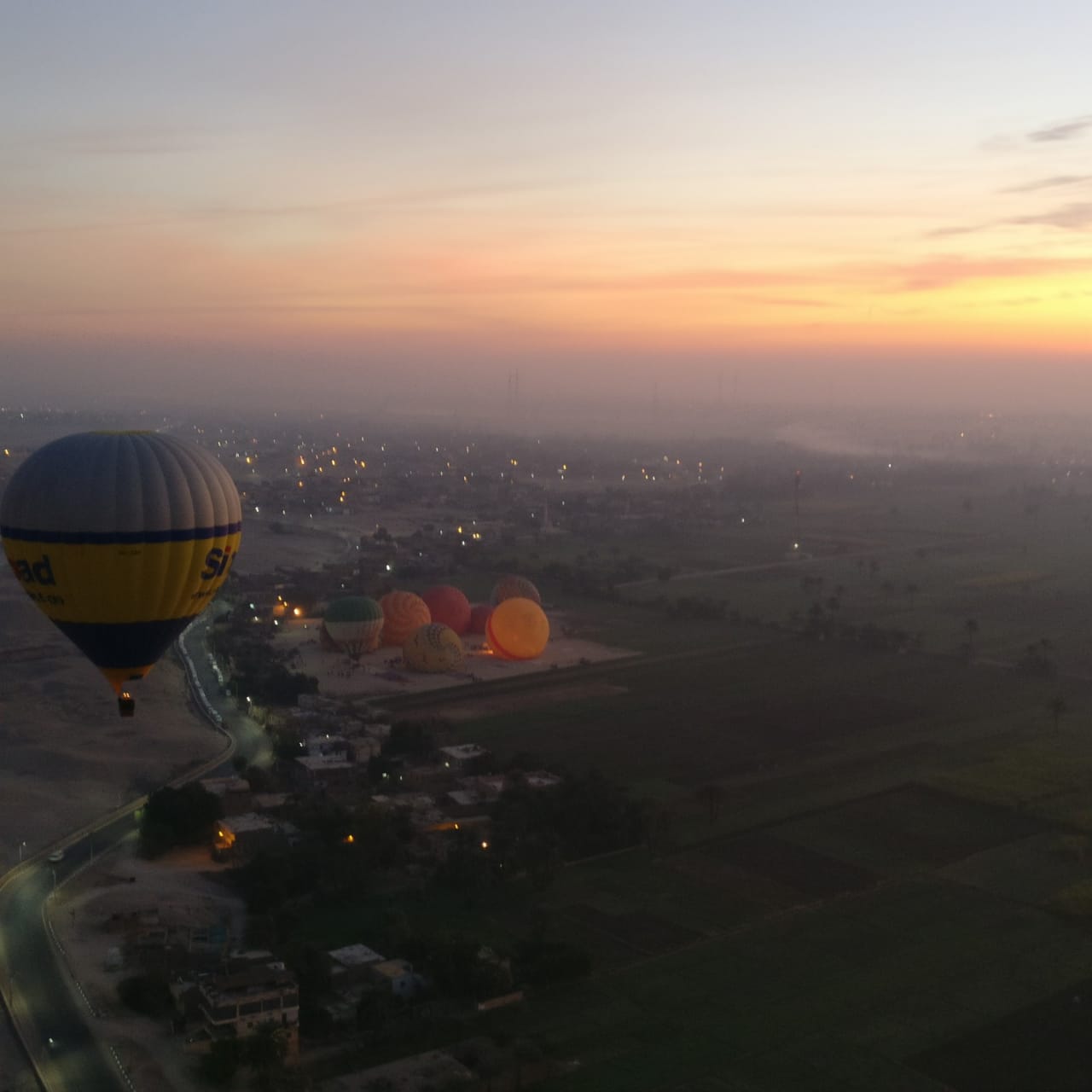 After an exhilarating hot air balloon experience, I checked out from the cruise and we started the local sightseeing in Luxor. I felt this city has more vibrancy than Cairo and is definitely far cleaner than Alexandria. It is also the home to Egypt's largest temple complex as well. Firstly, we visited the Valley of the kings, where most of the pharaohs were mummified and buried after the pyramid age. It houses nearly 70 tombs and archaeologists say they may still find more of them at the site.
The weather changed so quickly when we reached the site. And for the first time, we didn't need our jackets anymore. It was baking hot and I experienced the proper desert heat for the first time. The tombs themselves were built underground and some them deep into the mountains. The recent discovery of the tomb of Tutankhamun has made this site a must-see on every tourist's list. Once we were done at the valley of the kings, the next stop was the temple of Hatshepsut just a short distance away. Unlike most other temples, this one was very well preserved. It was built right into the sandstone mountains of the desert.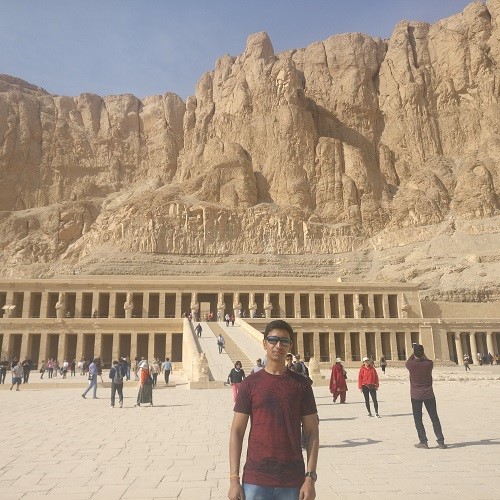 Once again, Egypt shows us it has the best talents when it comes to chiselling. The exterior architecture of this temple was somewhat unique in comparison, but the inside was like the others. There was even a ramp instead of stairs at the entrance. Lengthwise it was a short temple, and breadthwise it was biggest we had seen throughout this trip. Once again, it's just amazing architecture built without any technology involved.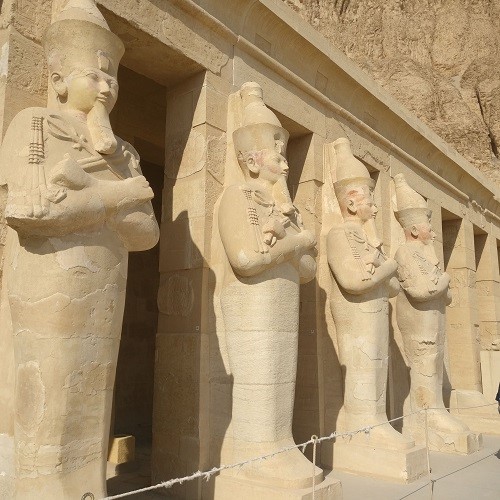 Before moving on to the next stop in Luxor, we had a short layover at the site of the famous Colossi of Memnon. These are two giant statues of the Pharaoh Ramses the second were built as guardians of a tomb that used to stand at that spot. But neither the tomb nor much of both statues remain to this day. This is what's left of this once upon a time great site.  Did you know Hindu Temple Angkor Wat Complex In Cambodia Is The World's Largest Religious Structure?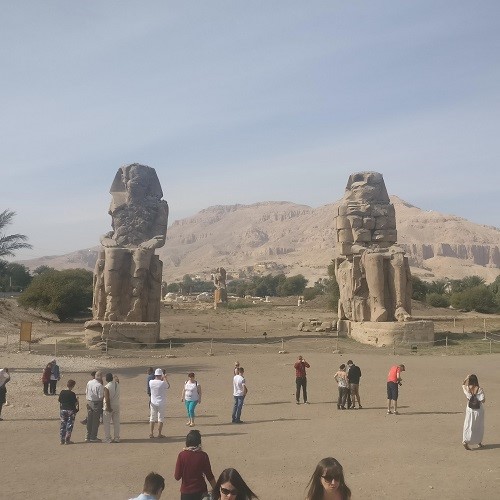 It was a very short stop and after a quick couple of photos, I was back in the bus and off to the last stop of my trip" The Karnak and Luxor Temples". This was the biggest temple complex on our entire trip, and we spent a good part of three hours moving around this site.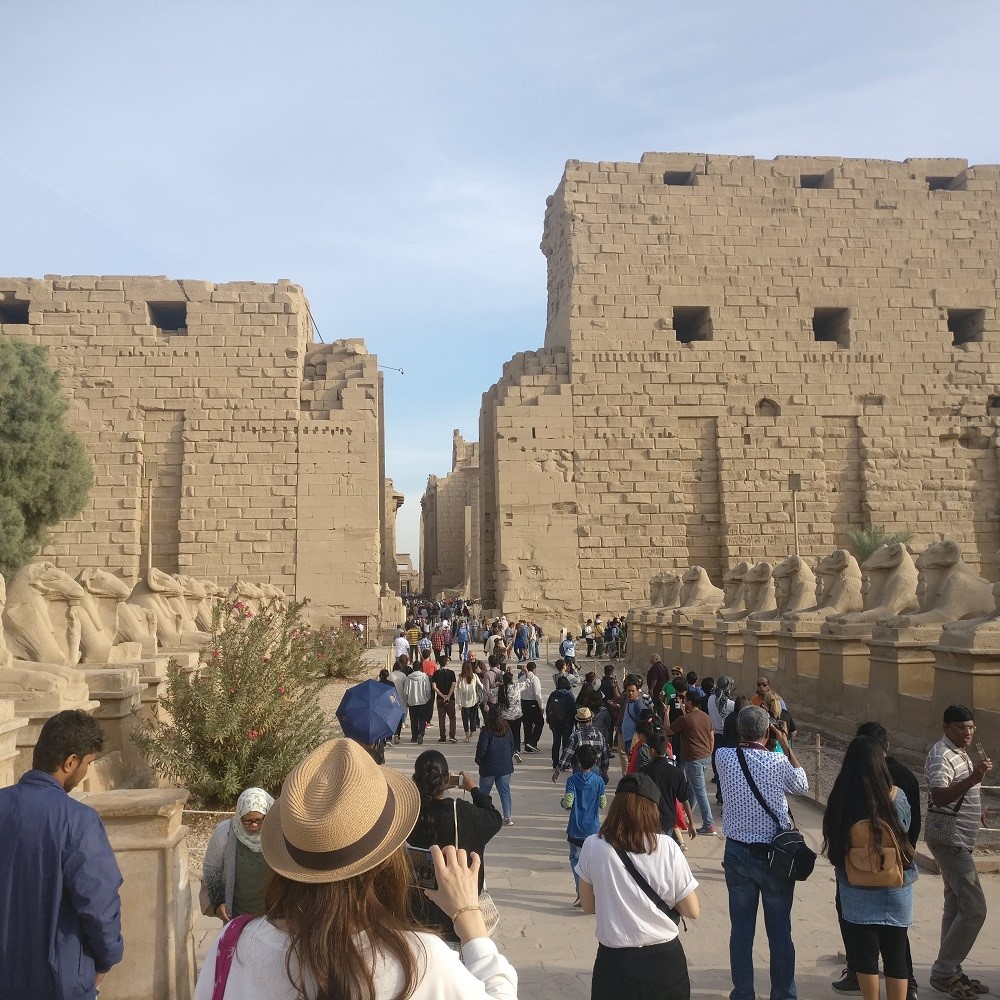 Architecture wise, it was like a combination of the Philae and Edfu temples, but the long line of huge stone columns on either side of the temple's hallway made it look unique and historically elegant.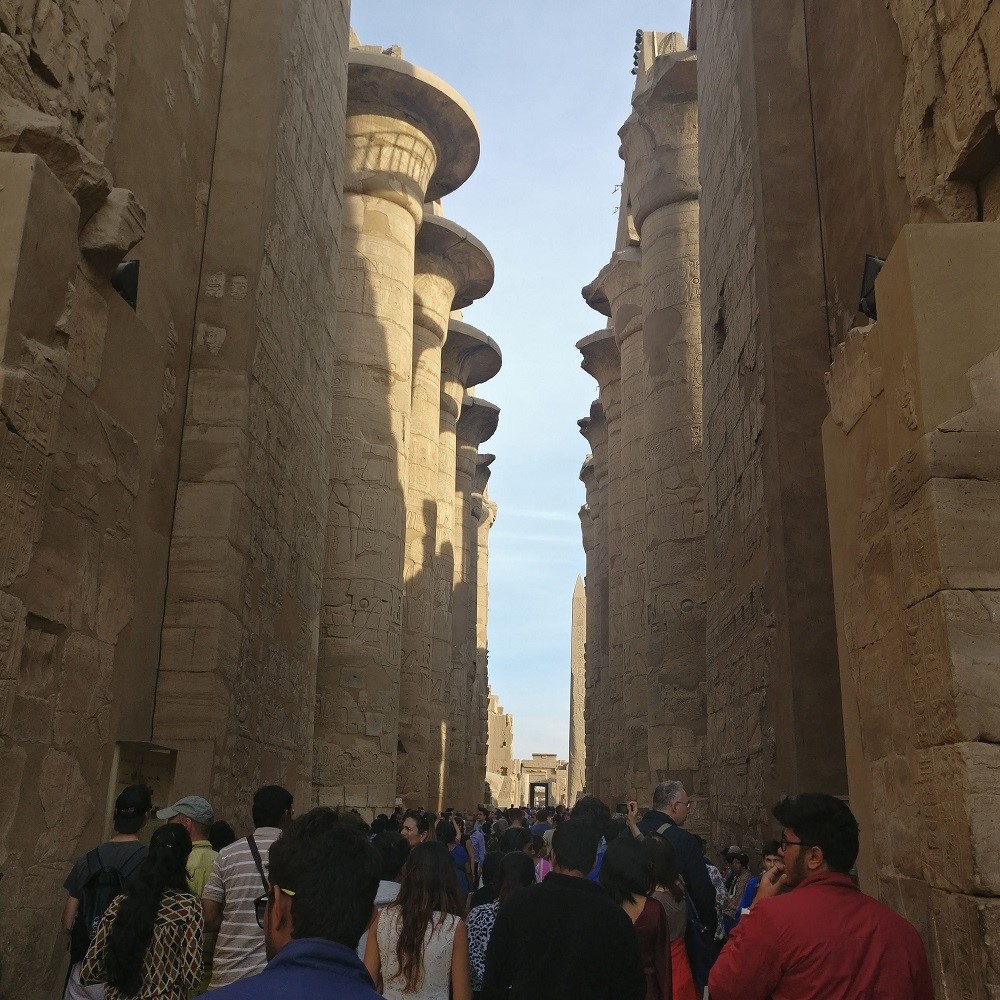 Once again, the master chisellers of Egypt were at work here as well since I noticed they didn't spare even an inch of free space of the temple walls. It was just amazing to find myself being surrounded by Hieroglyphics on all sides whenever I entered any temple in Egypt.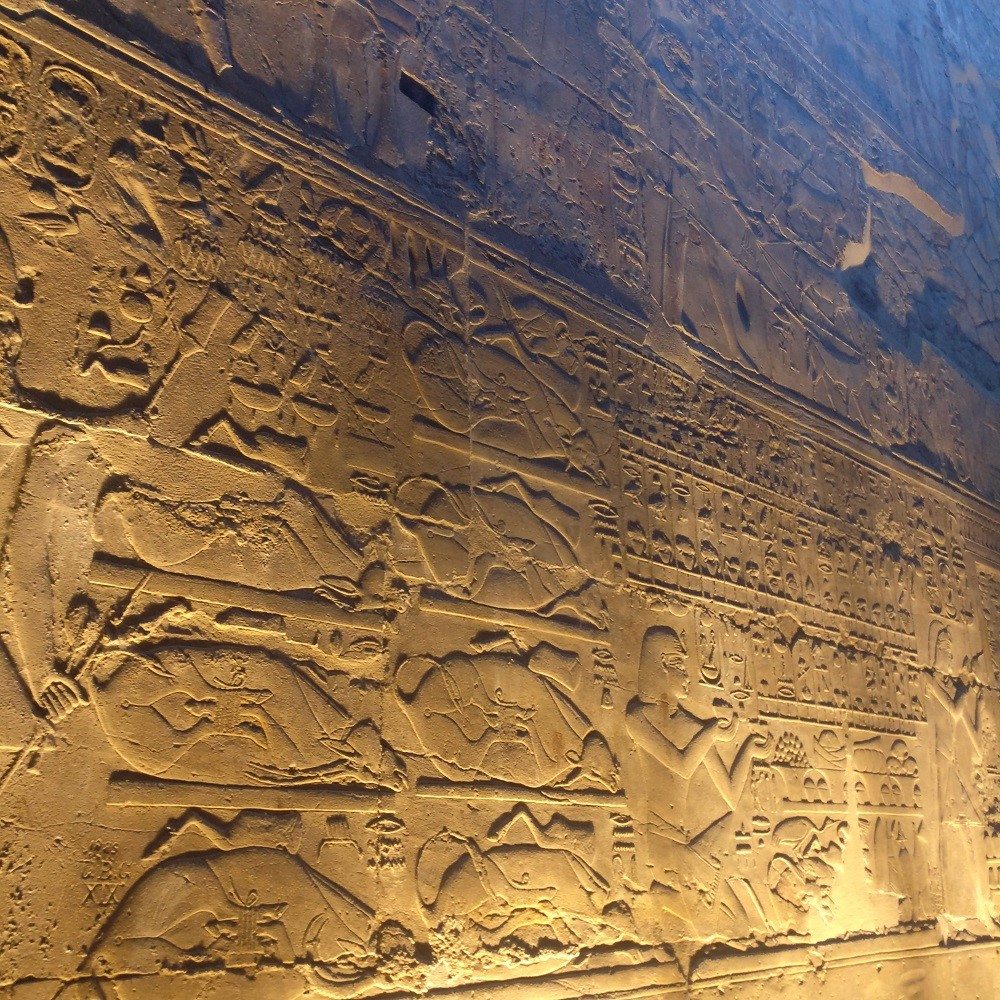 A week just flew by like a couple of days. Below is a pic of the Luxor temple's entrance architecture. Its long row of towering ginormous columns gives it its unique as well as majestic appeal. I need to thank our guide, Ahmed who was with us during the southern leg of our trip. He was a highly educated and experienced historian and his explanations are very interesting.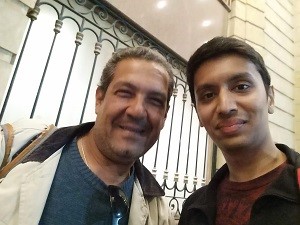 That was the last stop on my Egyptian trip. Early the next morning, I left to the airport for my return flight back to India. Although most people would say that Egypt is best left for history lovers, its quite on the contrary. This country has its own form of beauty and people who have a passion for travelling without expectations would highly appreciate its many amazing sites and its great desert landscape. Now that I am back home and reliving those memories, I just feel glad to have gone on this solo trip and gained a lot of new experiences for life.
Food in Egypt
Egypt is an Islamic country now, middle eastern cuisine is prevalent. There are plenty of options when it comes to street food. Their Kebabs and shawarmas are really good and a must-try. If you are a vegan, then you will find your food options quite limited when outside your hotel. If you're a Mumbaikar, then you can get Authentic Egyptian Cuisine At Bayroute In Mumbai
Budget
The entire trip cost me a total of around  ₹1,10,000 which includes the flights, visas, food and accommodation for the whole tour and another ₹10,000 more for additional expenses such as shopping and the hot air balloon ride which I hadn't booked before departure. Based on personal preferences, this budget can vary significantly and if I had made my preparations well in advance I could have saved up to ₹20,000 more from the above budget.
Tips For Travellers
Although Egypt is a safer country now after the revolution, there are still some areas that are not quite safe. I suggest you should stick to the touristic spots and avoid the risks of walking alone through the streets. Sometimes random people would walk up to me and convince me to come over to their shop and buy scented oils for exorbitant prices.
Also, while visiting the pyramids, locals would offer to take photos for you using your own camera or phone.  Please avoid such people because they will hassle you for money if you let them.
The best things to buy as souvenirs in Egypt are the scented oils (there's a fragrance for everyone) and the papyrus scrolls. You can find them at every tourist spot in the country, but I suggest you do your shopping at the world-famous Khan-El-Khalili bazaar. You can find everything Egyptian here and you can negotiate prices as well.
Overall Experience
My overall experience in Egypt was just fantastic. Most people would want to go there just for the Pyramids of Giza or the Sphinx. But I would say the landscape, culture, people, food and everything about it is fascinating. Out of all the places I visited, I really liked Luxor. The temples were bigger and well preserved compared to Cairo and it's bustling with the tourist crowd.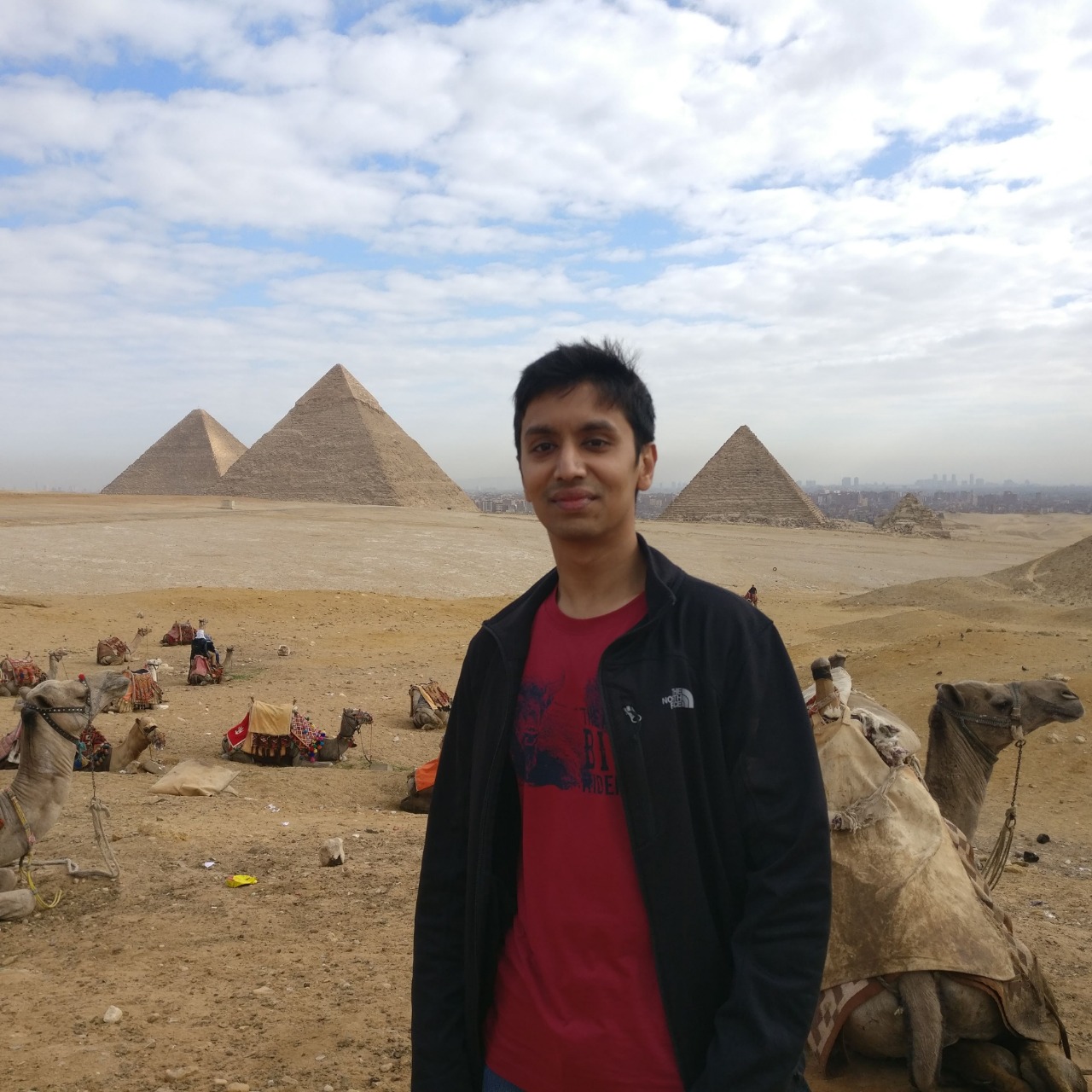 Since it was my first ever solo trip, I have to admit that it was challenging for me initially. I had to figure out everything on my own and language was a problem. I couldn't even get a cab thanks to language problem. But then I started using Uber and things were okay. And even though there is a military rule here and news reports might suggest its not the safest place to visit, things are quite different once you're here. People are friendly and the rich history and culture here definitely makes it worth a visit.
This article was contributed to Curly Tales by Shyam Gopalakrishnan. If you have an article or similar experience to share, do write to us on hey@curlytales.com