Bali, a gorgeous beach destination welcomes anyone and everyone. The honeymooners, family picnickers and yes, even the backpackers all trot of here for a gorgeous vacation. Avinash Singh a travel enthusiast from Bangalore went on a solo budget trip to Bali in just ₹15,000 including meals, sightseeing and transfers. So he goes on to reveal his 5-day travel itinerary and how he managed to explore the entire Indonesian island in just ₹15,000. Read on to find out his story right from the horse's mouth. Once you read this itinerary you might be able to make your Bali plans as Bali might welcome tourists by October.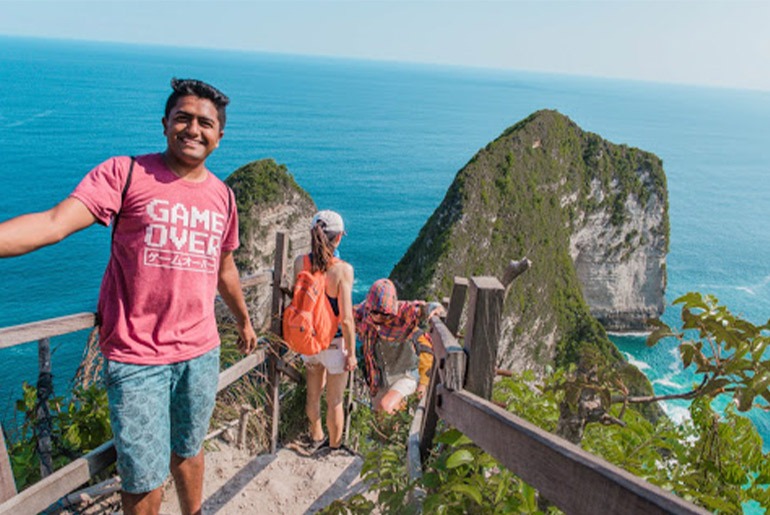 I'm Avinash An Avid Traveller From Bangalore
Hi Everyone! I'm Avinash Singh from…. It's a tough one as I spent most of my life in Assam and later hopped around a few cities like Delhi, Mumbai for more than 2 years each. Presently I stay in Bangalore where I work and save fuel. This provides me with the ability to explore this beautiful world. I lost count of cities and states I travelled to in India. But  I have the ultimate goal to see it all. Travelling around India, I also got bitten by the travel bug of finally heading out of the country where I visited Sri Lanka on a solo trip. And there has been nothing stopping me after that. And now as I write this article, I have around 15 stamps on my passport from all around Asia and my recent EuroTrip. Here's my story of how I visited Bali at a budget of just ₹15,000 for 5 Days ( including flight tickets from Cambodia to Bali). Honeymooners if you're wondering if Bali of Phuket is the better destination for Indians, you don't need to think too much. 
Travelling To Bali In
₹

15,000 For 5 Days

Bali has been on the list of almost everyone from solo to honeymoon travellers. This Indonesian island offers you spectacular gems Kelingking beach and the gushing waterfalls. The most surprising one for me was definitely the Kelingking beach. Trekking here is just mind-blowing. From riding around the beautiful roads to almost being eaten up by a python, there are lots of stories to share with you guys. Let's keep those stories for some other day. As many of you guys must be interested to know I covered Bali in 5 days on a tight budget (on such a budget, which people spend on their Goa trip) let me focus on that. So here's how I managed my budget during this international trip.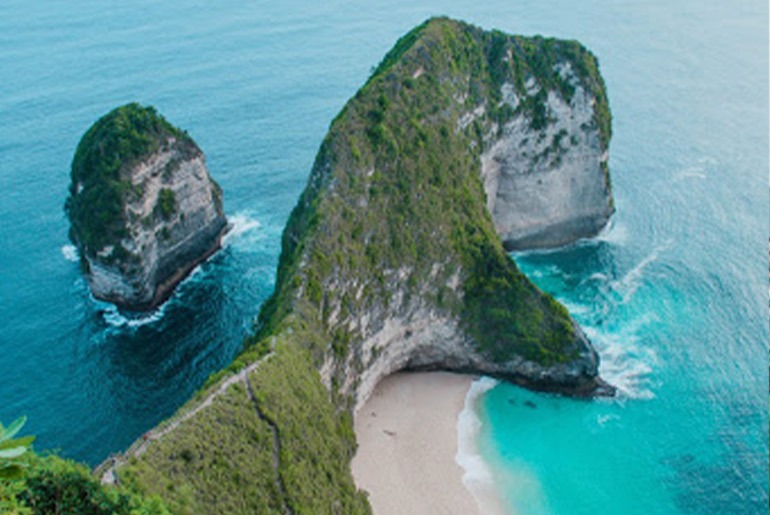 Bali Offers Free Visa for Indians
Visa for Indians is free so read this right.  For a 30 days trip, you don't need any visa when you are in Bali. Just pack your bags and go. So even with just ₹5000 in your pocket, you can definitely feel like a millionaire in Bali. So yes, covering Bali at ₹15000 for 5 days is doable at not even a shoestring budget. Trust me, I had my fair share of Nasi Goreng with some Bali coffee. So for those coffee lovers out there, you can get your Kopi Luwak for as cheap as a dollar per cup. 
Also Read: Rohan Das's 6-Day Family Trip To Bali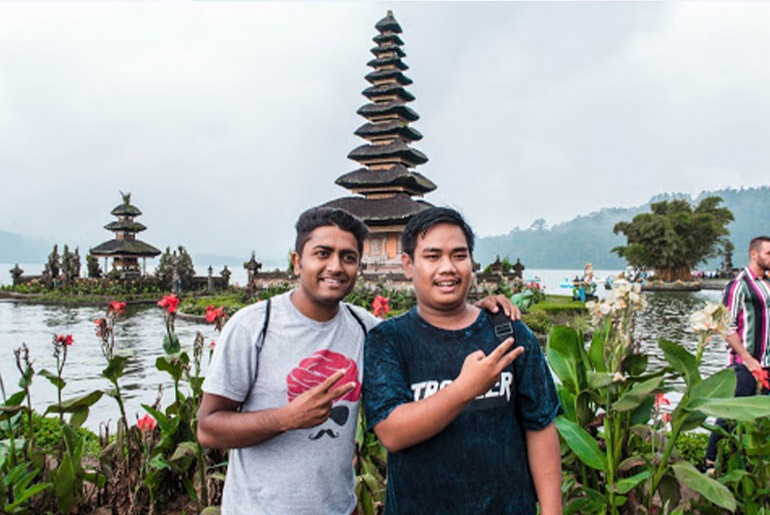 Airport Transfer Cost From
₹

40 To

₹

2000 In Bali

Airport transfer is not a tough one if you are used to Uber and Ola. Indonesia has its giant taxi service called Gojek. And you don't need a sim to use it.  Connect to the airport Wifi and wait for the drivers to take you towards the city. I had a hostel booked for the night so I took the bike taxi and headed over to Kuta for just ₹40. If you are planning to go towards Ubud or somewhere far, check google maps taxi section for the rates comparing Gojek and Grab. I won't suggest going out and bargaining with local taxi drivers as I have heard bad reviews for that. So try Gojek or Grab if you wish to save a buck for your coffee or Nasi Goreng.
Sim Card Are Priced At
₹
500 To
₹
600 In Bali
Cheap sim cards cost you from ₹500 to ₹600 depending on the data you require. Most sim cards come with a month's validity. For 600 which is less than 10$, I had 10gb of data that worked almost all around the Island. From the top of Mount Batur to the bottom of Kelingking Beach. Ignore airports for sim as they might be costlier instead get it from local vendor shops.
Transportation Around Bali 
Like the airport transfer, you can try Gojek/Grab but many areas like Ubud and Kuta don't allow them. But you can find people with pamphlets sitting around saying 'Bike Taxi'. Probably the government does this to support local drivers. But I wasn't comfortable to travel by these since I wasn't sure if the prices were regulated. So you have two options, from renting a scooter which I did to taking taxis if you are part of a bigger group.
Depending on the vehicle, scooter costs anywhere between ₹200 to ₹500 per day. Taxis charge ₹2000 to ₹3000 per day depending on the size of the car. Petrol costs ₹50 to ₹60 per litre. I enquired the taxi prices at hostels so it should come around to that. If you face any problems you should check with the hostel or hotel desk as they will help you out for sure.
Hostels In Bali Cost From
₹

280-

₹

600 Per Night 

I stayed only in hostels but whatever you see online in the booking sites you get that in Bali. I had no surprises when it came to hostels. So if you choose to stay in a hotel, you can definitely get what you see online. It depends on your budget but the best hostel so far during my visit is the New Ubud Hostel. For just ₹280 I got an air-conditioned bedroom with breakfast and proper lockers. And it's a forest-themed one so I witnessed trees all around the property.

Also Read: Spend A Night Under The Stars At The Bubble Hotel, Bali
Bali Flights Cost From
₹

5000-

₹

15,000

Flights are not included in my budget as I flew to Bali at just ₹2000 from Cambodia. As I went on a trip to many countries with a 5 day stop in Bali which is less as there's still so much to see at Java Island, Gili Islands, and lots more if you include the whole of Indonesia. But you can get flights ranging from ₹5000 – ₹15000 round trip depending on when you book it. As there's sale going on to this destination almost throughout the year.
I Paid Rs
₹

200-

₹

500 For Food In Bali

Depending on what you can do and what you prefer to eat you have every option out there in Bali. From vegan to delicious Balinese cuisine you have lots of options to try. And if you are on a budget I would suggest you eat local as that would save you alot of money.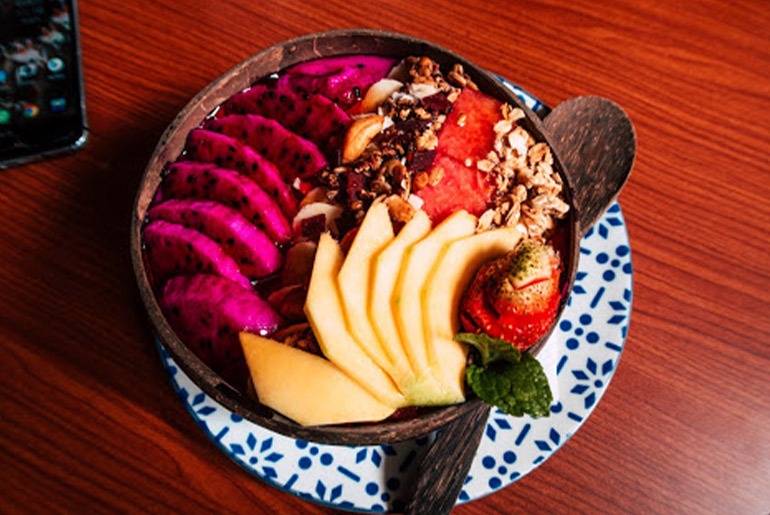 My 5-Day Itinerary To Bali
And finally,  here's my itinerary, which you must be waiting for. I have tried to utilize my time as much as I could when I was there. I missed a few places but I enjoyed my time at the few I was able to visit.
Day 1 – Exploring Nusa Penida
My Flight reached Bali or Ngurah Rai International Airport at midnight so I booked a hostel after landing there near Kuta. I did this so I can start the next day heading towards Nusa Penida, the first island I wanted to visit. Most people plan a day trip to that island but I decided to stay for the night.
From Kuta, you need to head over to Sanur beach which I covered on a Gojek bike taxi. From there, I took the speed boat for 200,000 IDR (₹1000) towards the island. You can get return tickets but it's better to book one way as while returning I got it for 150,000 IDR (₹50,000) discount. I don't know how I deserved the discount but if you book both ways you are charged the 400,000 IDR (₹2121)
At Nusa Penida, I rented a scooter for the price mentioned above. Here's a quick tip. Don't take it from the guys at the dock walk and ask the cafes around. You will get it at 40 to 50%  less, which I did. You must visit Kelingking Beach, Angel Billabong, Broken Beach and Diamond Beach here. To combat the coronavirus pandemic Bali turned fermeneted palm wine arak into bottles of sanitizer. 
But you might require two days as these take time to reach from one to the other as the roads are quite bad.  And you have to come back before night as there are no street lights. Over and above all this you might also be greeted by a python, which happened to me. The python was relaxing in the middle of the covering the whole width of it.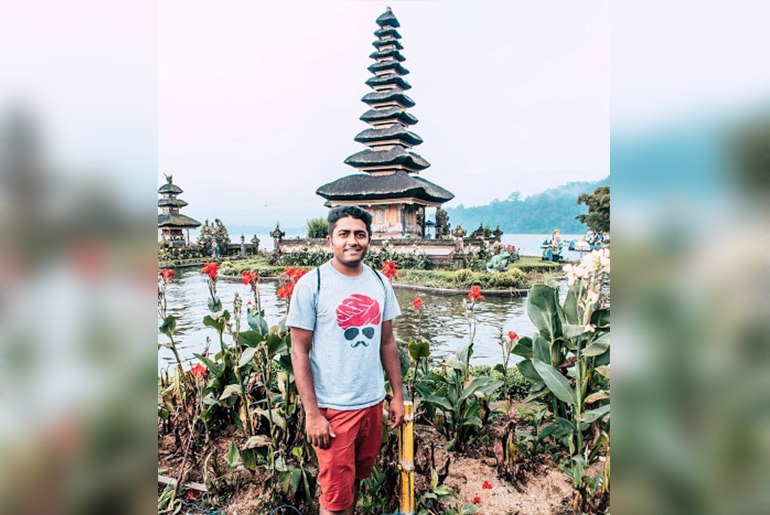 Day 2 – Visiting Ubud
I left Nusa Penida in the morning and headed over to Ubud. It was time to meet the mountains of Bali. I took a quick  30km ride to reach my hostel. After which I headed over to this beautiful lake temple called Ulun Danu Batur. Once you Google this place you will know properly after the search why I chose it to be the first place to visit even though it was 50km away from Ubud. 
 Just next to the temple was the famous Handara Bali Gate, which was very crowded. So if you are planning to go to Bali you have to ignore the crowd its everywhere. If you can't, then don't go there. Bali is a beautiful place which you must enjoy even amid the crowd. The Bali Gate looked beautiful when the sun sank down the mountains. It looked just amazing. At these places, you need to pay entry fees of ₹150 each at the temple and the Bali Gate.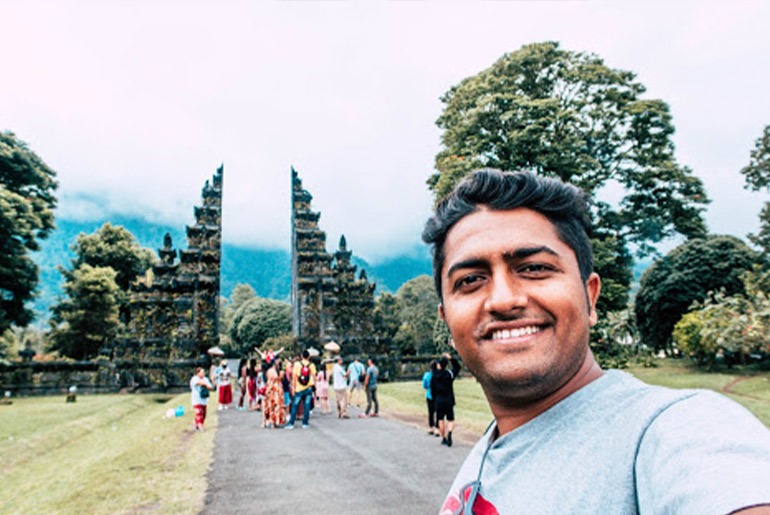 Day 3 – Midnight Trek To Mount Batur
One of the activities you must try in Bali is the Mount Batur night trek. I was tired but booked this at my hostel for ₹2000 which included transportation, food and guide. You can be picked up from almost anywhere in Bali so just check at the place you are staying and they will help you out with the cost.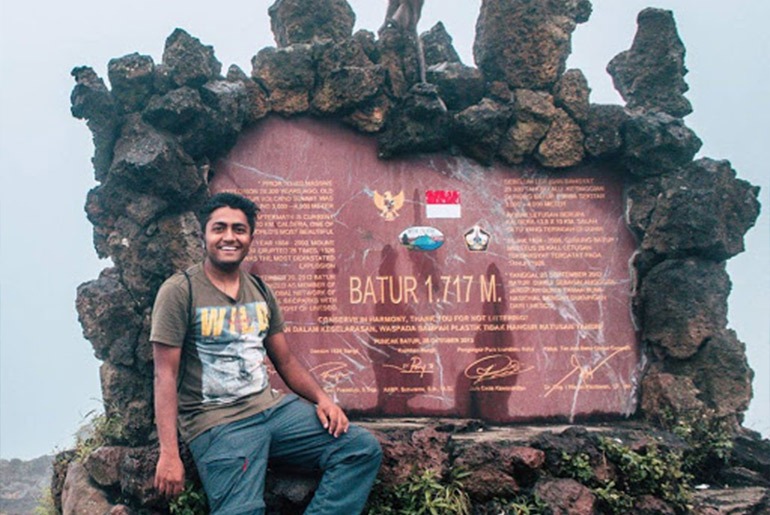 The trek started at around 4 am as we had to reach there quite early. They picked us up from our hostels.  We ate a mini breakfast which left us energised to reach the top. It's not a very tough trek so you can complete it with a mid fitness level. The gorgeous sunrise was definitely worth not sleeping that night. At the end of the trek, you might have to push yourself a little as it's quite steep. And few surprises await when you start going down which I will let it be a surprise.  After the trek, we were dropped at our hostels and I slept for the whole day and did nothing much after that.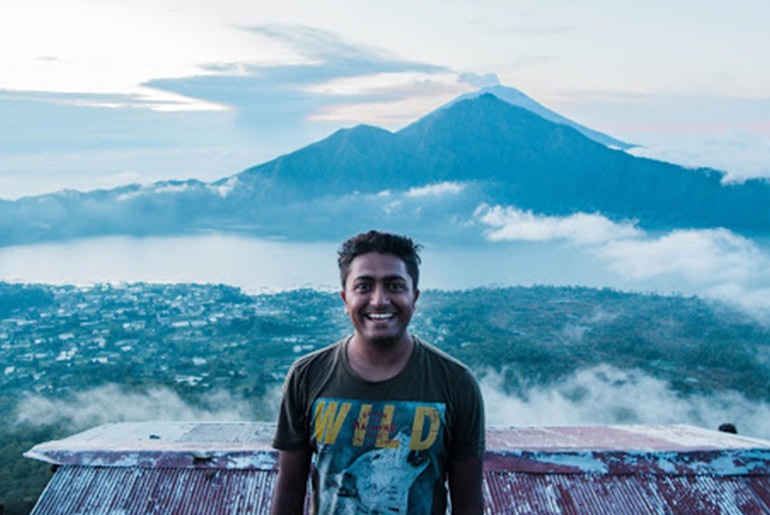 Day 4 – Trip To Bali's Rice Terraces & Waterfalls
On this day I visited the iconic Bali Rice Terrace farms. This is a farming style later I got to know even India follows at few places. It's beautiful for sure but a guy from Assam with rice fields all around him doesn't get that excited for it. But you should check it out, I went to the Tegalalang Rice Terrace which is the most famous in Ubud. This has swings and the famous romantic egg made of bamboo. Here you can click some beautiful pictures.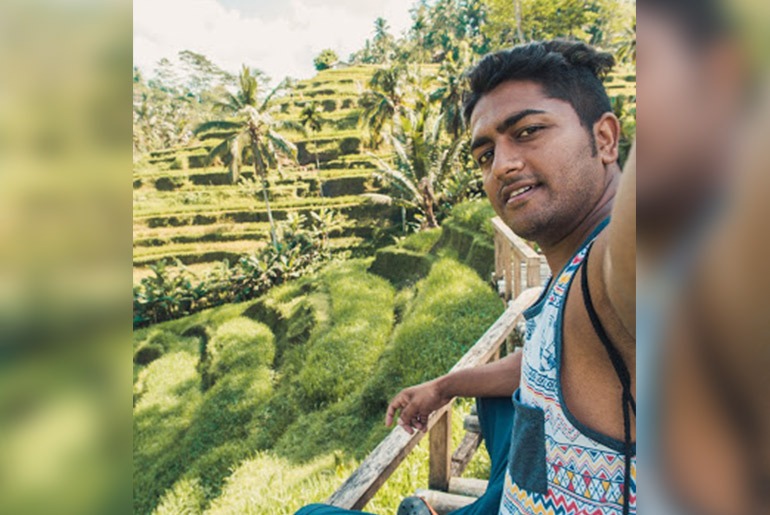 I also visited the Tukad Cepung Waterfall and Tibumana Waterfall. These two waterfalls are located around 20 to 30kms away from the city. And I would suggest you at least visit 3 sightseeing spots a day in Bali. So take your time and take dip in the Tibumana waterfall.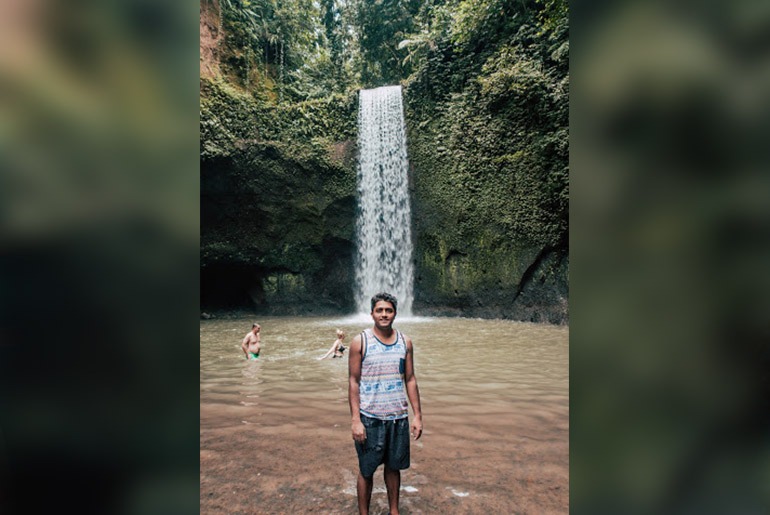 Day 5 – Experiencing Uluwatu Temple 
My last day in Bali was a bitter-sweet one. I couldn't believe my entire 5-day trip to Bali was almost over. So I started my day riding all over to Kuta where I booked my stay. I stayed around 1 km from the beach, which I, unfortunately, couldn't visit.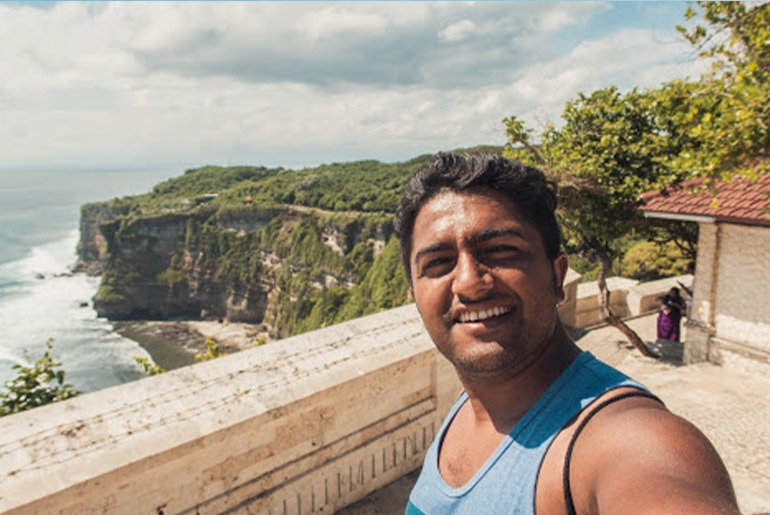 After checking into my hotel, I was ready to head out. I planned to see the Uluwatu Temple which was about 25 km away from Kuta. To enter the temple I had to wear a Sarong to cover my legs. You can also walk around the pathway on the edge of the cliff to see the picturesque view of the temple from on top of the sea. You are not allowed to enter the temple. But can wait till evening to see the Kecak Fire Dance which is performed daily. I was on a tight schedule that day so had to miss it. But don't blame me for that.
Firstly Kuta beach is not a place to visit at night there's nothing and it's dark. You can walk on the other side. When it comes to partying, enjoy the nightlife at hard rock cafes and local pubs with live music. But as it was a Thursday night it wasn't really crowded.  So that was all you needed to know about my trip to Bali of 5 days for ₹15,000.  You can too visit Bali at this tight budget, but it definitely depends on your preferences as the Balinese spa and other activities comes at a price. But nevertheless, I do hope you enjoy your stay in Bali as much as I did.