Navratri, or Shardiya Navratri, is just around the corner, and Indians cannot wait to celebrate this pious and colourful festival. Navratri means "nine nights," and these nine days are dedicated to the Hindu goddess Durga and her nine forms. Each day is dedicated to one form and also has a colour associated with it. Which are these nine forms or avatars, and what is their significance? Which are the nine colours for Navratri 2023? All you need to know!
Navratri 2023: What Is The Significance Of The Nine Days?
This Navratri will be celebrated across India from October 15 to October 24.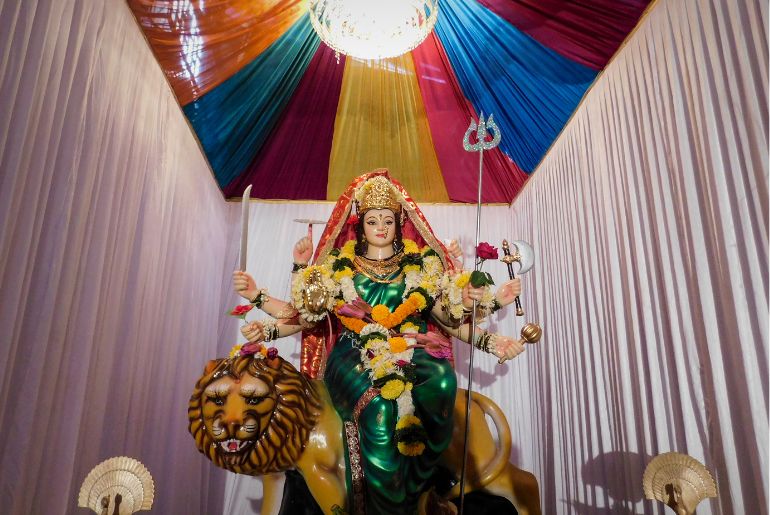 Forms or Avatars of Maa Durga
Day 1: Maa Shailputri
In Sanskrit, the word 'Shail'  means mountain, and 'putri' means daughter. This goddess was born as the daughter of the mighty Himalayas, and hence the name 'Shailputri'. This avatar signifies the goddess in her childhood phase. 
Day 2: Maa Brahmacharini
Devotees worship goddess Brahmacharini on the second day of this festival. Maa Brahmacharini is said to be the unmarried form of Goddess Sati (an incarnation of Goddess Parvati). This avatar signifies Durga in her ascetic phase. 
Day 3: Maa Chandraghanta
Goddess Chandraghanta is worshipped on the third day of this festival. She has 10 arms with weapons in each hand. She also has a half-crescent moon on her forehead, and her third eye is always open. This avatar signifies Durga in the form of Shakti. 
Day 4: Maa Kushmanda
It is believed that the goddess Kushmanda actually created this entire universe with her smile. In Sanskrit, 'Ku' means little, 'Ushma' means energy, and 'anda' means egg. In this avatar, she has eight hands and sits on a lion's back. This avatar signifies Durga in her Mahashakti form. 
Day 5: Maa Skandamata
Goddess Parvati came to be known as Skandamata after she became the mother of Lord Karthikeya, or Lord Skand. In this avatar, she is also carrying baby Murugan in her hand. This avatar signifies Durga in her motherhood stage and represents motherly love. 
Day 6: Maa Katyayani
According to a Hindu legend, Lord Brahma, Lord Vishnu, and Lord Shiva combined their energies to form the goddess Katyayani, who killed the demon Mahishasura. This avatar signifies Durga in her warrior stage, and Mahishasurmardini is her other name.
Day 7: Maa Kaalratri
Goddess Kaalratri has a very dark complexion and sits on a donkey. This form of goddess was born when she removed her golden skin in order to kill demons named Shumbh and Nishumbh. This avatar signifies Durga in her destruction form. 
Day 8: Maa Mahagauri
Maa Mahagauri is extremely beautiful and has a very fair complexion. She is in her simplest form and promises to protect her devotees from every problem. She is also fulfils desires. This avatar signifies Durga in her recovery form. 
Day 9: Maa Siddhidatri
The word 'Siddhi' means meditational ability or supernatural powers, and 'datri' means giver. She blesses her devotees with all types of Siddhis. This avatar signifies Durga in her highest and supreme form as Mahashakti. 
 Also Read: Haalo Ne Ramva Re! 7 Jalsa Garba Events In Ahmedabad You Should Not Miss
Colours
Navratri is a nine-day-long festival, and each day celebrates a form or avatar of Goddess Durga. Everyday has a colour too, which reflects the attributes of each goddess on that particular day. According to a belief, one must perform pooja while wearing the colour given every day to get Maa Durga's blessings. 
Day 1: Orange
Orange colour signifies warmth, exuberance, and positivity and keeps the person upbeat. 
Day 2: White
White colour signifies innocence, inner peace, and purity. 
Day 3: Red
Red colour signifies passion, love, and vitality. 
Day 4: Royal Blue
This colour is one of the most beautiful shades of blue and signifies tranquility and richness. 
Day 5: Yellow
The colour yellow signifies endless optimism and happiness. 
Day 6: Green
The colour green signifies growth, serenity, and fertility. 
Day 7: Grey
This colour signifies a humble attitude. This colour signifies being down-to-earth and having balanced emotions too.  
Day 8: Purple
The colour purple shows richness and opulence. It mainly signifies with nobility and luxury. 
Day 9: Peacock Green
Peacock green is a very unique colour and hence stands for the uniqueness and individuality of a person.
Also Read: Navratri: Why Is Jware/ Barley Cultivated During Navratri? Significance, Meaning And More Inside
How doo you celebrate this festival?
Cover Image Courtesy: Canva
For more such snackable content, interesting discoveries and latest updates on food, travel and experiences in your city, download the Curly Tales App. Download HERE.
Good news! We are on WhatsApp! Subscribe to Curly Tales WhatsApp Channel to stay up-to-date with exclusive content and BTS. Join HERE.