Under 140 Characters
Get your taste of Italy at FDP with authentic European feels, romantic interiors, dishes inspired by Italian street food, indulgent milkshakes and NUTELLA PIZZAS!
What Is It?
Does love come in a triangle shape for you (good old doughy pizzas)? Is a jar of Nutella and a spoon your ultimate happy? Or even better…Are you as crazy as you possibly can get over both Pizzas and Nutella and thought of them makes your tummy scream for more?!
Brace yourselves as we have found something that shall make your world go round and like never before! Yes, 'Nutella Pizzas' are now actually a thing in the city of joy making Calcuttans all that more joyous and sweet! Head to this charming little Italian Pizzeria near Forum Mall– Fabbrica Della Pizza (or FDP) for your own escape to Italy and to give this dessert with a difference a go!
Also read: Boggle Your Mind And Tummies At The First Board-Games Café Of Kolkata
What's In It?
A double floored setting; you shall be greeted by a partly open kitchen and a wood fired oven blazing out Neapolitan style pizzas (authentic crusts that are a little soft and oozy in the middle). The interiors are warm, picturesque and taken right out of a quaint village in Italy! Expect a charismatic mix of modern and classical, the blue tinted door against the wooden tables and the bricked walls is what I absolutely adore!
The eatery really comes alive as the pretty in pink foliage and the brightly yellow Vespa shine through. Look above and you shall see the most romantic setting for a cute Italian date, a slightly segregated area for two that overlooks the floor downstairs. The Italian murals shall make you feel like you're sitting in a café in Europe itself and the music is also very classically Italian to build up the vibe! What's more? Of course their indulgent shakes that have already become a city favourite and the concept of spreading decadent Nutella on well done Pizza crusts finished up with even more goodness of marinated strawberries and almonds to go along. The Nutella Pizzas have become a rage and people cannot stop obsessing over how fun the entire idea is (get your phones ready for tons of Instagram worthy shots of this luxurious dessert).
Also read: Dine At Cafe Toto In Kolkata Which Is Run By Underprivileged Youth
What To Order?
My favourite has to be the 'Piazza' pizza but with fresh goats cheese sprinkled on top instead of baked (has to be specified while ordering), the pesto spaghetti bowl and the strawberry milkshake! If you love your coffee, the Tiramisu shake is what everyone swears by though. Order the Al Diavolo for flavours on a Pizza that you could never imagine would work so well (spinach, roasted garlic, red peppers, feta and more)! They also have good non-veg options in chicken, pepperoni, shrimps and more toppings. And of course the Pizza Al Nutella to finish up the delicious meal! If you're looking to try authentic Italian street food dishes, try thier Piadina, Buratta or Budino!
What Else?
Fairly limited options to choose from but each true to what they promise, FDP only believes in serving what they're good at and all dishes have been inspired by Italian street food. You can also make your own pizza (choose the toppings, sauce and the cheese) by using a simple checklist that is a part of the menu itself.  They also have loyalty cards for those extra faithful customers that cannot get enough of them! Expect live music nights on Wednesdays to make things all the more enigmatic! Beautiful singing, Italian authentic taste at its best and Nutella goodness – what else could you ask for?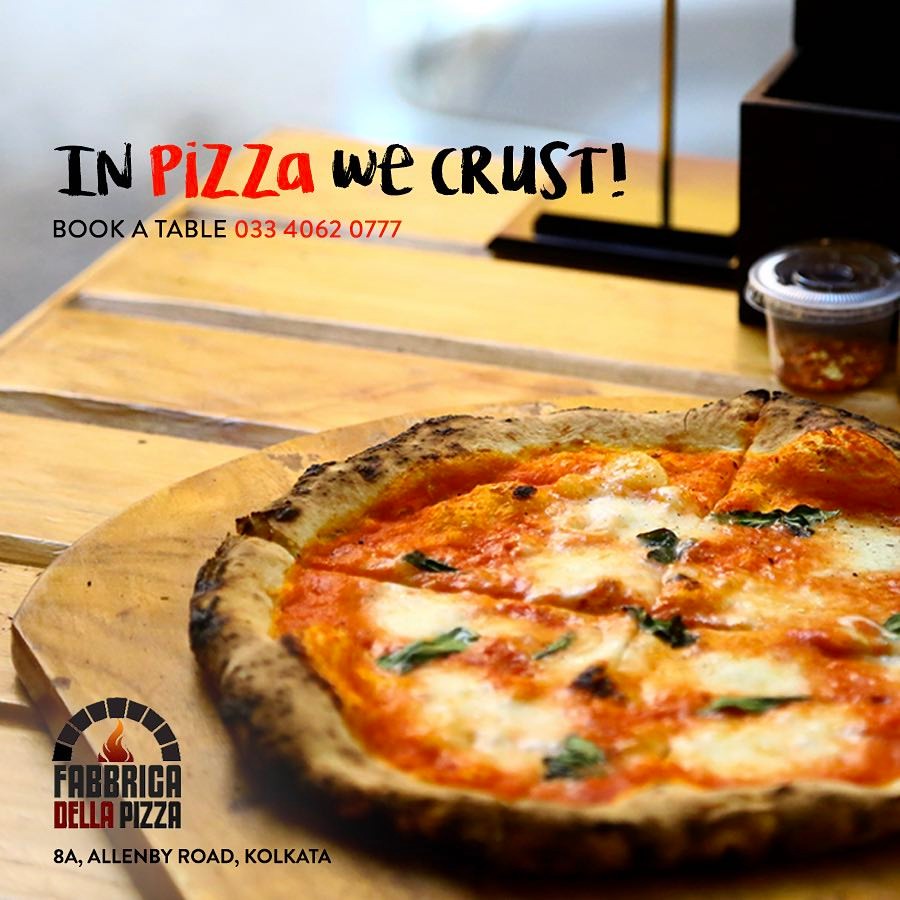 Deets
Where: 8A Allenby Road
When: 12PM – 11PM
Find Them Online Here