AirlineRatings.com has ranked Qatar Airways as the best airline in the world. It praised the airline for its 'dedication and commitment to continue to operate throughout the COVID-19 pandemic. The top 20 airports on the list must get a seven-star safety rating and exercise the best innovative measures for passenger comfort. Qatar Airways is the first airline to complete  IATA Operational Safety Audit or IOSA. It also bagged the award of best Best Middle East Airline. The second-best airline in the world, as per the ranking is Air New Zealand. The 20 best-ranked airports are as follows:
Qatar Airways
Air New Zealand
Singapore Airlines
Qantas, Emirates
Cathay Pacific
Virgin Atlantic
United Airlines
EVA Air
British Airways
Lufthansa
ANA
Finnair
Japan Air Lines
KLM
Hawaiian Airlines
Alaska Airlines
Virgin Australia
Delta Air Lines
Etihad Airways
Qatar Airways' Flight Attendants Wear Head-To-Toe PPE Suits
Qatar airways' cabin crew donned head-to-toe Personal Protective Equipment (PPE) suits, complete with safety goggles. This is, in addition to the gloves and masks that cabin crew have already been wearing. In addition, the cabin crew has also undergone exclusive training to minimize their chances of contracting or spreading infection.
All employees are screened for temperature before take off and after arrival. In case a passenger or an employee exhibits Covid symptoms, they are immediately quarantined and given medical attention. Additionally, business class passengers traveling in suites can put the 'do not disturb' board outside their door to limit contact. Besides, meals are served on a tray instead of a table set-up.
Sanitizers are placed all through the airline for passengers' and cabin crew to use. Bars onboard certain aircrafts will remain closed to curb spread of the virus.
Qatar Airways Group Chief Executive Akbar Al Baker said: " As an airline, we maintain the highest possible hygiene standards to ensure that we can fly people home safely during this time and provide even greater reassurance that safety is our number one priority."
However, Qatar is not the only airline to use full bodysuits. AirAsia and Phillipine Airlines introduced full-body custom PPE suits for cabin crew last month.
What Else?
Meanwhile, Emirates has also launched a set of guidelines to ensure safety. The airline has launched a set of new procedures for passengers to follow, from the time they arrive at the airport. Here's a list of all the new safety rules:
1. Inside The Airport
When passengers arrive at the airport, they'll be handed complimentary hygiene kits that include masks, gloves, antibacterial wipes, and hand sanitizer. They will then undergo thermal temperature screening. Both gloves and masks are necessary for passengers and employees at all times.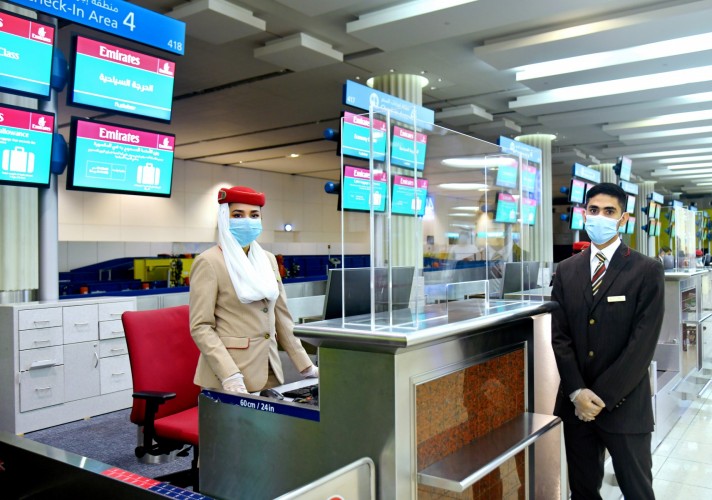 Boarding will begin from the backside of the aircraft and will proceed by small numbers of people, to ensure social distancing and reduce interaction.