Rashmika Mandanna sat with the Curly Tales Editor-in-chief, Kamiya Jani on the latest episode of Sunday Brunch with Zomato to speak of her love for weird food combinations, her love for the cities, and how she finds the idea of home in a flight. Rashmika Mandanna also shares how she gets her way around on normal days, like negotiating with a taxi driver and living life out of a suitcase. Rashmika's stories are as lively as her appealing personality. Here's everything you don't know about the talented and radiant Rashmika Mandanna.
Rashmika Mandanna Tried Weird Combinations During Growing Up Years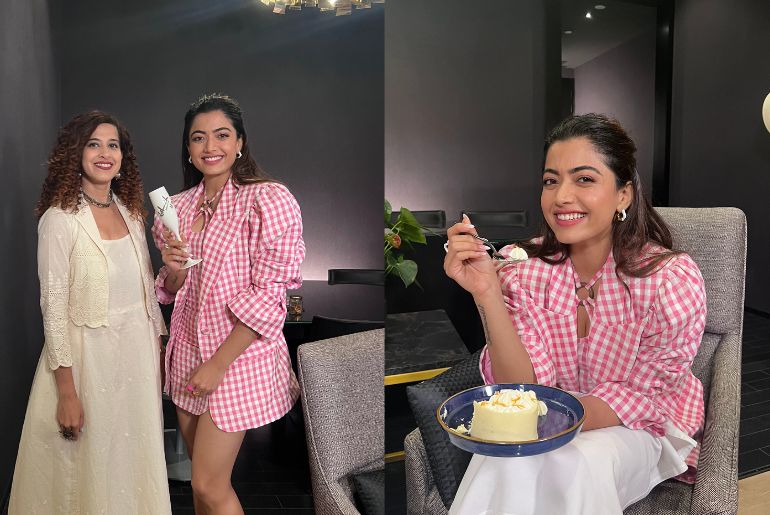 Kamiya Jani, interviewed the stunning Saami Saami actor, Rashmika Mandanna to find out more about her growing up years, the food she loved eating and more. Reminiscing about homemade food and her love for weird food combinations, Rashmika says, 'I used to love eating Biryani and I mixed Rasam with it.' She reiterates saying, "It's amazing, you don't know!" She further talks of other food combinations and says, "Lays with Maggi, Lays with curd rice, weird combinations I used to do. My dad used to love and be like Ummm… my daughter is talented in food mixing now."
Also Read: Rashmika Mandanna Enjoys Sunshine By The Beaches Of Abu Dhabi And Says That She Loves To Travel
Rashmika Talks Of Coorg Cuisine & How She Longed For A Sunday Brunch At Home
As Rashmika Mandanna enjoyed a delicious spread of food, ranging from the classic bhindi fries, dal and rice to Chinese noodles, Italian Pasta and even Japanese Sushi. We could totally agree with her trying weird food combinations when she popped sushi and bhindi fries, during the Sunday Brunch with Kamiya Jani. She also spoke of Coorg and what she grew up eating. She informs about how wine and pork are also a part of the cuisine in Coorg. Further, on being asked about her Sunday brunch at home, she said that she misses relishing Coorgi food.
Well, there is more about Rashmika Mandanna's favourite food, how she is loving her current living out of a suitcase phase and more. Do not miss out on this Sunday's episode of Sunday Brunch with Zomato ft Rashmika Mandanna.