River rafting is one hell of an adventurous sport. Endorphin rushes throughout the body, we get goosebumps, we feel chilly, yet the satisfaction of experiencing such an adventure makes all the thrills and fear worth it. As it is a water sport, the weather has a huge role to play here. If you are thinking to go for rafting in Rishikesh now, are you sure that it is a good time? Well, there are some months when you should go rafting in Rishikesh for the best enjoyment and decreased chances of any risk. If you want to know the safe time for this adventure, then continue reading.
Is It Safe To Go Rafting In Rishikesh Right Now?
Presently the month of May is going on. And it is totally safe to travel to Rishikesh to experience the thrill of rafting. May is very hot in Rishikesh similar to most parts of India. It is always fun to be in the water during summers and nothing can beat the feeling of rafting on a summer day with a group of friends.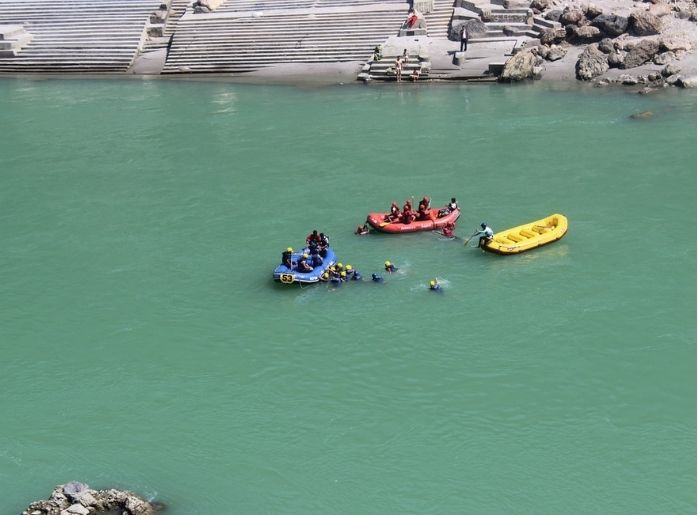 Also read: 5 Places To Visit On Your First Trip To Rishikesh
When Is The Perfect Time To Travel To Rishikesh For Rafting?
Rishikesh experiences good weather all the time of the year. The climate conditions here are quite similar to that of other places and states. You can go rafting in Rishikesh any month you want to, except during the monsoon season. Rafting stays normally closed during the monsoons as the water level increases and makes the sport very risky. You can go during these months for smooth experiences.
March- Early June: The weather is normally hot during these months. In the time extreme heat, the crowd is normally lesser than the other times, making the experience more fun. If there is rainfall during these months by any chance, completely avoid rafting.
Mid of June- September- Rishikesh experiences rainfall during this time. So, rafting is absolutely stopped during these months.
October to February: You can go rafting in white water rafting. Though the temperature is really less during this time span, still huge crowd visits the place.