Abu Dhabi is already home to a host of tourist attractions. From Ferrari World to Yas Waterworld and Clymb, the capital is no short of entertainment to attract tourists. And now, there's a brand new one joining the list. The CEO of Miral Asset Management Mohamed Al Zaabi confirmed that Sea World Abu Dhabi will be the next big attraction. The marine theme park is in its advanced stages of completion and will open its doors to the public in 2023.
What's It?
Miral and Sea World Entertainment are bringing to Abu Dhabi residents a first-of-its-kind marine life-themed park on Yas Island. Sea World Abu Dhabi will feature a 4R centre- marine life research, rescue, rehabilitation and return.
The marine life-themed park will also offer up-close animal experiences, mega attractions, and a world-class aquarium.
View this post on Instagram
Sticking on the marine life theme, Abu Dhabi is also set to open Middle East's largest aquarium- The National Aquarium this year. The 10-zone gigantic structure measures over 7000 square meters and will be home to over 33,000 marine creatures. The new attraction is expected to introduce over a million visitors every year.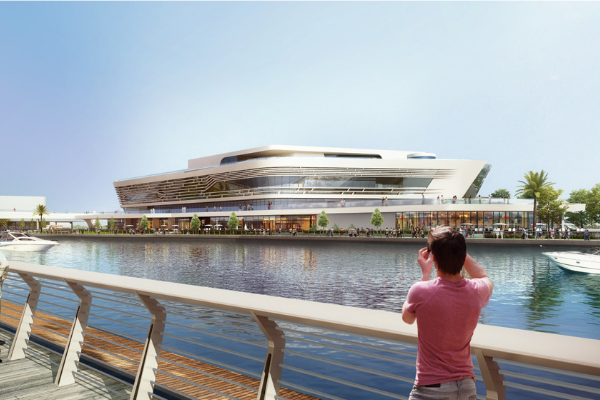 From the young adult who loves visiting and observing marine creatures and animals to the new parent looking to cultivate awareness of other habitats, the destination is a perfect educative leisure activity. From the local species to tropical specials, the aquarium will be home to a wide range of. Watch this space to know more details about this upcoming attraction in Abu Dhabi.
What Else?
From the world's largest snow park to a stunning mangrove walk and a massive aquarium, here are eight new attractions coming up in Abu Dhabi in 2020.
1. Al Qana
Soon, there will be stiff competition for Abu Dhabi's corniche. Abu Dhabi will soon be home to yet another massive entertainment destination and it's close to the Grand Mosque. Going by reports, Al Qana the new marine project will open doors to public this year.
Developed by Al Barakah International Investments, the waterfront destination stretches across 2.4 km and will also be home to Middle East's largest aquarium. That aside, the project will also have a cinema hall, dedicated areas for indoor and outdoor sports, jogging and cycling tracks and a delectable range of restaurants. Three and four floored furnished luxury apartments, are also part of the massive project.
2. Club Social
One of the biggest music fest in the region, Club Social will be back with a bang from 12 to 14 March. While the exact location and schedule is yet to be confirmed, we hear there will be two international acts as well as the Battle of the Bands – where UAE's upcoming musicians will compete in front of a a live crowd. Plus, there will be loads of food trucks, entertainment, water sports and much more so you can hang around for an entire day.