Indian Railways is running 'Shramik Special Trains' to move migrant workers, pilgrims, tourists, students and others stranded due to lockdown. It has come as the latest decision by government for those stranded at various parts of India. These trains run from point to point on request of the concerned state governments.
What Is It
While all other trains are still not allowed to operate since the first phase of the lockdown started. Only the 'Shramik Special Train' will be operational for now.
The statement released by Indian Railways revealed, "As per the guidelines issued by Ministry of Home Affairs, it has been decided to run 'Shramik Special' trains from Labour Day i.e. 1st May 2020, to move migrant workers, pilgrims, tourists, students and other persons stranded at different places due to lock down."
Shramik Special Trains
Also read: Assam To Allow Travel Within Its Districts For Three Days, Starting April 25
Around 10 Shramik Special trains were operated on Saturday to Jharkhand, UP, and Bihar from Rajashtan, Maharashtra, Gujarat, Tamil Nadu, Telangana, Karnataka, Kerala and Andhra Pradesh. Five similar Shramik Special trains operated on Friday.
Guidelines
The Indian Railways issued guidelines regarding the operation of 'Shramik Special trains'. Indian Railways is only accepting passengers who have been brought to the station by the state governments. No other groups of travellers or individuals, other than the ones facilitated by the state governments are allowed to board trains.
Train Tickets
All other passenger and suburban train services remain suspended and no tickets are being sold at any station. The passengers would pay the ticket fee for these special trains. Railways is charging the fare of sleeper class tickets, plus a super-fast charge of ₹30 and an additional charge of ₹20 for the Shramik Specials.
As per the guidelines issued by the Union Railways Ministry, Railways will print train tickets to the specified destination as per the number of passengers indicated by the originating state. The local state government authorities will handover tickets to passengers and collect ticket fare and handover total amount to the Railways.
Security Is Priority
With the beginning of the third phase of lockdown, government doesn't want to take any chances with the security of its people. The passengers have to be screened by the sending states and only those found asymptomatic would be allowed to travel.
Also read: You Can Now Travel Across India Through Tourism Ministry Dekho Apna Desh Webinars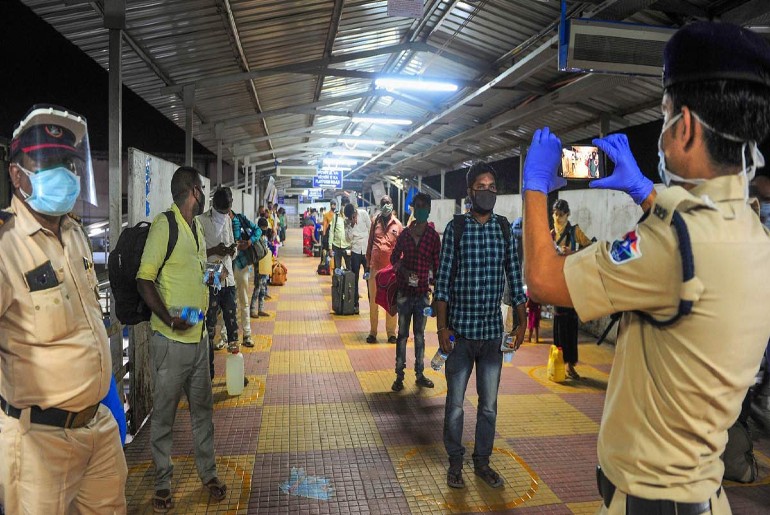 The originating states will provide adequate security at the designated station to ensure that only those passengers, who have been cleared by the state government and have valid tickets for the journey should enter station premises.
Quarantined On Arrival
On arrival at their destinations, the passengers will be received by the state government authorities who would make all arrangements for their screening, quarantine (if necessary) and further travel from the railway station.
They would be kept under watch with periodic health check-ups. For this purpose, they are encouraged to use the Aarogya Setu app through which their health status can be monitored.
Other Mentioned Guidelines
It will be mandatory for all passengers to wear face covers/face masks.
For trains with a long journey beyond 12 hours, one meal will be provided by the Railways. The state governments shall issue food packets and drinking water at the originating points.
Railways will be guided by standard social distancing and safety measures at stations and on trains.
Meanwhile, the Ministry of Railways said in a statement that in continuation of the measures taken in the wake of Covid-19, it has been decided that the cancellation of all passenger train services on Indian Railways shall be extended till May 17.