We all love to dine in a fancy set up don't we? Well, if you're nodding you definitely need to add this to your bucket list. Dubai now has a brand new restaurant, right in the middle of the desert! In celebration of the start of the cooler 'winter' months of the UAE, Sonara Camp has introduced a new seasonal 'Sunset and Dinner' menu of epicurean feasts served sharing style.
The camp is home to a unique restaurant nestled in the heart of the Arabian Desert. So, if you're planning a romantic dinner, why not escape the city's hustle and dine amidst a magical setting!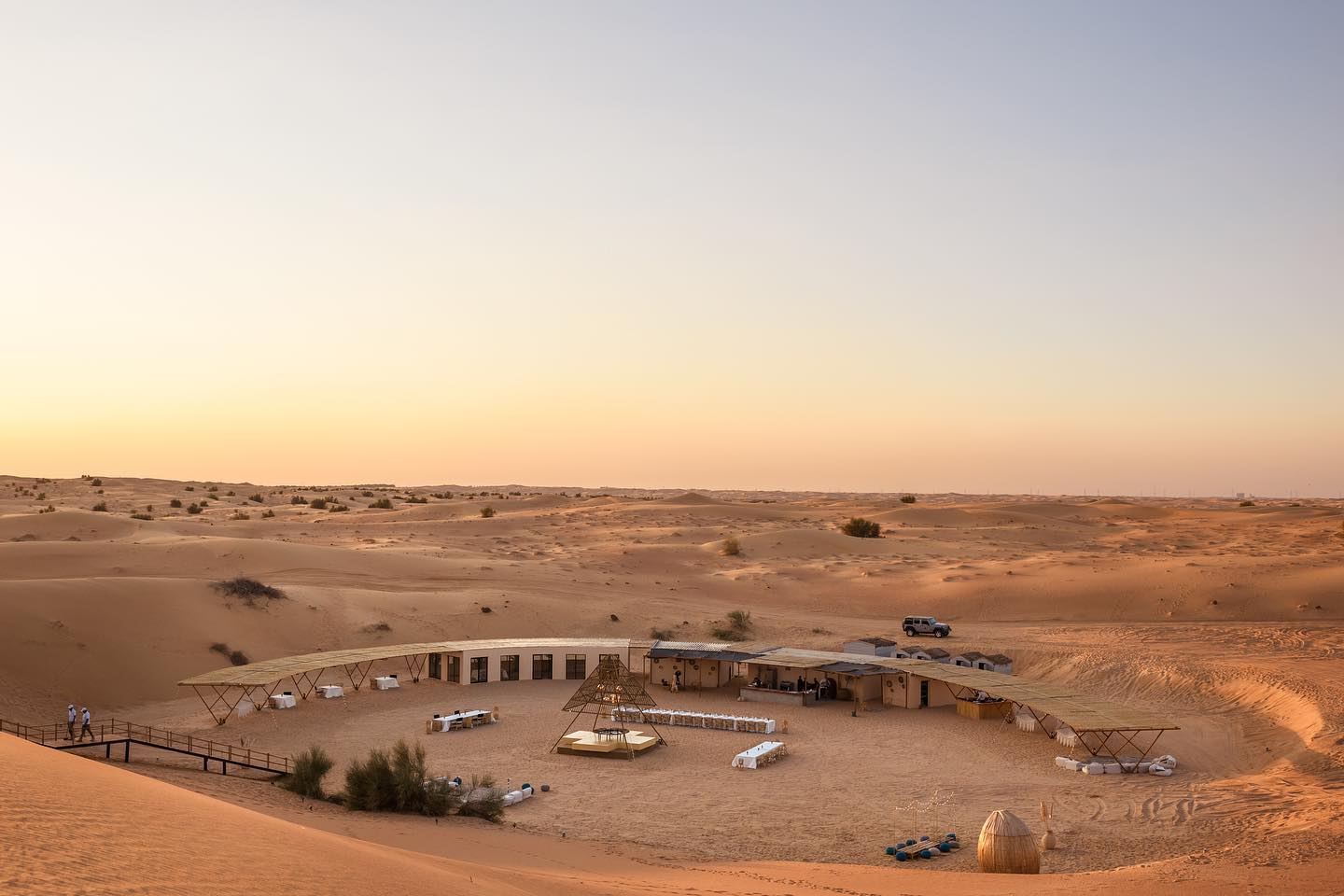 What's In It?
Located 40 minutes out of central Dubai, Sonara camp offers a dining experience like never before. Opened in November 2019 Sonara Camp is a one of a kind desert restaurant offers a delicious fine dining and beverage menu that can be enjoyed whilst watching on as the carefully curated entertainment plays out in the beautiful Arabian Desert.  With activities and entertainment for every age, get ready for an unforgettable journey to the Dubai Desert Conservation Reserve, the home of hundreds of oryxes and gazelles.  The authentic camp is eco-friendly and sustainable with a core belief in sourcing ethical products and material. They use solar energy and have a zero-waste policy.
Also read: Dubai Safari Park Announces Live Shows, Parades & Other Exciting Additions In Celebration Of Its Grand Reopening
What's On The Menu
The seasonal Sunset and Dinner menu is a melange of Mediterranean and local Arabic inspired fusion dishes. Warm up your appetite with Sea bream Tahitian Ceviche served in a Crispy Cone finished with Avocado Wasabi Emulsion,  Iced-Cold Gazpacho Soup & Vanilla Oil, Traditional Moutabal and freshly baked Arabic bread, or Pulled Lamb Shoulder and Razel Hanout.
Main courses feature the Black Angus Picanha on the Grill served with Arugula Chimichurri, Roasted Cauliflower and Tahini dressing and a local Perch on the Grill, Stir-fried Seasonal Vegetables and Creamy Yuzu Sauce.
The sharing concept allows guests to indulge on all the menu has to offer, including the new decadent dessert of Strawberry and Olive Oil Pie with Fresh Thyme and Orange Blossom Mascarpone.  For those with food allergies or preferences, the Chef and his team will ensure that the experience is curated to cater for these on request.
Set high upon a sand dune within the Dubai Conservation Area, Sonara Camp offers unspoilt sunset views over the Arabian desert where guests can start their experience ahead of their dinner relaxing. Recline and watch the sunset whilst sipping a delicious cool drink or for those looking for more action can dive into one of the activities on offer, from archery and volleyball to sandboarding or a tour with a conservationist.
On that note, have you tasted these Best Arabic dishes in the UAE yet?
Entertainment & Activities You Can Enjoy On-Site
Camel ride inside the camp
Live Music from an Oud Player
Kids area with Soft archery, football and volleyball
Sand Boarding
Interactive Falcon and Hawk show
Amazing fire show
Movie under the stars
Special star gazing nights with an Astronomer
During the month of October, residents will be able to benefit off a 10% discount upon using the code Resident10.
Sleep In A Nomadic Tent Under The Starry Sky
If you wish to plan a weekend getaway here, head to Nara Escape- a luxury desert camp offering accommodation in nomadic tents. Guests can pick from two different types of tents – Lotus Tent and Touareg Tent. While at the camp you can enjoy a host of activities including camel riding, sand boarding, and belly dancing or simply revel in the beauty of the sunset.
Also read: Dubai Allows Overnight Camping, Dining & Entertainment With Renewed Guidelines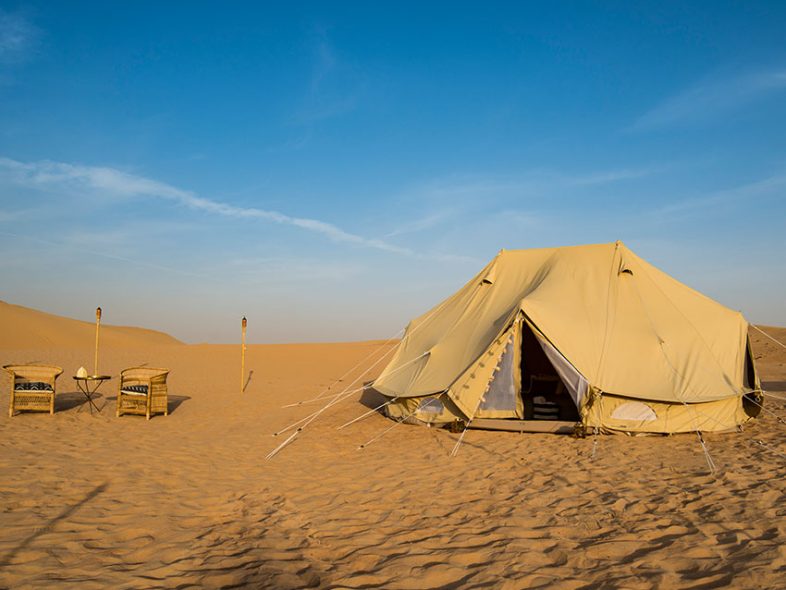 Kids can play treasure hunt, have fun at the pajama party, sign up for a story telling session or enjoy a movie under the stars. And if you simply wish to relax and unwind, opt for a Thai massage or head on a Nature tour.
Here's a little itinerary of the weekend getaway at Nara Escape:
The Chauffeur service will collect you from your hotel/home
Plan for a 30-40 minutes drive from Dubai
Choose from a gentle desert drive or a camel ride to reach our Camp
Arrive at the Camp
Enjoy the activities you have selected or simply revel in the beauty of the sunset
Dinner will be served at your preferred time
Coffee and tea will be offered and be entertained by one of our amazing talented artists
Return to Dubai after dinner or sleep in one of our beautiful nomadic tents
Breakfast will be served in the early hours
Return to Dubai
Meanwhile, if you're looking for camping options in the UAE, then camp in a dome tent at Longbeach Campground in Ras Al Khaimah.  
Deets
Location: Al Ain Road, Margham Gate
Contact: Sonara Camp: +971 50 336 7909, Nara Escape: +971 50 336 0397