Outside Mannat praying to catch the King of Bollywood, Shah Rukh Khan amongst a sea of other people? How about we tell you there is another way to get closer to your favourite Bollywood celebrities? Because there totally is. And this one guarantees a much comfortable approach. Just hit up these top Bollywood fav restaurants in Mumbai to get the best of both worlds and who knows, you just might run into your favourite star and spot many other Bollywood celebs as well.
1. Bayroute, Juhu
Bayroute Restaurant is a sensory experience right before you even enter it. The old-world charm of the Middle East inspired exteriors welcome you warmly. The modern, minimalistic interiors reflect the best of contemporary Middle Eastern design aesthetics. The chic rose-gold cutlery spells royalty and the glorious bar is so inviting you'd like to straight head to it.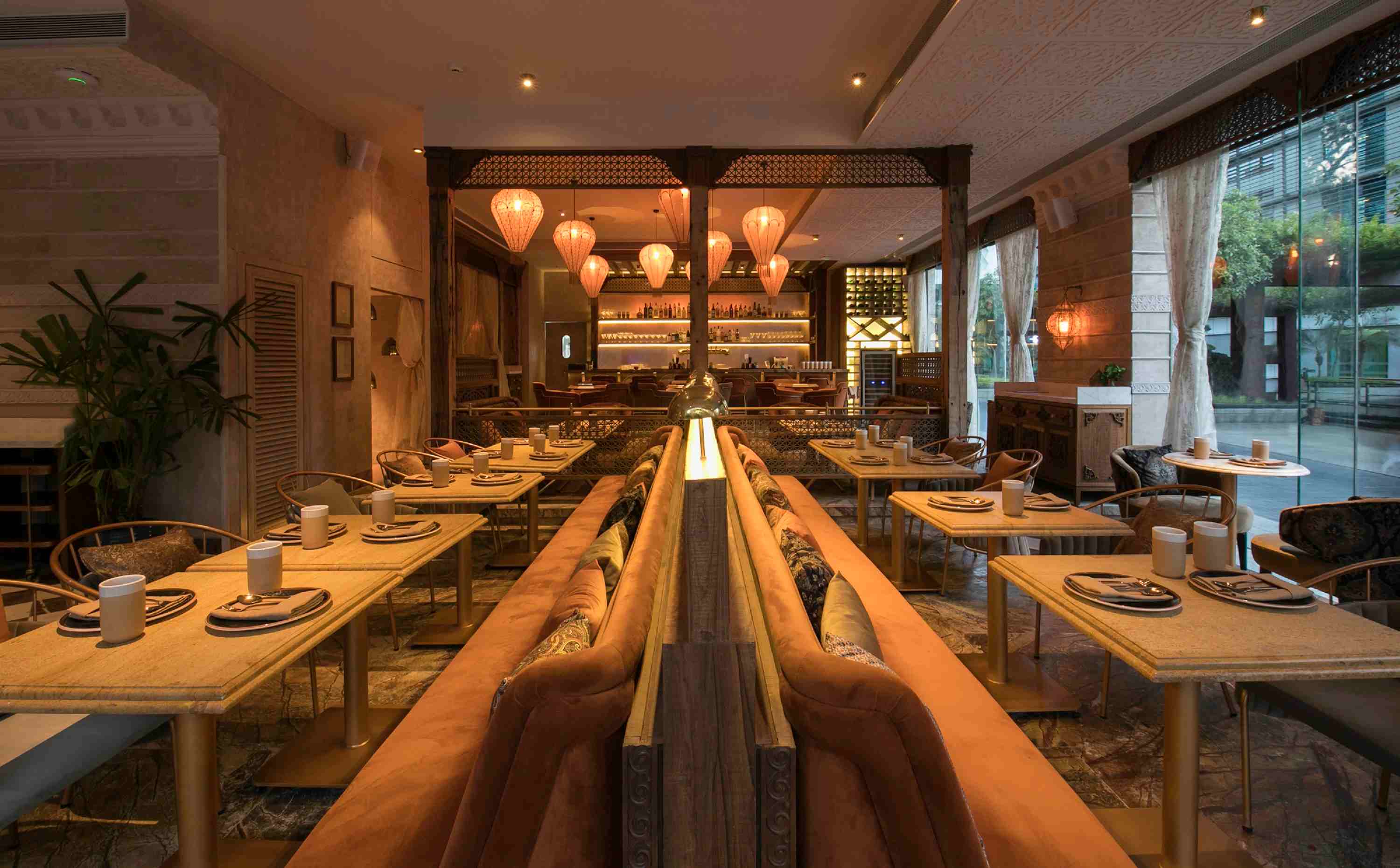 This paired with impeccable cuisines of Lebanon, Morocco, Turkey, Greece and Egypt. Prepared from the freshest ingredients sourced from the souks of the Middle East, the food goes beyond just recipes. It's art on a platter. And that is what has our Bollywood celebs coming back for more. From Bhumi Pednekar to Jhanvi Kapoor and Varun Dhawan, Akshay Kumar and other Bollywood celebrities, all frequent Bayroute which recently opened its 4th outlet in BKC. Try your luck!
Address: Bayroute Juhu, 14, Silver Beach Estate Opp Juhu Post Office, AB Nair Rd, Juhu, Mumbai, Maharashtra 400049
Contact: 086575 54931
Avg Cost for 2: ₹3000 approx
Watch our CTO unveil the brand new BKC outlet here. Who knows you might run into Kamiya Jani as well
Also Read: Bayroute Restaurant Opens It's 4th Outlet In BKC
2. Hakkasan, Bandra
A favourite haunt of the likes of popular Directors Karan Johar and Aditya Chopra, this quirky Cantonese /Chinese cuisine restaurant should be your next stop for a great meal as well as that selfie you want so badly with your favourite Bollywood celebrities.  Apart from lip-smacking cuisine, the food here is not priced at exorbitant rates as well. It's the authentic flavours bringing them stars here all day all night.
No, we mean it. You can spot any celeb here whenever you go. The Kapoor sisters, Kareena and Karishma, Sonakshi Sinha, Ranbir Kapoor and many more.
Address: Hakkasan, 2nd Floor, Krystal Building, Waterfield Road, Bandra West, Mumbai, Maharashtra 400050
Contact: 022 6137 8005
Average cost for 2: ₹2600
3. Olive Bar And Kitchen, Khar
Well, if you are going celeb hunting in Mumbai, this restaurant cannot be ignored. From celebrations to hecklings that cannot be forgotten, it all happened here in Khar's Olive Bar and Kitchen. The celebrity game goes several notches up here what with King Khan frequenting the restaurant himself! And what's more, this super delectable cafe is also actor Ranbir Kapoor's favourite! You can definitely spot him here.
And another highlight is how this restaurant has something for everybody. Vegetarian, Vegan, Gluten-Free, they have it all! Let's go?
Address: Olive Bar and Kitchen, No. 14, Nargis Dutt Rd, Union Park, Khar West, Mumbai, Maharashtra 400052
Contact: 022 4340 8228
Avg cost for 2: ₹3500 approx
4. Yauatcha, BKC
Now this one sees some big names like Aishwarya Rai Bachchan you all! Pop in at dinner time and you have the highest chances to run into celebs as they head here to have wholesome meals with their families like Sanjay Dutt and family.
Apart from food, they are also well known for their desserts and the unique combination of Cantonese dim sum and classic European patisserie.  So have a chill hangout and an amazing gourmet dinner along with spotting the who's who in town!
Address: Yauatcha, Raheja Towers, Bandra Kurla Complex, Mumbai
Average Cost for two: ₹2,800
Phone: 9222222800
5. SoHo House, Santacruz West
Who to spot in the cool hangout joint that only has amazing dishes but also it's own pool and theatre! You can literally chill here for hours right beside some of the biggest Bollywood celebrities and world over like Priyanka Chopra and Deepika Padukone! Why is this a celeb favourite? Well apart from the good food, the location of the building is pretty close to many Bollywood starlet homes and the fact that it provides a sunny rooftop pool finds many takers. Good luck!
Address: SoHo House, 16, Juhu Tara Rd, Chandrabai Nagar, Santacruz West, Mumbai, Maharashtra 400049
Contact: 022 6213 3333
Get more info here.
Also Read: 5 Best Rooftop Restaurants In Mumbai
6. Pali Village Cafe, Bandra
This one is a regular haunt for popular models, actors and other show biz regulars for a tasty snack and some great drinks to go with it. The rustic appearance of the cafe and excellent service to go with it will definitely have you in awe. And it's easy to spot as it's super close to the very popular Janata bar. Who have we spotted here so far? Does Jacqueline Fernandes ring any bells guys? The restaurant has shut down temporarily for renovations, so hold on to the stalking for a bit.
Address: Pali Village Cafe, 602, Ambedkar Road, Pali Naka, Pali Hill, Bandra West, Mumbai
Contact: 022 26050401
Avg cost for 2: ₹3,000
7. Bastian, Linking Road
Another Bollywood favourite in Bandra, this luxurious restaurant is known for its lip-smacking seafood spread that is as gourmet as it can get. Think fat and juicy Lobster Rolls, amazingly cooked Fish, and the much in demand Salmon! You'll get a taste of all of it here along with rich cocktails and funky liquor. And some gorgeous eye candy like the ravishing Sonam Kapoor, Monica Dogra, Karan Johar and other Bollywood celebrities.
Address: Bastion, B/1, New Kamal Building, Opposite National College, Linking Road, Bandra West, Mumbai
Contact: 022 68513300, 022 68513301
Avg cost for 2: ₹4,200
8. Prithvi Cafe, Juhu 
Initially a cafe for theatre enthusiasts and drama students, but in today's time, you'll find college students, youngsters and literally everyone hanging out here! So much so that you'll have to battle a waiting period for up to an hour every time you visit here. Watch this for more details:
What to try here? Well, their parathas are simply mind-blowing. The Amritsari Paratha (₹130), the Alu Paratha (₹130) or the Italian Paratha. We loved them all! Served with a side of dal makhani, and raita, these parathas are rich with butter. We also tried their Kheema Pav (₹165). Crispy butter pav is served with spicy minced mutton. If you're going for the new age menu, try out their nachos, waffles, and more.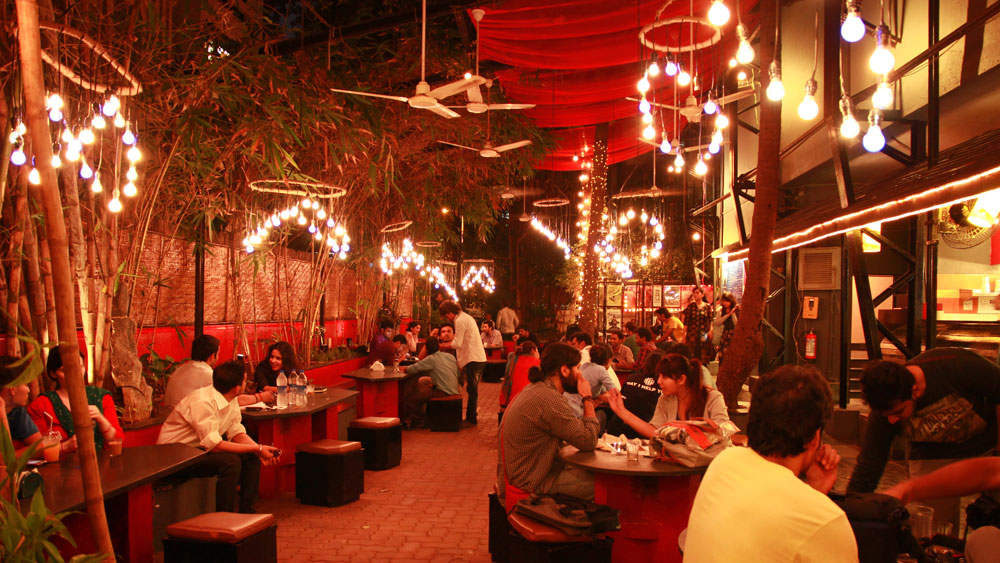 And you simply cannot miss on their Kadak Chai (₹24). Among beverages, go for their Sulemani Chai (₹24) if you'd like something different or go new age with Beer Bottle Chaas (₹55) which is just regular buttermilk served in a beer bottle to up the quirk factor.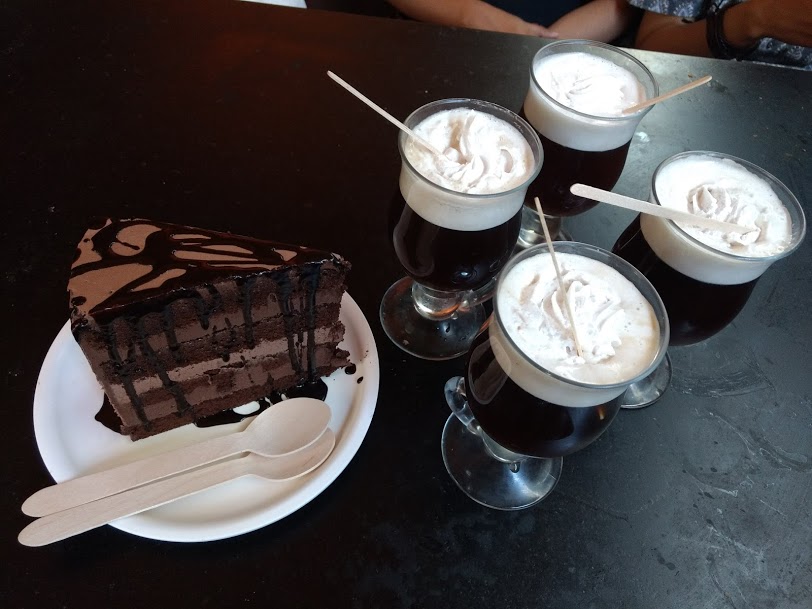 And for desserts, I recommend the famous seven-layer chocolate cake called the Chocolate Vertigo (₹130). I dare you to finish this by yourself! Pair it with the equally famous Irish coffee (₹140) and you're good to go. And the best part? You don't have to break your bank. And the even better part? Hanging out with Bollywood stars! Yes, Ranbir Kapoor, Kalki Koechlin, Anupam Kher, Divya Dutta have all be spotted here catching a play and some Cafe goodies as well so keep your eyes peeled.
Address: Prithvi Cafe, Prithvi Theatre, Janki Kutir, JuhuChurch Road, Juhu, Mumbai
Contact: 022 26174118
Avg cost for 2: ₹400
9. Pali Bhavan, Bandra
Known for an amalgamation of cuisines and dishes, this quaintly rich Bhavan spells luxury and beauty like no other. No wonder our favourite Bollywood celebs can't keep away! And where they are, the fans lurk too. While you're here waiting on that fabulous celeb entry, make sure to try the Butter Chicken, Cocktails, Dal Makhani, Momos, Paan Kulfi, Vada Pav and the tangy chaat as well. And get ready to spot the likes of Gauri Khan, Akshay Kumar, Kareena Kapoor Khan, Saif Ali Khan and many more Bollywood celebrities.
Address: Pali Bhavan, 10 Adarsh Nagar, Pali Naka, Pali Hill, Bandra West, Mumbai
Contact: 022 26519400, 022 26519200
Avg cost for 2: ₹3,000
10. Indigo Delicatessen, Bandra 
A decadent cafe serving some enviously good dishes, many stars hit up Indigo in Bandra for the perfect brunch or even a drinks date. You must try Pizza, Burgers, Pasta, Sandwich, Salad, Risotto and the divine Eggs Benedict for that perfect brunch. And while you gorge on these delicacies, you just might run into the beautiful and talented Ileana DeCruz who's quite the regular here. Also, be ready for Tamanna Bhatia, Shilpa Shetty, Parineeti Chopra and more.
Address: Indigo Delicatessen, 8, Fatima Villa, 29th Road, Pali Naka, Pali Hill, Bandra West, Mumbai
Contact: +91 7506425001
022 26429064
Avg cost for 2: ₹2,400
Note: Please be mindful of the fact that these Bollywood celebrities are also people just like us and would want privacy while eating. Do not click photos without taking permission or interrupt them while they are having their food. There is nothing wrong in asking for selfies of course, but find the right time and ALWAYS take permission. No sneaky pictures people, it's not cool.