At the confluence of the Muriganga river and the Bay of Bengal, sits a serene island that is lesser-known, and thus still secluded. Hidden near Namkhana, West Bengal, Mousuni is a little paradise where the splendour of the crimson sunsets on the golden sands can be experienced in its virgin form. Due to its unmatched appeal, the island is gradually becoming a tourist spot and the coastline has now been dotted with a few rural camps. These quaint camps are right on the beach and they offer all the basic amenities. While staying at these camps, you can witness the vast ocean and freshen up your mind with the smell of the forest. Mousuni is about four and a half hours drive from the state capital, Kolkata.
Treat Your Eyes On The Majestic Ocean From Dome Tents And Bamboo Cottages
When you're near Kolkata, you can take out a day or two to escape away to the lap of nature at the picturesque Mousuni island. The island has a scanty population, and due to the lack of crowd, the symphonies of the crashing waves can be heard very loud here. There are many campsites on the Mousuni beach, popular among them include Mousuni Island Nature Study Camp, Mousuni Island Backpackers Camp and Sand Castles Beach Camp.
View this post on Instagram
These camps charge guests on per person per day basis, and the charge includes food and lodging. There are different kinds of beach tents at Mousuni, like dome tents, family tents, colony tents, mud huts and bamboo cottages. Meanwhile, here are 11 reasons why Kolkata is a stunning city.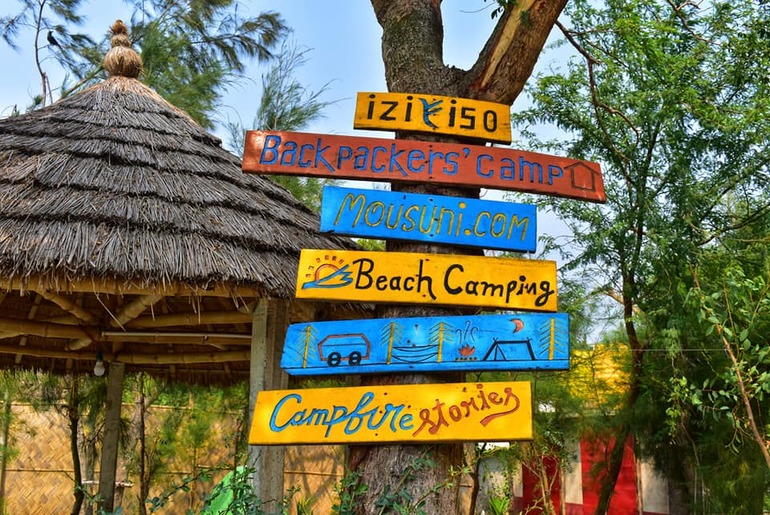 Also Read: We Visited This Gorgeous Bengal Canyon That Reminded Us Of The Dragon Hills Of Africa
A Seashell Dotted Shoreline And A Birdwatcher's Haven
Mousuni is not just about delighting in the beauty of the sea and the golden coasts, there's a lot more to it. You can take a stroll through the beach and collect shells of different shapes and sizes. You can even enjoy the soothing breeze by taking a boat ride or simply sip on coconut water by reclining on a hammock. After nightfall, you can also ask the camp guys to set up a bonfire overlooking the beach. Mousuni is a haunt for birdwatchers too.
View this post on Instagram
The Fisherman's Wharf
Also, since the island is isolated, it gives enough scope to shutterbugs to capture some marvellous snaps. The beach can even turn red at times when red crabs sneak out of their sandy burrows in large numbers.  Coming to food, the home-style fish curry is a must-try out here. Mousuni island is often called the 'fisherman's wharf' as it is a significant fishing hub. One thing you must remember before visiting Mousuni. At this beach, there are no proper hotels. You can only stay in the camps and cottages. That defines the unique charm of the place.
View this post on Instagram
Also Read: I Visited This Secluded Beach Near Kolkata & It Reminded Me Of Picturesque Gokarna
How To Reach Mousuni
You can either reach Mousuni by car or alternatively, you can reach Namkhana from Kolkata by bus or train ( takes around 3 hours) and then cross the Hatania Doania river by boat. This has to be followed by a magic van ride, another river crossing and another motor van ride. If you're a thrill-seeker, you can take the route through the waterways. But if you prefer comfort, the car ride would be best as it would take you directly to the island. Meanwhile, here's a virtual tour of Kolkata from the comfort of your home: