Time and again, the Maldives has proven to be the most chosen travel destination of Bollywood celebrities. Now, Sunny Leone is in the island nation, soaking in the beauty of blue waters, clear skies and sandy beaches. Recently, she has shared a video from the Maldives where she is seen enjoying a ferry ride on the ocean. In the video, Sunny is in all smiles, wearing a stylish cap and a cool pair of goggles. She also throws a flying kiss to her fans while taking the ride.
👙🌊🌴 pic.twitter.com/7OVG1GHdlM

— sunnyleone (@SunnyLeone) September 23, 2021
Kareena Kapoor Celebrates Her Birthday In The Maldives With Saif Ali Khan, Taimur And Jehangir
Kareena Kapoor also celebrated her birthday on the beaches of the Maldives with her husband Saif and two little kids Taimur And Jehangir. She has shared a picture on social media in which the four are seen in a silhouetted frame on the beach with a dazzling 'Happy Birthday' written over the waves. Kareena has captioned the picture as, "Keep the fire burning… birthday promise to myself." Earlier, Saif Ali Khan Had Also Jetted Off To The Maldives With Kareena Kapoor & Sons For His Birthday.
Kareena's Birthday Promise ❤️ pic.twitter.com/iZQJoxzAdT

— Kareena Kapoor Khan (@KareenaK_FC) September 22, 2021
Also Read: This Beach Destination In India Will Soon Get Maldives-Style Water Villas & We're Excited!
Actresses Parineeti Chopra, Ananya Pandey Also Holidaying In The Beach Destination
Apart from Sunny and Kareena, actresses Parineeti Chopra and Ananya Pandey are also vacationing in the Maldives now. Both of them have shared pictures with the turquoise waters and a seaplane in the backdrop. Parineeti wrote, "Fam jam, took out our cam! Missing youuuu stoopidd boiii @thisissahajchopra." Ananya Pandey wrote, "This is my plane pose for some reason." Bollywood Celebs Holiday In These Maldives Resorts & Here's How Much They Cost!
Fam jam, took out our cam! 🤪📸 Missing youuuu stoopidd boiii #SahajChopra 💕💕 #NCSTravels @TransMaldivian @icmaamunagau #TMA pic.twitter.com/Ql5NYrY0ZH

— Parineeti Chopra (@ParineetiChopra) September 22, 2021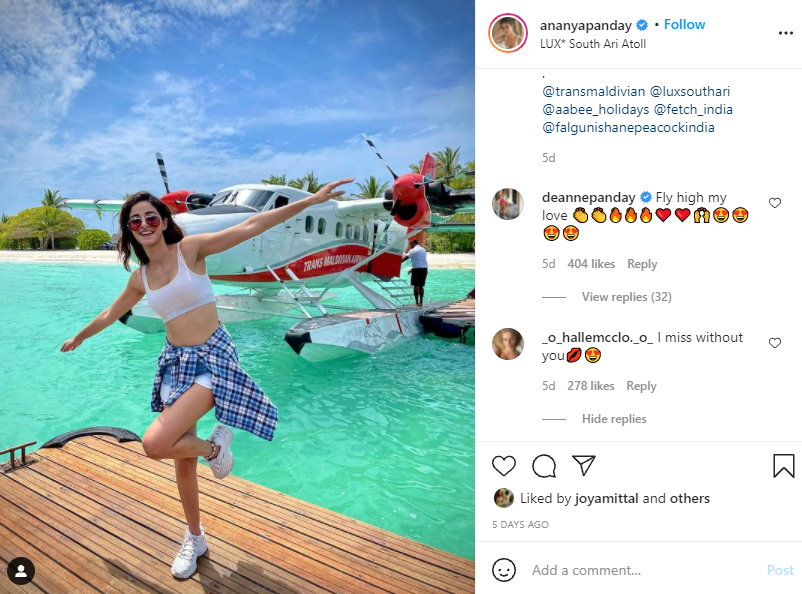 Also Read: The Maldives Will Soon Be Just A Ferry Ride Away From India
Missing the beaches already?