Panipuri is an absolute favourite snack in India. It is one of the most consumed snacks among people of all age groups. You can find panipuri stalls on every corner of any city in India. This refreshing snack is extremely delicious and affordable. If you are a huge panipuri fan like us? We have some good news for you. A stall in Surat by the name 'Aayush Panipuri Center' serves the biggest panipuri in India. Read on to know more!
The Biggest Panipuri In India
Located in Udhna Udhyog Nagar, Aayush Panipuri Center is the most popular stall in Surat for serving India's biggest panipuri. Some even call it a 'Volcano panipuri'. A plate of pani puri and a nice salad cooked with some veggies are first served by the stall owner. Puri, matar-aalo (pea and potato filling), and tamarind water are served after that. You just cannot eat one pani puri because there are so many different flavours and bursts of taste in each bite. This pani puri wala is very popular in Surat for serving the biggest and most unique panipuri.
Also read: Kamya Punjabi Forgot ₹1 Lakh At Indore Pani Puri Stall & Here's What Happened!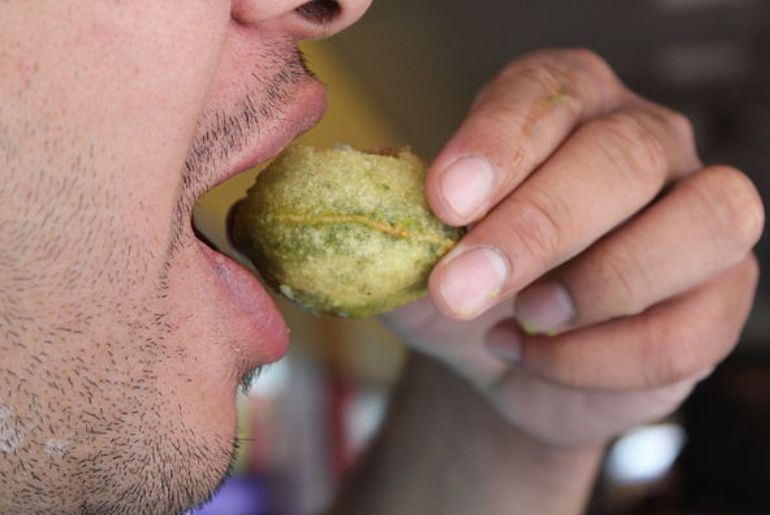 The stall owner ends the serving with a mixture of puri flakes with salad, matar-aalo, and spices. He thoroughly blends everything before serving the customers a large portion of the mixture.
Also read: Enjoy Unlimited Pani Puri At This Mumbai Street Stall At Just ₹60
Thousands Of Panipuri Sold On A Daily Basis
The stall is fairly crowded from the start of the day to the end. Every day, more than 5000 puris are sold. Aayush Panipuri Center is without a doubt a favourite among visitors. The popularity of this spot is out of control, so it's no surprise that so many people come here daily and wait in line to gorge on India's biggest pani puri.
Where: Ayush Panipuri , Udhan Teen Rasta , Surat
Also read: SJE Panipuri In Indore Gives Away Unlimited Pani Puri For Just Rs 21