How about dwelling in a lavish red-sandstone bungalow that once used to be the home of the Jagirdars of Sodawas? This palatial residence of Bhati Rajputs of the Lunar dynasty in Jodhpur has now been converted into a heritage hotel and offers a spectacular experience. The bungalow has rooms caressed by royalty, that not only look grandiose but also come with top-notch amenities. The compound also has a pool and an open-air restaurant. And the signature dishes at the bungalow have already entered many global food festivals. Want to spend a couple of days out here? Read on to know more.
Also Read: 6 Opulent Suites You Can Book In The Palaces Of Rajasthan & Live Like The Maharajas
The Bungalow That Stunningly Blends Ancient Colonial And Traditional Features
The Karni Bhawan Heritage Hotel in Jodhpur is a piece of history that stunningly blends colonial and traditional features. It comprises 31 swanky air-conditioned rooms embellished in elegant Rajasthani style, with curtained canopy beds, traditional furniture and more. The full-length mirrors aggravate the splendid aura of the rooms.
Near the bungalow, there is also a Rajasthani dhani. Dhani in Marwari language refers to a group of huts constructed away from the community village. Karni Bhawan's dhani sits at a corner of its lawn where guests can savour luncheons and dinners. Head To The Stepwell Cafe In Jodhpur If You Want Your Coffee With A View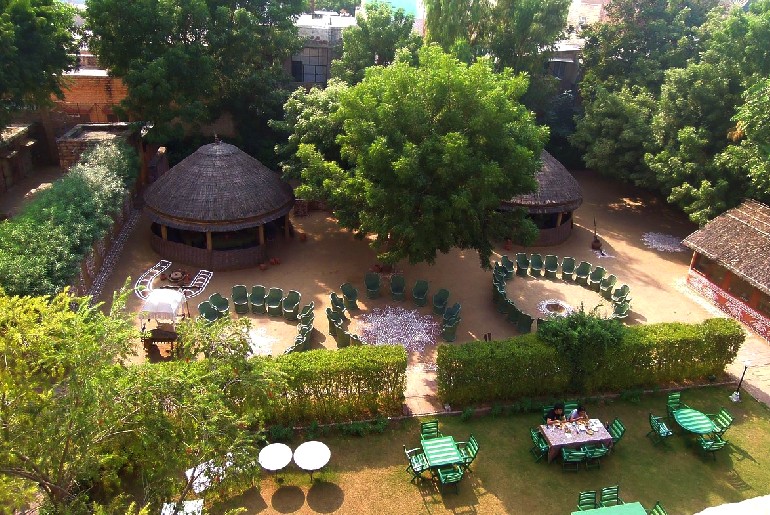 Also Read: I Went On A Trip To A Secluded Campsite In Pushkar And Slept Under The Stars
Enjoy Traditional Dishes From The Kitchens Of The Sodawas
Karni Bhawan offers a gourmand food experience too, especially with its cuisine from the 'Kitchens of the House of Sodawas'. Specialities that can be relished here include a vast array of Tandoori and Punjabi dishes as well as Chinese cuisine.
The dinner buffet at the dhani is paired with soothing live music and campfire. One can also go on village safaris to get a glimpse into the tribal life and wildlife jeep safaris from the hotel. The property is around 5 kilometres from Jodhpur's popular Mehrangarh Fort. Rates of staying at Karni Bhawan Jodhpur is around ₹4500/night.