Chai and samosa is an emotion. Just biting into a crispy samosa stuffed with perfectly spiced aloo just makes even the smallest moments in your life so special. Recently we came across an eatery in Haryana that serves green-coloured Palak Paneer Samosas and it looks quite interesting. Take a look!
Palak Paneer Samosa Served In Haryana Eatery Leaves Foodies Curious
Instagram food page @officialsahihai took to their page to share a unique samosa reel with their followers. The video takes you to Sahni Sweets in Haryana's Ambala City. In the video, you can see street food vendors preparing piping hot green-coloured palak paneer samosas from scratch. The owner of the restaurant proudly says that we may have seen many samosas, but only his restaurant prepares this unique samosa that's famous across the country.
View this post on Instagram
The making of the samosa starts with preparing the green-coloured palak (spinach) patra. The thin outer covering of the crispy snack is first prepared. As it comes out in perfectly thin circular shapes from the machine. Next, a cook stuffs it with a spiced paneer mixture and folds it into a triangular shape. Then they deep fry the palak paneer samosas in a large kadai sizzling with hot oil, until they turn golden brown.
Also Read: Samosas Stuffed With Biryani. We Cannot Take This Anymore!
Some Wondered If The Oil Used Was Healthy
In no time this palak paneer samosa video went viral and garnered over 4.1 million views and 91.02 likes. Interestingly, unlike many other food trends, many Instagrammers weren't aversed to this dish. In fact, many were curious to try this out. But there were also some who felt the oil used for frying the samosas was too black and needed to be changed as it can be unhealthy. Some made fun of the eatery wondering if they used Castor engine oil to fry the palak paneer samosas. But @officialsahihai clarified that the eatery used mustard oil which can look dark when put into a kadai.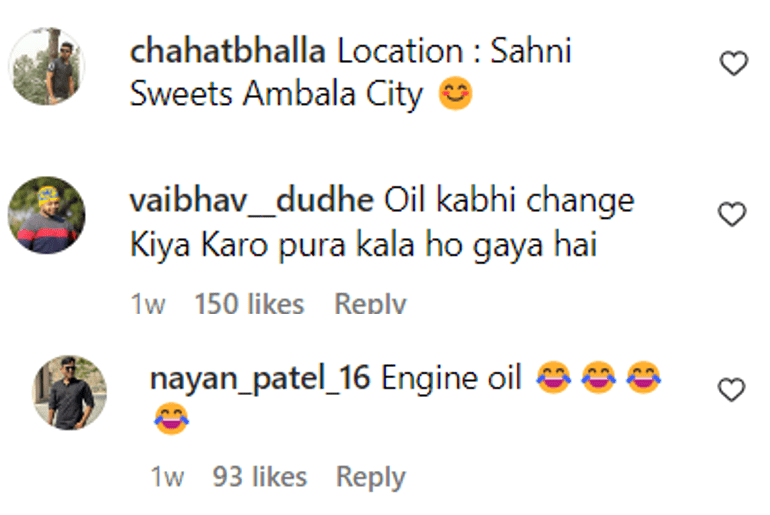 Also Read: "Samosa Kha Raha Hu 5 Min Rukiye:" Cab Driver Late; Offers To Buy Samosa For Passenger As Well
Meanwhile, have you ever tried experimental samosas like chocolate samosa, noodle samosa or palak paneer samosa? If you have, let us know if you approve of the samosa decision you took!
Cover Image Courtesy: @officialsahihai/ Instagram