Trust Instagram & Twitter to keep hitting you with bizarre and unusual food trends that have no place on the Internet or in our tummies. If Kaju Katli Soup (yes, it's true, look it up!) and Charcoal Idlis weren't enough, then there's now a Chocolate Idli that has left both idli and chocolate lovers highly disappointed.
Viral Video Shows Preparation Of Chocolate Idli
Food vlogger, @thegreatindianfoodie took to Instagram to share a video of the making of chocolate idli. In the video, you can see the street food vendor adding a dollop of chocolate batter to a small piece of banana leaf. He shapes it to look like a dark brown-coloured idli. Next, he places the tray with the chocolate batter in the idli steamer. The video shows the steamer is filled with regular idlis, and the chocolate one is the odd one out.
View this post on Instagram
The vendor later removes the tray from the idli steamer and you can see a dark-brown coloured fluffy idli, ready for consumption. He opens a cup of chocolate ice cream and places it next to the chocolate idli. Next, he drizzles the piping hot  dish with chocolate sauce and tops it with colourful sprinkles. The chocolate idli with hot chocolate sauce and chocolate ice cream is ready!
Netizens Are Horrified By This Food Trend
This video went viral, garnering over 358K views and 4200 likes. But Netizens were not too pleased with the chocolate iteration of the humble South Indian breakfast dish. One person questioned isn't it a brownie. Yet another person asked "why", pretty much echoing our thoughts. Yet another Instagrammer asked why were street food vendors ruining comfort food as they did with ice cream pani puri. Then again another sarcastically commented that they should rather kill us instead of these "modifications".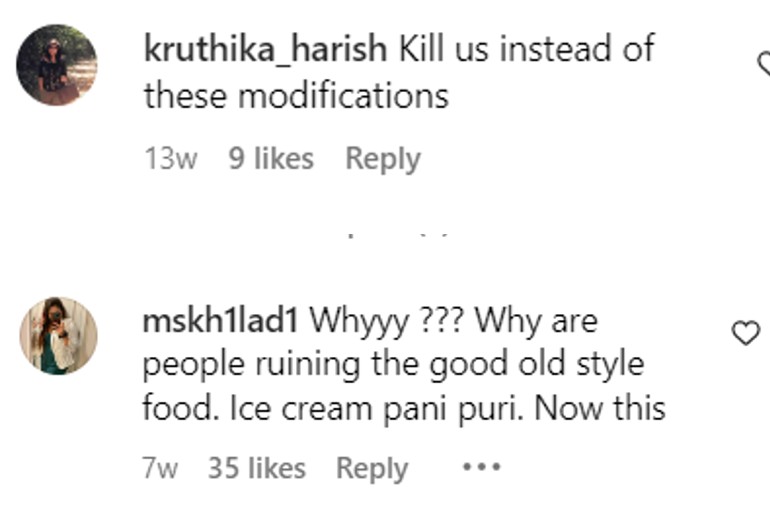 Well, the comments section is quite a laugh riot, leaving both chocolate and idli lovers highly disappointed. Meanwhile, would you ever dare to try this dish? Would you ever consider it a healthier version of a brownie, even though it appears to look like a brownie?
Cover Image Courtesy: @thegreatindianfoodie/Instagram