Planning a trip to the beautiful city of Kolkata and just don't know what to do and where to start? Well, we are here to help. We recently visited the beautiful capital of West Bengal and we were left mesmerized by the grand colonial architecture, art galleries, the cultural festivals but most of all, the old world charm and the people that belong to another time and feel. Walking into Kolkata is like walking into the past and yet it brims with the present. It is a place where time seems to slow down and race at the same time. with so much to explore, witness & experience – we bring you to the best of our curations.
1. Stay At The Fern Residency
When I landed in Kolkata, I was excited. There was so much to see and do, but first I had to settle in. I chose The Fern Residency at Rajarhat as my hotel of choice. It's close to the airport, has luxurious rooms, the view is great and of course (the foodie that I am), I have to admit that the breakfast is absolutely spot on.
Address: 204, Main Arterial Road, Biswa Bangla Sarani, Noapara, Rajarhat, West Bengal 700157
Book a room here
Did you know that trams are the cheapest way to get around Kolkata? Well, we did and we made the most of it. The vintage feel of looking out of a tram as it rumbles through the city is almost magical. You suddenly feel like you've stepped into a black and white era.
3. Visit The Victoria Memorial
The Victoria Memorial is a prominent, pure marble building in Kolkata. Built between 1906 and 1921, this grand structure stands tall and proud in Kolkata and makes for a stunning addition to the history of the city. It is dedicated to the memory of Queen Victoria. You must visit this memorial turned museum in your time in Kolkata.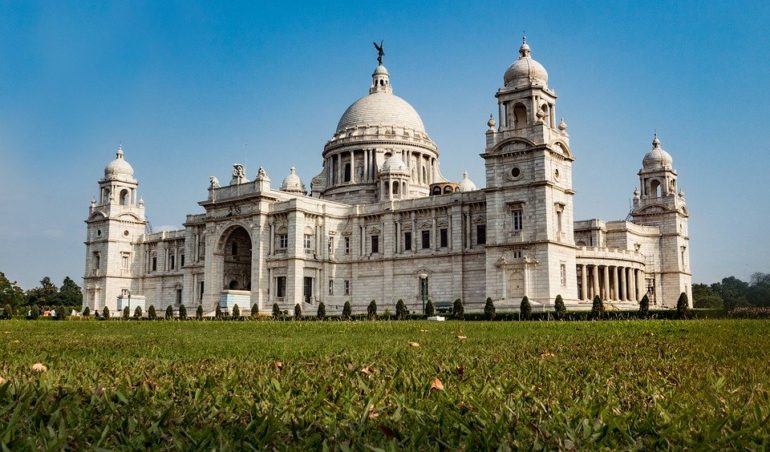 Address: Victoria Memorial Hall, 1, Queens Way, Maidan, Kolkata, West Bengal 700071
Timings: All Days 10 am – 5 pm
Tickets: ₹30–500
4. Take A Boat Ride At Prinsep Ghat
Prinsep Ghat is probably one the famous attractions in Kolkata and taking a boat ride under the bridge is quite mesmerising. Located on the banks of River Hooghly, Prinsep Ghats was built in 1841 during the British Raj. Once used as a jetty for loading goods, today it's become a favourite among the tourists for a boat ride or a walk along the banks. The gorgeous Howrah bridge makes for a great backdrop as well. Don't forget to check the calendar for the various events that keep happening. Keep aside 1.5 hours for your time out!
Address: Prinsep Ghat, Fort William, Hastings, Kolkata, West Bengal 700021
5. Gorge On Street Food
If you're in Kolkata and you haven't tried their street food, then is it even worth visiting Kolkata? I think not. Kolkata is every food lover's dream destination. Not only is it cheap, but it is also worth every penny. From gulab jamuns to mishti doi and more, watch this video to see everything you need. Warning: Don't watch this on an empty stomach.
6. Travel In A Yellow Cab
Travelling in Kolkata's yellow Ambassador cabs is an experience in itself. They charge ₹25 for up to 2km, and ₹12 per kilometre thereafter. Getting around in Kolkata's yellow cab is probably the best way to get the town through a local as well. More often than not, you'll get a bespectacled old uncle who will be more than pleased to take you through the history of Kolkata and tell you about 'those days'.
7. Eat At Kolkata's First Hanging Restaurant
Kolkata inaugurated its first-ever hanging restaurant in New Town at Kolkata Gate where you can dine with a 360-degree view of Rajarhat. If you don't fancy a meal, you can also simply go to the top and head to the museum and teh art gallery instead. Check out the video below for full details.
Address: Major Arterial Road (South East Extension), Action Area, New Town, West Bengal 700156
8. Explore Mallick Ghat Flower Market
Did you know that Asia's biggest flower mandi (market) is in Kolkata and was built way back in 1855. It was built by Ram Mohun Mallick. With a 165 year heritage to its name, this is a spot you just cannot miss. Located under the south-east end of the Howrah bridge, the best time to visit the flower market is as early as 4 am. Don't worry, you'll find plenty of vendors seated already and a few others setting up shop. Don't go after 8 am and make sure you wear closed shoes with grip as it can get pretty mucky.
Address: B B D Bagh, Kolkata, West Bengal 700001, India