The last time I visited Chennai as a tourist, the 7th century Kapaleeswarar Temple in Mylapore was part of my itinerary. When I told my friend I planned to visit the iconic Lord Shiva temple, the Chennaiite immediately told me to visit Kalathi Rose Milk Shop nestled right next to the temple. The 95-year-old rose milk shop is no less than a heritage site and has served even celebrities, she quipped. As a Food Writer, constantly in search of new culinary adventures, I was overjoyed with this recommendation. And let me tell you, Kalathi Rose Milk Shop true to its legacy, indeed pampered me with the most delicious rose milk I've ever tasted.
Chennai's Kalathi Rose Milk Shop Established In 1927
Kalathi Rose Milk Shop started as a pocket-sized newspaper shop by Kalathi Mudhaliyar in 1927. Called Kalathi Newspaper Mart', almost a century ago, it attracted residents from across Mylapore, not for the paperbacks of information, but for the frothy rose milk, sold in glasses then. The rose milk was served for just 25 paise in the 70s. Kalathi Rose Milk Shop over the years has been run by the same family's three generations. Today, it's manned by K Mani, a retired bank manager and his cousin Kumar. K Mani revealed to The Hindu that his father was so passionate about running the family's rose milk business that he took his last breath in the store.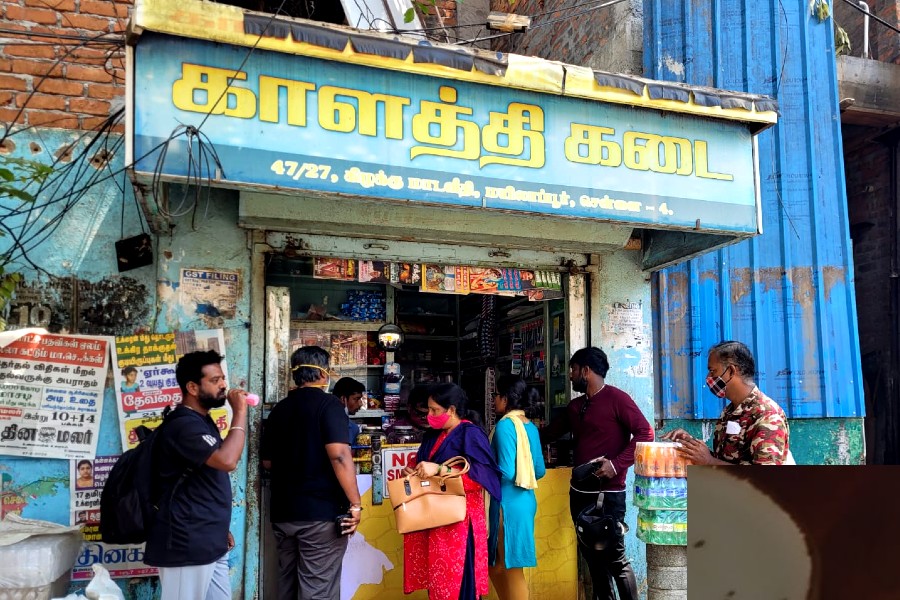 Also Read: This Bakery In Chennai Serves Pull-Me-Up Tiramisu Cake & Masterchef Baked Alaska
Famous Actors Frequented The Rose Milk Shop
Despite the peak of the Covid-19 pandemic, Mani said that shutting the store was never an option as there are a lot of sentiments involved. Kalathi Rose Milk Shop isn't listed with any food delivery aggregators. Yet, loyal patrons always find their way back here to beat the summer heat with creamy rose milk, served with a dollop of nostalgia. In fact, famous celebrities like legendary actor Shivaji Ganesan, comedian Crazy Mohan, and actor Vishu frequented the Rose Milk Shop in the days of yore after their show at R.R. Sabha.
Also Read: I Devoured Freshly Baked Scones & High Tea At This Flower Themed Cafe In Chennai 
A Pilgrimage Spot That Serves Nostalgia
A 5-minute walk from Kapaleeswarar Temple, in the scorching afternoon sun, brought me to Kalathi Rose Milk Shop. With a rich and delicious history like Kalathi's, I was willing to walk even an hour to reach this food pilgrimage spot. My Google Maps led me to a tiny shop with a blue-yellow board written in Tamil. What gave away its identity was the score of people standing nearby with tiny bottles, drinking a pink-hued liquid. Kalathi Milk Shop is like a hidden gem that can easily be missed. But when you see a huge crowd around it, you've reached the right location.
View this post on Instagram
Also Read: 5 Eateries In Chennai That Are Idli Heavens
Kalathi Rose Milk: 95-Year-Old Recipe That's Preservative-Free
Kalathi rose milk is served in tiny plastic bottles. One sip and you'd be surprised how amazing it tastes. The rose milk is chilled, light, perfectly sweet and has the familiar rose flavours infused. Sold for just ₹15, it's a summer cooler that breezes on your palate and gives you the much needed soothing relief from the blistering heat. Kalathi rose milk continues to be made from a 95-year-old recipe that's preservative-free. The best part? You can also buy the freshly prepared rose syrup. So, with at least 300 glasses of rose milk sold here daily, I'm honoured to have had the first-hand experience of tasting the best rose milk I've ever had, from a shop that's truly stood the test of time.