I can't think of a coffee lover, who doesn't have the beloved Italian tiramisu on their glorious list of best desserts. A coffee connoisseur myself, I thought my coffee quest in Chennai would end with a cup of piping filter coffee at Ratna Cafe. But my foodie friend proved me wrong. After a leisure day at Bessie Beach, I was taken on a saunter to Sandy's Kitchen & Chocolate Laboratory to sample their drool-worthy Milo Tiramisu. And let me tell you, this is one of the most indulgent and fancy tiramisus I've had in a long time. Here's why Sandy's Kitchen & Chocolate Laboratory must be on your go-to list in Chennai.
Sandy's Kitchen & Chocolate Laboratory Nestled Near Bessie Beach
Launched in April 2009, by Mr Sandesh Reddy, Sandy's Kitchen & Chocolate Laboratory is a fun take on bakeries and café menus. The ever-evolving menu, experimental twists to classic desserts, would leave you feeling like a mad scientist eager to experiment with indulgent desserts. Nestled right next to Bessi Beach, the turquoise blue board instantly welcomes you to the world of freshly baked goodies and treats. The ambience is refreshing with maroon cushioned seating, wood tables, high chairs and checkered flooring. The open kitchen gives you a sneak peek into how the global desserts are expertly crafted. Think Insta-worthy pictures and food, this is your abode!
Also Read: Enjoy Insta-Worthy Rainbow Ice Cream Sandwiches At This Bangalore Restaurant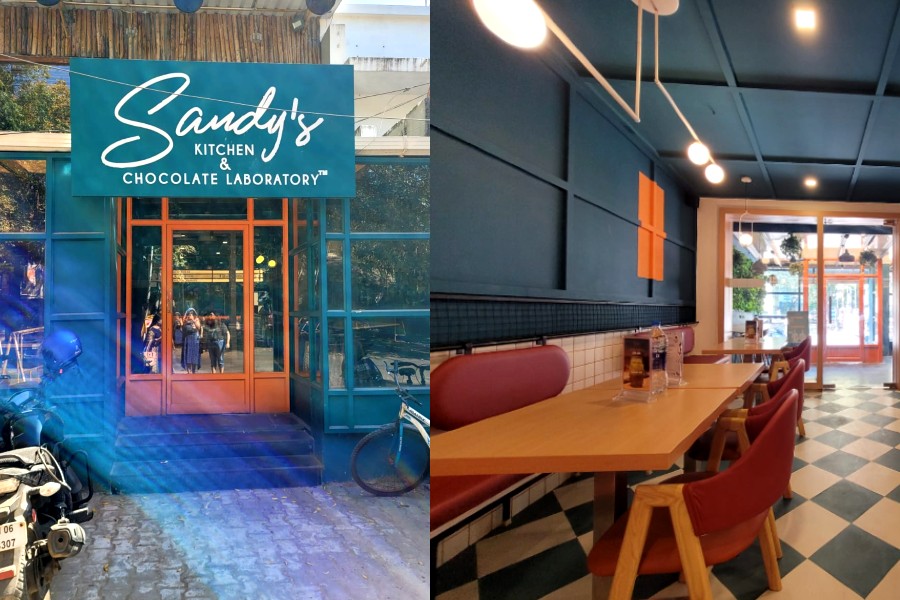 Also Read: I Devoured Freshly Baked Scones & High Tea At This Flower Themed Cafe In Chennai
Pull-Me-Up Milo Tiramisu Cake Perfect For The Gram
Milo Tiramisu, a regular and much-loved dessert on the menu was what we'd come for, hungrily and eagerly. The coffee-flavoured Italian dessert, tiramisu, is a layered cakey dessert made from ladyfinger biscuits dipped in coffee and layered with mascarpone cheese. At Sandy's Kitchen & Chocolate Laboratory, tiramisu is given another twist. It's topped with chocolatey Milo and served in the eyeball grabbing pull-me-up-cake form. I have to admit, it was fun pulling up the plastic cover to unravel the oozey melt-in-the-mouth Milo Tiramisu. The airy cake, strong coffee taste and velvety cream gave the regular Tiramisu a sinfully decadent spin.
View this post on Instagram
Also Read: Enjoy Horlicks Ice Cream At This 60-Year-Old Legendary Eatery Near Bangalore
Seasonal Dessert Baked Alaska Gives Masterchef Vibes
With the first dessert winning over our hearts and tummies, we were greedy for more. That's when we came across the seasonal dessert Baked Alaska. Masterchef Australia fans would know that this fancy dessert certainly rings a bell. Resembling white mountain Alaska peaks, this dessert consists of ice cream, cake and a covering of flambéed meringue. Baked Alaska at Sandy's was blowtorched right in front of us on our table. The soft pillowy dessert wrapped in meringue turned chocolate brown after it was flambéed. How does it taste? Well, it's like an ice cream sundae with a layer of cake at the bottom, with a chewy marshmallow-like meringue to add the x-factor. It was interesting. But perhaps, an acquired taste.
View this post on Instagram
While my friends and I visited Sandy's to just tuck into desserts, I'd recommend you try their signature sourdough sandwiches, French Butter Croissant, pancakes, and waffles and pair them with a cuppa joe. After all, a visit to Bessie Beach is incomplete without indulging in drool-worthy desserts in Sandy's.