A Bengalurean, first, a foodie next, a coffee lover, third, I have been to a fair share of cafes in Namma Bengaluru. Bungalows converted into open-air spaces, cafes serving a variety of fresh brews, you name it, I might have probably heard of it, or been there. So when I visited Chennai to meet a friend, who eagerly wanted to take me to a cafe, I didn't know what more to expect, until I finally stepped into Flower Power Tea Room in Besant Nagar. I'm Sanjana Shenoy, a Senior Content Writer for Curly Tales, and here's my experience at one of Chennai's most Instagrammable cafes.
Chennai's Flower Power Tea Room Welcomes You With Fresh Flowers
Nestled right opposite Bessie Beach, with lanes filled with lush green trees, the Flower Power Tea Room looks quite inviting, yet ordinary from the outside. But the minute I stepped through the doors of this cafe, I realised I was walking into a whole different world altogether. Jumping across decades, I strolled into the era of Enid Blyton and the world of Mad Hatter's lavish tea party. On my right, a wall filled with vibrant coloured flowers, right from the ceiling to the floor, welcomed me. On my left, an open wooden cabinet with teacups and teapots were put out for sale. I walked in flabbergasted, entering a world, where my favourite books, came to life.
Also Read: 6 Iconic Food Joints In Chennai That Guarantee A Complete Culinary Experience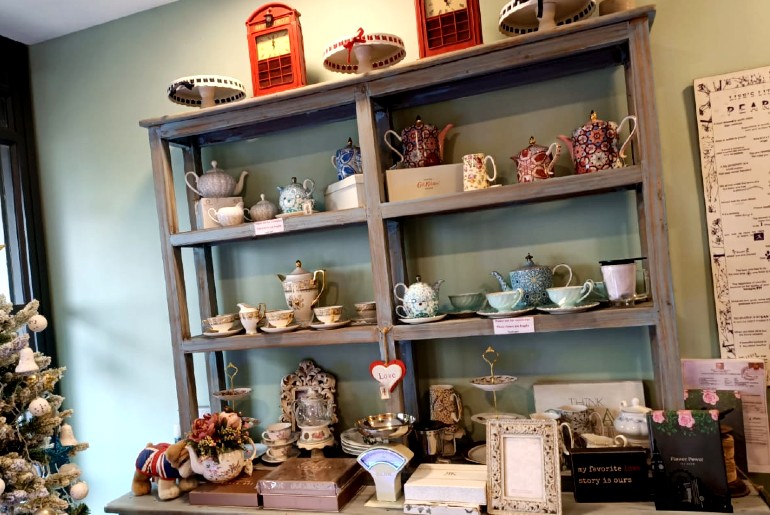 Tables were set up with fresh flowers, pastel-coloured chairs were topped with adorable cushion sets, and my friend and I realised we could spend an entire day, just talking and getting away from the sweltering Chennai heat, in style.  On little enquiry, I found out the secret behind the floral theme. NRI owner Jayanthi Ravichandran has a family-owned 20-year-old flower business in London. That's not all, the tea cups, tea pots and fancy cutlery are all imported from London. While, I mulled over this exciting information, smelling the fresh flowers on my table, a striking red British inspired telephone booth in the cafe, caught my eye. And I wondered who would I make a call to?  But firstly, it's time I dived straight into the tea party.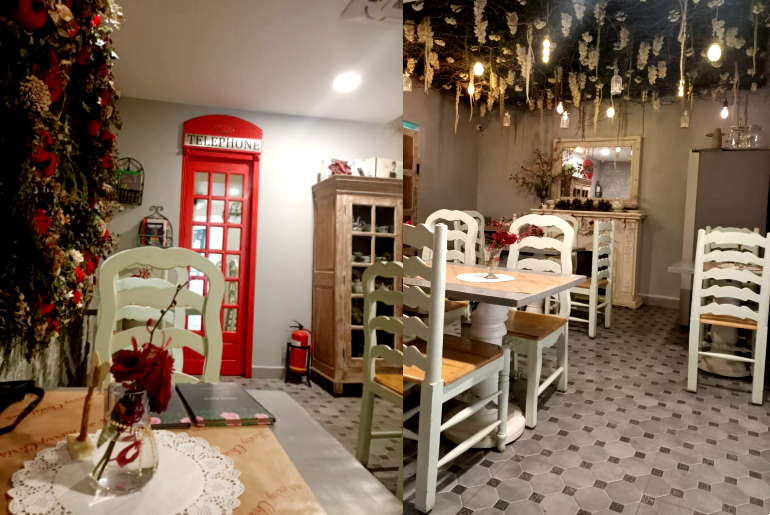 Also Read: Chennai Couple Dive 60 Feet Underwater To Get Married In Style
Sip High Tea Served In Adorable Tea Pots With Mad Hatter's Tea Party Vibes
I might continue to this place a cafe, but coffee lovers, let me remind you that you don't get any coffee here. Don't be disappointed.  Flower Power Tea Room encourages you to enhance your palate by sampling their wide variety of tea. A menu that resembles a gorgeous food catalogue, you'd find Lavender Tea, Rose Tea, Darjeeling Special Spring White Tea, Zest Orange Iced Tea and what not! Served to you in China crockery, I ordered the soothing Lavender Tea. It was served in adorable China crockery that came with a dash of honey and a slice of lemon. As my friend and I sipped the aromatic tea, for a coffee lover like me, I didn't really miss my favourite beverage. Enjoying a high tea on an early evening in Chennai, felt like a fine experience.
Tuck Into British Treats Like Scones, Victorian Cakes & Shepherd's Pie
To pair my Lavender Tea with the perfect tea time snacks, I walked towards the glass display, adorned with some of the delicious-looking baked goodies. Freshly baked scones (  with egg and eggless), Victorian cakes, Rose cakes, Chocolate cakes, Lemon Meringue Pie, stared at me, as I scratched my head wondering what to eat. I finally settled for the classic scones with lashings of fresh cream and jam.
Also Read: Bengaluru's Famous Mountain Dew Coloured Jalebis Are Made Of Broad Beans & Are Worth Trying!
The fresh scones paired perfectly with the Lavender tea. The piping hot tea with subtle lavender flavours was accentuated with the sweet, comforting scones. Apart from short eats, you can also savour a hearty British brunch of Shepherd's Pie, Fish & Chips or a Traditional Roast Dinner, served with Yorkshire Pudding. Like I said, welcome to the world Enid Blyton Books and Mad Hatter's tea party!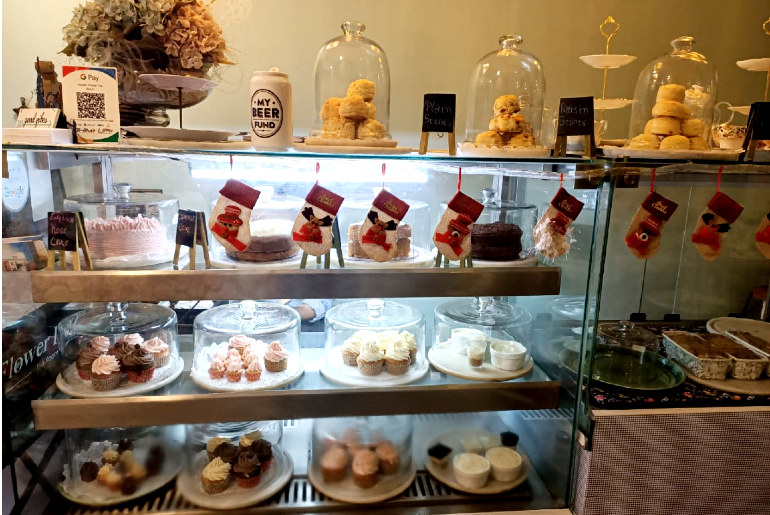 This Instagrammable Cafe Has Plenty Amazing Backdrops For Pictures
Remember I told you about the British inspired telephone booth, well turns out it was a washroom door all along. This cafe takes its floral theme too seriously, and that's one of the best things about it. The washroom has a lovely fragrance of roses. A rose scented hand lotion and liquid hand wash, instantly gives you room for some pampering. Fancy much! In a cafe that takes you to Alice's Wonderland, you cannot leave Flower Power Tea Room without amazing pictures for the gram! Whether it's sipping tea at your fancy table, with a floral wreath playing the perfect backdrop, or standing at the flower-decked wall for a fun selfie. This cafe is truly a paradise for the perfect pictures.
Also Read: 6 Places In India For A Fun-Loving Sagittarius Who Enjoys Free-Flowing Trips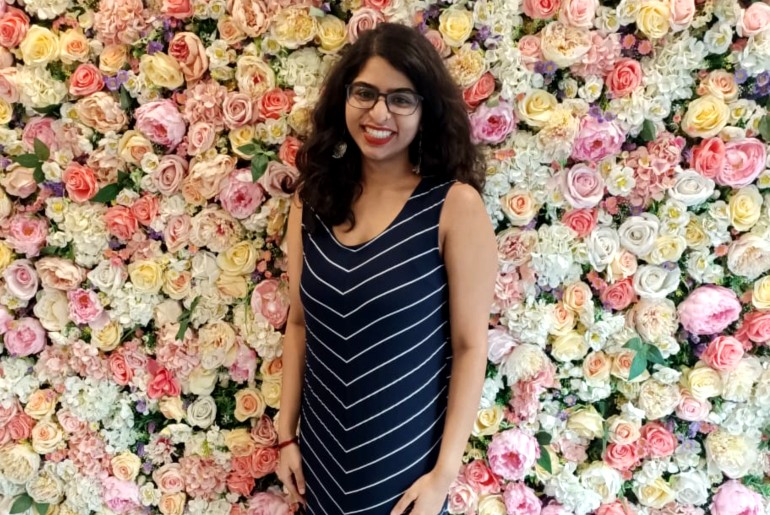 As I wrapped up an exquisite high tea experience with my friend, I knew one thing for sure. I didn't want to leave this cafe. After all, there were so many other authentic English cakes I wanted to try, aromatic cups of tea I wished to savour, more importantly, soak into this world, a little longer, just like the books, and the worlds in them I loved to immerse.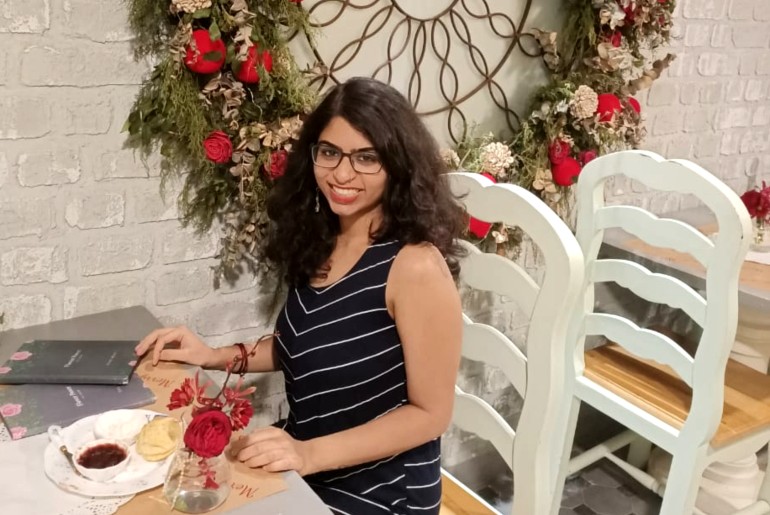 But the best books and cafes, are the ones which leave you with special memories and give you enough reasons to revisit them again. As I said, I  visited many cafes in Bengaluru, but Flower Power Tea Room took me into another world. So, would you like an adventure or have a cup of tea first?
Address: 18, 5th Avenue Thiruvalluvar Nagar, Besant Nagar, Chennai
Timings: 11 am to 11 pm
Price: ₹650 for two approx
Contact: +914448554999,  +919944133328