Born between November 22 and December 21, Sagittarius is one travel-loving zodiac sign. Infact the minute they're home from one trip, they're already planning the next. For Sagittarians, travelling is a way to gain perspective on things and release any caught up tension. They're people persons, who love to make new friends during their travel, and at the same time, enjoy seclusion and solo travelling to connect deeper into themselves. It's quite likely, that Sagittarians would choose remote destinations or visit popular places during offseason, just to enjoy the cultural and less touristy parts of a destination. From camping, star gazing, trekking,  indulging in adventure sports, to just relaxing by the beach, they prefer to travel, without a fixed plan.  So, here are 6 places in India for a fun-loving Sagittarius who enjoys free-flowing trips.
1. Dandeli
For Sagittarians, who are like free birds, uncaged, unfettered, just want to go where the wind takes them, there can't be a better place than Dandeli in Karnataka. Popularly known as "The Adventure Capital of South India", Dandeli makes you realise that you can certainly have it all because you deserve it. You can explore the mysterious Kavla Caves, go on a jungle safari to the Dandeli Wildlife Sanctuary and even splash in the waters of the Satholi Falls. Adventure enthusiasts trek, mountain bike, trekking, mountain biking, kayak, river raft and canoe here. From gushing waterfalls to lush green forests, Dandeli has it all, for every shade, and every colour of your wings.
Also Read: Karnataka To Have Delicious Chocolate Park With Fresh Chocolate Making Demos
2. Tawang
We travel for different reasons. Sometimes for adventure. Sometimes for escape or relief. And others, to connect deeper into ourselves; to find ourselves, our purpose in this ever chaotic world. For that yearn to travel for spiritual purposes, Tawang in Arunachal Pradesh might nourish your soul, Sagittarius. Nestled in the 3048m high in the Himalayas, this charming hill station houses India's largest Buddhist monastery. This abode is famous for being the birthplace of the 6th Dalai Lama, Tsangyang Gyatso. Surrounded by cascading mountains, pine groves and pristine natural beauty, the Dirang Valley will bewitch you; Tsachu hot springs shall take your breath away and Nuranang Waterfalls will get you all excited. With a perfect blend of rich culture and history, a trip to Tawang will be a blessed one.
3. Alibaug
There's no better place to feel free, unburdened, than a beach. Just watching the cycle of waves, bringing hope, and taking away our worries into oblivion, is truly cathartic. So, for all, you beach loving Sagittarians, a visit to Alibaug in Maharashtra is a must. This coastal hamlet tucked away in the Konkan region has earned itself the name of 'mini Goa' over the years. Just like Goa, it's blessed with a number of gorgeous beaches and has even been a popular shooting location for Bollywood films. When in Alibaug, catch the sunset in Kolaba Fort, spend hours relaxing in the Kihim Beach, take part in watersports at the Akshi Seashore or explore the mesmerising Kanakeshwara Forest. The clean unpolluted air, sandy beaches, temples and forts here will indeed leave you feeling like you're home.
Also Read: Indulge In Beach Cycling In Alibaug For That Perfect Summer Getaway
4. Meghalaya
Sagittarians prefer long trips, where there's lots to see, explore and more importantly learn. Immersing themselves in new cultures, decoding a new language, familiarising their palates to exotic food and living among locals as they've never been tourists is typical Sagittarius. One of the best places in India to get this very experience has got to be Meghalaya. 'The Abode of Clouds' also known as 'The Scotland Of The East' houses hills, caves, waterfalls, lakes, and everything you can ever imagine. Walk along the iconic Living Double-decker Root Bridge, visit the cleanest village in Asia, Mawlynnong, and explore the world's rainiest place, Cherrapunji. To get a birds-eye view of the stunning natural beauty of Meghalaya, you can even go on a hot air balloon ride at the crack of dawn. Now, this is a perfect vacation for Sagittarians.
Also Read: My 8-Day Trip To Meghalaya With My Husband In ₹40,000 Including Flight Tickets
5. Mangalore
A trip to Goa might satisfy the thrill and adventure you'd probably wish for. But the commercialisation and crowded nature of this tourist destination, may not leave you feeling calm and content. For Sagittarians craving, a soul-nourishing beach destination, Mangalore in Karnataka is the answer to a wholesome abode. From secluded Blue Flag certified beaches, freshly prepared seafood dishes, vibrant folk dance performances of Yakshagana to ancient temples and churches, Mangalore is a hidden beach destination that must be on your wishlist. Relax at the secluded Panambur beach, visit the iconic ice cream parlour Ideal, experience India's first 3D planetarium and feast on Chicken Ghee Roast and Malpe Fish Curry with rice. Food, fun, beaches and a free-flowing trip, what more do you want, right?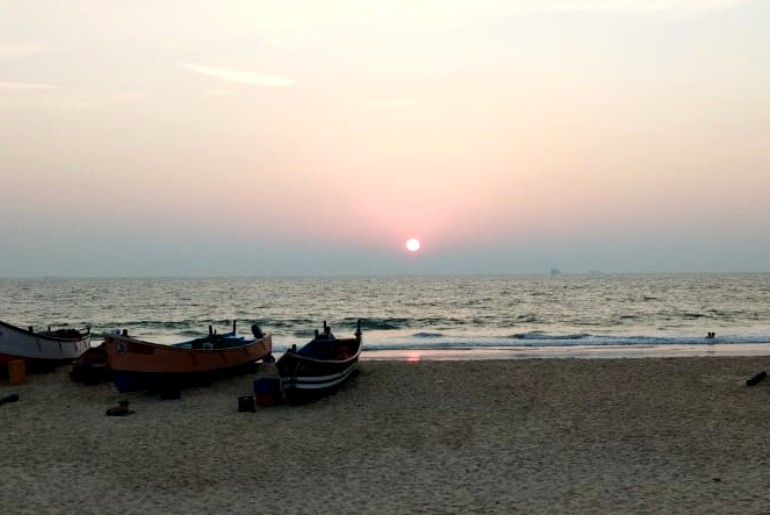 Also Read: I'm From Mangalore And Here's Why I Feel It's One Of The Most Underrated Beach Destinations In India
6. Ladakh
Just like the beaches, when you feel the mountains calling, you go! The union territory of Ladakh, screams adventure and promises to offer you an adventure canvas, where you can paint your trip the way you want. Jeep tours, river rafting, climbing, high altitude trekking, camping, against the background of the Great Himalayas, is an adventure like no other. For the free-flowing, adventure-loving Sagittarius, Ladakh gives you the wings for your flight. Immerse yourself in the Tibetan culture, visit the Sanskar Gompa and climb atop the centuries-old Leh Palace. Let the bustling markets, picturesque locations and spiritual monasteries, paint a picture in your mind that you shall cherish for ages to come.
Sagittarians, the world is your oyster. Anything and everything is just a step within your reach. Visit these destinations that offer you breathtaking views of snowcapped mountains, crystal clear beaches, mouthwatering seafood and adventure sports to keep your spirits flying.