Imagine staying in a cosy little cottage with glass walls, leading you to stunning apple orchards. You cosy up with bae, make yourself a hot cup of cocoa, pull your sweater closer to you, and watch the sunset from the glass panes. The stars twinkle brighter in the unpolluted skies, and the secluded getaway with wooden interiors and sloping roofs give you the fairytale feel you always wished for. Well, now stop imagining and make this dream come true at Devico Cottages in Kullu, Himachal Pradesh.  Cosy cottages- check, glass walls- check, apple orchards-check and seclusion- check. Will this be a fairytale vacation? Read on to know why it absolutely will be!
Experience A Fairytale Cottage Stay With Glass Walls
One of the best ways to enjoy the snow-capped mountains, chirping birds and apple orchards of Himachal Pradesh is to book yourself a secluded cottage in the state. And we have just the abode for you. Devico Cottages in Kullu offer you the opportunity to stay in charming cottages with sloping roofs and glass walls, surrounded by fruit orchards. Stay in these cottages to get a stunning view of lush greenery, listen to the melody of birds and explore the twinkling constellations from the comfort of your room. These cottages nestled far away from the noisy city life ensures you savour every moment of your holiday in a relaxed and serene manner. There's truly a joy of doing nothing, and you can experience it at Devico Cottages.
Also Read: Live In The Clouds At This Himachal Treehouse At 10,500Ft With Breathtaking Mountain Views
Wooden Interiors & Comfy Rocking Chair To Watch The Day Go By
Every grandparent's house has a few signature elements. Wooden interiors, rocking chair, big windows, an abundance of serenity and natural beauty. Undoubtedly, staying in that surrounded, we instantly feel at peace, get better sleep and just feel so relaxed and rejuvenated. It's comfort, it's home. This cottage in Himachal Pradesh gives you a similar feeling. With spacious rooms, wooden interiors, intricate decor, open machan area amid the green gardens and a comfy rocking chair to watch the day go by, there's an instant homely serene feeling here. There are modern attached bathrooms, an attic, plush armchairs and even winding staircases where you can imagine bookish adventures. Book an entire cottage here for ₹9500 per night.
Also Read: This Resort In Hampi Let's You Stay In Rock Cottages Facing The Boulder Mountains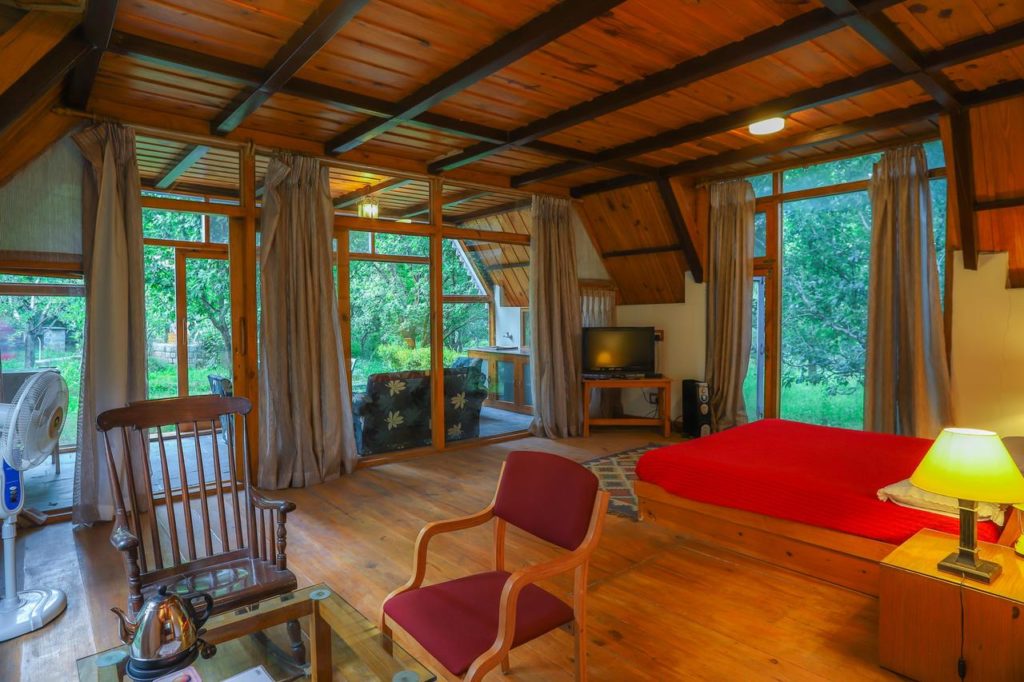 Sit By The Crackling Bonfire Or Stargaze From The Glass Walls
Hill stations are all about adventurous yet cosy nights. With the sun setting super early, the signature mist, chilly weather and cuddly feeling will give you company. Devico Cottages is a great place to plan a romantic staycation with your bae, a family vacation or an intimate reunion with your buddies. Take long walks along the warmly lit pathways, explore the vicinity filled with juicy red apple trees and at night, sit by the bonfire playing Antakshari or sharing spooky stories. Most of all, don't forget to make full use of the glass walls in your cottages. It's not often that you stay in a house that gives you a full view of nature and the twinkling stars.
Also Read: 5 Gorgeous Stargazing Spots Near Bangalore We Bet You Didn't Know About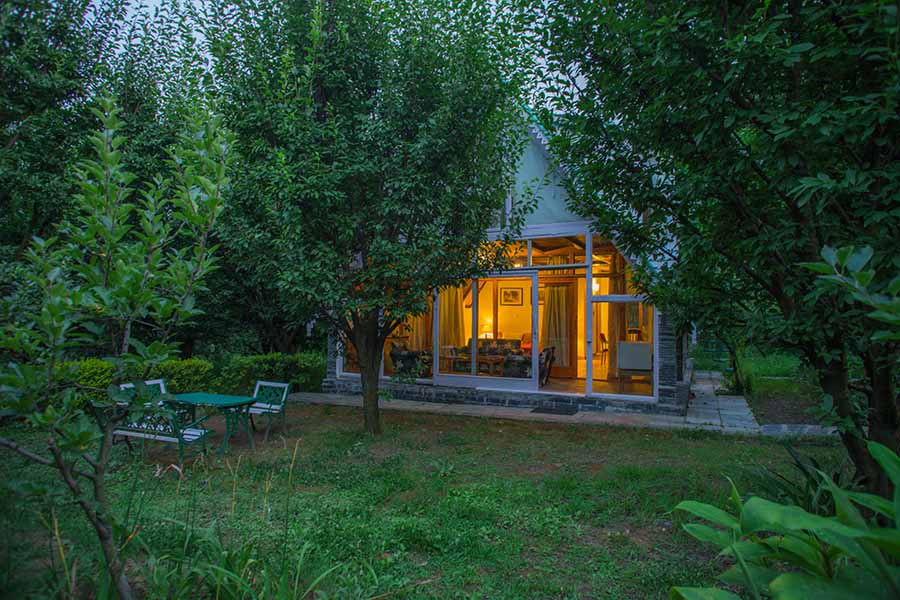 A staycation is truly a great way to immerse yourself in a meditative experience. Watch the day go by without rushing or running. Just sit, eat, relax, talk, introspect and spend quality time with yourself and your loved ones. This cottage in Himachal Pradesh definitely ensures you will enjoy every moment of your vacation doing nothing, yet experiencing everything.