The UNESCO World Heritage Site of Hampi in Karnataka beckons the adventure seekers, romantics, history buffs and travellers yearning for a slice of life into the unknown. Nestled on the banks of the River Tungabhadra, ruined temples complexes surrounded by rocky boulders stand testimony to the prestigious Vijayanagara Empire. While the cosy homestays on Hippie Island are attractive accommodations, if you truly want to explore and stay amid the rocks of Hampi, then there's no better place than Hampi's Boulders' Resort. Stay in rock cottages and wake up to the sounds of chirping birds, gushing waters of and Tungabhadra the mesmerising views of boulder mountains.
Rock Cottages With Stunning Views
All 90s kids would definitely go Yabba Dabba Do, when you'd watch your favourite cartoon, Flintstones.  The cottages in the  Flintstones,  built from rocky boulders seemed fascinating yet so comforting. Hampi's Boulders Resort offers you a similar experience of staying in Flintstones like rock cottages, giving you the chance to experience Hampi in the rustic way that it is. Nestled on the banks of Tungabhadra River in the Yamini hills, Hampi's Boulders Resort is situated 7km from the Vijaynagara Temple ruins. The 20 elegant rock cottages here offer both luxury and comfort. 
Also Read: 5 Reasons To Travel To Hampi For A Honeymoon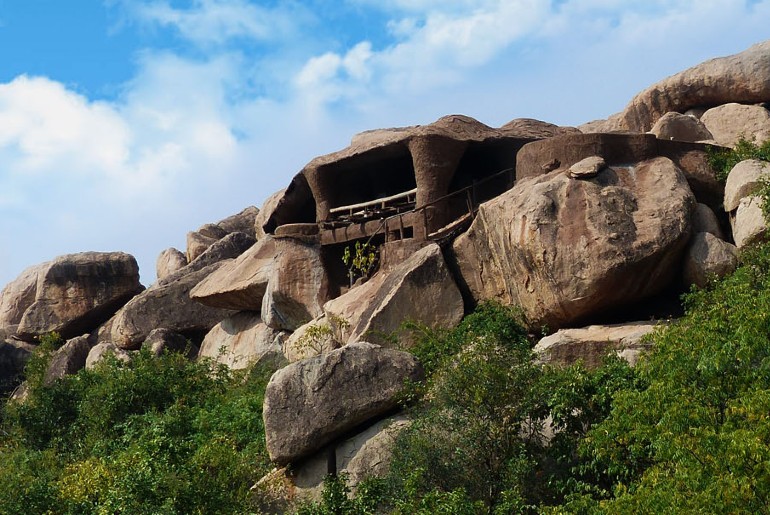 The views of water eroded boulders and the gushing river Tungabhadra is truly a sight to behold. Be one with nature by perching yourself at one of the rock cottages. Surrounded by blue waters, brown boulders and greenery, this place is truly a heaven for nature lovers. Feast on delicious South Indian meals, prepared in Karnataka style, munched on hot barbeque dishes, sip on refreshing cocktails, kept cool in the cellar and just enjoy unending views of nature. 
Also Read: Hampi To Have Diesel Buggy Trains For Tourists To Tour Monuments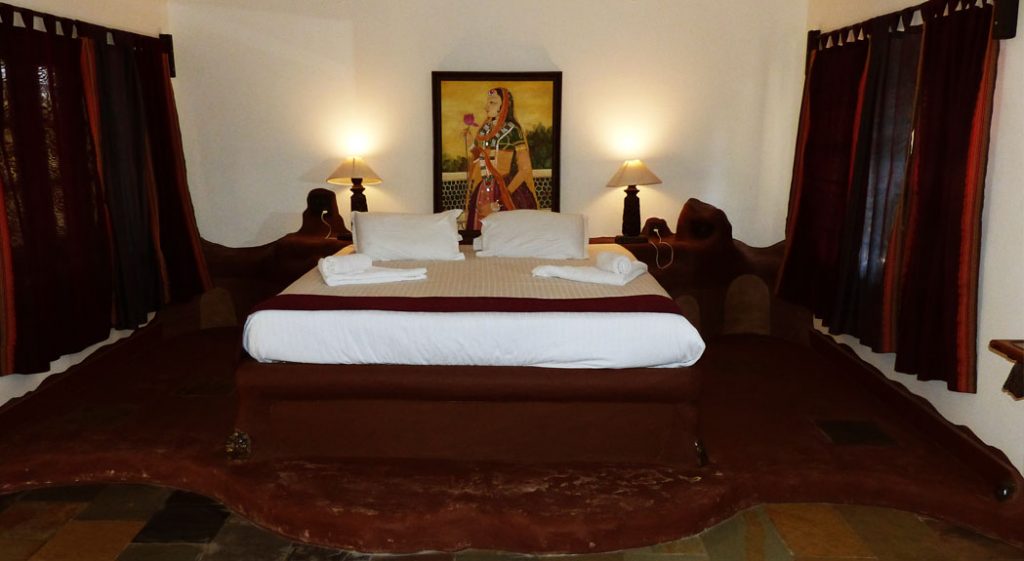 Also Read: Hampi In Karnataka To Get World's Tallest Hanuman Statue At ₹1200 Crore
Rooms Where You Can Be One With Nature
 Hampi's Boulders Resort offers 16 rooms in total. The report focuses on giving guests the experience of being one with nature. Water, boulders and greenery are the three main elements that are focussed here. Choose from a variety of cottages like the Star, Sun, Croc, Langur, Rock, Kuteer, Gayan, Turtle and other cottages. Each of these cottages is situated at secluded spots, surrounded by rocky boulders and the flowing river. In the Star cottage, you can enjoy an executive single room, attached bathroom and a spacious balcony with the best views of the Tungabhadra river.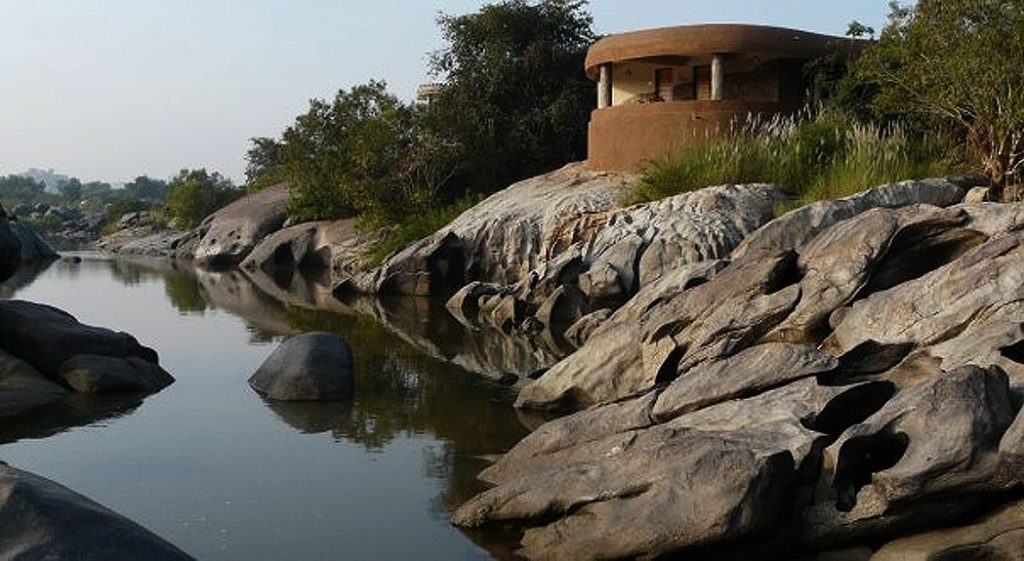 At the Rock cottage, you can cosy up with bae in a single room, with an attached bath, a private balcony and a terrace at your disposal. This cottage blends perfectly with rocky boulders of Hampi. It's best to enjoy tranquillity and serenity. The Gayan Cottage is perfect for people desiring luxury and nature to the best. There are three exclusive rooms here with an attached bath and a private sit-out. Explore nature at your own pace from the spacious terrace and catch glimpses of flying birds atop the lush green trees.  There a variety of cottages at Hampi's Boulders Resort to make beautiful memories with your loved ones. The price of cottages starts from ₹6758 (approx) per night for a cottage for two. 
Also Read: Top 5 Rock Climbing Destinations In India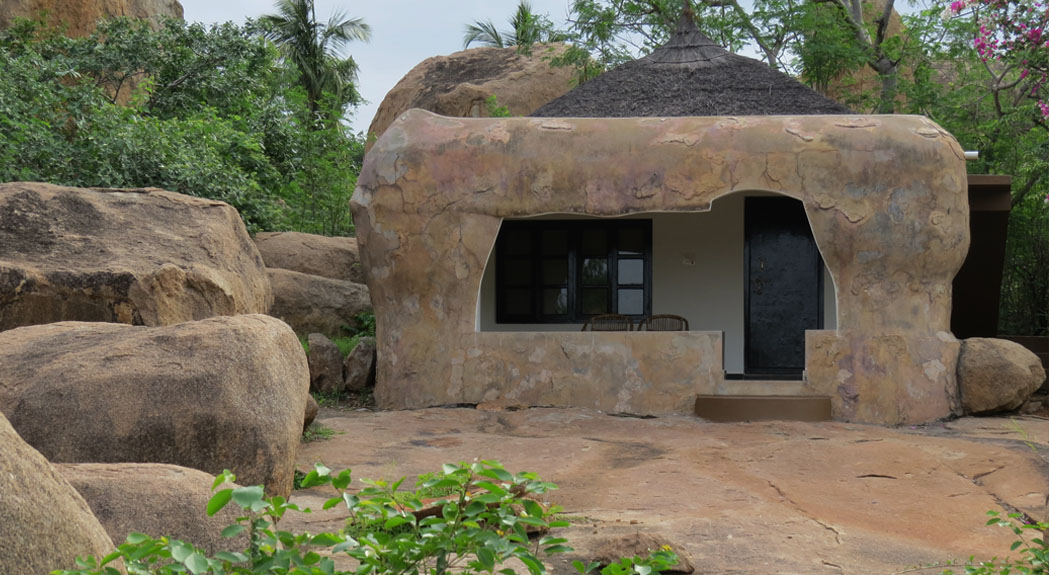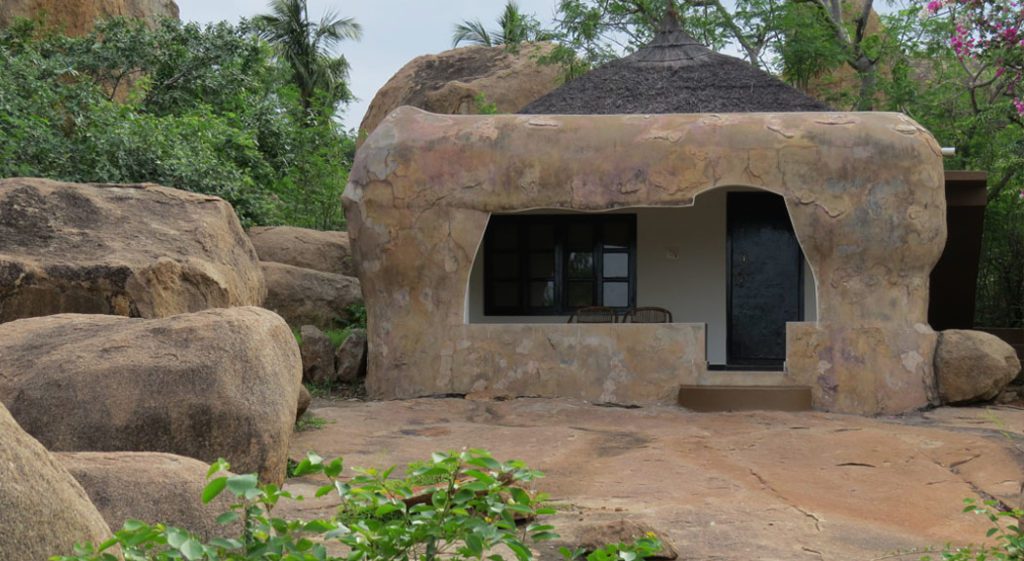 Rock Pool, Organic Vegetable Garden To Bamboo Bridges; Nature Beckons You Here
Apart from exploring the vast beauty of Hampi, there are plenty of things you can do here at this resort. Go for an island walk, up the bamboo bridges overlooking the breathtaking boulders. Go birdwatching in the mornings and identify the melodious chirping sounds of the birds. If you're a water baby, then the rock pool is your abode. Nestled amid rocky boulders, stands a cute little swimming pool to wash away your worries. Nature lovers can just take a stroll to the organic vegetable and walk along the mango plantations.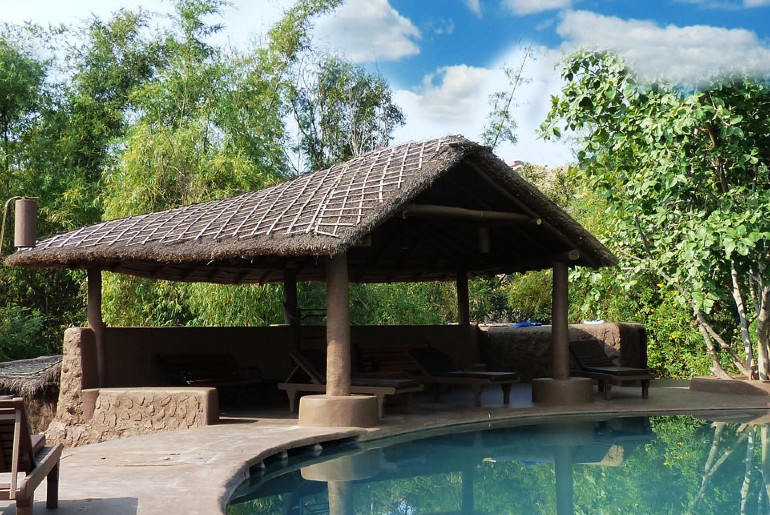 For foodies, well there's nothing better than a good old barbeque and bonfire time on a chilly night. Listen to some old melodies, roast kebabs and snacks, and stargaze as you spend every minute mindfully. The sporty ones can always head to the clubhouse for indoor games or a quick workout at the gym, best still, leave it to beach volleyball with your buddies to pump things up. So, if a trip to Hampi, has always been a travel desire of yours, then do stay at this rustic resort bang in the middle of nature and boulders.