Solo travel. This term always lured me in interesting ways; however, being an avid traveller myself, I had never been on a solo trip until March 2019. I always dreamt of travelling all by myself to an unknown land, and last year I made that happen by visiting Karnataka's ancient hamlet, Hampi. It is a place that's known for its unearthly landscape of field stones, fascinating history, ancient ruins that include temples and palaces, green paddy fields and monkeys. 
Here's everything you should know about planning a trip to Hampi
This UNESCO world heritage site is not only popular among foreigners but is also renowned as a backpacker-friendly destination in India. Filled with a surplus of homestays and guesthouses, it is a perfect place for budget travellers. I decided to explore this destination for four days, and the entire trip's cost was just ₹7,000. Here's letting you in on the secret of how I planned my solo backpacking trip to Hampi.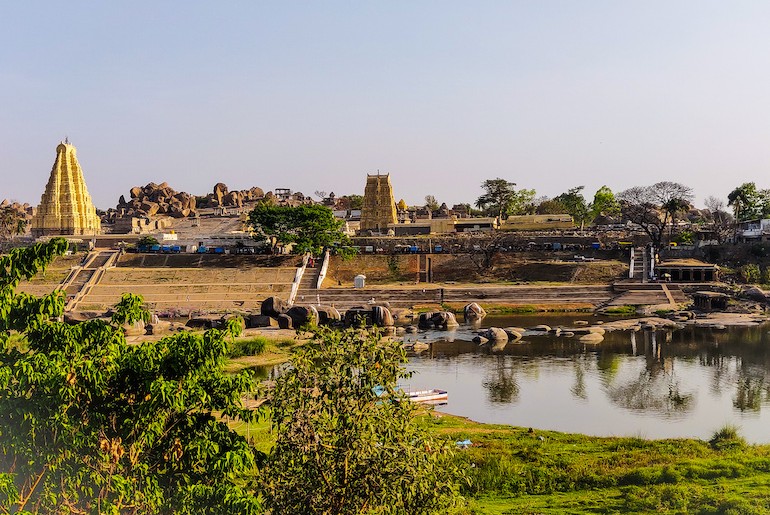 Also read: A Step By Step Guide To Exploring The Gorgeous Town Of Hampi
Transport: I took an overnight luxurious bus from Mumbai, and the two-way journey cost me ₹2,400. It took me 14 hours to reach Hospet and from there another 45 minutes to Hampi. After reaching Hospet, I shared a rickshaw ride with a fellow traveller till the main town, which cost me ₹150. 
Pro Tip: Some buses ply from Hospet to Hampi, and the ticket costs ₹30; so opt for the bus instead of rickshaws if you are on a budget. 
Stay: Known as a backpackers by-and-by, this place offers plenty of budgets stay options. I lived in Padma guesthouse, which is nestled right in the main bazaar of Hampi. I paid ₹1800 for 3 nights and 4 days, which again was quite cheap keeping the room amenities and location in mind.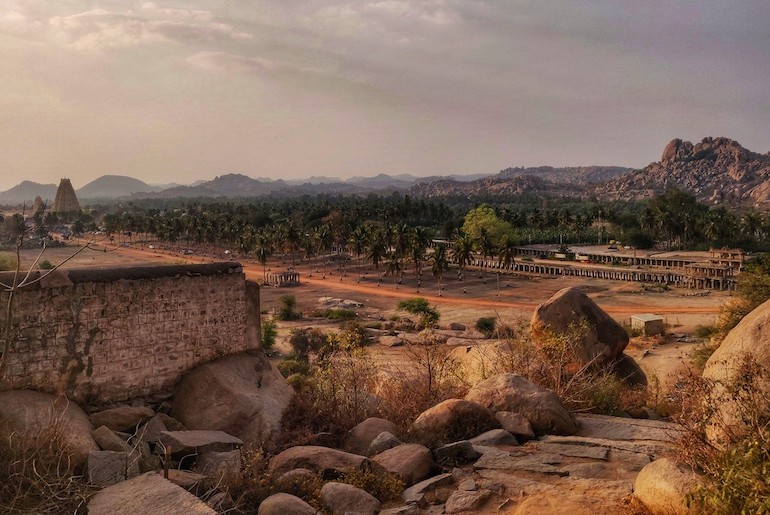 Transfers: Iconic sights like the sacred Virupaksha Temple, Matanga Hill and Vijaya Vittala temple were at a walkable distance from the accommodation. For other attractions, I had booked a rickshaw for a day and paid ₹450 for the same. Apart from this, I spent ₹200 more on transfers. 
Pro Tip: Travelling in Hampi is quite easy if you know how to ride a two-wheeler. You can rent one for ₹200 per day. I didn't know how to ride one, so I had to hire rickshaws. 
Food: Hampi is not only known for its history, but also for its cafes. While I did explore some famous ones, I also made sure to savour local street food. In total, I spent around ₹2000 on food. PS: The food is quite cheap, and most cafes serve only vegetarian meals. 
Also read: 5 Reasons To Travel To Hampi For A Honeymoon
Best time to visit: Consider visiting this place between October and February. The weather is pleasant, and it's easy to traverse around during that period. I visited in March, and that was not a wise decision. It was quite sunny, and at some point, the extreme heat did take a toll on me.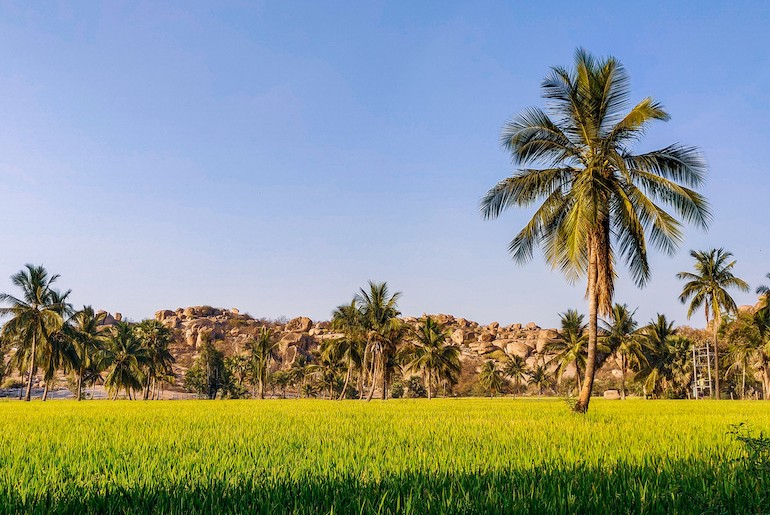 Day 1:
The harsh rays of sun beamingly welcomed me to Hospet at 9 AM. After sharing a ride with a fellow traveller, I reached Hampi by 10 AM. I checked into the guesthouse, and the host was kind enough to treat me with some delicious breakfast. Post that, I slept for a while and ventured out for lunch by 3 PM. I enjoyed a vegetarian thali at a nearby hotel, and I must say it was one of the best vegetarian meals that I had had in my life.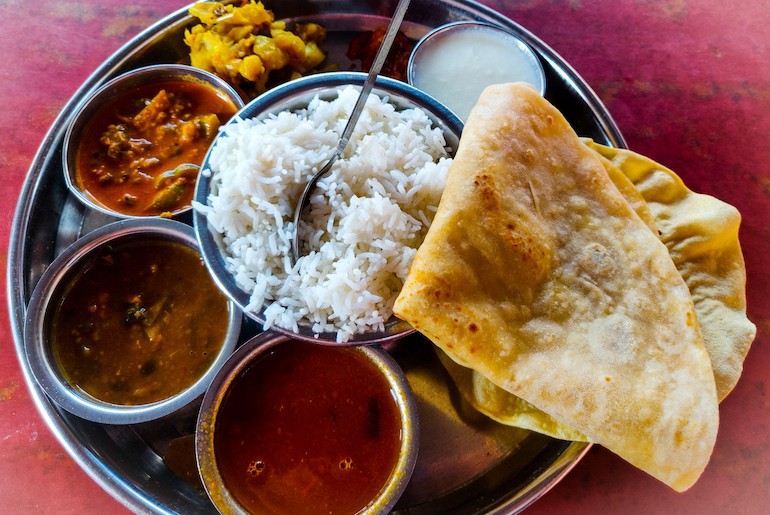 I then visited the exalted Virupaksha temple, which is one of the oldest functioning temples in India. It is also the main centre of pilgrimage in Hampi. It has no entry fee and is adjacent to the market. I spent around 2 hours there, interacted with the locals, watched the monkeys do their act and enjoyed the sunset at the temple.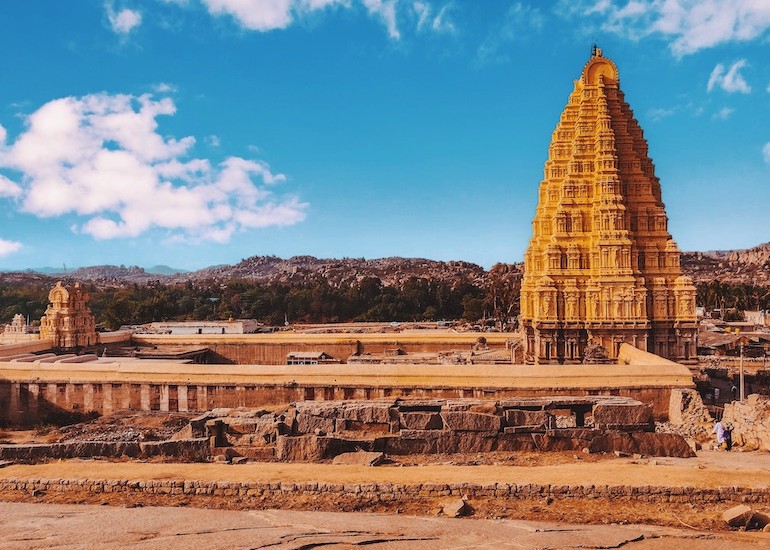 After that, I explored the main bazaar and called it a day by savouring local street food for dinner. Pro Tip: There are a few stalls right outside the Virupaksha temple which serve delicious Manchurian for ₹60, and you certainly cannot miss out on those. 
Also read: Karnataka Has A Magnificent 700-Year-Old Temple That Was Once Submerged Underwater
Day 2:
I started the day early by 7.30 AM. After having a delicious breakfast, I made my way to the Vijaya Vittala temple, which is also known as the Chariot temple. It was located around 2.5km from where I was staying, so I decided to hike there with other travellers.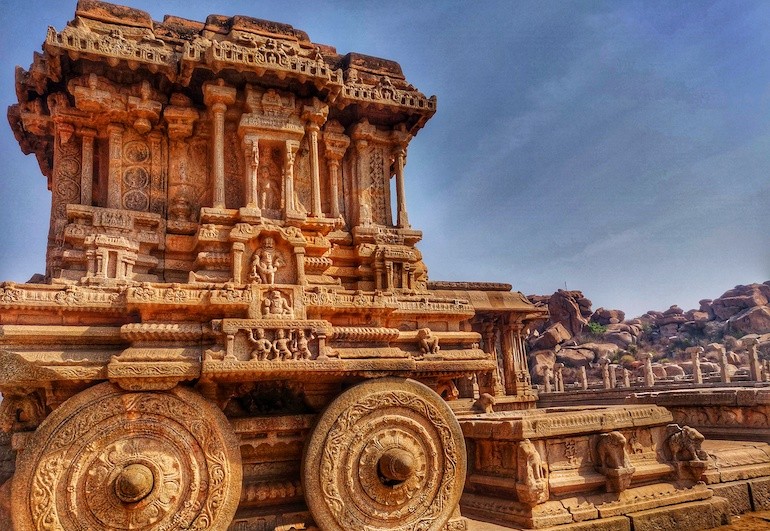 At the temple, I took a guided tour and paid ₹250 for it. The guide helped me understand the history of the temple, showed me how to play music on the 56 musical pillars at the Ranga Mantapa and was kind enough to click my pictures as well.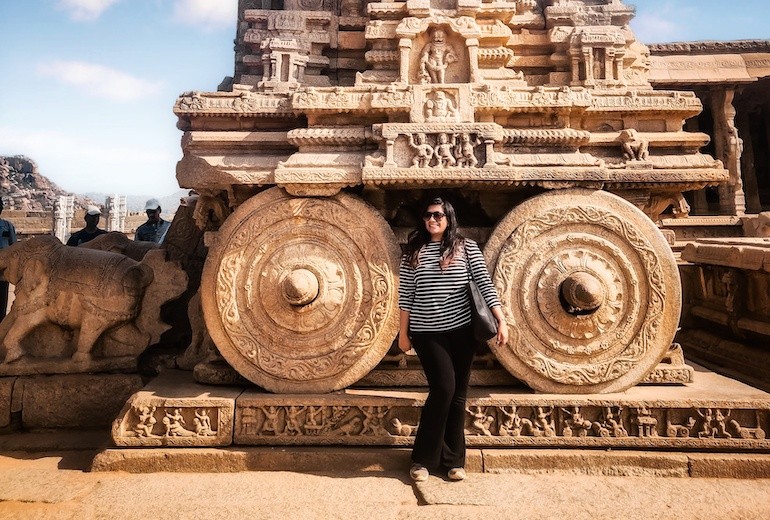 It was around 12.30, and the sun had started bothering me by then. I decided to head to the guesthouse after having lunch with fellow travellers. 
By 4 PM, I left the guesthouse for a short hike to the magnificent Matanga Hill. Watching the sunset was on my to-do list. While the climb was an experience in itself, the aerial view of the giant boulders and paddy fields felt quite surreal too. After the strenuous hike, I then visited the famous Mango Tree restaurant in Hampi for dinner. 
Also read: Explore The Ruins Of Hampi On a Cycle 
Day 3:
During the first half of the day, I visited other prominent spots in Hampi like Lotus Mahal, Elephant stable, Statue of Ugra Narasimha and Hemakuta Hill Temple.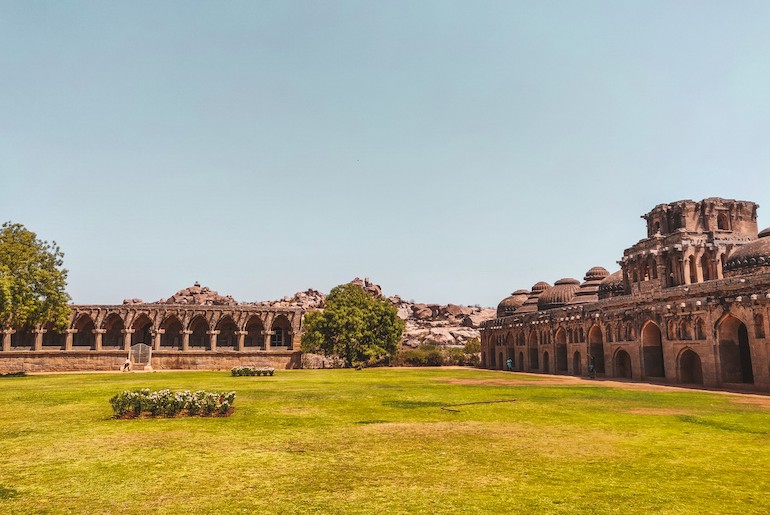 While in the second half, I visited the more fun and upbeat part of the town, Virupapura Gaddi, also known as Hippie Island. Filled with quaint cafes, and paddy fields, this part of Hampi reminded me of Goa.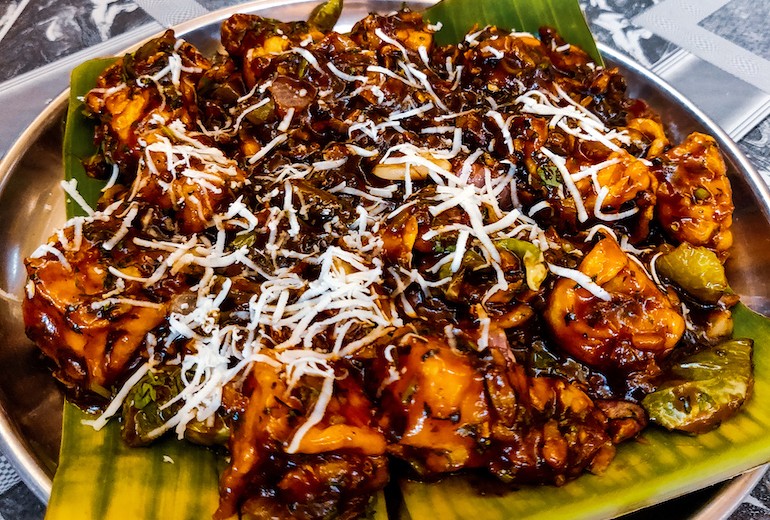 I gorged on some food at the Laughing Buddha Cafe, explored the island on foot and ended my day on a sweet note by savouring a lip-smacking brownie from the German Bakery. 
Day 4:
This was officially my last day in this beautiful town of Karnataka. I woke up early, made a quick tour to Hippie Island for breakfast, sipped on some freshly squeezed juice, and was lazing around in cafes for hours before bidding goodbye to the place.
I boarded my bus for Mumbai from Hospet by 7 PM and came back with tonnes of memories. 
Also read: 10 Breathtaking Destinations In South India That You Need To Visit
Hampi was my first solo trip, and it not only made me feel liberated but also inspired me to challenge myself more. I met new people, spent time with the locals and learnt to enjoy my own company. 
Things I didn't include: I may have spent around ₹500-₹700 extra on food, so haven't added that to the final cost. 
Things I missed out on but you shouldn't: Because of the heat, I skipped visiting the Monkey Temple on Anjaneya Hill and a few others, but you must add that to your list.