The royal cityscape of Jaipur, Rajasthan is unquestionably gorgeous. And what if we say that you can enjoy a panoramic view of this city while taking a dip into a rooftop hot tub? The pink city, Jaipur has a hidden gem that renders this experience. Gypsy Monkey, Jaipur has a spacious rooftop with a pool and comfortable reclining sunbeds. The accommodation is one-of-a-kind, that blends traditional Rajasthani architecture with modern styles. And guess what, rates of staying here start at just ₹225 if you're opting for a bunk bed inside a dormitory room. Prices of double-bed deluxe rooms start at ₹720 for two people, which is again pretty reasonable.
Eye-Catching Interiors With Stunning Murals
Gypsy Monkey, Jaipur is a hostel-cum-hotel with a rooftop cafe that offers comfortable stays with all modern amenities. The hostel boasts of eye-catching interiors, with brightly coloured walls and stunning murals. Artworks can be found in almost all the passages inside the hostel and at the terrace as well.
The entire property is equipped with a free WiFi facility. The best part about Gypsy Monkey is its outdoor swimming pool, which can be an awesome place to chill-out especially during winters. The rooftop gives a glimpse into the pink city and it is one of the ideal places to relax during the sunsets.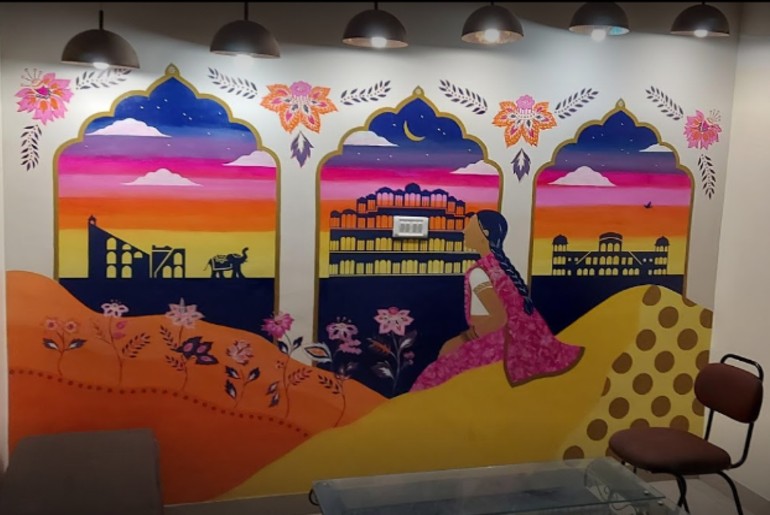 Also Read: 7 Resorts In Rajasthan Under ₹2000 That Are Better Than Any Five Star
Delicious A La Carte Breakfast And Great Location
The property offers three kinds of stays, Bunk Bed in Female Dormitory Room, Bunk Bed In Mixed Dormitory Room and Deluxe Room. The hostel provides a delicious a la carte breakfast at an extra cost of ₹150 ( breakfast is included in some packages). The breakfast includes fresh and delicious home-style snacks.
Gypsy Monkey is around 3.5 kilometres away from Jaipur's famous Hawa Mahal and nearly 3.5 kilometres from Jantar Mantar. The Jaipur International Airport is 11 kilometres from here. Think excellent ambience, tasty food, pocket-friendly prices and good location, Gypsy Monkey has it all. What more can we ask for? To book your stay, click here. Meanwhile, enjoy this virtual tour of Jaipur from the comfort of your couch: