Jaipur is known for its traditions, culture, stunning and magnificent monuments and forts. Out of all of these, the Hawa Mahal is considered to be the most iconic monument of the city. Not only its red and pink colored architecture, but also its history will amaze you and make you want to pack your bag and leave for Jaipur right away. But before you go and witness the beauty yourself, here are few things that you probably should know about the Palace of Winds.
Also read: 5 Reasons To Visit Jaipur In 2020
Heart Of The City
Hawa Mahal is located at Badi Chaupad, which is at the heart of the city. A walk from Hawa Mahal will lead you to Nehru Bazaar, Bapu Bazaar, Johari Bazaar covering the Sanganeri Gate, Lalaniyon ka Chowk and of course the beautiful City Palace and Jantar Mantar.
Hawa Mahal is called the Palace of Breeze which was built in the year 1799 by Maharaja Sawai Pratap Singh who was the grandson of the founder of Jaipur. This entire palace is made with red and pink sandstones which reflects the fusion of Hindu Rajput and Islamic Mughal architecture.
Reason For This Beauty's Existence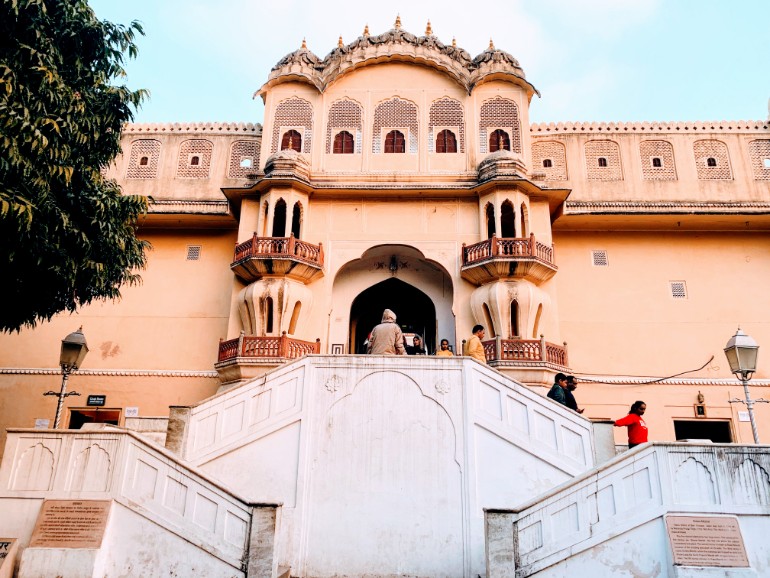 One of the most surprising things is that Hawa Mahal doesn't have a direct entrance. It's built on an edge of the City Palace because it was built as a part of it.
It's said that the foremost reason of designing Hawa Mahal had to do with Rajput royal ladies. The purdah system at that time was strictly followed and therefore, Rajput ladies were not allowed to make public appearances. Through Hawa Mahal, they used to catch the glimpses of royal processions, every day street scenes and the hustle-bustle of the city without being seen.
Also read: Planning A Trip To Jaipur? Here Are Top 10 Places That You Need To Visit In The Pink City!
The thing that they used to see everything of the city are the windows of this palace, which are called 'Jharokhas' in Rajasthani culture. These windows were big enough to let the women see the world outside and yet small enough to shield them from the eyes of the outsider. Just imagine that Hawa Mahal has a total number of 953 jharokhas! Isn't that amazing?
These small windows channelise the winds in a way which keeps the entire palace cool at all times. And yes, that's one of the reasons why it is called Hawa Mahal.
Honeycomb Of Five Floors
Talking about the structure, Hawa Mahal looks like a honeycomb from outside which has 5 floors. Each floor has a specific name like first floor is called Sharad Mandir, second is Ratan Mandir, third is Vichitra Mandir, fourth is Prakash Mandir and the top floor is called Hawa Mandir.
Hawa Mahal is one of the most visited monuments of India which attracts thousands of tourists from around the world every year. It's not only an important landmark of Jaipur but also one of the most Instagrammable spots in India.
Also read: Did You Know Jaipur Is One Of The Most Beautiful Instagrammable Spots In India?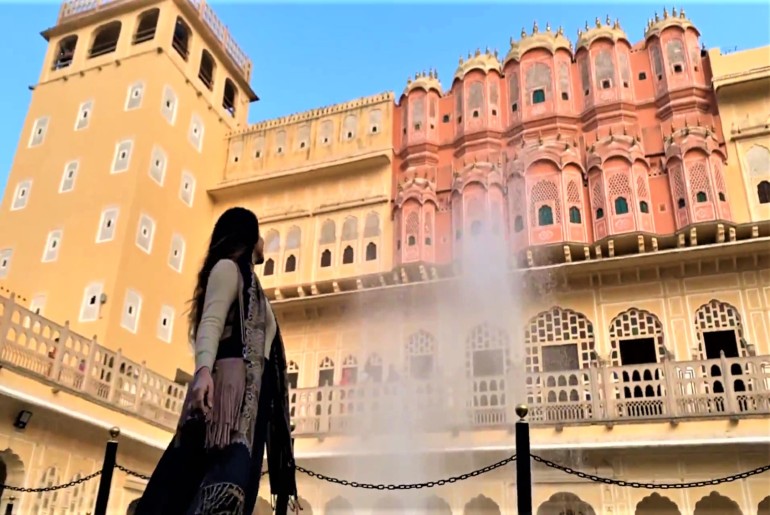 This 300-yr old monument opens into a large courtyard, which has an archaeological museum and a beautiful and cool fountain in the centre. This museum has miniature paintings and some rich relics, such as ceremonial armour, which help evoke the royal past.
The entry fee of Hawa Mahal costs ₹50 for Indians and ₹100 for foreigners. You can also get a composite ticket through which you can visit other 6 monuments in Jaipur like Jantar Mantar, Amber Palace, Nahargarh fort and many more.
No Foundation
The most shocking and interesting fact about Hawa Mahal is that this five storey palace has no  foundation. Yes, and it's considered to be world's tallest building without any foundation.
Devotion And Much More
This beautifully designed rose-tinted royal architecture grabs every eyeball. Its colour is a full testimony to Jaipur that it's the Pink city of India. Well, it's also said that the top part of Hawa Mahal actually reflects Maharaja Pratap Singh's devotion for Lord Krishna as it was built to resemble Krishna's crown. Interestingly, the palace itself is said to be dedicated to Radha and Krishna, with a room on each floor dedicated to the God.
At last, this list would be incomplete if we don't mention about the top view from Hawa Mahal. The top floor called the Hawa Mandir is where you can have a panoramic look of the Jaipur city. It offers a stunning view from here and it's also the coolest of all the floors.
Hawa Mahal is one of the most stunning architectural monuments you will lay your eyes upon. The many windows, the stories and the pink of the sandstone make it an appealing sight. And the best time to be here is early morning when the sun enters the rooms from the windows and illuminates the palace with its golden sunlight. India has many many larger than life monuments but Hawa Mahal in Jaipur has its own charm.
Deets:
Address: Hawa Mahal Rd, Badi Choupad, J.D.A. Market, Pink City, Jaipur, Rajasthan 302002
Timings: 9:30 am to 5 pm