I was recently chatting with a friend of mine who works on a ship and asked him how things were at his end. What started off as a simple chat, quickly turned into a story of turmoil, longing and resilience. This is the story of my friend, Mayur Oval who works as a 3rd engineer on-board a chemical tanker. He does not wish to mention the name of his company, because he realises that a lot of his situation has nothing to do with his company, but the current state of affairs.
Mayur was supposed to get married next month. Instead, he is stuck at sea with no hope in sight, and no idea when he will be able to step back on land, let alone his own home. This is an account of his story, as narrated to me.
I'm A Shipee, Stranded At Sea
Curly Tales: Describe your job role & what it is that you do on ship
Mayur Oval: I work on a chemical tanker, which is one of the busiest operation vessels so far, with operations involving loading and discharging of highly carcinogenic cargoes like benzene, styrene, xylene mixed monomer etc. Just one mistake can cost lives of everyone on-board. Being on-board you really have to be vigilant about all the operations and my role is to maintain the heart of the ship which is the generators, and boilers.
Curly Tales: How long have you been on board, without visiting land?
Mayur: I am about to finish with my contract of 6 months here and in few days will be starting with the 7th month. I have not been on any shore or stepped on land for 4 months now.
Curly Tales: What about other crew members? How long have they been on board?
Mayur: There are crew on-board who are about to complete a year on-board. They cannot leave the ship and the only way for us t contact the outside world is through video calls and phone calls.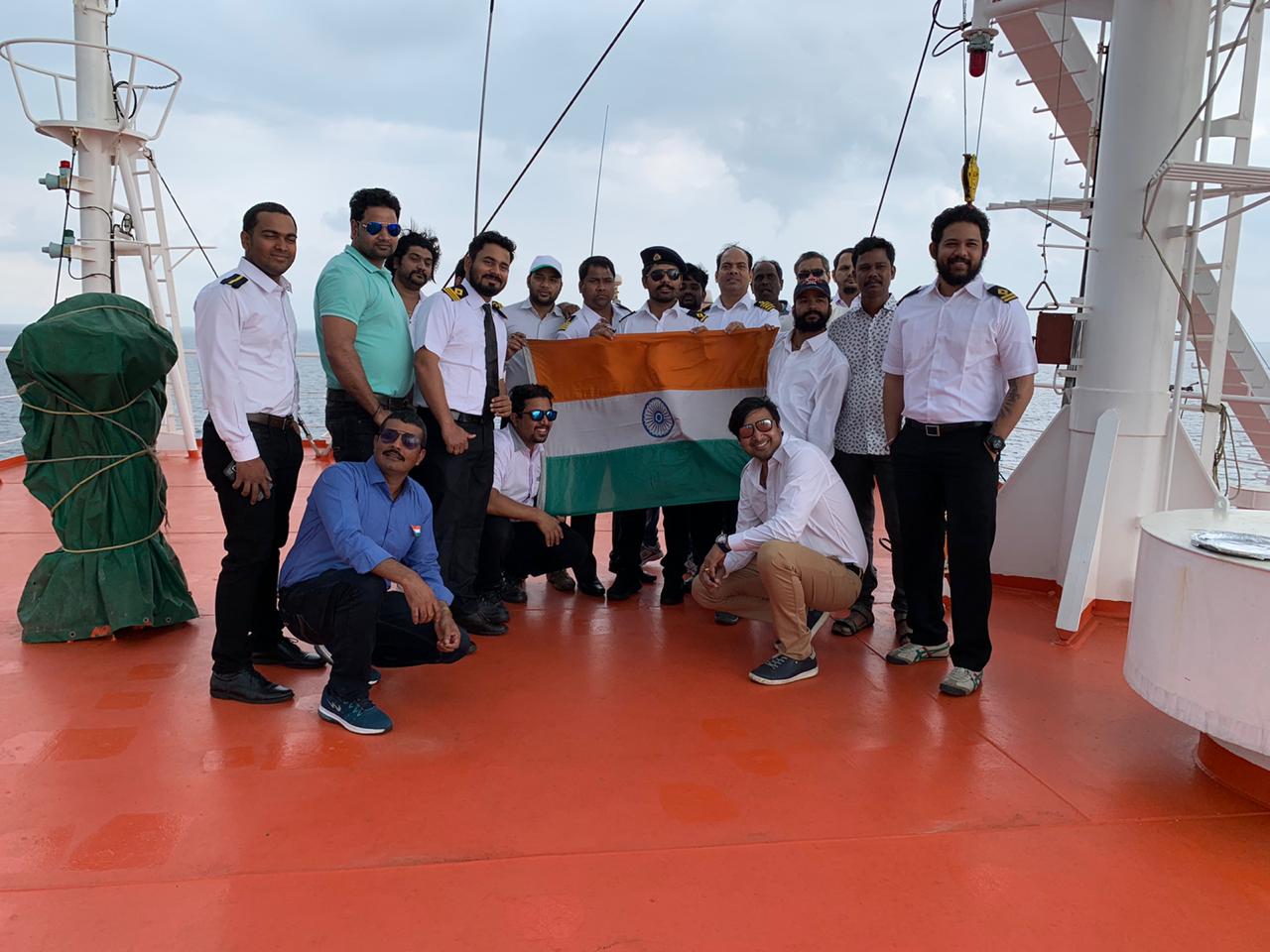 Curly Tales: What's the worst part about being stuck on ship?
Mayur: I think being away from family, friends is really disappointing. We are stuck in the middle of nowhere. We can't go on shore leaves (I haven't stepped on land from past 4 months), we haven't interacted with anyone apart from ship members since the COVID-19 spread has terrorised us.
It has been brutally demoralising for each of the crew members on-board to work, as there is no motivation, no hope as to when we return back home.
Has There Been Any Contact With The Indian Government?
Curly Tales: Have you'll made any attempt to contact the Indian government to fly you'll back to safety?
Mayur: From ship, we haven't made any attempts to contact the Indian government. There are rumours though that our DG Shipping has been making attempts for us seafarers to return home. The ship must continue to run so we've heard that theye are also trying to bring the seafarers who are back home, on-board. People who want to sign on are also stuck at home with their debts to be paid, with less funds in hand.
Of course this is all hearsay. Each day, we hear different types of rumours. From where we are we don't know which to trust, or I would say which is really being implemented. But we are human after all and will cling to any hope that we have. So we stay on the lookout for any kind of news at all.
Curly Tales: Are there any other nationalities on board, or is it just Indians?
Mayur: There are no other nationalities with us.
Curly Tales: So do you still work on ship?
Mayur: Yes, we have to. Whatever the circumstances, we can't to injustice to our ship. It brings us our bread and butter. There are strict rules for your time of work and rest which is being accounted each day, and you really can't skip a single day without having to monitor your own designated machinery.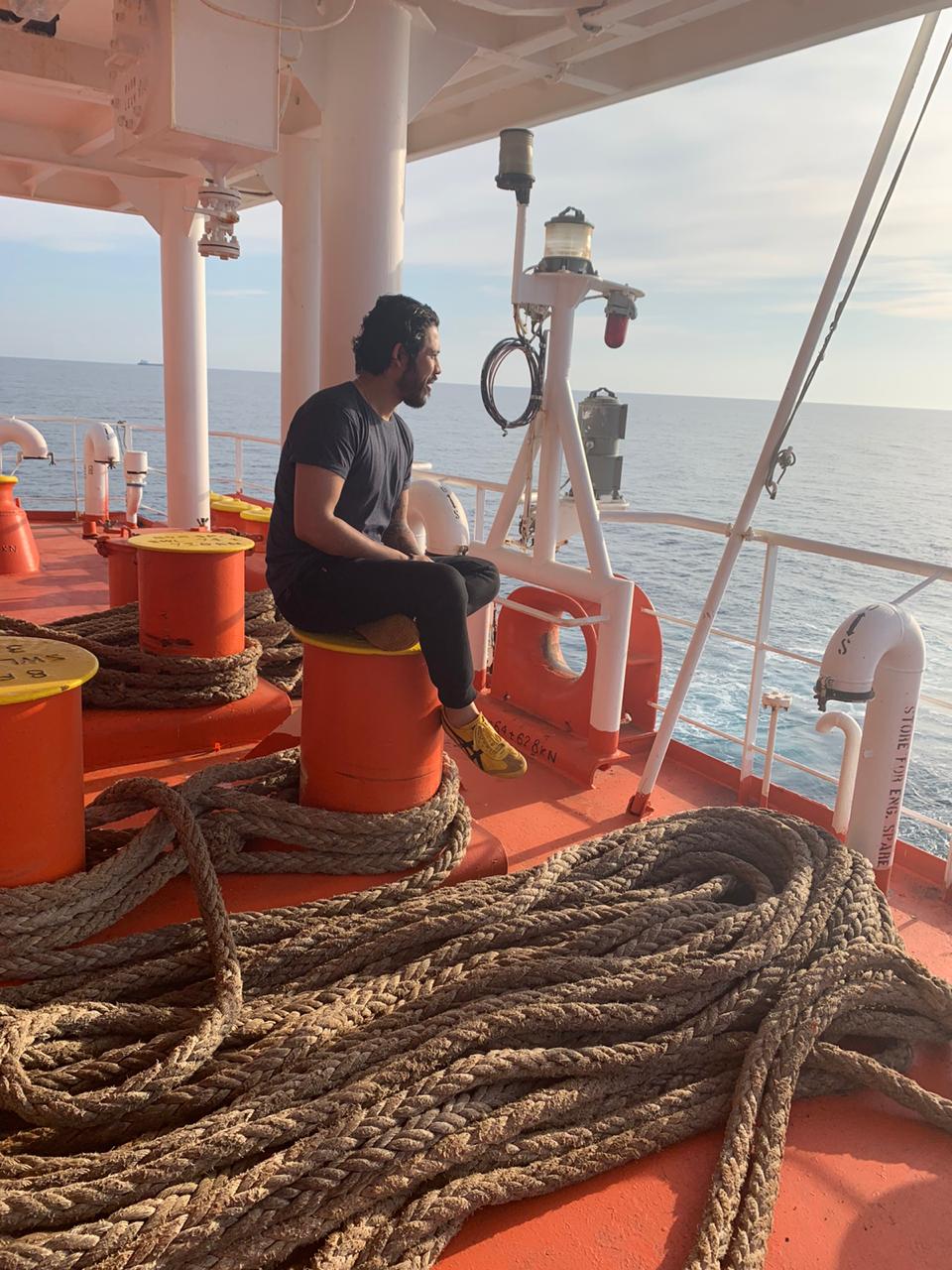 How Do You'll Manage Food?
Curly Tales: With no return to shore, how are you'll managing food?
Mayur: Our food supplies are very limited as of now. We have stored our provisions for the next 2 months. It's very risky out there. We don't know where the provisions are coming from or if any any infected person has touched it, and if so has the provision been sanitised properly?
Multiple questions arise regarding the safety of each crew member , which we can't rule out. If one crew out of 22 is infected, we all will be infected. And there will be no one to lend a helping hand for us, because there are many countries who are not taking any infected crew on their land. (if you have heard the news of a cruise ship in Uruguay where in 150 people were infected and the vessel was denied port entry).
Curly Tales: How do you keep yourselves going and motivated?
Mayur: What keeps us going is the internet. Not all vessels have such great facility of internet. At least we remain connected, or rather I should say well connected with the external world. I get to see my friends and family everyday. Even if the net is running slow, we still manage to figure out what we are trying to ask and answer each other. It's literally like playing dumb charades, but with lot of pixels and distortion of voice.
Curly Tales: Your message to the people
YOU GUYS ARE LUCKY to have your loved ones around you, through this lockdown. I know the worst part of the lockdown for you is probably not being able to step out of your home. Well, at least you have a home. Take care of your family, cherish every moment you spend with them and do not hesitate to give out a helping hand to the needy. Stay safe and keep everyone around you safe, act responsibly.