Clicking a picture in Kareena Kapoor's iconic yellow scooter in Ladakh is on everyone's bucket list. But it turns out that Kareena is quite fond of Ladakh herself. Kareena's brother-in-law and actor Kunal Kemmu recently jetted off to Ladakh and shared his travel journey on Instagram. He also mentioned in his post that travelling to Ladakh was like a dream come true for him. Kareena was the first one to comment on his post. She called 'Ladakh' her favourite destination. Kunal, in turn, left a red heart emoji to her comment. 
View this post on Instagram
Kunal Khemu Shares Stunning Pictures From Ladakh
Kunal Khemu added Singer Mohit Chauhan's Phir Se Ud Chala song as the background music in the video clip that looked everything surreal and serene. Kunal captioned the post, "First time in the land of passes so excited to be here. It's been a dream for so many years #ladakh #leh." Reacting to the post, Kareena wrote, "Finally Kunalllll… I and Saifu love love love Ladak …miss us …" 
View this post on Instagram
Incidentally, Kareena and Saif shot in Ladakh for their film Tashan and fell in love with the sets of the movie. But if you are still unsure about where you should plan your next trip, we tell you why it should be Ladakh.
Look who is here!! ❤️😎The first picture was taken last as the other two were my first reactions of welcoming my beautiful.. And now the ride begins.#ladakh #landofpasses #bikes #passion #excited #incredibleindia pic.twitter.com/4VyF3tD3wv

— kunal kemmu (@kunalkemmu) August 5, 2021
1. Its Stunning Beauty
Walking or driving in Ladakh makes you feel you are floating in heaven. Ladakh To Become India's Astro-Tourism Hub; Tourists Can Stargaze In Pollution-Free Sky.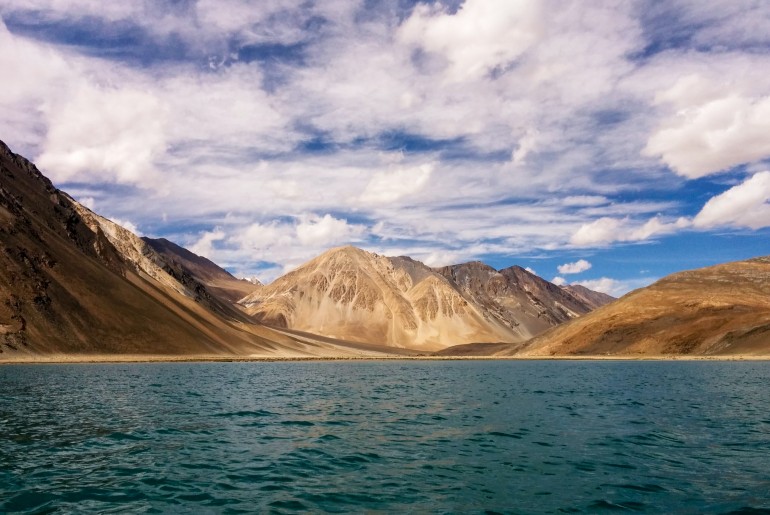 2. Trekkable Peaks & Magnetic Hill
Get the best bird's eye view from the roof of the world. Ladakh boasts of some of the highest in the world – be it the motorable road, the bridge or the saltwater lake. Conquering that altitude will give you bragging rights and possibly tick off quite a few things from your bucket list!
3. Tibetan Culture
A heavy influence of the Tibetan culture is evident in Ladakh. Be it monasteries or museums, you will see a beautiful display of art & craft here depicting their Indo-Tibetan culture. You must capture and enjoy the fusion of drums and trumpets and the thumping steps of masked Lamas.
Also read: India's First Natural Ice Cafe In Ladakh At 14000Ft Is The Coolest Place On Earth
4. Monasteries
Vibrant festivals, indigenous attire, and strange rituals are sure to intrigue you. You can spend hours talking to them and knowing about their journey. And they are equally curious to know about your life too! The Gompas or monasteries in Ladakh have a beautiful artistic décor, ancient manuscripts, and antiques like statues, thangkas, and murals.
August is the best time to visit Ladakh. Ladakh is open for visitors right now, so be sure to check out these rules first.