If you are a paw parent, we are sure that you dream of exploring the world with your furry friend. But it is not really possible always to tag along your pet on trips and holidays. Well, a man from Kochi broke all the barriers and explored Ladakh with his pet dog. This is surely one of the most delightful and epic trips of all time. He is Sudheesh K T and he travelled to Ladakh with his 3-year-old furry friend, Snowbell. The duo covered a massive distance of 12,000 km.
Kochi-Native Sudheesh K T Explored Ladakh With His Pet Dog!
This lovely duo took 2 months to explore Ladakh on this memorable road trip journey. Sudheesh rode about 12,000km to cover this incredible trip while cute little Snowbell sat in the backseat and enjoyed how it feels like to explore the world like an adventurous human. They embarked on this special road trip to Ladakh on 8 May 2022 on a Hero Splendor bike. They created memories of a lifetime and experienced a journey that no one can even imagine. Sudheesh was very concerned and careful about his paw friend and always chose decisions to keep the holiday safe for Snowbell.
Also read: Noida Man Takes Pet Dog On Kedarnath Yatra And Makes Him Touch Sacred Bull; Priests Disappointed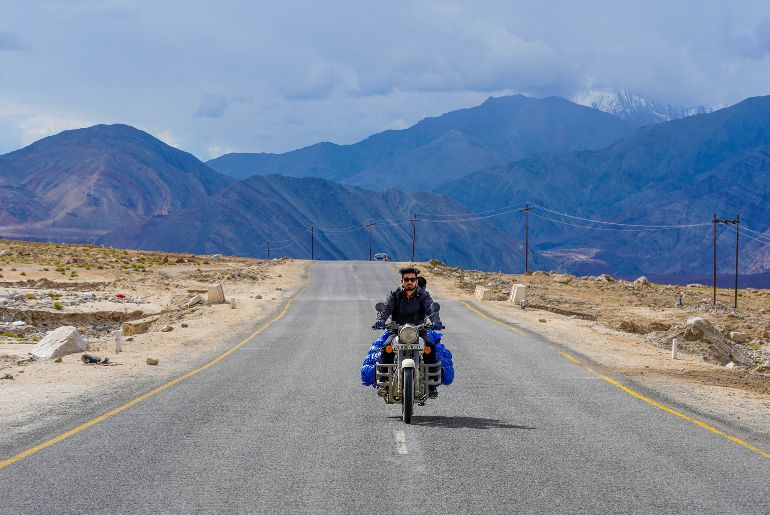 Places The Duo Explored:
Ladakh is an eternally beautiful destination but sometimes the change in altitude and atmospheric pressure often creates a problem for the tourists. But Sudheesh and Snowbell thankfully did not suffer from any issues and they had a remarkable happy journey. They went on trekking, played with snow, and had an exciting time. Snowbell loved Nubra Valley and Ladakh's famous hot springs. Also, they went on a shikara ride on Dal Lake. The pet and his human explored Gulmarg in Jammu and Kashmir, and also went on a trek of 42 km to Kedarnath. En route, they also reached to the highest peak in Maharashtra, the Kalsubai Peak.
Also read: Your Perfect Guide To Travel In Train With Your Pet
How To Prepare For Such A Holiday?
You cannot just simply leave for a vacation with your furry friend. Before embarking on such an exciting and different journey, you need to be fully prepared. Sudheesh shared tips from his experiences on how he took care of his pet and how he prepared for this Ladakh trip.
If you are going on a road trip, the vehicle needs to be in a good state with all the proper features.
Consulting with a vet is a must. You need to know if your pet is ready to travel on such a journey. Listen to the doctor's recommendations and pack your bag accordingly.
Give your paw friend time to prepare for this vacation. Take him/her to nearby places and let him/her explore. Check on your pet and see if your friend is fit and comfortable enough. Make adjustments according to that.