Breakfast is known to be the best and the most important meal of the day and for all the right reasons! Start your day with some yummy in your tummy. Here is a list of  25 places in Mumbai that are the best way to start your day. I have compiled a list that is a blend of some posh restaurants, iconic places and some budget-friendly places. These breakfast places in Mumbai are your rescuer to a very long and hard day!
Here are the 25 best breakfast places in Mumbai and they will not disappoint you.
1. Cafe Madras, Matunga
Cafe Madras has been running for decades now and if is definitely one of my top choices for breakfast in Mumbai! This cafe serves you throughout the day with some authentic and delicious idlis and masala dosas. They also have rasam vadas, the soft upma and the best filter coffee. Cafe Madras is also known for some great dessert dishes like panpoli, which is made with jaggery and banana and their sheera is delicious too! Let's just say this is the perfect eatery if you want delicious food with a hint of nostalgia to it.
Deets:
Address: Cafe Madras, 38 B, Circle House, King's Circle Near Maheshwari Udyan, Matunga East
Approx cost for two: ₹250
2. Kyani's, Lohar Chawl
Well, it is always said that you should start your day early and with a heavy breakfast. Kyani's in Marine Lines is your one comfort food eatery and one of the best breakfast places in Mumbai. The best thing to munch on their egg dishes, sodas, caramel custards, and their beautiful cake. They have quick bites like chicken samosas and bun maskas with Irani chai. My personal favourite has been Kheema Pav and it still remains the best in town! Kyani has been running for more than 100 years now.
Deets:
Address: Jermahal Estate, 657, Jss Rd, Tak Wadi, Lohar Chawl, Mumbai, Maharashtra 400002
Approx Cost for two: ₹200
3. Hotel Ram Ashray, Matunga
Ram Ashray will always stay on the list of my favourites. Breakfast here is so satisfying. From the pineapple sheera to the lassi in a bottle, there is nothing here that can disappoint you. Special attention should be given to their masala dosa that is served alongside delicious chutneys, Medu vada, filter coffee and the tamarind rice. The service is absolutely phenomenal with the servers working there since over a decade.
Deets:
Address: Bhandarkar Road, Matunga East, Mumbai
Approx cost for two: ₹200
4. Nut Cracker, Bandra
Nut Cracker Cafe in Bandra is all you need for a perfect breakfast, If you are a sucker for some amazing pancakes, then this is your place! They have a variety of pancakes but I absolutely love the classic chocolate pancakes. Apart from their pancakes, Hot chocolate is just bang- on. On a rainy day, it is just a delight to sit here and enjoy a heavy breakfast. Some other things you must try here are their pasta, mushrooms on toast and egg dishes. Nutcracker is definitely the best breakfast place in Mumbai.
Deets: 
Address: Nut Cracker, C/2, Diamond Arch Cooperative Housing Society, St. John Baptist Road, Bandstand, Bandra West, Mumbai
Approx cost for two: ₹ 1,200
5. Seven Kitchens, The St. Regis Mumbai
One of the best things about 5-star restaurants is their breakfast buffets. They are just so filling ans with so many options! Your mood just lifts when you see so many options for breakfast. You must try their Farm Fresh Eggs, smoked bagel benedict, masala omelette and more.  These gourmet dishes will definitely make your mornings better which intern makes your entire day better!
Deets:
Address: Seven Kitchens, the St. Regis Mumbai, 462 Senapati Bapat Marg, Lower Parel, Mumbai
6. Cafe Military, Fort
If you want to sip on some good Parsi Tea in the morning, please come to Cafe Military, then will not disappoint you. In their breakfast options, you must try their Egg sandwich and omelette or a club sandwich. If you love chicken, do try their chicken sandwich. Nothing can ever go wrong with classic Bun Maska and Chai. I love their desserts and caramel custard is a must-have here.
Deets:
Address: Ali Chamber, Tamrind Lane, Fort, Mumbai
Approx cost for two: ₹ 250
7. Yazdani Bakery, Fort
Yazdani Bakery is a decade old Irani outlet which has the best Chai and Bun Maska. You can also try their puddings. If you want to give your taste buds a vintage tinkle, then this is a must-visit breakfast place and also for your evening cravings. This place has been in Mumbai for years and there is so much more to it than just being a cafe. It tells a story the walls here hold history. They serve delicious Kharis and one bite of their it and you're taken back to an ancient era. You must try their mava cake!
Deets:
Address: Yazdan Bakery, 11, Horniman Circle, 11A, Cawasji Patel Rd, Fort, Mumbai, Maharashtra 400001
Approx cost for two: ₹ 200
8. Rajubhai Dholkawala, Kandivali
Kandivali is famous for Gujarati food and the iconic store of Rajubhai Dhoklawala is just the right thing you need to kick start your mornings. You will be thrilled to know that they have about 20 different types of Dhoklas. The best one we like was pizza dhokla and all the other ones were delicious too! You can try their kachoris and Idlis too. They are really delicious and very fresh.
Deets:
Address: Shop No. 7,8,9, Om Sai Ratna Rajul, Opposite Kamla Nagar, Mahatma Gandhi Road, Mumbai, Maharashtra 400067
Average Cost for two: ₹ 200
Also Read: Heritage Breakfast At 75-Year Old 'Vidyarthi Bhavan'
9. Pizza By The Bay, Marine Drive
On the iconic Marine Drive, right opposite side stands this restaurant serves great pizzas. But do you know what else do they serve best? Their breakfast menu and they serve it at a fairly decent price. You can try their omelettes and other egg dishes, pancakes, Bombay french toast and the big bird, everything here is just delicious. Starting your day with the view of Marine drive and delicious food, breakfast in Mumbai can't get better than this! Breakfast starts at ₹ 249
Address: Pizza By The Bay, Soona Mahal, 143, Marine Dr, Churchgate, Mumbai, Maharashtra 400020
1o. Piccadilly, Colaba
Located right in the middle of Colaba Causeway, it's the perfect shopping respite. Think checkered table cloths, glass tops and a menu stuck in between. It's not the most spacious or luxurious of restaurants but what it lacks in space it makes up in delicious food. The food here is delicious, you must try their omelette and other egg dishes. It is a paradise for non-veg lovers which is delicious and affordable at the same time.
Address: Donald House, Colaba Causeway, Apollo Bandar, Colaba, Mumbai, Maharashtra 400001
Also Read: 7 Dishes To Try On A Breakfast Trail In Kandivali, Mumbai
 11. Jamjar Diner, Andheri West
Jamjar diner has two outlets in the city and the ambience of both is just beautiful. The diner has a positive vibe and you can start your perfect day having something from their delicious breakfast menu. It starts at 11 am and they serve up to 4 am in the evening. I suggest you try Nutella and banana pancake, cinnamon french toast, waffles and any of their smoothie bowls. If you are looking for egg dishes then fluffy egg white omelette and from the chef's special section breakfast booty burger is a good option to pick!
Deets:
Andheri Address: 7A & B, Arram Nagar 2, Behind Washing Bay, Yari Road, Versova, Andheri West, Mumbai
Contact: +91 7506640066, 022 26358880
Average Cost for two: ₹ 1, 00o
12. Saltwater Cafe, Bandra
Saltwater cafe serves an amazing breakfast menu and you have a lot of variety to choose from! They have two outlets one in Bandra and another one in Churchgate. But the Churchgate outlet is temporarily shut, keep an eye out on Zomato. Some of the amazing things to eat here are Chocolate Chip Waffles, french toast, scrambled eggs, masala omelettes, 4 cheese omelette and if you like pork for breakfast then they have ham and cheese. They serve their breakfast menu from 9 am to 11:59 am which is a pretty decent time to grab a bite and start your day.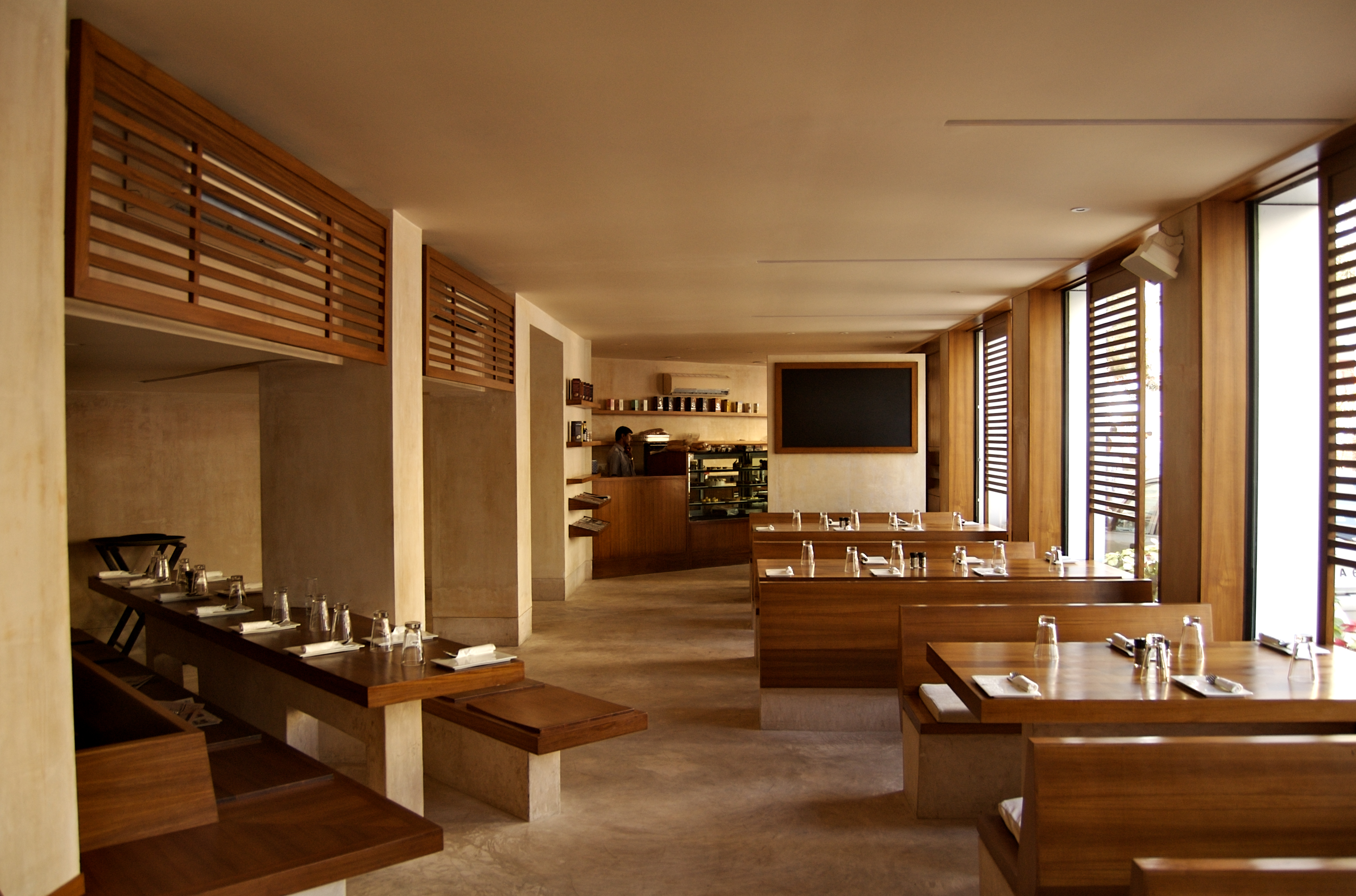 Deets:
Bandra Address: 87 Chapel Road, Next to Mount Carmel Church, Bandstand, Bandra West, Mumbai
Contact: +91 7506640066, 022 26358880
Average Cost for two: ₹ 1, 00o
13. Cafe Zoe, Lower Parel
Cafe Zoe in Lower Parel is a luxurious place and all of who have offices around here, you must try from their breakfast menu. Some of my favourites here are skinny omelette wrap and scrambled eggs. Apart from that, you can also try black lentil pancakes, french toast and pancakes with whipped cream.
Deets:
Address: Mathuradas Mills Compound, NM Joshi Marg, Lower Parel, Mumbai
Contact: 022 24902065, 022 24902066
Average Cost for two: ₹ 2, 00o
14. Le Pain Quotidien, Multiple Outlets
Le pain Quotidien is one of the posh places in Powai and they have two outlets there. The restaurant serves a superb breakfast and brunch menu. You must try their freshly squeezed juices, caramelized egg, masala omelette, Breakfast pastries, classic Belgian waffles and their set breakfast is just perfect. Now looking at restaurant one might think it will definitely burn your pockets, but the place is not very expensive and serves great food at average quantity.
Address: Mathuradas Mills Compound, NM Joshi Marg, Lower Parel, Mumbai
Contact: 022 66713030,+91 9702156962
Average Cost for two: ₹2,200 for two people (approx.)
15. Indigo Delicatessen, Multiple Outlets
They have multiple outlets across Mumbai and the best part id that they serve their breakfast menu all day long! Some of the dishes on their menu that are a must-try are sandwiches, eggs benedict, eggless pancakes, oats porridge and masala and cheese omelette. And fo all the vegan, I know it is very difficult to find a vegan restaurant, but worry not! Indigo Delicatessen has a vegan breakfast menu that consists of oatmeal pancakes, upma, finger millet waffle and museli with chia seed, soy and almond milk.
Deets:
Bandra Address: 8, Fatima Villa, 29th Road, Pali Naka, Pali Hill, Bandra West, Mumbai
Average Cost For two: ₹2,400 for two people (approx.)
Contact: +91 7506425001, 022 26429064
16. Candies, Bandra
Candies is a got to place for people in Bandra, be it a birthday celebration, special lunches, dinners, quick brunch or breakfast. In their all-day breakfast section, you can try french croissant, egg white omelette, Bhurji, baked bean or even a fruit salad. Their watermelon juice is also a good option with your main dish.
Deets:
Address: Mac Ronells, Next To Learners Academy School, Pali Hill, Bandra West, Mumbai
Average Cost For two: ₹650 for two people (approx.)
Contact: 022 26430728, 022 26422324
17. Prakash Shakahari Upahar Kendra, Dadar
Prakash Shakahari Upahar Kendra in Dadar is a perfect place for some Indian breakfast. Their typical Maharashtrian dishes are spot on. Misal Pav, Upma, Sabudana vada, Thalipeeth and the Piysush drink! It is a local joint which is very affordable, filling and also delicious. Shivaji Park of Dadar is one place buzzing with food lovers and hence the restaurant sees a lot of people on a daily basis. Looking for a breakfast place in Mumbai? Come to this upahar kendra!
Deets:
Address: Horizon Towers, Ranade Road Dadar West, Dadar Shivaji Park, Mumbai
Average Cost For two: ₹150 for two people
Contact: 022 24386094
18. Brunch N Munch, Malad & Borivali
They have two outlets in Mumbai, one in Malad and another one in Borivali. Both these outlets serve the breakfast menu. They give you a variety of healthy breakfast options like the regular egg dishes, English breakfast, pancakes, continental breakfast and even bombae breakfast, So many options for you to choose from! A heavy breakfast to kick off your day!
Deets:
Borivali Address: 3, Mandapeshwar Kripa, Opposite St Francis Management Institute, S V Road, Borivali West, Mumbai
Cost: ₹800 for two people (approx.)
Contact: +91 8828123969
19. JW Cafe, Sahar
The five-star luxury hotel, J W Marriott has a cafe that serves a buffet breakfast from Monday to Sunday for ₹1,711. This unlimited breakfast has a variety of dishes right from continental, Indian, Italian and Chinese. They have freshly prepared waffles, juices, pancakes and much more. The spread will not disappoint you and with some much variety, you will definitely love starting your day with food from here.
Address: JW Marriott Mumbai Sahar, IA Project Road, Chhatrapati Shivaji International Airport, Mumbai Sahar, Chakala, Mumbai
20. The Fable, Juhu & Powai
Fable is a fine dining restaurant in Mumbai and they have outlets in Juhu, Powai and Andheri. These outlets serve a breakfast menu with a lot of options for you to choose from. They have a section for breakfast sandwiches which also comes with a bagel. You can order a veg sandwich or a non-veg one with if they are very filling. They also serve regular breakfast egg dishes, their desi benedict is a must-try!
Deets:
Juhu Address: Shop 3, Ashiyana Apartment, N.S Road 13, Juhu, Mumbai
Cost: ₹2,500 for two people (approx.)
Contact: +91 8657685462, +91 8657685465
Also Read: This Iconic South Indian Restaurant From Pre-Independence Era Still Serves Dosas Under ₹50 Only
21. Gurukripa, Sion
Gurukripa in Sion serves the best samosa and chole that will most definitely be a heavy, tasty, crunchy breakfast option to start your day with. This little place also serves the best Sindhi breakfast options. Their Dal Pakwan is a must-have! Apart from that lassi, chaat, pani puri are also spot on. Once at least you must come here, it is worth the visit. This is an iconic eatery and the best breakfast place in Mumbai!
Deets:
Address: 11, Aditya Heritage, VN Purav Marg, Chuna Bhatti, Sion, Mumbai
Cost: ₹300 for two people
Also Read: The Dosa Man Of NYC, Thiru Kumar Is A Street Hero
22. Suzette Creperie & Cafe, Multiple Outlets
Suzette Creperie & Cafe is spread across Mumbai and these outlets are absolutely beautifully designed. They are a perfect place to start your day, the vibe here is amazing. Along with the regular egg dishes they serve french breakfast too. Their crepes are very famous and in beverages don't miss out on their tea options or coffee. If you are in for a heavy breakfast, then give their sandwiches a try! This breakfast place in Mumbai is winning hearts.
Deets:
Powai Address: Shop 2, Ventura Building, Next to Aroma's, Hiranandani Gardens, Powai, Mumbai (they have 7 other outlets in the city)
Cost:₹1,500 for two people
Contact: 022 25700178,+91 8080809554
Also Read: 10 Cheesiest Dishes In Mumbai
23. Gughan Supreme South Indian, Marine Drive
This South Indian breakfast in Marine Drive is one of the most hygienic places to have breakfast. The highlight here is ghee that they pour on their dishes making it much more delicious. Here you can find all amazing authentic south Indian breakfast options. Must-try dishes here are Idli, Rassam Vada, Filtered Coffee, Buttermilk, Tomato Rasam. Dosas are great too, ghee masala dosai, Milagapodi onion dosa and they serve Jain dosa too! Apart from these people have also loved their thali option called the Gughan Supreme Meal Thali.
Deets:
Address: 91, Shalimar Building Ground Floor, Near Registrar of Companies (RoC), G Road, Marine Lines, Marine Drive, Mumbai
Cost: ₹500 for two people
Contact: 022 22880035, 022 22880036
Also Read: Top 17 Fine Dine Best Chinese Restaurants In Mumbai In 2019
24. Kala Ghoda Cafe, Kala Ghoda
Kala Ghoda Cafe in Fort which is a cute little place that serves delicious food and that too at prices that are reasonable. The quality of their food is perfect and the quantity is also not so bad. Some of the must-try things here are their cappuccino coffee, Waffles with fruits and honey, Sandwich, Hot Chocolate, Millet Upma and Parsi Pora. This should totally be on your list of top breakfast places in Mumbai.
Deets:
Address: 10, Ropewalk Lane, Kala Ghoda, Fort, Mumbai
Average Cost For Two: ₹1,000 for two people (approx.)
Contact: 022 22633866, 022 33803418
Also Read: This Italian Restaurant In Mumbai Serves About 9 Types Of Hand-Rolled Pasta
25. Thangabali, Bandra
Thangabali serves some amazing all-day breakfast that includes Egg Roast Masala, Bhruji, Utthappam, Poha, Andhra Chicken Dosa and much more options from both Maharashtrian and South Indian cuisines. They have the best banana chips, neer dosa, Malabar Portha and Appam. Don't forget to taste their caramel custard, it is delicious! You can check out on Zomato the amazing reviews this place has got!
Deets:
Bandra Address: Level One, 12 Union Park, Pali Hill, Bandra West, Mumbai
Average Cost For Two:₹1,200 for two people
Contact: +91 8928021253
Now you are all set for your delicious breakfast in Mumbai!