A legal red light district to iconic museums, quaint canals to buzzing streets, Amsterdam has it all. Be sure to not miss the below highlights on your next 'Euro Trip'.
1. Visit The Coffee Shops
For those who know the hedonist side of Amsterdam, you'll know that 'Coffeeshops' here aren't just coffee shops. The wakers and bakers delight themselves here with batches of special brownies and blows of Kush. If you're into that kinda thing, coffee shops like Grey Area and Barney's are where you'll see how the grass is greener on the other side *wink wink*! It is legal to buy weed at these shops, but tread with caution, especially on the streets in your high state-of-mind. You could get run over by one of the 800,000 cycles in Amsterdam and end up with a bad trip.
2. Get A Bike
With more number of bikes in the city than people and 240 miles of dedicated bike lanes, it's clear that cyclists rule the streets of Amsterdam. Hop on a bike and explore the hidden gems of the city in a truly 'Dutch' style. Join one of the numerous bicycle tours offered here or rent your own two-wheels for a price of 10-15 Euros a day. If you're going with your gang, you must rent your own Beer bike. An entire bar table with up to 17 seats is set up on wheels, with free flowing tap for you and your friends to pedal your way out of sobriety . Don't worry, there's a designated sober rider who takes over when things get out of control.
Also read: 9 European Cities So Safe That You Can Go Solo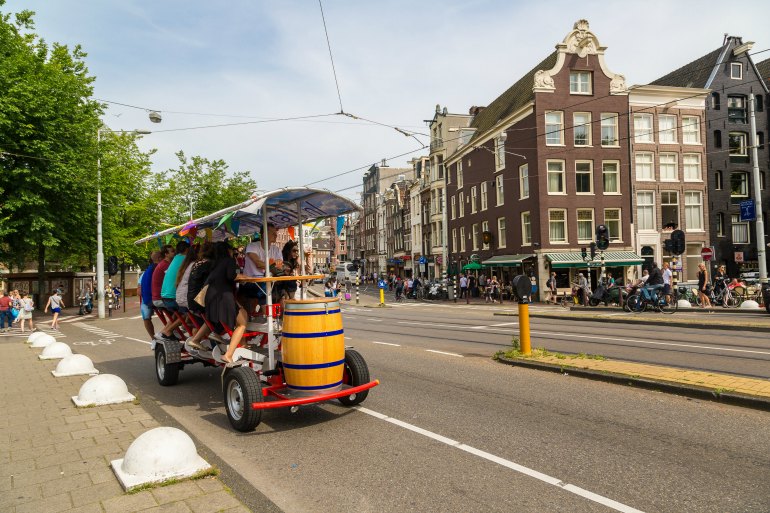 3. Take A Canal Tour
Your great Amsterdam trip is incomplete without a canal tour experience, believe me you! As you cruise through the lazy waters along the canal ring, you get a picturesque view of the colourful Dutch houses. Many of these 17th century canal homes, are now converted to museums. Take the Canal Bus and use their hop-on hop-off service to make quick pit stops along the way. Or get on board for an hour long scenic tour which will set you back by 17-20 Euros depending on the season and the services offered on the cruise. Holland International, Blue Boat and Lovers are some of the better-known tour operators in Amsterdam.
4. Savour The Streets
The live n' buzzing streets of Amsterdam have tons to offer both in terms of culture and delicious food. A walk in the narrow streets of the Jordaan neighbourhood, will take you back in time with its antique shops and art galleries. A stroll through '9 streets' Prinsengracht canal will open your world to a wide array of shopping opportunities. And if all this walking tires you out, there's always enough good delicious fodder to refuel.  Hit the Albert Cuyp Street Market and dig your teeth into a Stroopwafel, a Dutch take on the good ol' waffles. And don't forget to binge eat the frites (essentially fries) made out from Bintje potatoes. They're served in cones with dollops of sauces of your choice. Try Mannekin Pis, a small shop on Damrak, which is voted No. 1 amidst all of Holland's fries.
5. Connect With History
Amsterdam's culture scene is just as vibrant as its nightlife. It is home to the Van Gogh Museum as well as Anne Frank House. Witness the starry and not-so-starry chapters of history preserved in famous museums at the Museumplein district. You can also walk through the open air exhibitions on the Oud-Zuid square. While the famous museums all charge an entry and often see tourists wasting their precious travel time in long queues, we've got a hack! The easiest way to make your way through these attractions is to buy a 48 hour Iamsterdam card worth 65 euros. Not only does it give you a queue-free entry to all major museums and tourist spots, but also allows free use of all public transport in the city, and a 1 hour free canal tour. No wonder every tourist takes a picture without fail on the 'Iamsterdam' letters installation at Rijksmuseum. Make sure you take yours!
Also read: 5 Must-Do Things Before You Leave For That Vacation
LIKE Curly Tales on Facebook | Instagram | Twitter
You can subscribe to our newsletters