Quarantine centres in the UAE now have makeshift beds made of cardboard. These low-cost beds are 100% recyclable and is made of high grade craft paper that is easy to assemble and transport. Although the bed is only 10kgs, it can hold weight up to 200kg. Besides, the surface of the bed is coated with a chemical that can withstand liquids, so the bed can be cleaned and disinfected.
Meanwhile, here are 5 Dubai Hotels You Can Check In For Quarantine Stays.
UAE Introduced Cardboard Beds In Quarantine Centers
The beds are easy to assemble, so much so that no instruments or tools are required to put it together. Assembling this is much like putting a jigsaw puzzle together. Furthermore, the beds come in vibrant colors, to add life and cheer patients. As of today, over 50,000 beds are used in India, across 30 cities in over 100 facilities.
Countries across the globe including Europe, Australia, Africa, and the Middle East are contemplating on switching to the biodegradable alternative. And why not, there's a reason why cardboard beds are good for Covid patients. Cardboard remains infected for 24 hours only. On the flip side, virus can breathe on plastic surfaces for three days and on metal for four to seven days. Besides, disposing the bed becomes is easy, and so is containing the spread of the virus.
On another note, here's how Restaurants Around The World Are Getting Social Distancing Right.
Other Countries Using Cardboard Beds
However, the UAE is not the only country using these beds. Japan's Narita Airport is offering passengers arriving from abroad an impromptu hotel made of cardboard beds and quilts. Created in its baggage-claim area, passengers awaiting their COVID-19 test results are asked to wait here.
The beds are made of heavy-duty cardboard and contain a mattress and a quilt. Such beds are used usually used in evacuation centres during disasters or to make any kind of temporary bedding.
Results can come as quickly as six hours, but delays can take as long as one or two days. According to a Health Ministry official, the cardboard beds have been readied in case nearby facilities currently being used to house passengers are full. These passengers are forbidden from using public transportation, so those having nobody to pick them up end up waiting, he added.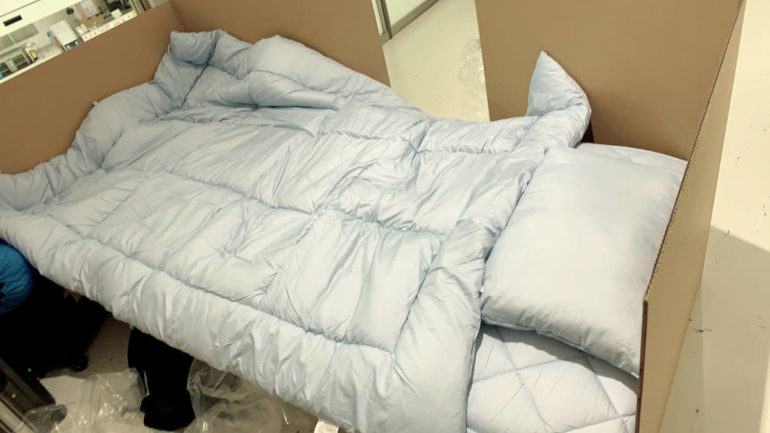 Meanwhile, here are 26 Countries That Have Opened & Are Opening Up For Tourism Again Rather Cautiously.