Ujjain or Ujjayini represents the history of the Malwa region of Madhya Pradesh. Its glorious past can be acquired from the ancient texts of Skanda Purana as Kumudavati, Kushasthai, Avantika, Amaravati, Chudamani, and Padmavati from different ages. Popularly known as the temple town of Madhya Pradesh, Ujjain displays an array of architectural magnificence of the Maratha, Mauryan, and the Mughals.   Ujjain is also considered to be located on the main trade route between North India and Deccan going from Mathura to Mahismati (Maheshwar). Hence, its diverse architecture and culture binds every visitor. It portrays an amalgamation of bright minds of visionaries from different eras that ruled the Malwa region. 
The lordship era in Ujjain is recorded to be started in 57 BCE under the rule of Vikramaditya. His name is registered in the books as the ruler who drove out the Sakas. To celebrate his victory, a new calendar Vikram Samvat was launched. Some sources claim Vikramaditya to be the son of King Mahendraditya of the Paramara dynasty, some express him to be the ancestor of Tomars, while the most commonly held view identifies Vikramaditya as the Gupta King. Mauryan emperor Ashoka also served as the governor of Ujjain for several years before he was crowned king. He married Devi, a noble-woman from Vidisha, who felicitated the construction of the great Stupa at Sanchi. Following the Mauryan dynasty, Ujjain was ruled by several dynasties including Sungas, and Satavahanas.  
Apart from the powerful kingdoms, Ujjain is also considered the hub of Literature and Art. Kalidas, widely known as the greatest poet and dramatist of classical Sanskrit literature, shared his love for Ujjain in Meghdoot or Meghaduta. A poem of little over a hundred verses describes the anguish of an exiled yaksha who, separated from his beloved by a curse, sends a message to her via a rain cloud.
A legend states that Kalidasa used to be a simpleton and was married to the queen through a conspiracy by her ministers. Once the queen came to know about the reality, she threw Kalidasa out of her empire after which he took refuge at the temple of Maa Kali. Plagued from his life, he offered his tongue to Kali and asked for wisdom in return. Impressed by his sacrifice, Maa Kali blessed him with knowledge, and from that day onwards, Kalidasa was known as the greatest poet and dramatist.
With a vast history of fierce Royalties and literature, Ujjain also shines like a bright jewel in the Malwa region for its number of temples, so large that if a pilgrim comes here with two cartloads of grain and offers only a handful at each temple, he/she would still run short of offerings. 
These temples are situated in the entire city enhancing its appeal with mesmerising architecture. These alluring monuments witness a healthy footfall of pilgrims every day and the vibe you feel in this place makes you come back for more. 
Shri Mahakaleshwar Temple
Shri Mahakaleshwar Temple or Mahakaal Mandir is a prominent tourist attraction in Madhya Pradesh. As per Hindu beliefs, Lord Shiva is the god of time and death, hence the name Mahakaleshwar came into existence. One of the most sacred places in Madhya Pradesh, this temple houses one of the 12 Jyotirlingas. It is also known as Dakshinmurti due to its south-facing feature.
To impress Lord Mahakal, priests of this temple perform the holy Bhasma aarti every day. During this aarti, the Shivlingam is cleaned with water and anointed with Milk and ashes.
During Ujjain Kumbh, this place is overcrowded with joy and festivities, and pilgrims around the globe visit here for salvation. Ujjain Kumbh is held when Jupiter is seen in the ascendant of the Leo or the Simha constellation of the zodiac and is therefore known as the Simhastha.
As per Skanda Purana, The holy bath of the Kumbh is equal in piety to thousands of Kartik snans, a hundred of Magh snan, and crores of Narmada sans.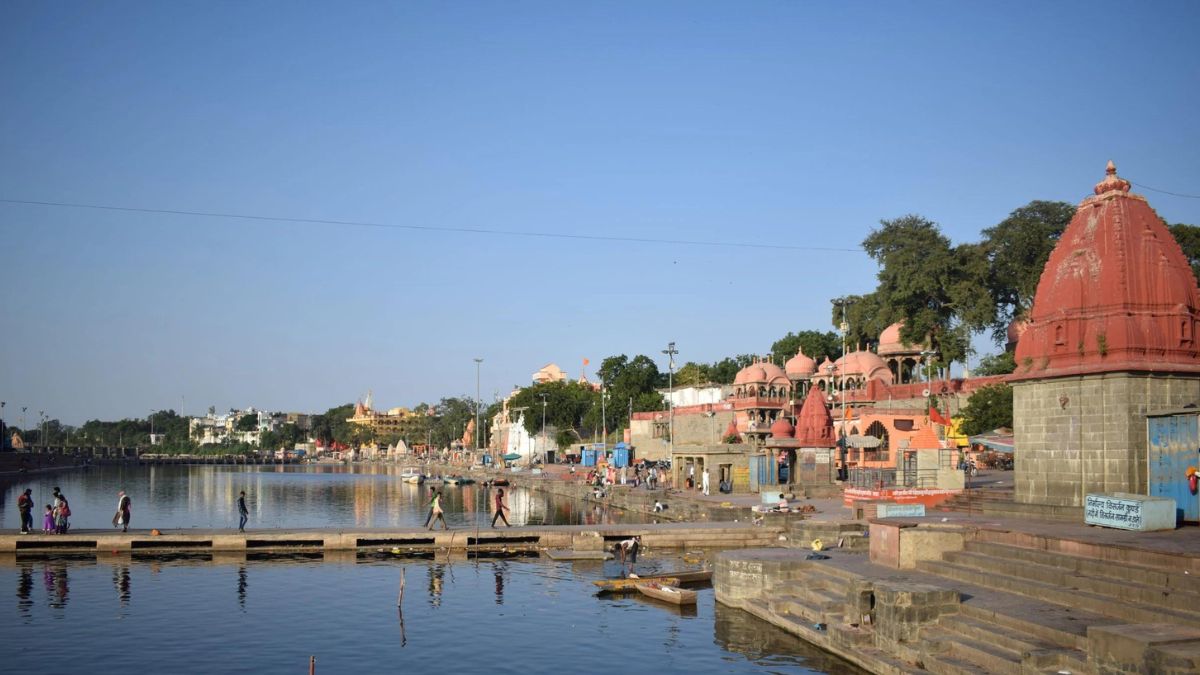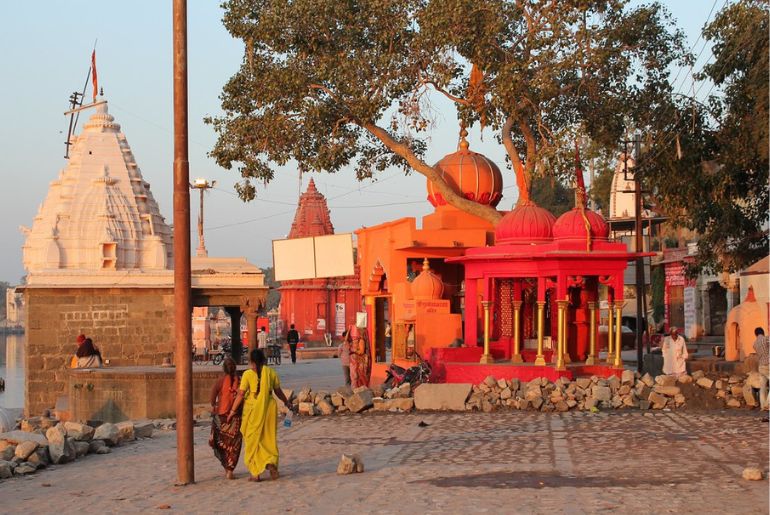 Ram Ghat
One of the most vibrant destinations in Ujjain, Ram Ghat is located on the banks of river Shipra and is considered to be a prominent venue for Kumbh Mela. It is one of the oldest spots for holy dips in Ujjain and attracts devotees every day. The evening ritual held at 8 pm is a perfect way to quench your spiritual thirst.
Harsiddhi Mata Temple
Situated near Rudra Sagar lake, Harsiddhi Mata temple is one of the 51 Shakti Peethas in India. As per mythology, Mata Sati's elbow fell at this place when her burning body was carried by Lord Shiva. The temple is said to be rebuilt by Marathas and houses Maratha art on two pillars. The joyous feeling in the evening that you get during the illumination of these pillars can only be experienced firsthand.  
Sandipani Ashram
It is believed that Guru Sandipani used to teach Lord Krishna, Sudhama, and Balram in this Ashram. Among the popular destinations, a visit to this Ashram can be very soothing. Tourists can also visit a stone in this Ashram, said to be inscribed with numbers 0 to 100 by Guru Sandipani himself.
Kal Bhairav Temple
It is a temple dedicated to Lord Kal Bhairav, one of the eight attendants of Lord Shiva and the guardian deity of Ujjain. Devotees are often seen with liquor in this temple, which is then offered to Lord Kal Bhairav as per a unique tradition. The temple is believed to be built by Raja Bhadrasen in the 9th Century and one can also admire traces of exquisite Malwa art while entering the temple.
Mangalnath Temple
As per the Matsya Purana in Indian mythology, the Mangalnath temple is said to be the birthplace of Mangal Graha. Shiva or Mahadeva is worshiped as the deity in this temple and during ancient times, it was famous for a clear view of Mangal Graha or Planet Mars.
Iskcon Temple
The Iskcon temple of Ujjain, popularly known as Radha Madhana Mohan Temple, has spiritual significance since it was believed that Lord Krishna, Balram, and Sudhama obtained their education from Guru Sandipani in this city. The mesmerising beauty of this temple attracts devotees from every corner of the world.
Jantar Mantar (Vedha Shala)
Jantar Mantar or Vedha Shala is said to be the oldest of the five observatories built by Maharaja Jai Singh in India. It was built in the 17th Century to help scholars and astrologers with their research and studies. Experts say that Ujjain is geographically situated at the precise location where the zero meridian of longitude and Tropic of Cancer intersect. Due to this, Ujjain is also called the Greenwich of India.
An ancient and thriving centre of Hindu religion, Sanskrit literature, science, and mathematics, Ujjain occupies one of the most conspicuous places in the Malwa region of Madhya Pradesh. Set along the bank of river Shipra, India's one of the oldest and holiest cities is home to ancient myths and legends, stories of grand dynasties and immortal poets, and Simhastha or the Kumbh in Ujjain.
So, if you are planning a visit to Madhya Pradesh, Ujjain should be on your checklist.