If there's one city that eventually makes its way to every person's bucket list, it's undoubtedly Amsterdam. Blame it on the hedonistic pursuits of pleasure in the infamous Red Light District, or time spent sampling some of the best herbs in the notorious "coffee shops" that dot the streets of the city, Amsterdam has a lot to offer to the experimental tourist. And it's not just the underbelly of the city that pulls in the crowds, but also its rich history and gorgeous tree-lined canals that add to the irresistible charm. So, how does an indulgent traveller get an unparalleled experience in a city that sees a footfall of roughly 17 million tourists every year? If you have 24 hours in the city, and the money to spare, then consider this guide to be everything you need to live it up to the fullest.
Where To Stay?
Well, you have made it to the city, and the first thing to do is get settled in. Here's a list of some of the most gorgeous properties that you can call your home for your short stay in the capital of the Netherlands.
Amsterdam is a busy city. And we aren't just talking about the people who frequent it. The city's architecture is unique in itself and the Waldorf Astoria is a stellar example of it. Created by combining 6 grand country houses on the side of the Herengracht canal, the Astoria stands out for bringing together a contemporary living with its 18th-century charm. The hotel also houses the biggest private garden in the city that's spread across all the 6 houses. And if that long flight has got you super exhausted, then all you need to do is pay a visit to the Guerlain spa which has won accolades at the World Luxury Spa Awards consecutively. Indulge in the 3-hour-long Orchidee Imperiale Ultimate face and body therapy to rejuvenate your senses and kickback.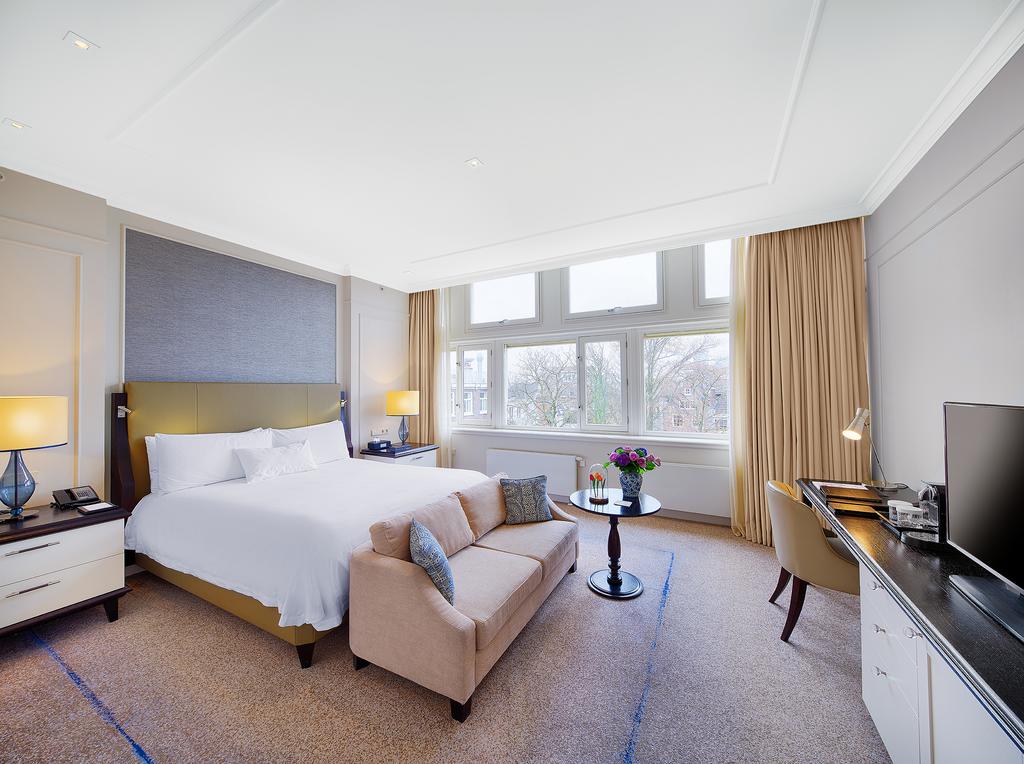 Image Credits: Waldorf Astoria
Address: Herengracht 542-556, 1017 CG Amsterdam, Netherlands
Contact: +31 20 718 4600
Avg Cost: ₹ 92,403 (varies as per season)
Don't go by its name, for Hotel TwentySeven only houses 16 luxury suites within its property. Located right in the heart of the city, TwentySeven offers a sense of exclusivity to well-heeled travellers that can't really be found elsewhere, while still being in the centre of the buzzing canal district. There's a private club that occupies two floors below the hotel, and is dedicated to serving business tycoons, and to this day isn't open to any other guests. The entrance to the hotel is bound to remind you of Gringotts (the bank in Harry Potter) owing to its arched gateway and velvet fabrics, that hang from the sides. The hotel also houses a Michelin star restaurant called 'Restaurant Bougainville' which offers world-class gastronomical delights.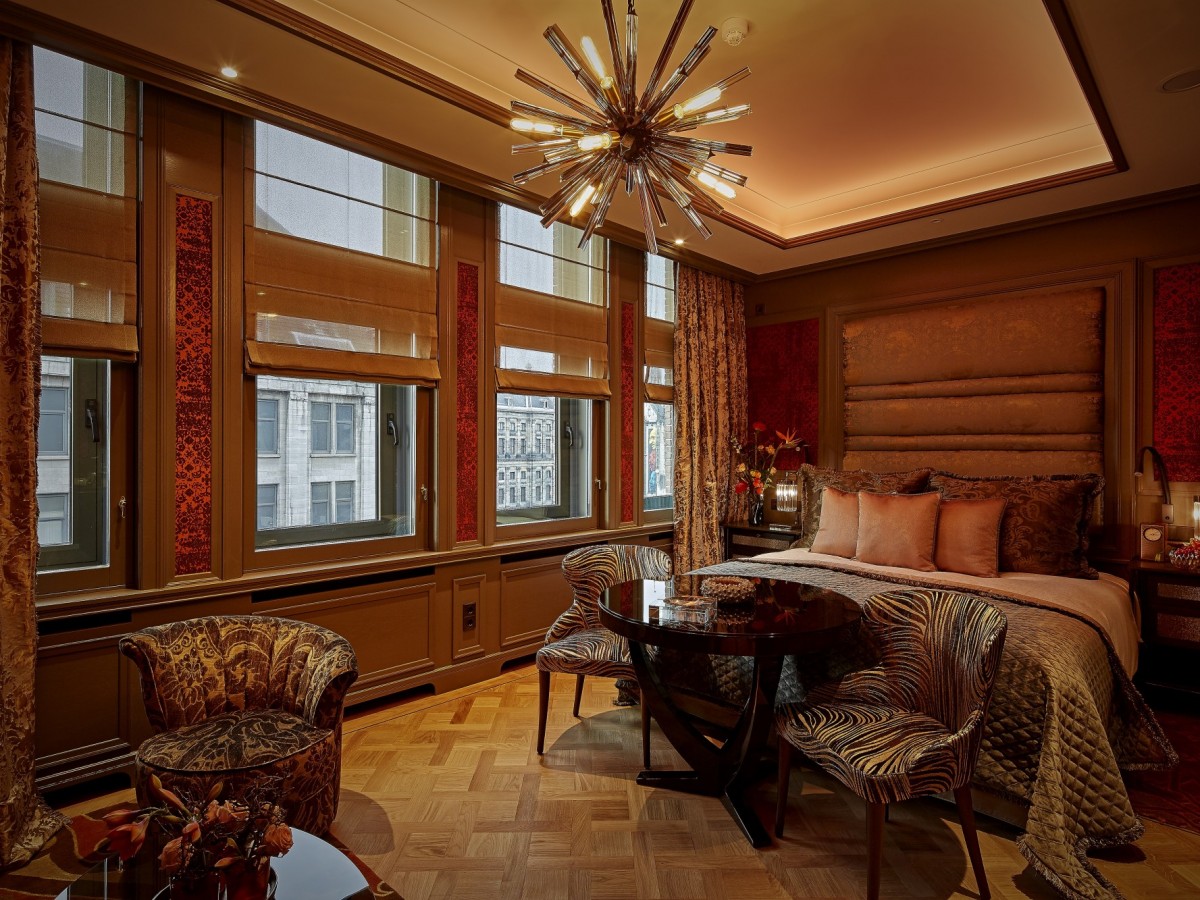 Image Credits: Hotel TwentySeven
Address:  Dam 27, 1012 JS Amsterdam, Netherlands
Contact: +31 20 218 2180
Avg Cost: ₹ 47,153 (varies as per season)
The Conservatorium boasts of some very cultured neighbours. One peek out the window and you get an expansive view of the famed Rijksmuseum and Van Gogh Museum. The property once used to be an old music institute and has since been upgraded to one of the most modern hotels in the city. With walk-in closets that are powered with motion-sensors contemporary decor, the Conservatorium is the best place to soak in the heritage beauty of the city.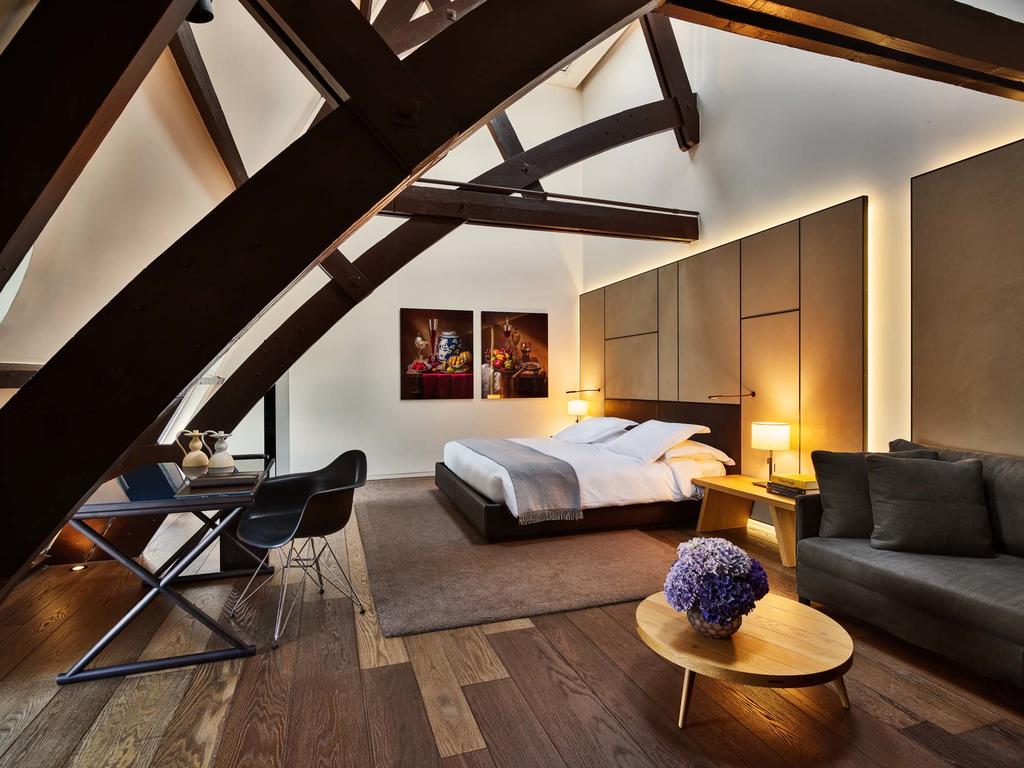 Image Credits: Conservatorium
Address: Van Baerlestraat 27, 1071 AN Amsterdam, Netherlands
Contact: +31 20 570 0000
Avg Cost: ₹ 67,786 (varies as per season)
The Best Places To Eat
Located in The Dylan, a gorgeous hotel property, OCCO's breakfast buffet redefines the phrase 'having breakfast like a king'. Wake up in the morning and load up on the most extravagant spread on offer before you head out to explore the city. You'll be spoilt for choice with a wide range of breakfast delicacies on offer, that includes the freshest fruits, granola and gourmet omelettes with cold cuts. Not to miss the flaky and buttery pastries.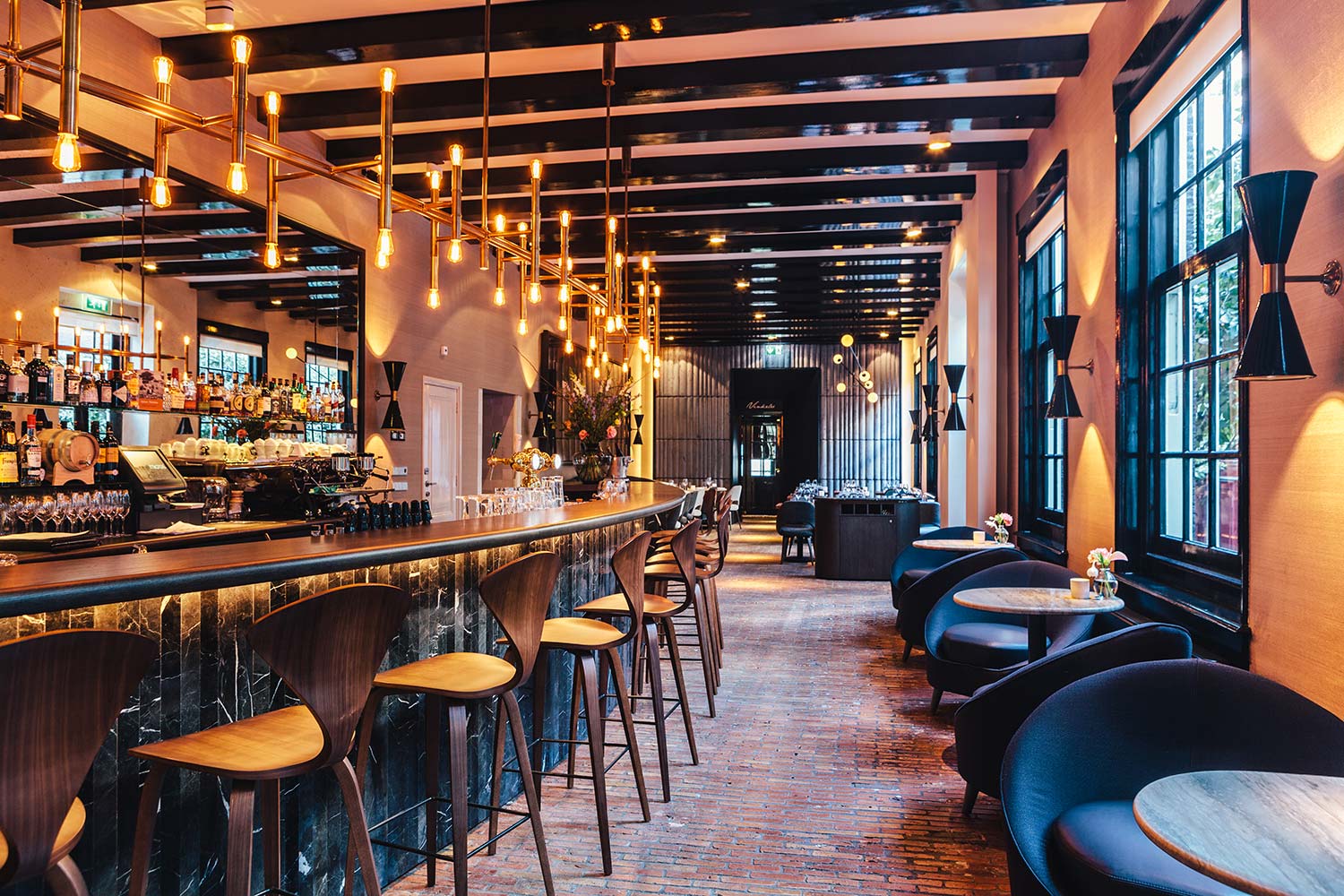 Image Credits: Bar Brasserie OCCO
Address:  Keizersgracht 384, 1016 GB Amsterdam, Netherlands
Contact: +31 20 530 2010
Avg Cost: Price on request
You can't come to Amsterdam and not lunch at De Kas. The modern European restaurant is famed for experimenting with organic produce that they turn into delectable dishes. The concept of farm to table is quite apparent at De Kas where they promote clean eating and source their produce from their own greenhouse. As an added kicker, you can take a walk through their veggie and herb garden right before you sit down for a hearty lunch and watch the produce of the day being gathered. What's more, is that they cater to all kinds of people. So, vegans and vegetarians can make the most of their meal too.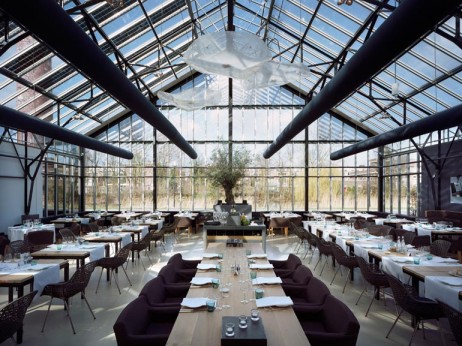 Image Credits: De Kas
Address: Kamerlingh Onneslaan 3, 1097 DE Amsterdam, Netherlands
Contact: +31 20 462 4562
Avg Cost: Price on request
The two-Michelin starred restaurant boasts of a gorgeous view of the city coupled with the best dinner you're sure to have during your stay there. Perched on the 23rd floor of Hotel Okura, the restaurant changes its menu every quarter to incorporate the finest seasonal produce available in the country. Taking diners on a comestible journey, the menu takes you through the local cheeses and veggies, and give you an authentic taste of the seafood. For the best culinary experience, opt for the Chef's Table to see, live and, of course, eat your way through a lovely spread.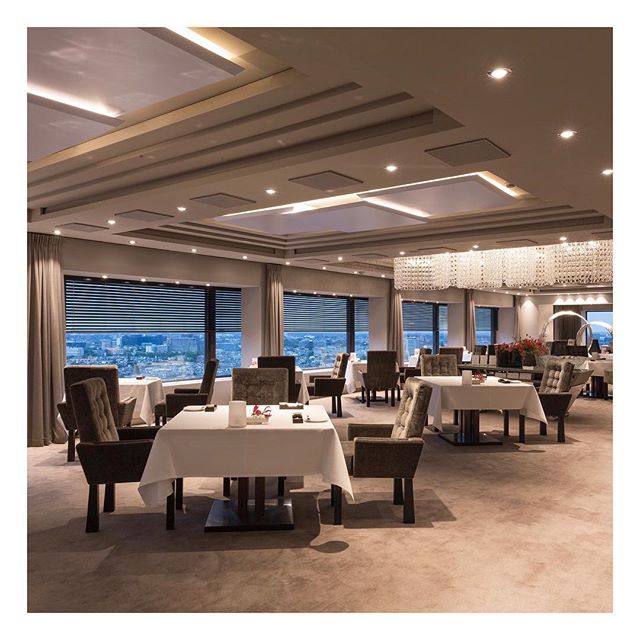 Image Credits: Ciel Bleu
Address: Ferdinand Bolstraat 333, 1072 LH Amsterdam, Netherlands
Contact: +31 20 678 7450
Avg Cost: Price on request
If you like your drinks with a side the prettiest view, then head down to Hotel Pulitzer's in-house bar. And it's not only the view that'll keep you coming back for more but also the drinks. Serving up classics with a modern twist is what the guys at Pulitzer excel at. And if you take a look at the menu, you will be greeted with the sight of drinks being introduced according to their flavour profiles and not by their ingredients. A little surprise never hurt anyone, did it?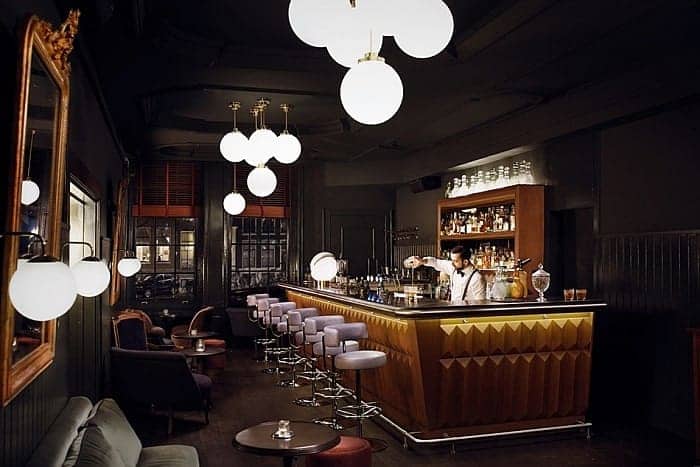 Image Credits: Hotel Pulitzer
Address: Prinsengracht 323, 1016 GZ Amsterdam, Netherlands
Contact: +31 20 523 5235
Avg Cost: Price on request
Things To Do
Being a tourist-friendly city, Amsterdam has a lot to offer to every kind of traveller. From exploring museums to taking long walks along its canals, or taking part in the activities happening in Dam square, you will be spoilt for choice.
One of the most unique aspects of Amsterdam is that it is dotted with canals as far as the eye can see. And with 165 canals in total, it's no wonder that it has been christened the 'Venice In The North'. Now, there are two great ways to explore the city. You could do it the way Dutchies do and cycle your way through cobbled streets that overlook the canals. But if you want, you can rent your own private boat and set sail. We would be lying if we said that the latter didn't sound enticing, especially when you can do that while having a three-course meal paired with a bottle of wine while taking in the sights. We'll place our bets on the boat.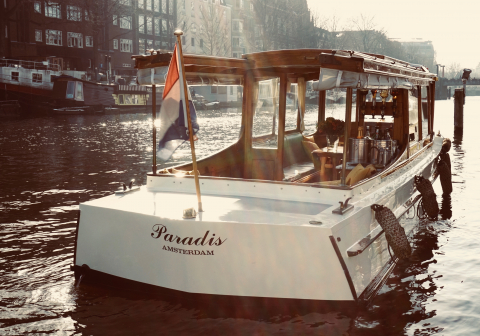 Image Credits: Private Boat Tours
Contact: +31 (0) 20 684 93 38
Avg Cost: Price on request
Amsterdam has been home to some of the world's most renowned artists and none of them is as famous as Vincent Van Gogh. The painter who was famously known for chopping off his ear spent most of his life painting in the city of Amsterdam. Having achieved fame posthumously, the post-Impressionist's paintings have been preserved in the Van Gogh Museum at Museumplein. Van Gogh's tragic life particularly influenced his paintings, and some of his well-known paintings like 'Sunflowers', 'Almond Blossom', 'Bedroom in Arles' are all on display at the museum. For an immersive experience that traced his story and gives you an insight into his paintings, you can opt for a private tour through the museum.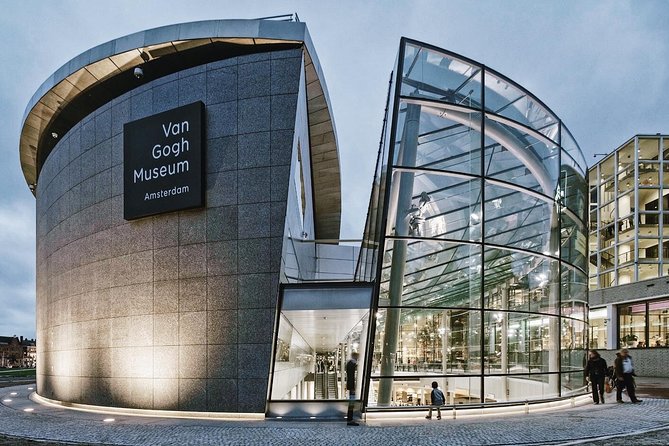 Image Credits: Viator
Address: Museumplein 6, 1071 DJ Amsterdam, Netherlands
Contact: +1 (855) 404-6032
Avg Cost: Price on request