On Friday, the U.S State Department issued a new travel advisory raising the India Travel Advisory to Level 2. The American travel advisories are maintained and issued by the State Department. They are divided into 4 colour-coded levels with 1(white) being the safest country to travel to and 4 (red) being the no-travel zone. These levels are based on the likelihood of life-threatening risks.
US Advises Its Citizens About Travelling To India
In 2022 itself, the US has by far issued 4 travel advisories for India.  Moreover, the travel advisory stated that one of the fastest-growing crimes in India is rape. Further added that sexual assault and other violent crimes have happened in many tourist sites.
It advised its citizens to exercise caution if they visit India because of crime and terrorism. Citizens are urged not to travel to Jammu and Kashmir except for eastern Ladakh and Leh. Due to the possibility of armed conflict, they also warned people to stay away from the area within 10 kilometres of the India-Pakistan border.  All these reasons lead the US to shift India to yellow-coloured level two of travel advisory.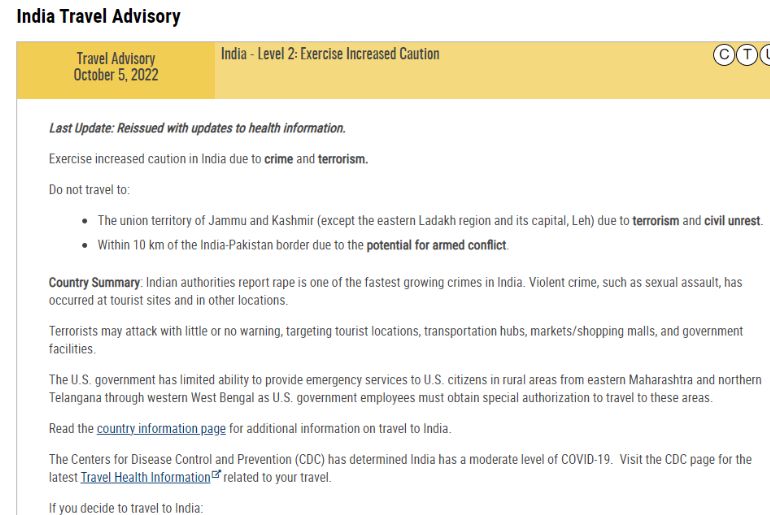 Also Read: Visa Rules Change For Travellers Coming To India & It is Not Good News
Countries In India's Neighbourhood
The USA advises its citizens to rethink their decisions about travelling to a country by categorising the countries. Level 2 and Level 3 travel advisories have occasionally been issued for India. It was categorised as Level 4 in April 2021, at the height of the COVID-19 crisis. A day before, the State Department downgraded Pakistan to Level 3 and urged its nationals to rethink their travel plans, particularly to its conflict-prone areas.
In India's neighbourhood, Pakistan and China are classified as level 3. Meanwhile, Afghanistan and Myanmar are ranked in the level 4 category. Bhutan is classified as level 1, whereas Bangladesh, Nepal, the Maldives, and Sri Lanka are classified as level 2. The USA urges its citizens to exercise caution when travelling to these countries.
These Travel Advisories are Level 4: Do Not Travel.
⛔ Afghanistan
⛔ Belarus
⛔ Burkina Faso
⛔ Burma
⛔ CAR
⛔ Haiti
⛔ Iran
⛔ Iraq
⛔ Libya
⛔ Mali
⛔ N. Korea
⛔ Russia
⛔ Somalia
⛔ S. Sudan
⛔ Sudan
⛔ Syria
⛔ Tonga
⛔ Ukraine
⛔ Venezuela
⛔ Yemenhttps://t.co/KzsOmsWS8H pic.twitter.com/e6e1Rxikxf

— Travel – State Dept (@TravelGov) October 5, 2022
Also Read: 5 Famous Countries That Are Perfect For Vegetarian Travellers
Do you agree with this? What do you think about this? Let us know in the comments below.
Cover Image Courtesy: Media Library