There are two types of people in the world- one who easily gives up hopes and leaves the battlefield, and then there are others who fight the battle and emerge as a winner. And Amna Al Habbad is one such person who fought her battle and became an inspiration. Being a former journalist and an Olympic weightlifter, Amna is touted to be the first hijabi athlete to compete in Crossfit and Olympic weightlifting in the Middle East. Her story is a dose of inspiration that we all need to hear today. In fact, to empower women and make their dreams come true, Vatika- GCC's leading natural hair care brand has launched a campaign called- 'Vatika Voices'.
Through Vatika Voices, we aim to give that much-needed push to the girls of GCC. We aim to help women achieve their aspirations and shape society with their inspiring ideas and creations. Vatika Voices is a campaign that will help girls overcome all the hindrances and become an inspiration for the rest. 
In the past, Vatika has also worked with popular and powerful Arab Celebrities and Influencers like Haifa Beseisso, Rima Zahran, Jood Aziz, Tamara Farra, Renee Farah and Yara Aziz and collectively, the brand has celebrated these powerful women and their success stories. And now Vatika proudly presents to you the story of Amna Al Haddad who made history as the first Emirati and Arab female to compete in the Reebok Crossfit Games Open in 2012. And in 2016, she represented the UAE at the Asian Championships. 
Growing Up And Battling Depression
While growing up, Amna did not spend her childhood in gyms- she did not aim to become an athlete- she was someone who was suffering from her issues. She was 19 when she was diagnosed with depression. Her battle with depression was not a simple one- she overslept, over-ate and had frequent suicidal thoughts. The anti-depressants made her lethargic; she felt nothing but hopeless. And to divert her attention, she went for a walk. And that walk changed her life. Speaking about her battle with depression, and her journey, from there on, Amna, in an interview with Design Museum, said,
"One day, I decided to go for a walk to take charge of my physical and mental health, and that walk changed the course of my life. I joined a gym to exercise and started to lift weights as part of my routine. I never have felt so empowered and strong! My body did things that I never knew it could. The more I got into it, the more I wanted to pursue something more meaningful, to achieve something bigger than myself. So, I stumbled across Crossfit, where I had my first experience as an athlete."
It was at Crossfit, where Amna managed to make several stereotypes and barriers and represented women in sports, that were known to men only.
Fitness Journey And Cross Fit 
That one physical act made her who she is today. Her journey towards weightlifting was not as flawless as it sounds. Right from patriarchal society putting her down for choosing a masculine sport to many questioning her womanhood, she heard it all. However, what made her achieve her goal was that she chose to dismiss all the negativity that came her way. Speaking about it in an interview with Scene Arabia, she said,
"I did a very masculine sport. But actually, I became a lot more feminine as a result of the sport. You are expected to be in a certain way, behave in a certain way, speak in a certain way. And if you take a different route, you are seen as a black sheep, a rebel, even though that is not your intention."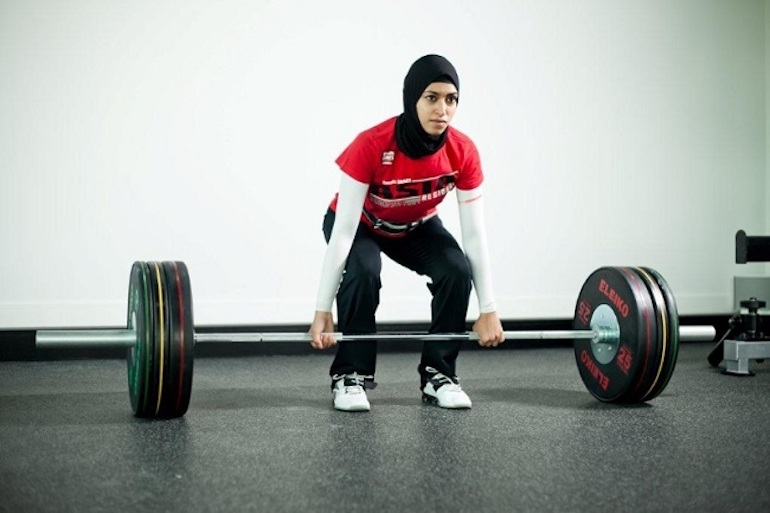 At every turn, she pushed her limits, and that empowered her to become an inspiration to many. And once she had her goals set, she joined CrossFit and started taking part in the events. Initially, she was the only Hijabi and the only Arab woman to participate in the UAE events organised by the expat community. Her focus on improving herself and doing better made her enter the 2012 Asia Regionals, the only Arab woman at the time. In 2013, she made history by becoming the first female weightlifter from the Gulf to compete in the hijab.
Quitting Full Time Job And Cross Fit To Take Up Weightlifting
Amna soon left her CrossFit and a full-time job and gave it her all to excel in weightlifting. Speaking about her emotional and physical journey, she said,
"The weight is on the ground and then it's over your head. There's a split second that's just blank. You don't hear anything, you don't see anything, you don't feel anything. It is no easy task to heal your own sense of self-worth, but it comes just a little easier when you can lift a gigantic weighed metal bar over your head."
Weighlifting is the slowest event and takes only six seconds to perform, but athletes train for years to perform something that's unattainable by many. Amna gave her heart and soul to it, and finally, the time had arrived when she was going to take part in Olympics.
Her Journey And Struggle To Reach The Olympics
In 2015, Amna was all by herself in the US. She was not only pressured financially and physically but was also in emotional turmoil. She broke down and went back on anti-depressants. During that period, she found out that she had a severe disc injury, which would lead to her retirement, but she was not ready to give up just yet. That moment, when she thought of giving up, an invite saved her. She was invited to join the UAE national team gearing up for the Olympics.
This time Amna only focused on healing herself and not breaking any stereotypes. In an interview with Scene Arabia, she recalls, saying herself, 
"I thought to myself, 'Amna, listen, you have given up so much. You've left your home, your country, and your family to pursue this one goal. You quit your job to pursue this one goal. This is not the time to give up. It's the time to fight. Give it this one last shot. You never, ever, ever want to find yourself asking what if?'"
She then somehow made her way back to the UAE, got her necessary treatment is done and made it to the qualifiers round for the Olympics. However, Amna could not join her teammates in Rio. However, she never dreamt of defying odds or breaking stereotypes; she aimed to heal herself, and that goal was achieved.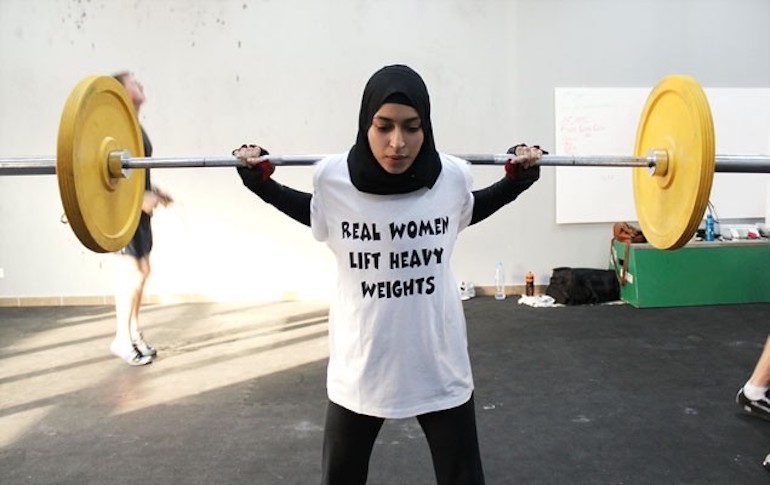 Retirement Because Of Injury
Her disc injury leads to her retirement at the age of 27. And ever since then, she has been an epitome of inspiration for many. Yes, she was the first Hijabi Athlete, but the way she fought with her inner demons and healed herself inspires everyone to date. 
Life After Sports, Awards And Nike Collab
After her athletic career ended, Amna has been an active advocate of mental health. She also became the first UAE national to receive the Rosalyn Carter Journalism Fellowship for Mental Illness. And now, she is on her way to inspire people, especially women, to make their own choices of healing. She says in an interview with Naseba,
"In a society that makes no space for us to express, experiment, and heal, we must create it ourselves."
And this is not the end for her Amna has been featured in three global Nike Campaigns- Inner Strength series documentary, which garnered over 10 million views. Besides this, she won the Femina Middle East "Unstoppable" Award in 2016. And also worked with Nike on the Nike Pro Hijab line. There's no stopping for Amna, and her piece of advice to the women following her footsteps is,
"Keep fighting for your goals, and know for a fact you will be a rejected a lot, but don't let that stop you."
Vatika and Curly Tales are so proud of Amna Al Haddad. Women like her, time and again, prove that gender doesn't matter- if your willing to do something is strong, you will attain it.
*This article is written with inputs from Scene Arabia, Design Museum and Naseba.