Is the backpacker in you craving a solo international trip on a shoestring budget? If yes, then Vietnam with its dewy mountains, long stretches of rice fields, and rolling waterfalls, is the perfect budget-friendly travel destination for you. Vietnam has also recently been listed in the world's 10 most incredible destinations which are surprisingly cheap. Recently, Neha from Curly Tales went on a 5-day solo trip to Vietnam and explored the beauty of it all – and she loved it! So here's everything you need to know for a solo Vietnam trip from India.
How To Reach
Vietnam lies in the East of the Indochina peninsula and is easily reachable by air. The distance between India and Vietnam is around 3194 kilometers and the flight time is about 4 hours. Neha from Curly Tales had a great flight experience with Vietjet who had organized some of the best evenings to promote Vietnamese Tourism. The flight was a smooth ride – all thanks to Vietjet's SkyBoss Service. Neha's flight experience with Vietjet involved priority check-in, security access to the Luxury Lounge, Complimentary food & beverages on board, and much more. You can travel to Vietnam and the Vietnamese cities of Hanoi, Ho Chi Minh, Da Nang, and Phu Quoc via Vietjet through a direct flight from Mumbai, New Delhi, Ahmedabad, Bangalore, and Hyderabad.
Visa
Indian citizens get visas on arrival in Vietnam. However, you do have to apply for it online beforehand. Also, carrying a passport-size photo is a must. The whole process of applying for the visa to stamping costs around ₹3000.
Currency And Sim Card
Two important things to note once you land in Vietnam –
Get your currency exchange sorted. The currency used in Vietnam is the Vietnamese Dong. The exchange rate as of 2022 for 1 Indian Rupee is 296 Vietnamese Dong (1 INR = 293.647 VND).
Travel tip – Carry USD over INR to exchange the currency for Vietnamese Dong as they may not always have INR available.
Get a Vietnamese sim card. It might cost you around ₹700.
How To Commute Within Vietnam?
Once you arrive in Vietnam, you can take domestic flights to travel across the different cities there. You can also book scooters which cost around ₹400-₹500 per day. To book cabs and bikes you can use the Grab cab app.
What To Do?
The powdery white-sand beaches, clear turquoise waters, and the many quaint hamlets make Vietnam a scenic paradise. The land of the "Ascending Dragon," has a lot in store for tourists.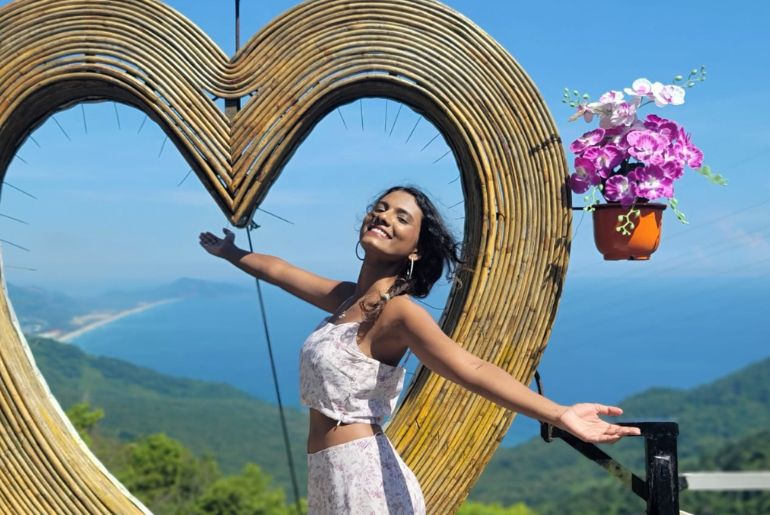 Also read: 5 Stunning Infinity Pool Properties In Vietnam To Book Under ₹1500
Explore Hoi An
Hoi An, a town rich in history and architecture, holds its shine with fancy lanterns. This UNESCO Cultural heritage site is best known for its simplicity. Hoi An is located at a distance of 124 km to the south of Hue and takes around 19 hours by road. However, the route is a delight to travel. With narrow canals, pristine, blue, and clear beaches, and friendly locals, Hoi An totally ups the charm of Vietnam.
Solo traveller Neha from Curly Tales expressed that she was pleasantly surprised by its clean surroundings and the availability of varied vegetarian food.
Some places you can visit in Hoi An are Vin Wonderland, Cam Thanh or the Bamboo Boat Village, and Cam Thaou Beach.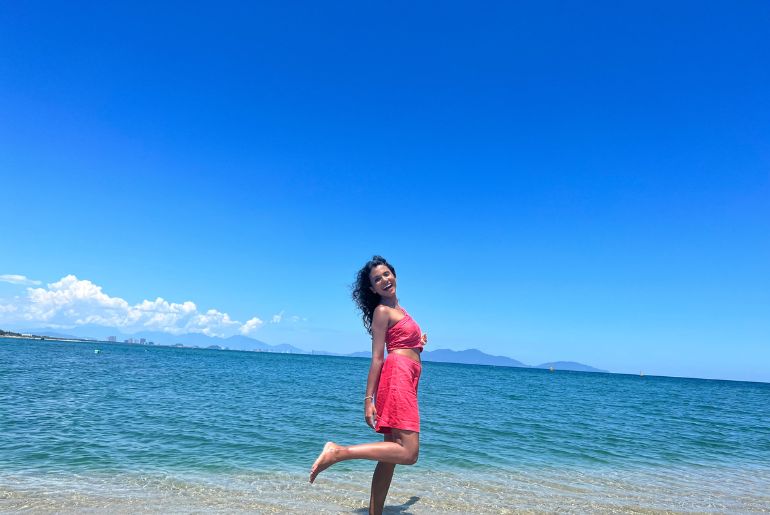 Visit Hoi An Ancient Town
Located about a kilometer away from the main city, Hoi An Ancient town used to be a small-scale trading port. The best way to explore the town is to enjoy its culture and heritage during the day and witness the well-lit streets with lanterns and lively restaurants.
Visit Cua Dai Beach
Cua Dai beach in Hoi An is one of the most beautiful beaches in Vietnam. With soft white sand and blue warm waters, this beach literally translates to 'Big Sea Mouth.' An interesting fact about this beach is that it has been rated as Asia's most beautiful beach by TripAdvisor. However, due to erosion, the tourist influx to the beach has lessened in recent years. But that shouldn't stop you from exploring its beauty. Totally a must-visit in Hoi An.
View this post on Instagram
Try Vietnamese Street Food
Want to engulf the best of Vietnamese culture? Well, exploring its street food is the first step to it! And the Vietnamese market has a ton of those – from spring rolls, and Banh mi, to Vietnamese ice cream, there's a lot for you. There are also numerous vegetarian options here. So just have fun and eat your heart out!
Nightlife
The nightlife at Hoi An is very happening, and you will be welcomed by loud music and dazzling clubs. The drinks are quite cheap, so do not miss out on getting happy and high!
Also read: 5 Unique Kinds Of Coffee In Vietnam All Coffee-Lovers HAVE TO Try!
Where To Stay?
Solo traveller Neha from Curly Tales chose ALMANITY WELLNESS RESORT as her stay in Hoi An. The resort is located in the heart of the city and offers all the comfort and luxury. However, you can always go for budget-friendly hotels in the city. There are many budget hotels available at Hoi An with rooms starting at just ₹400 per night.
Is Vietnam Safe For A Solo Traveller
Yes, it is! If you are a solo traveller and are apprehensive about safety in Vietnam, then let us tell you, there's nothing to worry about! Solo Traveller Neha from Curly Tales expressed that it was safe to walk around in the streets even late at night. And fun too!
View this post on Instagram
Now that you have an idea about planning a trip to Vietnam and exploring the international tourist destination, when are you planning one? Do tell us in the comments section!
Also, to watch the whole video of 'Travelling from India to Vietnam', click on the Curly Tales YouTube video below!