Chef Vikas Khanna started his business in his grandmother's kitchen. And today not only does he own a Michelin Star restaurant in New York, but he has been actively organising food drives in India to come to the rescue of those in need. He shares his story about his journey, his inspirations and the lessons that he has learnt from the pandemic.
1. A boy from Amritsar went on to become a Masterchef in America. Your journey has been both inspirational and fascinating.
I started off first in Amritsar in my grandmother's small kitchen. We were living quite close to Harmandir Sahab (Golden Temple) which I benefitted from greatly. Every day, million of people were fed there. So I think that became my reference for cooking and faith and the feeling of togetherness that cooking gives you. After that I studied and then started my business with my mother and grandmother.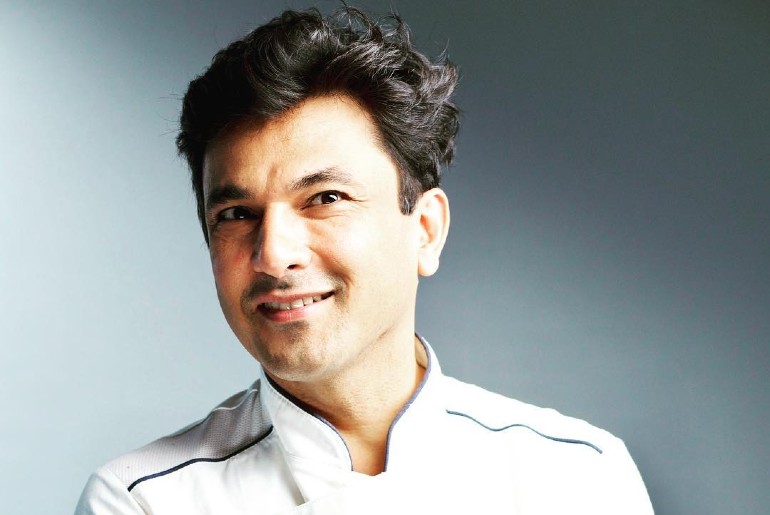 What's known as banquets were called Kitty Party houses in Amritsar. There, we would serve Bhature, Paneer Pakoda, Kulcha etc. My former training took place at Welcome Group School in Manipal, which is considered to be one of the top colleges in the world. I graduated from there in 1994 after I was formerly trained in continental and western-style cooking. Along with that I learnt all the fundamentals of cooking. Everything related to kitchen, restaurant and hotel theories. After that, I got the opportunity to work in multiple hotels. I started with The Taj in 1991 and from there on, went on to working at the Welcome Group & Sea Rock Sheraton, Bombay, The Oberoi (1993) in Kathmandu, and then post that at Bombay's Leela Kempinski in 1994, which is now known as the Leela Hotel.
2. Ups and downs are an intrinsic part of life. Are there any key lessons that you learned earlier which you continue to adhere to even today and they help you get through most crisis-like situation?

In 2000, I moved to America. That's where I started everything from scratch. It's beautiful to go through these ups and downs in life. What you learn from opening up a small business is not to give up hope! You have very little place for an error in small businesses, the margin for profits are really small and there's always a sense of positivity about the fact that people who are a part of it now and are experiencing it, will spread the word. I think this became the most important part of my formal training at home, in college, in the hotel and in America, where I started from the bottom. From dishwashing, cleaning houses, everything and then to being the first Indian to be awarded a Michelin Star, which in our industry is big as an Oscar. But I'm still thankful for the kitchen back home which inspired me.

3. It's no wonder that you have been doing such good work. Your learnings from the community kitchen have really helped you.

Absolutely. I think learning to cook in community kitchens has taught me about the power of food and also the magnitude of cooking because there you have to make daal or rice or kheer and even knead flour for over a thousand people. By now, Harmandir Sahab must've gotten machines too but when we worked there, we did everything by hand and we were trained for it; and that was my motivation to do big events in banquet or event the Haji Ali feast for Eid.
Also read: From Gurudwaras To Restaurants, This Is How Delhiites Are Rescuing The City From Covid-19
4. You hosted the world's largest Eid feast that fed over 2 lakh people. It was quite a success. How did it all come together?

I think that's one of the biggest celebrations we did for the Feed India campaign, which I've been running. It was a very emotional moment for me since I was in America and I had to arrange so much in Bombay. I was glad to partner with a lot of people who came forward for this. Maxim Collabs did all the logistics of the event because it was a huge event. Two lakh meals is not a small amount of ration in terms of tea, drinks, fruits, vegetables, dal, rice. We decided to do an event where everything was laid out on the table and people could come forth to take as much as they wanted. Thanks to that, so many came with bags and picked up as much ration, as many fruits and vegetables, and whatever they needed. That moment was very important for me. When they shared the video with me, I stayed up the entire night because I was very proud.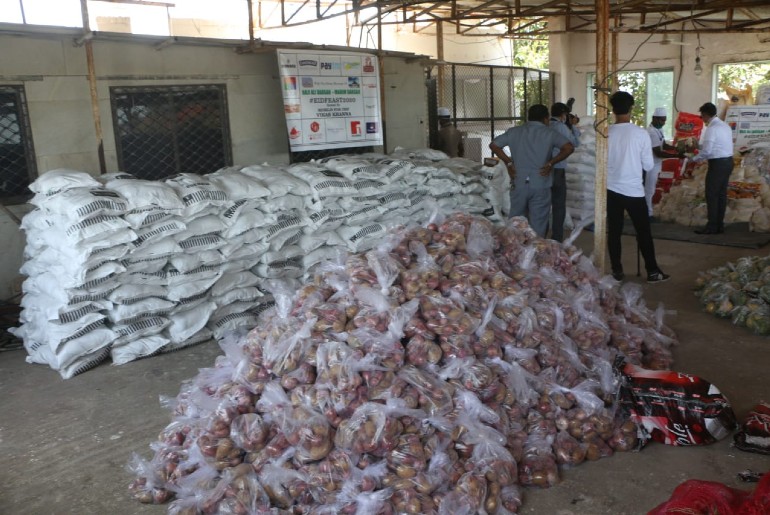 5. Is there a reason that you picked Eid as the day to host a large feast. Was there a larger message that you were wanting to express?
The month of Ramadan/Eid plays a very significant role in my life. In 1992, while working at Sea Rock Sheraton, Mumbai I was rescued by a Muslim woman. A man had given me shelter in his house and the lady of the house insisted to keep me home till the riots subsided. I stayed with them for two days. I was 21-years-old and I was so shocked at that time because I saw things burning in front of me. I didn't remember much but I did recollect a few moments. She was protecting me throughout. She had two daughters at home too whom she asked to treat me like their brother. Her son-in-law dropped me off to Ghatkopar, I remember. My brother stayed there at that time. I remember glimpses of everything. But one of the most important things that I remember is that 'today a brave woman gave birth to a new me'. She argued with everyone at home to protect me. I can still remember what she said, 'if anything happened to him outside then I won't be able to forgive myself.' Every year during Ramadan, I fast for a day and that's when I thought I'll feed the entire city. I was very emotional about that  and so thankful for her beauty and bravery.
6. What were your  thoughts initially about feeding such a large crowd and choosing Haji Ali Dargah for it?

We decided to do such a huge festival for Eid because currently, people from around the wold are full of pain, everyone is uncertain and is scared about what's going on in the world. So we thought we would do something that would give a message of hope and solidarity. We planned the largest Eid feast at Haji Ali, so that anyone could come and pick up food without any discrimination. I'm very proud that it was a beautiful heartwarming moment and to be able to tell the world the message of India that it stands with each other.
Also read: These Iconic Landmarks Of Mumbai Have Been Turned Into Quarantine Centres
7. Would you like to share a bit more about your Feed India campaign and throw some light on the initiative that it is?

Our Feed India campaign that has been going on since April 1. On June 10, Feed India will be organising another event in Delhi NCR where over 2 million meals will be served as part of the world's biggest food drive. It is meant to benefit all those in need. There will absolutely be no discrimination. People with disabilities, transgenders, sex workers, AIDS patients, people from abandoned parent homes, orphanages, leprosy centres; anyone and everyone can come. It will take place at Ghaziabad Cantonment, with the help of National Disaster Response Force (NDRF). It is headed by Satyaji and it is with his blessings, support and wishes, we're able to do such a big events. There, we also have a very special guest of honor, Laxmi Narayan Tripathi, for whom I have a lot of respect. It will be a beautiful event and I'm very proud.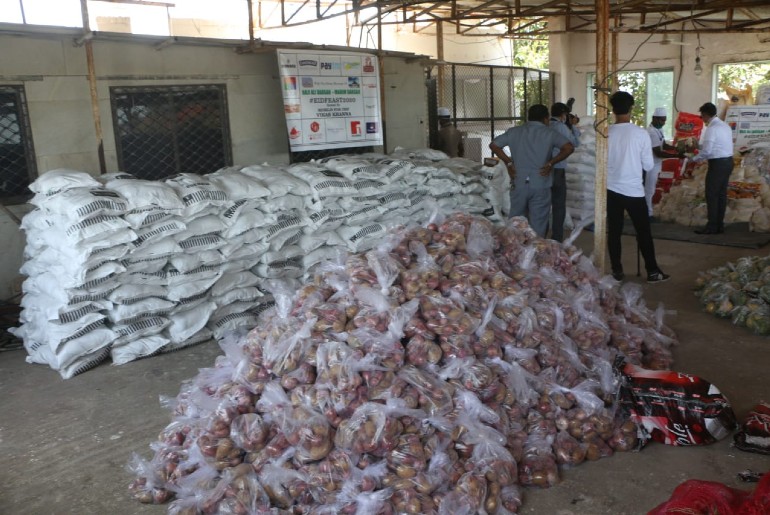 We were part of such a big event and my contribution to this is very small. There are many people connected to this, many brands and corporations are involved here as well, who decided to come forth and support communities like this. We are really proud that we are standing up for something like this. Bless me from wherever you are watching me so that we can find success in this and get food for those who need it the most during these times. I hope we can support them in any possible way we can.
8. A lot of people are blessing you for this kind act, is there any special moment or any special gesture from the people, which touched your heart?
I remember calling up my mom on April 11. I still remember, that's when a few deliveries of mine were lost from the ration and I couldn't understand what was happening, No one was giving me any status updates on how things were getting done. So, I got frustrated in a way and I thought it'd be completely impossible to do this because of the entire lockdown situation, with all the limitations of our access, me being in America and working, I thought we wouldn't be able to do this drive.
So I told her I couldn't do this since it was very difficult, that's when she told me that she gave birth to a soldier and 'you've got so much training from this place. Today it's your duty. You're not doing any favour to anyone, it's your duty to stand because that's what your training was about and not about minor problems. I don't want my son to give me excuses and I only want you to focus on Feed India.' Those were my mother's words, Feed India, that's when the initiative was named, Feed India and after that day I thought to live up to my mother's words. 
9. Chef, it's heartwarming to see your love for your country and you have become such a proud representative of Indian culture in the West. You started your own restaurant in the USA. Can you tell us what helped you to crack the western market.
It was thanks to my mother. I wanted a moral compass which my mother set for me and I'm glad that she did. At this time, all restaurants are shut, including my catering companies in America, everything is shut. It's a dark time for the industry but we know we'll come back. In Dubai, I have a huge restaurant which is shut right now and will run only when permitted. I just want to tell people, after all those losses, I can still earn again. But if I can save one life right now during a time like this then I think that'd be much bigger than any award or accolade received. Our entire focus is on the current situation and I hope that we can reach more people. 
Also read: New York Subway Shuts For The First Time In 115 Years
10. Tell us how things are in New York? Especially the restaurant business. Has it been hit badly during the pandemic? 
I've been noticing for a few weeks now, how the world is changing. But being in New York which is the center of COVID-19 epidemic, you are losing friends every day. Sometimes you get messages from friends or from people who worked with you, or from aunts and uncles about those who have tested positive; are in the hospital and who couldn't make it. I'm still living through the pain. I was close to a few of them but human spirit has a lot of resilience and I think, not just the restaurant industry, others too will come back. It will take time, we will have to reinvent ourselves, but this will come back and I'm hoping for the best of the future. The best is yet to come and we're going to focus on that. But of course, through this pandemic, we've also understood the priorities of life and I hope we continue to remember what we learn from these hard times and let's stay positive because that's the only way to move forward!