We all must have at least once in our childhood thought of flying like a bird with other birds in the sky. Well, that happens to be so imaginary but not for this man in a viral video. A video went viral on the internet and has left all the views amused as a man is seen paragliding while a black vulture decides to join him.
Paragliding With Vulture
 The internet was taken by a storm as a video of a man paragliding with a black vulture surfaced. In the video, at a height of thousands of feet, a black vulture can be seen calmly flying with a paraglider. The bird also adjusts its flight by moving its tail may be to stay at the same level as the paraglider. Later the bird is seen sitting on the paraglider's shoes while the man caresses it. As the video ends, you can see the black vulture biting the shoes of the man. The video has by far garnered more than 15.4 million views. 
Paraglider meets a black vulture. 😎 pic.twitter.com/ogIsUvg87Y

— Paul.Nelson (@batsy09) June 5, 2022
Also Read: Haldiram's Sparks Twitter Outrage Over Urdu Description In Navratri Snack Packet
Twitter Users Amazed At The Sight
 Many Twitter users expressed how amazing they felt the video was. Some also said they were jealous of the man who got to experience this rarity. Some spoke about how calm the vulture was. One Twitter user pointed out that there actually is an activity named 'ParaHawking' where one can paraglide with falconry. He further explained that in such activities, the birds are well trained to fly and ride with the paragliders.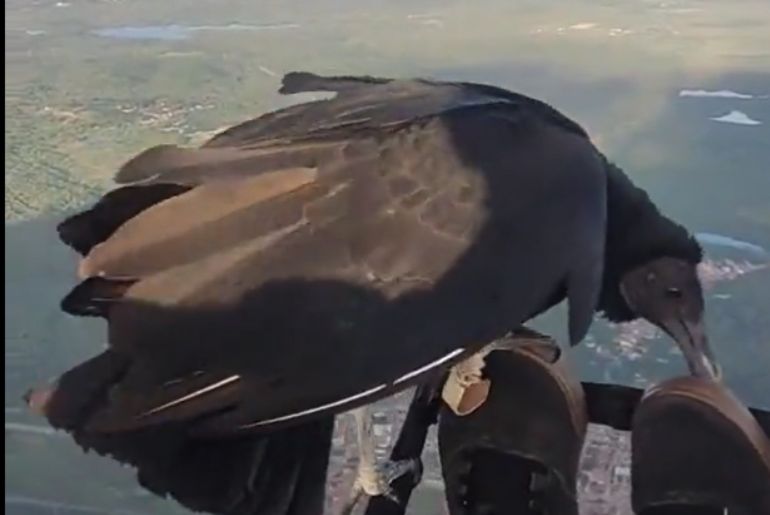 Also Read: Viral Video Of Haunted Rickshaw Running By Itself Is Leaving Netizens In Shock