Jhabua, a hidden jewel in Madhya Pradesh, is a magnificent art district inhabited by the skilled tribal communities, Bhil and Bhilala. The pristinely beautiful district dotted by taad and mahua trees sits between the Mahi river on one side and the Narmada on the other. Located around 150 km from Indore, Jhabua will astound you with its rich culture, inventiveness, and artistic expression through the bead jewelry.
The women of Jhabua and the adjoining Alirajpur district are trying to carve out niche through this beautiful artform of beaded jewelry, an art style that had originated around 5000 years ago. The residents in these districts specialize in making astonishing jewelry using beads of various sizes, shapes, and colours to create fashionable bracelets, necklaces, and other jewelry pieces. The charm of the bead jewelry art can be best experienced only when witnessed with own eyes and adorned with love.
Visit Jhabua And Alirajpur To Experience The Beauty Of Bead Jewellery Art
A visit to the districts of Jhabua and Alirajpur can be a highly immersive experience as locals here are very interactive. You can hear interesting tales of their legacy, culture and various crafts they practice like bead jewelry and silver jewelry making from the locals and even hoard a few pieces of their jewelry to support them. At Jhabua, the beadwork runs like a hierarchy for the women in the family structure. This tradition is passed down from generation to generation. The designs of the jewelry pieces depict different traditional occupations. New generations are also adding modern touches to them to keep the ancestral art alive. 
The different types of bead jewellery designs include poli necklace, patli necklace, galsan necklace and jhalar necklace, among others. Most of these pieces of jewelry are available for sale at exhibitions and online portals, or sometimes they can be purchased directly from the houses of the artisans. Another specialty of bead jewellery is that the designs are not made on paper and interestingly, they are well crafted into the head of the creator. To know more, visit https://www.mptourism.com/destination-alirajpur.php
What More The Place Has To Offer
Spend A Cultural Everything with The Bhils
While your stay at Jhabua, a visit to the vicinity will definitely a good idea as you will experience the aesthetic wall hangings, dolls, and bamboo handicrafts adorn the charming tribal dwellings of the Bhils. The indigenous people also play bamboo flutes and dress in their traditional attires and jewelry made of silver and beads for their spectacular cultural performances, that can be arranged at request. Thus, for any traveller who appreciates art and rural culture, the villages can be a real treat.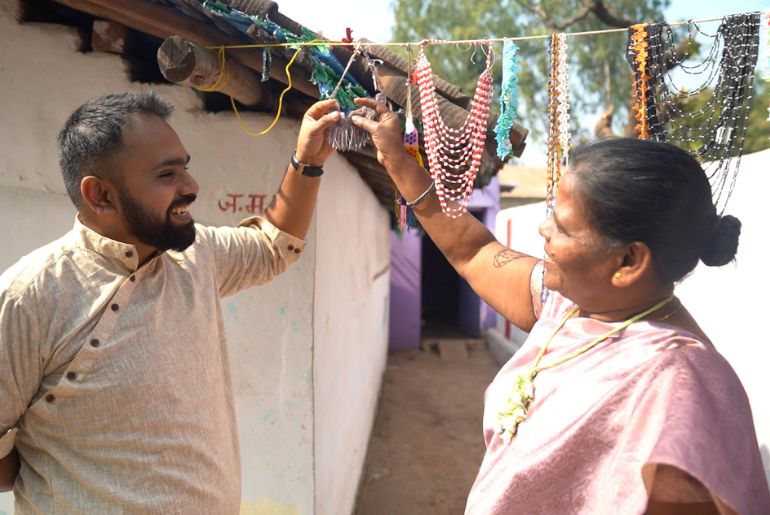 The Bhagoria Festival Of The Bhils
Bhagoriya, a jubilant harvest festival of local tribes in Jhabua and Alirajpur is organized around Holi Festival. This 7-day festival organised in a different village each day gives a sneak peak of the vibrant tribal life. The villagers clad up in beautiful antique silver jewelry and often wearing clothes of similar colors and pattern truly represents the vibrancy of spring season and Holi the festival of colors.  It is one of the best times to visit Jhabua as to soak in this unique cultural fest.
Explore Devjhiri And Relish Dal Paniya
Devjhiri situated at 8 kms from jhabua has an ancient temple and perennial spring or Jhiri after which the place is named. When in Jhabua, one must also try the iconic dish of the village, Dal Paniya which is essentially a corn flour bread roasted inside Palash tree leaves. The kadaknath chicken native breed of Jhabua is very popular for its believed health benefits. 
How To Reach:
Meghnagar is the nearest Railway station to Jhabua and Alirajpur. 

Jhabua is around 3 hours drive and Alirajpur is approximately 4.5 hours drive away from Indore. 
To know more about Jhabua and its art forms, visit https://www.mptourism.com/bead-jewellery-appealing-art.html