When someone talks about India's capital city, Delhi, what comes to mind? India Gate, delicious street food, Sarojini Nagar market, Chowk, etc. Well, what if I told you this beautiful city has a colourful hidden gem that you must explore? Our Editor-in-Chief Kamiya Jani loves her home town, and this time she explored India's first-ever open-air and colourful Lodhi art district. Here is how Asian Paints The Colorful Walls Of India Episode 2 went.
Lodhi Art District In Delhi
The Lodhi art district in Delhi is known as India's first-ever open-air art district. The district is full of pretty and colourful art murals. It houses more than 60 art murals and all of them have a unique story to tell. The artwork was created by artists from over 25 different countries, including Indian artists.
Start India Foundation, Asian Paints, CPWD, the Ministry of Urban Development, as well as other institutional partners and the community at large, supported the creation of this art district. Asian Paints has been working with the Start India Foundation on the creation of such art districts for a decade now. We actually felt colours, language, and visuals coming to life as we walked through this neighbourhood in Delhi. 
Also Read: Living The Luxe Life! We Were Stunned By These Uber-Luxurious Experiences In 2022
Every Wall Has A Beautiful Story To Tell In The Most Artistic Form 
The people who live in this neighbourhood take pride in living here. It has given a completely new identity to this place. We also met Arjun Bahl, co-founder of the Start India Foundation, who shared the idea behind this initiative with us. He said that they wanted to pull art out of white cube spaces and museums and put it out in the open in public spaces. In the last 7-8 odd years, they have created six districts across India.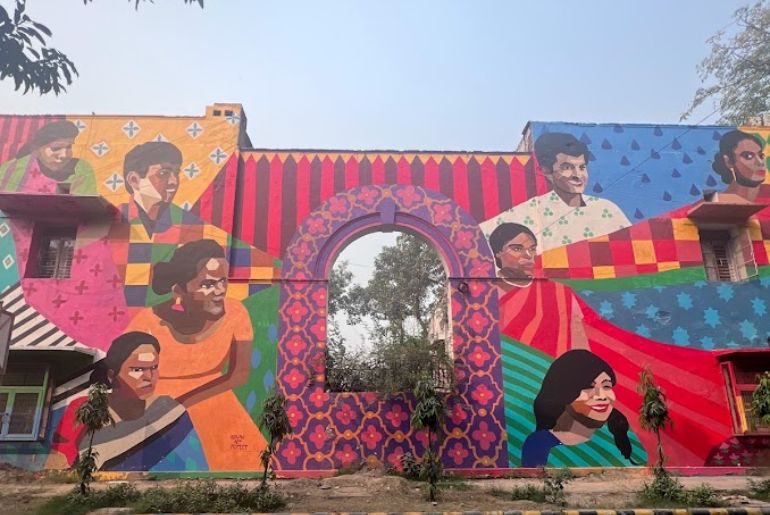 This is one of Asian Paints' corporate efforts towards beautifying the country, one city and one wall at a time. We came across a mural that was painted by a Polish artist named Nespoon. The art was inspired by doily or crochet making, and the artist gave it a touch of urban contemporary. Another cool mural was by a German artist named Bond Truluv, and it was an AR-enabled wall. 
Every wall in this Lodhi art district has a very unique story to tell, be it about our culture, our history, the locals, or life facts. Many Bollywood movies like Fanaa, Chak de India, Love Aaj Kal 2, and Fukrey were shot here. 
View this post on Instagram
Also read: Solo Female Traveller: We Explored These Breathtaking Destinations In 2022
Have you watched the video on our channel yet? Go and watch now!
Cover Image Courtesy: