Traveling with an infant is not a great decision- or so we thought. Traveling with kids is often looked upon as tiring and something that requires extra planning. Well, turns out this is only a myth. My name is Sreenivas Koushik and I traveled to Georgia with my wife and my 7-month old baby.
Our Infant-Moon
As a couple, my wife and I have visited many countries and this time, we picked Georgia! And what was even more exciting? This was our first trip with our baby and I termed it our- Infant-moon. At first, when we discussed the idea with our family, we received a very predictable reaction. People around us instantly ditched the idea, advising us on how uncomfortable the baby would get in a new place, change of weather, water, etc. I realized that people think it is comfortable or safe to travel with kids only after they turn 2 or 3. But, trust me this is nothing but a myth!
Although everyone discouraged us and were against the idea, we defied everyone's opinion and debunked the myths – not to prove them wrong, but to explore a new country, and make memories for a lifetime.
Why Georgia?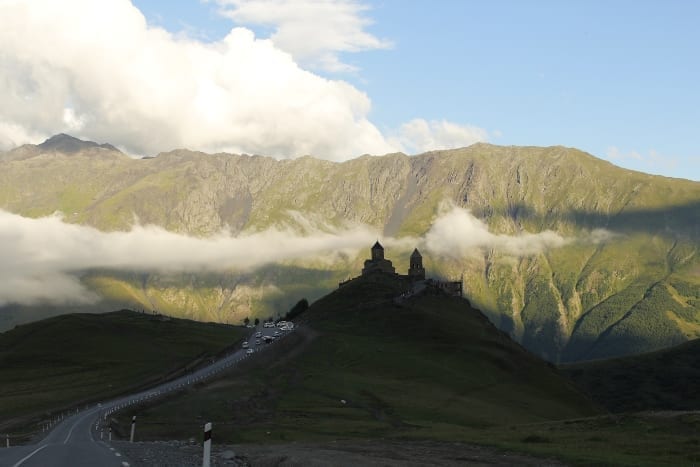 Being our first trip with baby S we wanted to make it extra-special. With that in mind, we started scouting for places that were under 5 hours from Dubai and wasn't too commercial. Most importantly, we were particular about the temperature- so baby S was comfortable. That's how we stumble on a land so charming, and picturesque, just three and a half hours from Dubai. Georgia met all the above requirements and there was no looking back.
Traveling With An Infant- Challenges
Firstly, traveling with a baby means:
More time and privacy
Easy commute within the city
Stroller-friendly places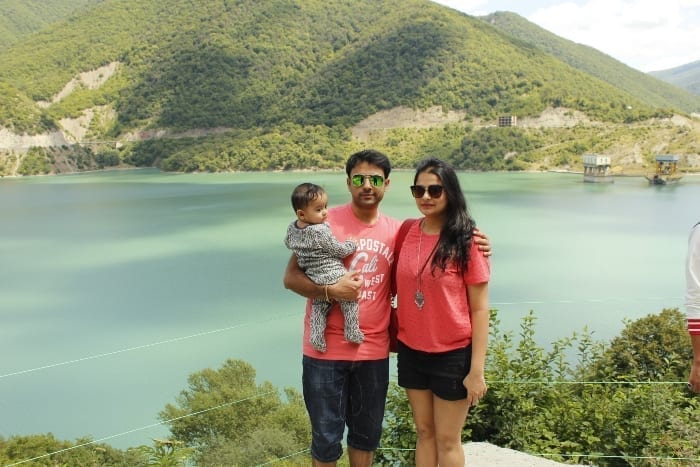 We began planning our trip with these in mind. For starters, we steered away from group tours and customized a package that we could follow at leisure. Georgia is gorgeous in summer and there's plenty of sunlight until 9 pm. Besides, all the sightseeing places are also open until late. We used this to our advantage. Every morning, we started a little late so that baby S could rest well and finish his meals on time. Point one- sorted!
As for commuting within the city, we hired a big vehicle for the entire tour, which also included an English speaking local tour guide cum driver. Our stroller fit in straight away in the vehicle, without having to fold and unfold. P0int two-sorted
Most of the sightseeing places allow strollers. In places where strollers were not permitted, we hired a buggy car so we could get a feel of the place without walking too much. And most importantly, we started  a little late every morning so baby S could rest well. We also bought travel insurance as a backup, in case of a medical emergency. Point three- sorted!
Stay Options In Georgia
Once you have a baby, everything is decided with him/her on the mind. We followed the same! Hotels were not an option for us, hence we booked a hotel apartment. This also ensured baby S had home-cooked food and we did not have to worry about finding appropriate food for him. With this in mind, we picked Tornike's Hotel Apartment, located at the center of the capital city and close to all the major attractions. The cost came up to AED 50- AED 70 per day and I would highly recommend it if you're looking for a home-away-from-home and of course if you're traveling with a baby.
Detailed Itinerary
Georgia is sandwiched between Russia, Turkey, and Iran, strategically located at the intersections of Asia and Europe. Popularly known for UNESCO World Heritage Sites, the place also boasts abundant landscapes.
Day 1: Arrived in Tbilisi, the capital city of Georgia, settled down and crashed early that night
Day 2:  Zhinvali Dam, Ananuri Castle, Russia-Georgia Friendship monument, Gudauri, Mount Kazbegi, and Gergeti-Trinity Church
Day 3: Jvari Monastery, Mtkvari & Aragvi Rivers' confluence, Peace Bridge, Botanical Gardens, Turtle Lake, and tour around the capital city
Day 4:  Scenic & picturesque villages of Kutaisi region, Georgian wine tasting, Martvili canyon, and a few waterfalls near martvili canyon
Day 5:  On the last day, we visited the Funicular, Mtatsminda Park, Republic Square, scenic Old Town in Tbilisi
Food In Georgia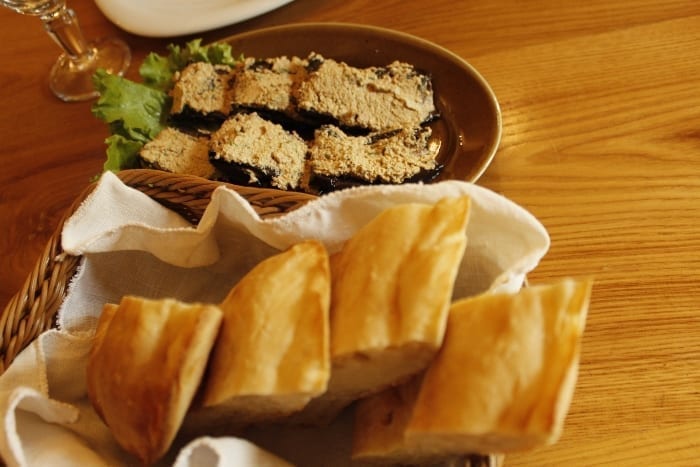 The capital city Tbilisi has an impressive collection of Indian restaurants but you cannot spot anything along the countryside. We also tried some local Georgian food like Khachapuri, Khinkhali, Chacha drink, Georgian bread and Badrijani Nigvzit (eggplant with walnuts) and it was delicious. We had most of our meals at Lake Station, Tbilisi, HB Gudauri, and Bollywood Indian Masala and it works well for us vegetarians.
Things To Keep In Mind
1. Avoid public transport during peak hours as it can be crowded
2. Most people in Georgia don't speak English, so it's better to hire an English-speaking guide
3. Over the countryside no one speaks English, so better to avoid going on your own
Best time to visit
Summers and Winters
Currency
Georgian Lari (1 GEL = 1 AED), USD
Travel within the city
Metro trains and buses are the best modes of transport. However, if you're traveling with an infant, tour vehicles are easily available within the budget in case you wish to sit back and enjoy the views.
Visa Requirements
UAE expats with a valid resident visa will receive a visa on arrival in Georgia. Those holding visas or residence permits of other GCC (Gulf Cooperation Council) countries can travel to Georgia visa-free for 90 days. Those traveling from India can avail of an E-visa. The visa costs around AED 290 and permits 30 days multiple entries.
Most Memorable Part Of The Trip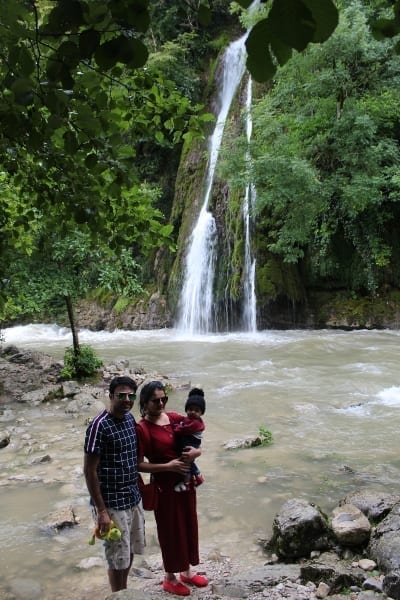 Our baby was 7 months old and little did we think he would react to any place. However, we were wrong! On day 4 we stopped by the waterfalls, and to our surprise, the kiddo was very excited. He loved the gushing sound of water. Similarly, a shop near Zhinvali dam had local people dancing and baby S was trying to do a little jig too. It was such a delight to see him enjoy little things.
Lesson From The Trip
The biggest lesson I took away from the trip, as a father is that children adjust and adapt faster than adults, only if you give them a chance. So, just plan, explore and make new travel diaries with your kids. In the end, its memories that matter most!