Under 140 Characters
"This is not just the land of Momos and Thukpa." The streets here are filled quaint cafes serving a variety of food with all the love and smiles on the faces.
Let me be your food guide for this land of hills.
This part of North (Dharamshala, Dharamkot and McCleod Ganj) is famous for its Tibetan food. You will find stalls every 50 metres serving delectable momos and thukpa (a kind of noodle soup), which is so flavourful that you would feel like having it again and again. And duh! Cold does tend to make you hungry. A 100 metre walk and your stomach calls for warm soup already.
Dharamshala does not quite have the best options for food while the nearby suburbs, McCleodGanj (25 minutes drive) and Dharamkot (30 minutes drive) as filled with numerous options. You will find a number of small and big cafes serving delectable Israeli, European, Tibetan and Italian food.
So, I was walking on the streets of McCleod Ganj and I couldn't help but spot fresh vegetables and fruits of all varieties in these little stalls. The food here is fresh and full of organic flavours.The home stays are a wonderful experience here and they serve amazing 'Ghar Ka Khana'. Not one day did I miss my 'Maa ke haath ka khaana'.
Some recommendations are:
1. Namgyal Cafe, McCleodGanj
Namgyal Cafe serves some of the best pizzas in the area as well as decently prepared tofu and potato dishes, salads, soups, crêpes and Tibetan fare. I had their the smoked cheese pizza and the experience of sitting on the terrace and enjoying the scenic views definitely was a win-win.
Address: Forsyth Ganj-Mcleod Ganj Road, McLeod Ganj, Dharamshala, Himachal Pradesh
How Much: INR 300 for two
2. Khana Nirvana, McCleodGanj
After climbing up 3 flights of stairs we were at one of the few places in McCleod Ganj that served us spirit along with some lip-smacking Chinese food. The best part if the view. You overlook the entire city of Dharamshala from a terrace which is lit up bright at night. With the kind of cosy and warm interiors it had, I feel that you can pick up a book to go in your zone or pass the day here chilling with a group of friends.
Address: Temple Rd, McLeod Ganj, Dharamshala, Himachal Pradesh
How Much: INR 1000 for two (with a pint of beer each)
3. Four Seasons, McCleodGanj
I stayed around the Namgyalma Stupa and Prayer Wheels. I stumbled across this little Tibetan cafe while I was street-shopping. Being welcomed by the smiling face of Sonam, I was one of the first few customers that day. Primarily a breakfast place, I was more than full with the portions they served. There is a small library and you can choose a corner and relax at this cafe as it plays Tibetan chants in the background.
I had an American breakfast here and it was quite heavy as I did not cry for food until 2 post the breakfast here. Needless to say that the food was so fresh and delicious that this did become my favourite spot in the place.
Address: McLeod Ganj, Dharamshala, Himachal Pradesh
How Much: INR 400 for two
4. Illiterati Cafe, McCleodGanj
A little beyond the Tibetan Museum is this little International cafe serving local organic food in a book store with a wood stove and carom boards. Named the Illiterati Cafe it is a peaceful place to be at and the perfect place to be taking in the world one moment at a time.
Owned by a Belgian Couple, this cafe is pretty European in every sense. I could spend days here browsing through their collection of books and looking at the majestic mountains. Oh! Did I tell you? Open windows and seating in the balcony facing the mountains are the highlights of this café. The Chicken Schnitzel and Pancakes with Chocolate sauce are a must try when you are here.
Address: Jogibara Rd, Dharamshala, Himachal Pradesh
How Much: INR 1200 for two
5. Morgan's Place, Dharamkot
While I stayed in the home stay in Dharamkot, to get to this place was quite a hike in the chilly winds of the hills. Morgan's Place is on a tiny hill top and has both indoor and outdoor seating. They serve Israeli, European, Mexican, Italian and Tibetan cuisine.
The pork ribs and wood-fired thin crust pizzas were a delight while we sat watching IPL. Lemon tea post dinner looking up at the lit up night sky is just the most wonderful gift you can gift to yourself.
Address: Morgan's Place, Dharamkot, Mcleodganj, Himachal Pradesh
How Much: INR 1000 for two
6. Ever Green, Dharamkot
A 25 minute walk downhill from Dharamkot is this huge place called Ever Green Cafe. With low seating and soft ambient light, you are sure to bump into some musical people in here. This was my dinner place for the first night I was at Dharamkot and I was impressed by the options they had on the menu. I settled with some Chicken Ziva and Spinach Cheese Bourekas.
Well, please don't come back until you've had the Bhagsu Cake in Dharamshala. I had to be helped to get up after all the food I ate here and 2 servings of the Bhagsu Cake. *embarassed*
Address: Bhagsu Nag, Dharamshala, Himachal Pradesh
How Much: INR 900 for two
7. Day & Night Cafe, Dharamkot
Day & Night Cafe is a 20 minute walk down from Dharamkot and has a very shack feel attached to it. They serve some really good Israeli food is what I have heard about them. I did have a stop here on the way to Morgan's Place and had some really nice Lemon Ginger Honey tea.
It was night time and the view downhill was just so beautiful, I had to had to take a break at this cafe to look around.
https://www.instagram.com/p/BTrD8FcBCqr/?taken-at=250445758
Address: Day & Night Cafe, Bhagsu Nag, Dharamshala, Himachal Pradesh
How Much: INR 600 for two
8. Shiva Cafe, Bhagsunag Waterfall
In a small hillside village called Bhagsu is Shiva Cafe and every single person here knows about this place. It is around 1Km away from the Bhagsunag Waterfall. It is high above the waterfall, prayer flags and more stairs lead visitors to the Shiva Café.
A popular party spot at night, the café's laid-back atmosphere and remote location make it a haven for backpackers. Though I could go there because of the time constraint but each of my friends who have been there cannot stop talking about it.
Address: Near Bhagsunag Water Fall, Dharamshala, Himachal Pradesh
How Much: INR 1000 for two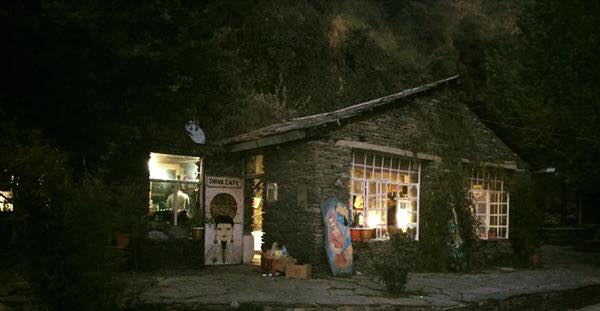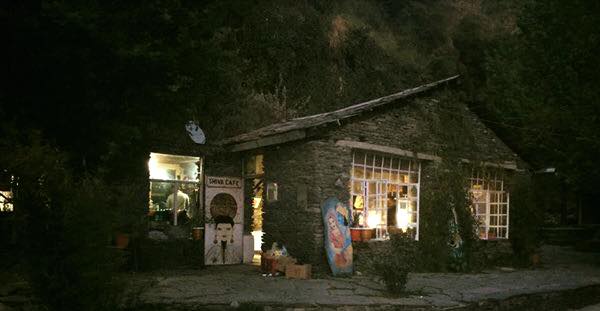 Oh and another thing,
Next to Kangra Valley School, this little nameless corner shop, sells Mutton Momos like no other. Juicy and spicy filling of mutton and they are big in size. Their momos are so famous, that they get over by 4 PM.
So, in case, you are passing by Dharamsala, do not forget to stop at Sheila Chowk and try these delectable momos.
Address: Sheila Chowk, Dharamsala
How Much: INR 150 for two
Well, go exploring cause there are an endless number of food options for you here. Let us know about more places you know of in the comments.
LIKE Curly Tales  on Facebook | Instagram | Twitter
You can subscribe to our newsletters