Natural or man-made, Dubai's top attractions are sure to leave you awe-struck. This small country has some of the most gorgeous places in the world and some of it has also made it to the Guinness Book of World Records. Here are 10 places in Dubai that don't just make for top attractions but also spell grandeur and beauty.
1. Burj Khalifa
Enough is said and heard about the world's tallest building. One of Dubai's top attractions, the Burj never ceases to impress. Apart from offering breathtaking views of the desert, city, beaches and sky scrappers, the tower is also home to the world's highest pub- The Lounge. Seated on the 152nd floor, this one's is clearly not for those who fear heights.
2. Sheikh Zayed Grand Mosque
Located in Abu Dhabi, the Grand mosque is recognized as one of Dubai's top attractions. The mosque has seven huge chandeliers, designed by Faustin. The chandeliers are made of stainless steel and brass, along with 40 kgs of 24-carat gold. The prayer hall boasts the world's largest chandelier which weighs a whopping twelve tonnes and is 15 meters in height.
The mosque is surrounded by 1096 columns, each hand-carved by a special inlay technique called Pietra Dura. The outer columns are made of white marble panels, decked with precious and semi-precious stones such as lapis lazuli, red agate, amethyst, abalone shell and nacre. The lighting system at the mosque is inspired by lunar illumination, which means it reflects the phases of the moon.
The Grand mosque's prayer hall boasts the world's largest hand-knotted carpet, spanning 5,700 square meters, and designed by Dr Ali Khaliqi.
3. Dubai Miracle Garden
Ever imagined a garden in the middle of a desert? Well, we're not surprised this is one of Dubai's top attractions. The garden consists of sculptures carved out of flowers and true to its name, this one's a miracle to experience. The garden was also made to the Guinness Book of World Records, when it showcased a flower arrangement in the shape of Airbus A380.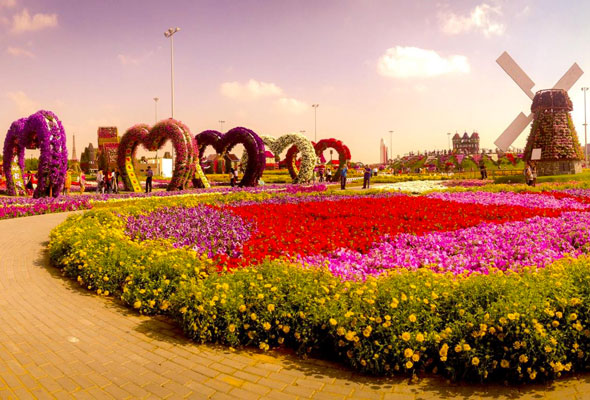 4. Hatta
A ninety-minute drive from Dubai transports to you one of Dubai's top attractions (almost)! Well, Hatta is one place which you must head to if you want unadulterated scenery, cooler temperatures and loads of things to do outdoors. The breathtaking views and the quirky stay options, make this a perfect weekend getaway. When here, guests can indulge in adventure activities like Hiking, Biking & Zorbing, while soaking in some history.
5. Snoopy Island
A best-kept secret and one of Dubai's top attractions, Snoopy island in Fujairah is where you must head if you want to escape the hustle and bustle of the city. The island offers serene views along with adventure activities, making it a perfect weekend getaway. From scuba diving to kayaking and snorkelling, there's a lot of adventure junkies to explore on this tiny island.
6. Dubai Mall & Fountain
Coming next is the world's biggest mall- the Dubai Mall- one of Dubai's top attractions. Although we wouldn't suggest this as a prime shopping spot (unless you're thinking luxury fashion), this one's a must-go. Apart from being home to more than 1000 shops, the mall also boasts a large indoor aquarium. The life-sized indoor aquarium is almost 75 feet long and 26 feet tall. In case you want to do more than just watching the marine creatures, you could actually swim with the sharks too!
And in case you want to experience a full-fledged underwater life, check into Atlantis' private underwater suite and you'll know what life's like deep underwater. The only hitch- this experience might set you back by AED 30,120.24 per night.
7. Dubai Frame
One of the largest picture frames in the world, the Dubai Frame at Zabeel Park is a recent addition to Dubai's top attractions. The frame is 150 meters tall, and it cost AED 230 million for the construction.
8. Dubai Parks & Resorts
This one can easily be called Dubai's Disney land. The theme park is divided into Riverland, Lego Land, Bollywood Park, Motion Gate, each replete with a whole lot of activities and fun. Set amidst a scenic backdrop, Riverland gives you a sneak peek into a rustic Dubai. Lego Land is a paradise for lego lovers while Motion Gate is a dream come true for thrill-seekers. Bollywood parks are for those who think, watch and love Bollywood!
That's not all. The city also has a whole lot of other theme parks like IMG World, Aquaventure and Ferrari World, where adventure lovers can spend a day and still go back for more! Add this to your list of places to visit in Dubai.
9. La Mer
What's a vacation without some sun and sand! Spanning across 13.4 million square feet, La Mer is one of Dubai's top attractions. The beach is divided into three zones, each replete with an impressive lineup of shops and eateries. The beach also boasts water sports, beach beds, cabanas, play areas for kids, and a trampoline park called Hawa-Hawa. So, if you want to put your feet up after a hectic day at the mall, you know where to head!
10. Indoor Ski Resort
Who would have ever thought a ski resort would be one of Dubai's top attractions! The city has a full-fledged ski resort- Ski Dubai, located indoors and this is one of the coolest places to visit in Dubai. The ski arena has ski games for kids and adults, and you can also get skiing lessons. And lastly, don't forget to savour the hot choc0late at the Avlanche cafe. Lastly, you'll also spot penguins flocking around, making the experience more realistic.